Roasted Fall Vegetables with Dijon Vinaigrette
Roasted Fall Vegetables are an easy holiday side dish, especially with the combination of butternut squash, cranberries, and Brussels sprouts. They're a snap to make and will bring festive flavor to your holiday table.
My friend, Kate, and I were "celebrity" chefs at a recent fundraiser. Besides serving up our dishes, we were allowed to sample the party fare after our guests had their fill. We both tasted some perfectly cooked Oven-Roasted Vegetables and immediately wanted the recipe. This is my version!
Why You Must Make
Using a combination of vegetables makes this a more memorable side dish.
You can shake it up by adding another favorite vegetable, some onions, or even some pecans for crunch.
Instead of just simply roasting with a drizzle of olive oil with a sprinkle of salt and pepper, these were kicked up a notch with a Dijon Mustard Balsamic Vinaigrette!!
How to Roast Vegetables
Preheat the oven.
Cut the vegetables into similar-sized pieces so they'll be done cooking at the same time.
If using a combination of hard, slower cooking vegetables and soft quicker cooking vegetables, start with the hard vegetables and add the softer vegetables part way through the roasting time.
Place the vegetables on a rimmed sheet pan with enough room between the veggies so they roast instead of steam.
Toss the vegetables with a drizzle of olive oil and sprinkle with kosher salt and freshly ground pepper. Roast for about 20-25 minutes, but don't let the vegetables get too soft.
Add the dried cranberries, toss with the vinaigrette, and return to the oven for just a few more minutes.
Serve hot!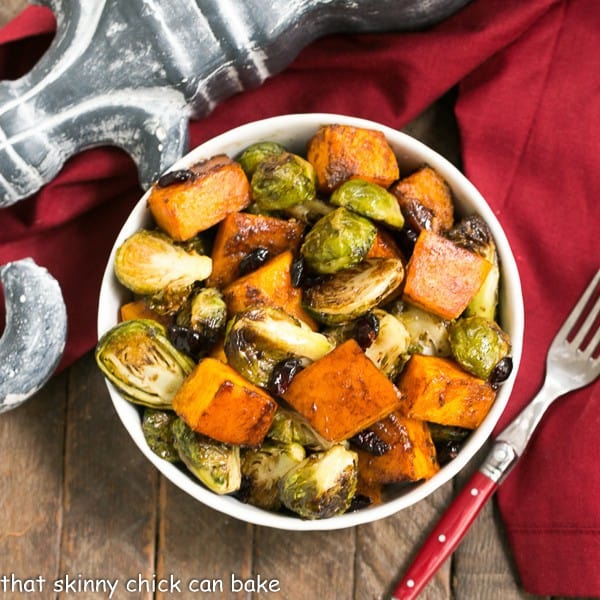 Recipe Tips
Cut your hard vegetables into similar-sized pieces so they will be done cooking at the same time.
Softer or thinner ingredients like onions, garlic, and asparagus will cook more quickly so can be added later in the roasting time so they don't burn.
Make sure all the vegetables are lightly coated in oil before you season them. This helps the salt, pepper and/or herbs stick to the veggies.
Add your favorite fresh or dried herbs for additional flavor. I love adding thyme or rosemary.
To check for doneness, pierce a few of the vegetables with a sharp knife near the end of the roasting time. The knife will insert easily when they're done.
Make sure to stir the vegetables once or twice while they are roasting so the bottoms don't burn.
To make sure your vinaigrette emulsifies (or thickens into a homogeneous mixture), first whisk together all the ingredients except for the oil. Then slowly add the oil in a thin stream while whisking constantly.
Frequently Asked Questions
What's the Best Temperature to Roast Vegetables?
The oven should be hot enough so that the vegetables get a touch of color. For this recipe, 400 degrees works well, but 425 degrees is commonly used, too.
How Long to Roast Vegetables?
It will vary depending on the size and type of vegetables. Dense vegetables like Brussels sprouts and squash will take longer than bell peppers, onions, and asparagus. Use the time in the recipe as a guide, and if this is the first time roasting veggies, check by piercing with a sharp knife at the 15-minute mark. If there's little resistance, they're done. If they're still hard, add more time and recheck.
What Are the Best Vegetables to Roast?
You can roast almost any vegetable. There are some that taste best roasted like cauliflower and Brussels sprouts. These cruciferous vegetables can give off a sulfuric odor when boiled, but roasting brings out their natural sweetness. Other delicious vegetables to roast include asparagus, broccoli, green beans, potatoes, carrots, peppers, beets, squash, and more!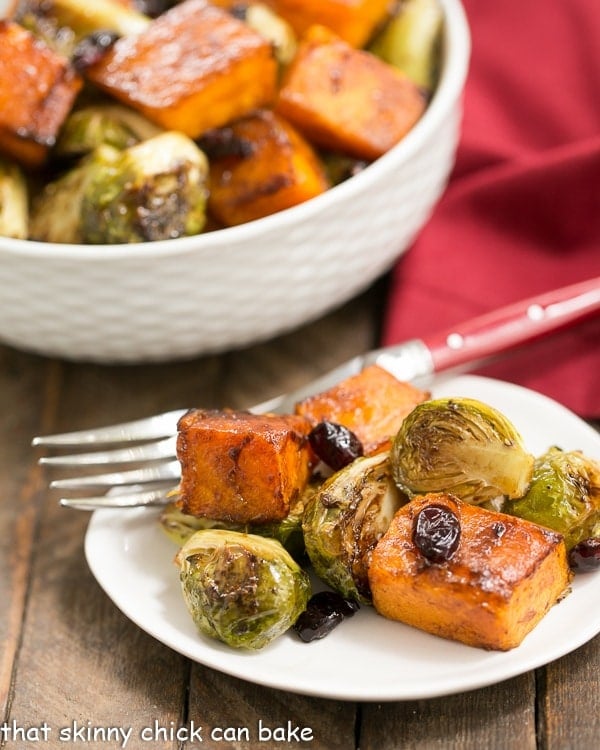 Stay in touch through social media @ Instagram, Facebook, and Pinterest. Don't forget to tag me when you try one of my recipes! And if you love the results, please give it a 5-star rating in the recipe card. Note: As an Amazon Associate, I earn from qualifying purchases. Visit my Amazon Store for my favorite products.
More Autumn Side Dishes:
The Recipe:
Autumn Side Dish Recipes
Seasonal recipes that are perfect for fall entertaining and Thanksgiving.
Photo Credit: www.thatskinnychickcanbake.com
A delicious salad from Ina Garten that is easy and impressive!
Photo Credit: www.thatskinnychickcanbake.com
A tasty spinach salad filled with pears, dried cranberries, and candied pecans!
Photo Credit: www.thatskinnychickcanbake.com
A terrific fall salad with apples, dried cherries and nuts!
Photo Credit: www.thatskinnychickcanbake.com
Made with defrosted frozen chopped spinach, this is an easy side dish for the holidays!
Photo Credit: www.thatskinnychickcanbake.com
A sweet potato casserole with a delicious brown sugar and pecan topping.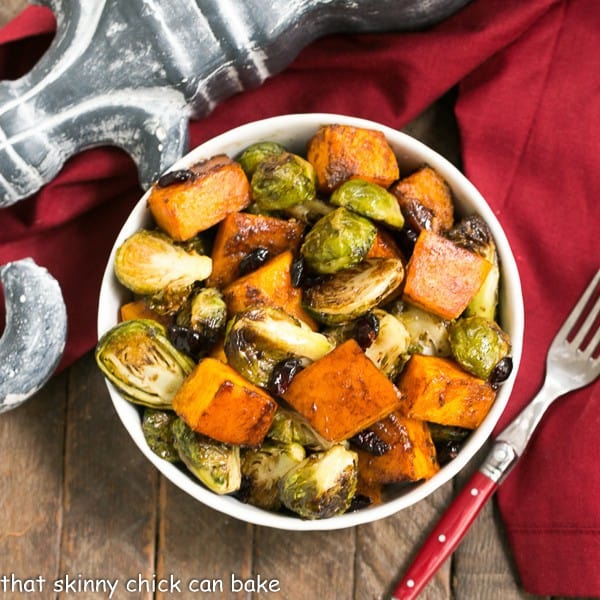 The Recipe:
Roasted Autumn Vegetables Recipe
Prep Time 20 minutes
Cook Time 30 minutes
Total Time 50 minutes
Yield 6 servings
A medley of vegetables roasted with a balsamic vinaigrette.
Ingredients
1 pound Brussels sprouts, trimmed and cut in half
1 Butternut squash (1½-2 pounds), peeled, seeds removed and cut into 1 -1½-inch cubes
2 tablespoons olive oil
½ teaspoon kosher salt
Freshly ground black pepper, to taste
Vinaigrette:
1 tablespoon aged fig, currant or standard balsamic vinegar (should be thick and syrupy)
⅛ teaspoon kosher salt
Freshly ground black pepper, to taste
¼ teaspoon Dijon mustard
2 tablespoons olive oil
3 tablespoons dried cranberries
Instructions
Preheat the oven to 400º.
In a bowl, toss together the Brussels sprouts and squash. Add the olive oil, salt, and pepper and spread over a baking sheet.
Roast for 20-25 minutes until tender, but not mushy. Toss once in the middle of the roasting time.
While vegetables are roasting, make the vinaigrette.
Whisk together the vinegar, salt, pepper, and mustard. Slowly add the olive oil while whisking constantly. Taste and adjust seasonings (see note).
Drizzle over the cooked vegetables and sprinkle with the dried cranberries. Toss gently and return to oven for about 5 minutes. Serve hot.
Notes
I use a good quality, aged balsamic vinegar. If you don't have one, you may want to add a little sugar or maple syrup to the vinaigrette to give it some sweetness.
Recommended Products
As an Amazon Associate and member of other affiliate programs, I earn from qualifying purchases.
Nutrition Information:
Yield:
6
Serving Size:
1
Amount Per Serving:
Calories: 210
Total Fat: 10g
Saturated Fat: 1g
Trans Fat: 0g
Unsaturated Fat: 8g
Cholesterol: 0mg
Sodium: 245mg
Carbohydrates: 32g
Fiber: 5g
Sugar: 23g
Protein: 3g
Note: This post may contain affiliate links; view
my Disclosure Policy
for details. I earn a small percentage from any purchase you make by clicking on these links at no extra cost to you.