Arugula Salad with Roasted Butternut Squash
This Arugula Salad with Roasted Butternut Squash is delightful to the eye with its jewel-toned ingredients with a taste to match!
Arugula Salad with Roasted Butternut Squash
I added this beautiful arugula salad with roasted butternut squash, dried cranberries and walnuts to our Christmas menu after tasting it at a holiday pitch-in lunch. I can take or leave squash most times, but the caramelized maple chunks in this salad were killer.
Paired with peppery arugula made for a beautiful, festive side dish. The jewel tones created such a visual magnificence, even Bill had a helping (though I saw that he avoided the walnuts and left all the cranberries on his plate).
Barefoot Contessa Salad Recipe
I was the first of my friends to own the original Barefoot Contessa cookbook. No matter what I made from it, I was asked for the recipe. I should have known I would love this salad that is featured in one of her newer publications, Back to Basics.
Chunks of squash were tossed with maple syrup, olive oil, salt, and pepper before roasting to a caramelized tender state. The dressing was made with a reduction of apple cider, cider vinegar, shallots, mustard and olive oil.
Tips for Making This Arugula Salad
I felt the original dressing recipe was a wee bit salty, so start with just a half a teaspoon of salt and adjust to your liking. I dip an arugula leaf  in the dressing to taste for seasonings.
You can always add a little more salt, but it's impossible to correct an over-salted dish. If you're a fan of butternut squash, you need to add Arugula Salad with Roasted Butternut Squash to your menu ASAP, and if you're not, this is the recipe to convert you!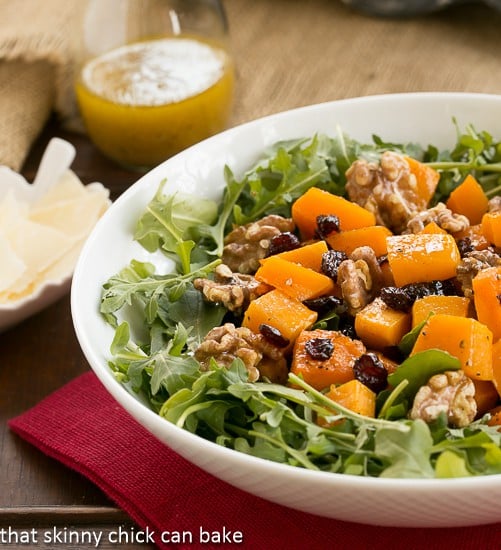 The Recipe:
Arugula Salad with Roasted Butternut Squash
Prep Time 20 minutes
Cook Time 25 minutes
Total Time 45 minutes
Yield 6 servings
A gorgeous salad adapted from Back to Basics by Ina Garten.
Ingredients
1 butternut squash (about 1 1/2 pounds), peeled and cut into 3/4 inch chunks
2 tablespoons plus 1/3 cup olive oil, divided
1 tablespoon pure maple syrup
Kosher salt and freshly ground black pepper
3 tablespoons dried cranberries
3/4 cup apple cider
2 tablespoons cider vinegar
2 tablespoons minced shallots
2 teaspoons Dijon mustard
4 ounces baby arugula
1/2 cup walnuts halves, toasted
3/4 cup freshly grated Parmesan
Instructions
Preheat the oven to 400º. Place the butternut squash chunks on a sheet pan and toss with 2 tablespoons olive oil, the maple syrup, 1 teaspoon salt and 1/2 teaspoon pepper. Roast the squash for 15 to 20 minutes, turning once, until tender. Add the cranberries to the pan for the last 5 minutes.
To make dressing, combine the apple cider, vinegar, and shallots in a small saucepan and bring to a boil over medium-high heat. Cook until the cider is reduced to about 1/4 cup. Remove from the heat and whisk in the mustard, 1/3 cup olive oil, 1/2 teaspoon salt, and 1/4 teaspoon of pepper.
Place the arugula in a large salad bowl and add the roasted squash mixture, the walnuts, and the grated Parmesan. Spoon just enough vinaigrette over the salad to moisten and toss well. Check for seasonings and sprinkle with more salt and pepper if needed.
Nutrition Information:
Yield:
6
Serving Size:
1
Amount Per Serving:
Calories: 381
Total Fat: 33g
Saturated Fat: 6g
Trans Fat: 0g
Unsaturated Fat: 26g
Cholesterol: 11mg
Sodium: 329mg
Carbohydrates: 18g
Fiber: 2g
Sugar: 10g
Protein: 6g
Thanks so much for all your kind messages, thoughts and prayers for our family. Bill's surgery went well. His heart valve was repaired instead of replaced, which was his ultimate goal. The day was a bit crazy with Katie needing IV fluids for a nasty GI bug. Think both are on the mend.  Whew.
Note: This post may contain affiliate links; view
my Disclosure Policy
for details. I earn a small percentage from any purchase you make by clicking on these links at no extra cost to you.