Maple Syrup Mustard Glazed Brussels Sprouts
I'm always game to try a new Brussels sprouts recipe, and these flavorful Maple Syrup Mustard Glazed Brussels Sprouts did not disappoint! Pan searing brought out the natural sweetness and the addition of bacon brought a savory, salty element that's unrivaled!
Though my fantasy of turning the picky hubby into a fan with this Brussels Sprouts with Bacon Recipe was thwarted, I was happy to pick up the slack and eat every single bite myself!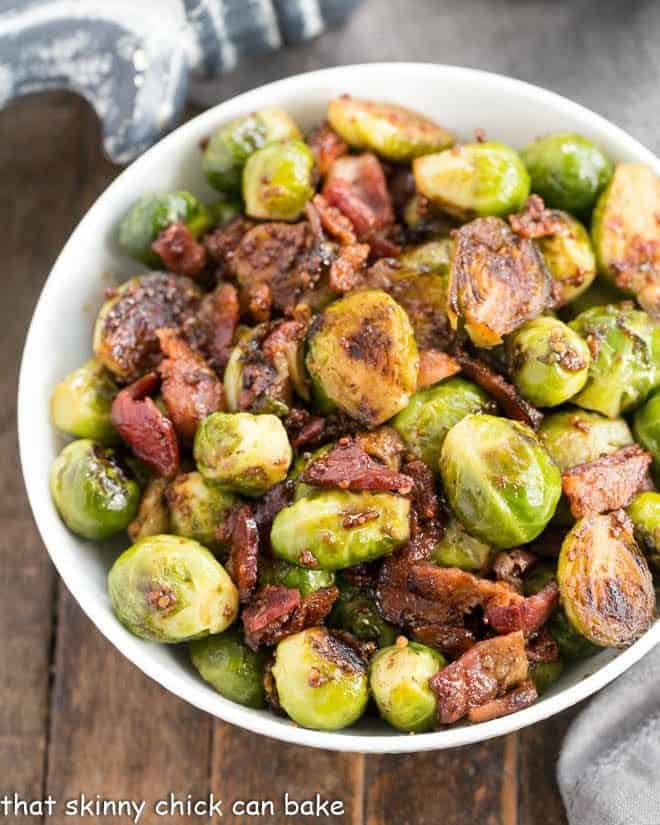 Why You'll Love this Brussels Sprouts Recipe
It's a tried and true Dorie Greenspan Recipe.
The sweet maple syrup helps balance the strong flavor of Brussels sprouts.
Steaming first and then sauteing guarantees they'll be cooked to perfection.
Many of my French Fridays with Dorie friends are cooking their way through Dorie Greenspan's new cookbook, Everyday Dorie: The Way I Cook(affiliate link). Two weeks ago was Gougeres and today it's steamed, then sauteed Brussels sprouts with bacon, shallots, maple syrup, and grainy mustard.
These tasty Brussels sprouts, with their multifaceted autumnal glaze, help the once-maligned vegetable reverse its reputation. They are perfect for a Sunday supper side dish or an addition to your Thanksgiving buffet.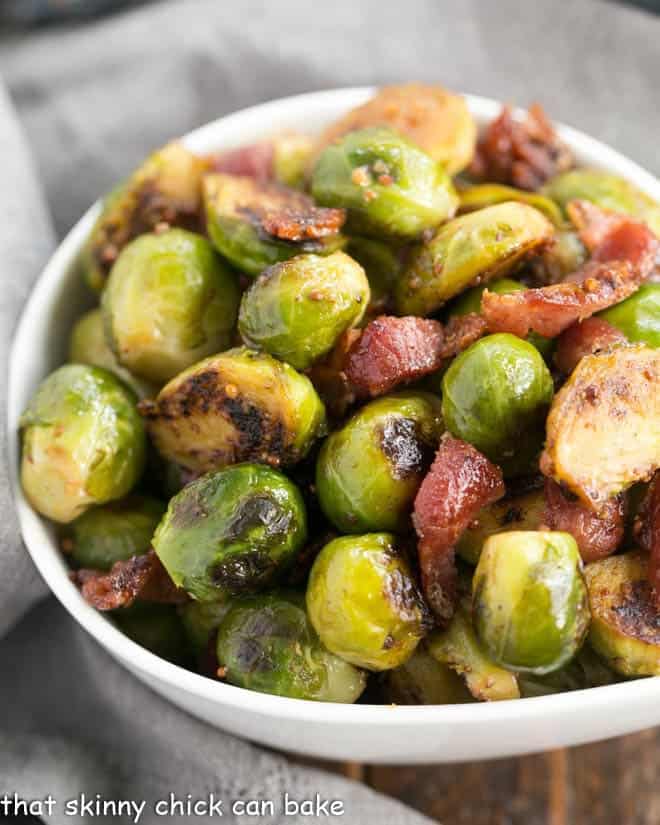 Tips for Making This Brussels Sprouts with Bacon Recipe
Brussels sprouts got a nasty or bum rap from years of being served overcooked and mushy. The vegetable roasting revolution made instant fans of the generation who snubbed them years ago. Dorie Greenspan had us steam these mini cabbages with slivers of garlic and cabbage, then saute them in bacon grease along with maple syrup, mustard, bits of bacon, and a splash of vinegar. Super flavorful!
Though roasting is my preferred method of cooking Brussels sprouts, a quick steaming and saute is quite tasty. The goal for each method is not to overcook the sprouts.
When these vegetables are cooked too long, they become mushy and release excess sulfur which makes them smell stinky and unappealing.
The goal is to steam until just tender, so the timing depends on the size of your vegetables. The sprouts should still be bright in color, and a knife should pierce them easily.
I like to plunge them into cold water to stop the cooking process after they're steamed.
Next is to add flavorings that play well with Brussels sprouts. Bold ingredients, like mustard, work well. The bacon and maple syrup provide salty and sweet components to the sauce and make for a well-rounded, delicious glaze.
A touch of acid in the splash of vinegar at the end of the browning stage helps to balance the sweetness as well.
More Autumn Sides:
So are you a fan of Brussels sprouts? What's your favorite way to prepare them? Try my Brussels sprouts with Bacon, Shallots, and Garlic, or these Honey Mustard Roasted Brussels Sprouts, too!
If you're looking for more autumnal side dishes, I've had my eyes on this Sweet Potato Casserole with marshmallows, as well as these Crispy Baked Sweet Potato Fries, and this Cinnamon Roasted Butternut Squash.
The Recipe:
Maple Syrup Mustard Glazed Brussels Sprouts
Prep Time 10 minutes
Cook Time 15 minutes
Total Time 25 minutes
Yield 4 servings
Steamed, then charred in a saute pan, these Brussels sprouts are flavored with mustard, maple syrup and bacon for a tasty side dish.
Ingredients
1 pound Brussels sprouts, stems trimmed and cut in half if larger
1 shallot, cut into slivers
1 garlic clove, cut into slivers
6 strips bacon, good quality
2 tablespoons pure maple syrup
1 tablespoon grainy mustard
Olive oil, if needed
Splash of vinegar, optional (I used balsamic)
Salt and freshly ground black pepper
Instructions
Place the Brussels sprouts, shallots, and garlic in a steamer basket, and then place the basket into a pot filled with enough water to steam. Cook until just tender, 6-10 minutes depending on the size of the vegetables. Plunge in cold water to stop the cooking.
Start cooking the bacon until crisp. Remove to paper toweling and drain all but about 1 tablespoon of the bacon grease from the pan. Chop the bacon into bite-sized pieces and set it aside.
Whisk together the maple syrup and the mustard. Set aside.
Drain and dry the Brussels sprouts, then add them back to the pan. Cook on high heat until well browned, stirring a few times. May add some olive oil if the pan is too dry.
Lower the heat, and mix in the maple-mustard mixture. Stir until glazed. Mix in bacon, then add a splash of vinegar if desired. Season with salt and pepper to taste. Serve hot.
Notes
Feel free to steam, then refrigerate the Brussels sprouts the day before you plan to saute them.
Recipe adapted from Everyday Dorie: The Way I Cook by Dorie Greenspan
Nutrition Information:
Yield:
4
Serving Size:
1
Amount Per Serving:
Calories: 189
Total Fat: 10g
Saturated Fat: 3g
Trans Fat: 0g
Unsaturated Fat: 7g
Cholesterol: 17mg
Sodium: 433mg
Carbohydrates: 17g
Fiber: 3g
Sugar: 9g
Protein: 9g
Note: This post may contain affiliate links; view
my Disclosure Policy
for details. I earn a small percentage from any purchase you make by clicking on these links at no extra cost to you.