Gougères AKA French Cheese Puffs
Gougères AKA French Cheese Puffs are a savory cream puff, or pâte à choux, flavored with Gruyere cheese. A marvelous starter for when you have company!
I've been making cream puffs since I was a teen, but a plain version. My mom's technique was a tad different from Dorie's, but once you master it, you can make dessert puffs, eclairs, and especially this Homemade Cheese Puffs Recipe!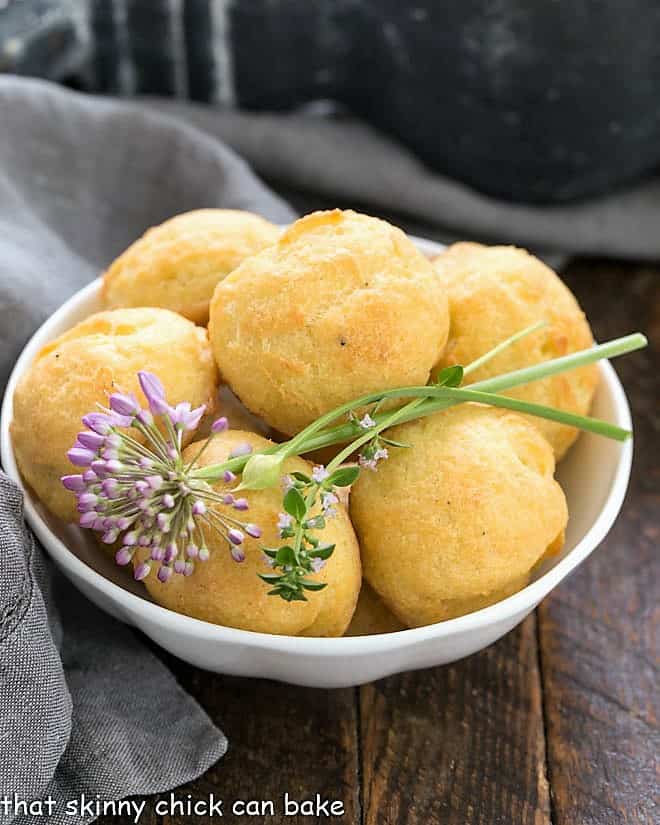 Gougères AKA French Cheese Puffs
A dear friend sent me the fabulous new cookbook from Dorie Greenspan: Around My French Table. I was delighted to join a group of bloggers to cook along with them from this cookbook and post about it each Friday. Our first assignment was one of my favorite hors d'oeurves, gougères. I made a lot of pâte à choux growing up…I fondly remember stirring in the eggs with "the" wooden spoon in the kitchen…and helping my mom pull out the soft and delicious interiors in preparation for stuffing.
What are Gougères?
A gougère, a French cheese puff, is a "baked savory choux pastry made of choux dough mixed with cheese," usually a Swiss cheese such as Gruyere, Emmenthal or Compte. I typically use Gruyere. The French term for these cheese puffs is pate a choux, which translates to choux pastry or "cabbage" pastry. Since they are visually similar to little cabbages, they were given this unique name!
I served these to my friends who came over to bake cupcakes on Tuesday night. Dorie's recipe produced incredible cheese puffs and received rave reviews. I had some fresh sweet cherries so I interspersed those among the cheese puffs for those who wanted some fruit with their cheese. I think I was the only cherry eater. Everyone else was enamored with the other option!
Tips for Making Cheese Puffs
Start by preparing your sheet pans by lining them with parchment and preheating your oven. PRO-Tip: Having a hot oven will help start the choux to puff!
Have the butter cut into tablespoon-sized pieces and add it to the liquids and bring to a vigorous boil.
Remove pan from heat (or just lower the heat) and mix in the flour. Stir with a wooden spoon until the flour is well incorporated, and there is a slight floury coating on the sides of the pan.
Next, add the eggs, one at a time, mixing each until it's incorporated before adding the next. The resulting dough should be smooth and glossy. PRO-Tip: Let this mixture cool a bit, by stirring to prevent your eggs from scrambling when you add them to the dough.
You may also use a mixer fit with the paddle attachment to mix the choux pastry.
Finally, stir in the seasonings and cheese.
You can either scoop out mounds of dough or pipe the dough onto the prepared baking sheet.
Bake as directed, noting that cheese puffs must be thoroughly baked as if the interior is still moist, it will soften the walls and cause the choux to collapse.
PRO-Tip: If you want to make cream puffs for dessert, leave out the pepper, mustard, and cheese and add 1 tablespoon of sugar to the dough.
<
FAQ About Gougères
How Do You Store Gougères?
Gougères can be stored in an airtight container for about 3 days. You can also freeze them in an airtight container for about 3 months. Just reheat in a 350-degree oven for a few minutes before serving.

Dorie recommends freezing dough mounds, then baking directly from the freezer as needed, adding a couple of minutes to the baking time. To do this, scoop out mounds onto a lined baking sheet, then place the pan in the freezer until the dough is frozen solid. Place frozen dough mounds in a freezer-safe ziptop bag and store in the freezer until needed.
Why Did My Gougères Deflate?
If the cheese puffs are not cooked long enough, their exteriors will soften from a still wet middle. The exteriors need to be firm to give the gougères stability. Also, the liquid to flour ratio may be off. The dough should pipe into nice mounds. If they are flat, you have too much liquid.
How Do You Pronounce Gougères?
This French culinary term is pronounced: goo/zhehr
More Choux Pastry Recipes You'll Love:
Until you purchase your own copy of Dorie's cookbook (you will NOT be disappointed!), I will share a recipe for gougères I've used numerous times. It has the addition of dried mustard and cayenne, but eliminating those will give you a recipe similar to Dorie's. If you're interested in buying the cookbook,Around My French Table, it's available on Amazon. Bon appetit!
This recipe was first shared in 2010. Photos and text were updated in 2020.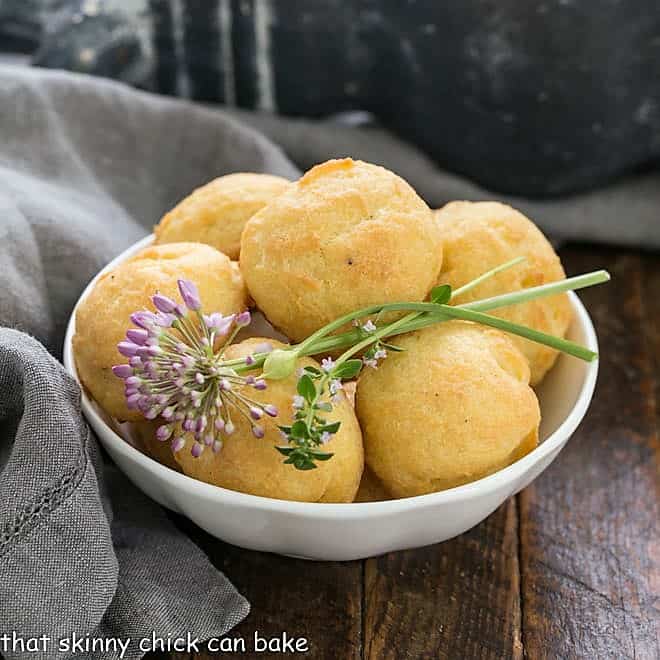 Prep Time 10 minutes
Cook Time 40 minutes
Total Time 50 minutes
Yield 8 servings
A savory, cheesy cream puff that is a marvelous appetizer
Ingredients
1 cup water
1/2 cup butter
1/2 teaspoon salt
1/4 teaspoon pepper
1 cup flour
4 eggs
1 cup Gruyere cheese, grated
1 teaspoon dry mustard
Pinch of cayenne pepper
Instructions
Preheat oven to 375º.
Bring water, butter, salt, and pepper to a boil in a medium saucepan. Turn off burner.
Add flour and mix well with a wooden spoon.
Once the dough has cooled a bit, add 4 eggs, one at a time, mixing in well before adding the next. Stir in cheese, mustard, and cayenne.
Drop by tablespoonfuls onto a parchment-lined baking sheet. Bake for 30-40 minutes till firm and golden.
Notes
Recipe from my sister, Katie
Recommended Products
As an Amazon Associate and member of other affiliate programs, I earn from qualifying purchases.
Nutrition Information:
Yield:
8
Serving Size:
1
Amount Per Serving:
Calories: 258
Total Fat: 19g
Saturated Fat: 11g
Trans Fat: 0g
Unsaturated Fat: 7g
Cholesterol: 140mg
Sodium: 368mg
Carbohydrates: 12g
Fiber: 0g
Sugar: 0g
Protein: 9g
Note: This post may contain affiliate links; view
my Disclosure Policy
for details. I earn a small percentage from any purchase you make by clicking on these links at no extra cost to you.