S'mores Cream Puffs
Are you intimidated by the thought of making cream puffs or pâte à choux? My friend, Barbara, of Barbara Bakes shares her foolproof technique in her new ebook, Simply Sweet Dream Puffs. I'm sharing Barbara's fabulous S'mores Cream Puffs with you today.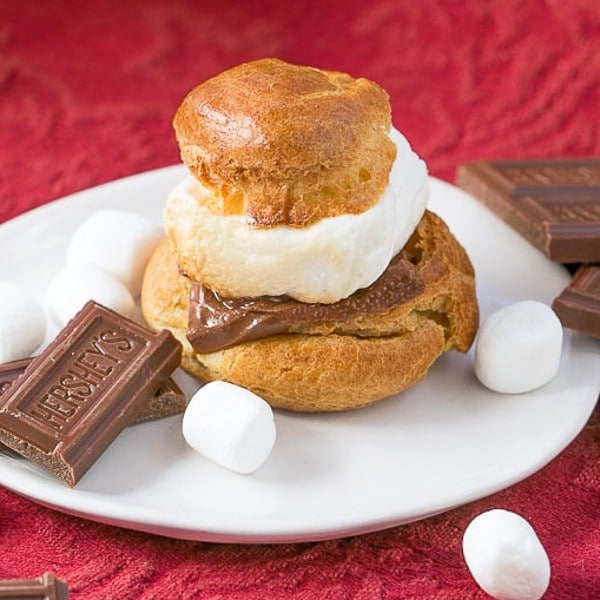 My Childhood Kitchen
My mom gave us free reign in the kitchen. There were no rules. If we wanted to cook or bake, she encouraged our creativity. At a young age, I remember stirring pâte à choux dough with a wooden spoon, then adding eggs and working out my puny arm muscles to incorporate them into the dough. No pastry bag needed back then as we'd scoop out spoonfuls onto a cookie sheet. The four of us sisters would hover around the oven window watching the cream puffs expand and turn golden. We knew it was nearly time to sample! Once the puffs cooled we'd slice them in half and scoop out the eggy centers making room for the pudding or ice cream that would soon fill the cavity. We were SO eager to nibble on all those scraps of pastry.
Making Cream Puffs at Home
Barbara shared this wonderful video demonstrating how easy it is to make cream puffs at home. It's an invaluable tool if it's your first time making the classic pâte à choux, or cream puff, dough.
Her method differs slightly from my mother's. But it's also the way Dorie Greenspan makes her gougeres and pâte à choux, so I'm certain this is the best technique.
As a girl, I mixed the batter all by hand, did not cool it before adding the eggs (risking some cooked egg bits!) nor did I pipe the choux (you'll still get terrific results without a pastry bag, though). A cream puff novice can easily be successful following Barbara's instructions.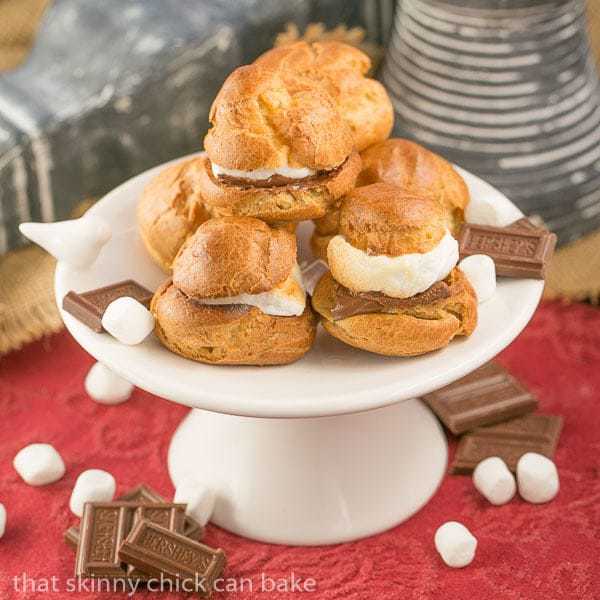 S'mores Cream Puffs
I selected Barbara's S'mores Cream Puffs recipe to test out today. I love that graham cracker crumbs were added to the batter to ensure the classic s'mores flavor.
The cooled puffs were then cut in half and one half was topped with a marshmallow and the other with a few squares of a chocolate bar. Popped under the broiler for just a minute or so, the halves were then reunited for a spectacular, elegant treat.
My friends gave these rave reviews…and every puff I took to share with them disappeared as seconds were tucked in napkins and then into purses! They definitely trumped the graham cracker version by a mile.
The Recipe:
S'mores Cream Puffs
Prep Time 20 minutes
Cook Time 40 minutes
Total Time 1 hour
Yield 16 cream puffs
Cream puffs made with graham and filled with chocolate and toasted marshmallows.
Ingredients
½ cup bread flour
¼ cup graham cracker crumbs (about 2 sheets)
6 tablespoons unsalted butter, cut into 6 pieces
1 teaspoon sugar
½ teaspoon table salt
3 eggs, at room temperature
16 marshmallows
4 (1.55 ounce), milk chocolate candy bars, broken into squares.
Instructions
Preheat the oven to 425º. Lightly grease or line baking sheets with parchment paper. Stir together flour and graham cracker crumbs; set aside.
Bring butter, sugar, salt, and ¾ cup of water to a boil in a large saucepan over medium-high heat, stirring occasionally. Immediately remove from heat, and quickly stir in the flour mixture all at once.
Return to heat, and stir with a wooden spoon for 1 to 2 minutes, or until dough is smooth and forms a ball. Transfer dough to the bowl of an electric mixer, and let cool for 5 minutes.
Add eggs, one at a time, beating until the mixture is smooth and glossy. Spoon dough into a pastry bag fitted with a tip.
Pipe dough onto prepared pans into 1-1/2 inch rounds (1-½ inches high). Smooth out peaks and round tops with a moistened finger.
Bake at 425º for 5 minutes; reduce oven temperature to 375º, and bake 30-35 minutes, or until puffy and golden brown. Remove from baking sheet to wire racks, and cool completely.
Preheat broiler with oven rack 3-inches from heat.
Cut each cream puff in half horizontally. Place halves, cut side, on a parchment paper-lined baking sheet. Top bottom halves with chocolate squares; place a marshmallow on top halves.
Broil 1 minute or until marshmallows are toasted and chocolate is slightly melted.
Place bottom halves on top halves, toasted marshmallow sides down. Let cool slightly before serving.
Notes
Don't limit yourself to just using plain milk chocolate candy bars. Try a bite-size peanut butter cup or caramel chocolate bar instead.
Recipe reprinted with the permission of the publisher and author of Simple Sweet Dream Puffs.
Nutrition Information:
Yield:
16
Serving Size:
1 cream puff
Amount Per Serving:
Calories: 143
Total Fat: 7g
Saturated Fat: 4g
Trans Fat: 0g
Unsaturated Fat: 3g
Cholesterol: 52mg
Sodium: 126mg
Carbohydrates: 15g
Fiber: 0g
Sugar: 6g
Protein: 4g
Note: This post may contain affiliate links; view
my Disclosure Policy
for details. I earn a small percentage from any purchase you make by clicking on these links at no extra cost to you.