Blue Cheese Gougères
These elegant Blue Cheese Gougères are a French appetizer that will disappear quickly! Cheese Puffs made from choux pastry are impossible to resist! Our neighbors inhaled these when I brought them to a neighborhood gathering a couple of weeks ago. If you're looking for a new appetizer, these Cheese Puffs are destined to impress!
This French recipe is a classic typically made with a Swiss cheese like Gruyere, but equally as delicious with piquant blue cheese.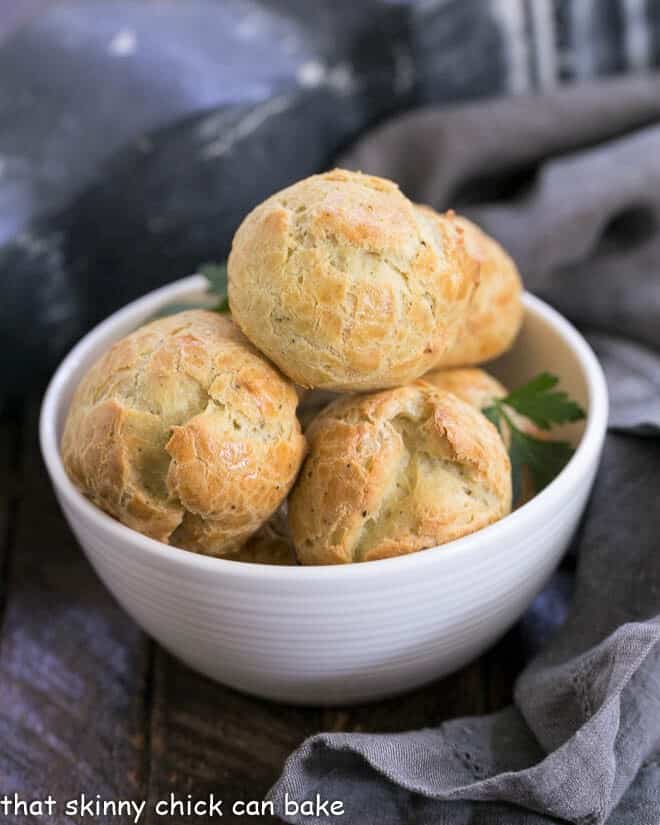 Blue Cheese Gougères or Cheese Puffs
Bill is always a good sport when it comes to culinary adventures. When we were in Vancouver a couple of summers ago, I made a reservation for the two of us to dine at Lumiere, a chic and elegant, now-defunct French restaurant. I have very little recollection of our menu except for the beet chocolate cake for dessert, which hubby thought was blasphemous. And the blue cheese gougères, which were heavenly puffs of deliciousness. I had to make these cheese puffs at home.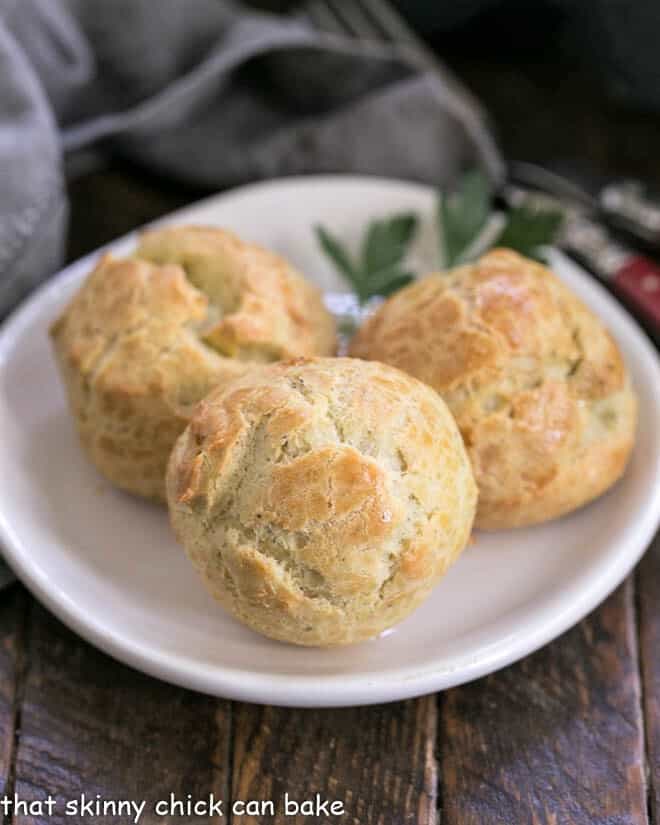 Pâte à Choux
Thank goodness I grew up making cream puffs from the same pâte à choux dough that's used to make these French cheese puffs. So the method was not daunting, but there's still a bit of a learning curve if you're new to this French recipe. These gougères are a simple pâte à choux dough with blue cheese and a pinch of cayenne.
To put it simply, pâte à choux dough is a pastry dough containing only butter, water, flour, and eggs. The "puff" comes from their high moisture content, including eggs, instead of any specific leavener. They're best baked in a hot oven to allow them to puff! Cream puffs often have a pinch of sugar if used for desserts and gougères have cheese mixed into the dough. There are other desserts are made with choux pastry like this Paris Brest, named for a French bicycle race.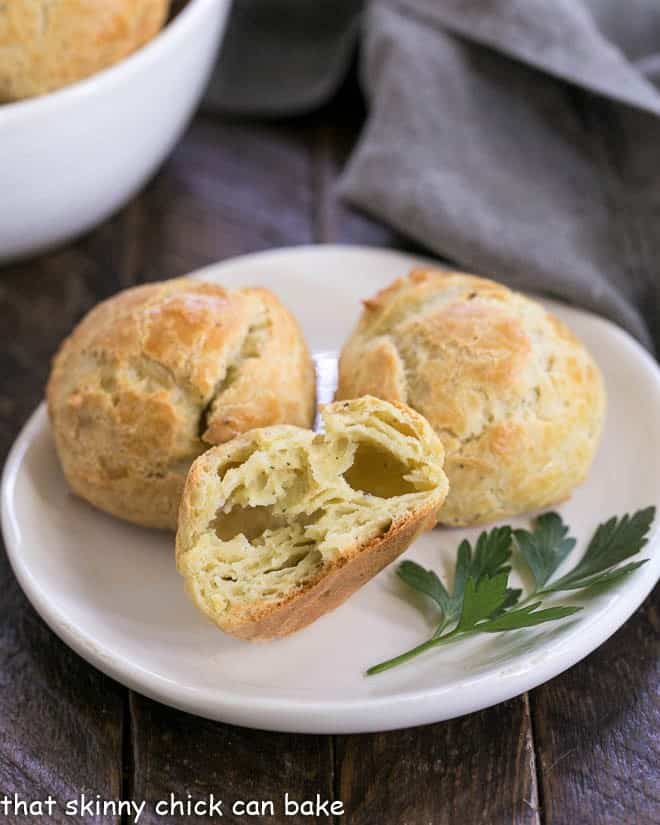 Frequently Asked Questions
What are Gougeres and How Do You Pronounce Gougeres?
Gougeres are savory choux pastry usually made with a Swiss cheese like Gruyere, Compte or Emmentaler. A twist on the classic, this recipe diverted from the norm and used blue cheese instead. This French culinary term is pronounced goo-ZHAIR.
Can You Reheat Gougeres?
Yes, you can make these cheese puffs up to 5 hours ahead of time. Reheat in a 350 degree oven for 3-5 minutes.
Can You Freeze Gougeres?
Yes! Pipe out the choux pastry onto a parchment-lined baking pan. Place the pan in the freezer covered with plastic wrap until dough is frozen. Place frozen dough into a freezer-safe bag for up to 2 months. When ready to bake, preheat oven to 375 degrees, place frozen gougeres dough on a baking sheet, and bake a bit longer than called for with fresh dough.
How to Make French Cheese Puffs
The procedure is straight forward. But until you've seen the choux pastry dough come together, it's hard to know if you're on track or not.
First, combine liquids, butter, and seasoning in a saucepan and bring to a boil. Have the flour, eggs, and blue cheese measured and next to your stovetop.
Next, turn down the heat and add the flour. With a wooden spoon stir the mixture until it comes together in a large clump. Turn off the heat.
Reserve a tablespoon of the eggs to glaze the cheese puffs.
With the pan on the warm, yet off burner, add about 1/3 of the eggs and stir vigorously. As the eggs incorporate, add the next third, and repeat. The mixture will be sloppy, but keep stirring until the dough comes together. Then stir in the blue cheese.
Use a medium cookie disher or two spoons to scoop out rounds of dough onto the prepared pan. Brush each gougere with egg wash, then bake as directed.
More Appetizer Recipes You'll Love:
This recipe was first posted in August 2011. Text and photos were updated in 2019.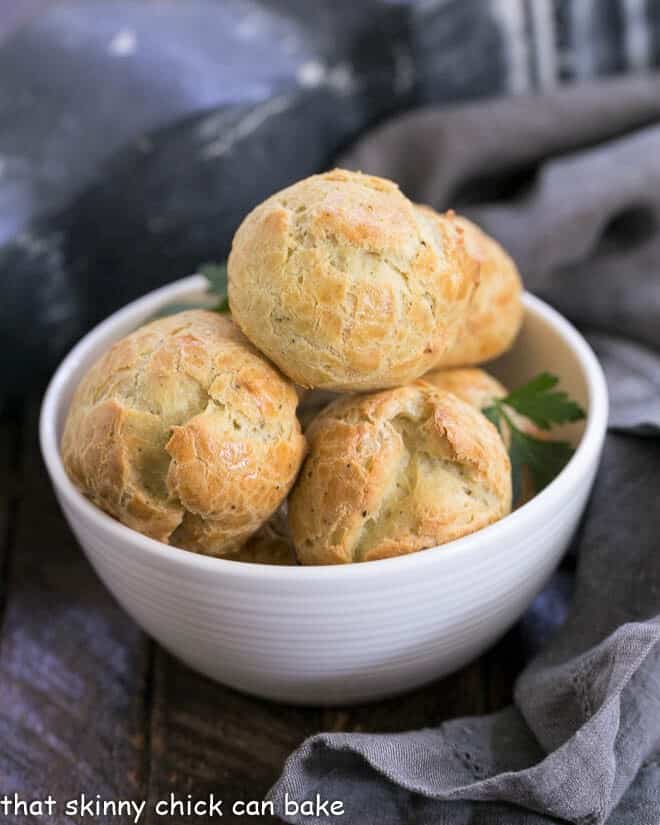 The Recipe:
Blue Cheese Gougères Recipe
Prep Time 15 minutes
Cook Time 35 minutes
Total Time 50 minutes
Yield 12
Tasty French Cheese Puffs made with cream puff dough.
Ingredients
1/4 cup dry white wine
1/4 cup water
1/4 cup (1/2 stick) butter, cut into chunks
1/2 teaspoon freshly ground black pepper
Dash of salt
A generous pinch of cayenne pepper
2/3 cup flour
3 eggs, at room temperature
1/2 cup finely crumbled blue cheese
Instructions
Preheat oven to 375º. Line baking sheet with parchment and set aside.
Combine first 6 ingredients in a saucepan and bring to boil over medium heat. Stir till butter is melted. Stir in flour, and reduce heat to medium low. Continue stirring until dough forms a large clump, about a minute. Remove from heat.
Whisk eggs together in mixing cup. Remove 1 tablespoon and set aside. Add eggs, about a third at a time to flour mixture, stirring constantly till incorporated...and to avoid scrambling the egg. Dough will be sticky. Stir in blue cheese.
Drop by tablespoonfuls onto baking sheet. Brush each with reserved egg yolk and with finger moistened with water, gently pat down any pointed tops.
Bake till puffed, golden and dry, about 30-35 minutes. Serve warm.
Notes
Adapted from Bon Appetit.
Can be frozen for up to a week and reheated in a 350º oven for about 5 minutes.
Nutrition Information:
Yield:
12
Serving Size:
1
Amount Per Serving:
Calories: 67
Total Fat: 3g
Saturated Fat: 1g
Trans Fat: 0g
Unsaturated Fat: 1g
Cholesterol: 51mg
Sodium: 96mg
Carbohydrates: 6g
Fiber: 0g
Sugar: 0g
Protein: 4g
Dear friends who shared these French Cheese Puffs with us on the way to a dinner adventure in 2011!
Note: This post may contain affiliate links; view
my Disclosure Policy
for details. I earn a small percentage from any purchase you make by clicking on these links at no extra cost to you.