Kahlua Caramel Baked Brie
I take any opportunity to make a baked brie, whether a microwave or pastry-wrapped version, I adore them all. This ultra decadent Kahlua Caramel Baked Brie was super simple with only 4 ingredients!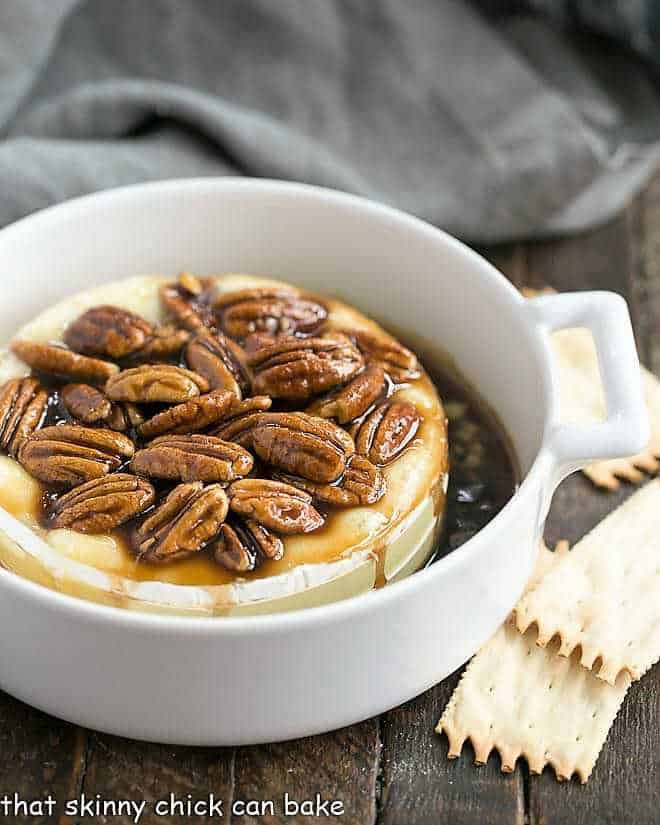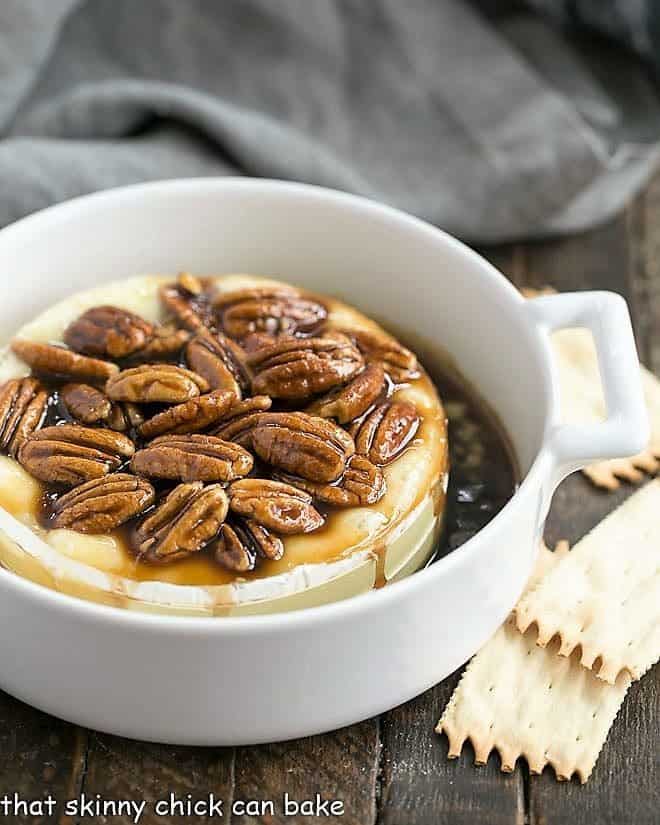 4 Ingredient Kahlua Caramel Baked Brie
I'd happily park myself in front of a toasty baked Brie and make it a meal. The already soft double creme cheese is warm and gooey, and this one is topped with a simple mixture of brown sugar, Kahlua and pecan halves. The combination is phenomenal.
What makes this recipe even more phenomenal is that I zapped it in the microwave, so it was ready to be served in less than two minutes. How easy is that?? I have a few tips below to help make this the simplest, yet one of the most delicious appetizers you'll ever encounter!

Tips for Making this Microwave Baked Brie
It took me a couple of trial runs to get this microwave baked Brie perfect. My book club suffered through the one I left in a warming drawer until it was basically a puddle in the bottom of the baking dish. Oops. It was still darn tasty! Here are a few tips for a successful recipe.
Make sure to purchase a round of Brie in a wooden container. Mine was about 12 ounces in weight.
Next, remove the cheese from the wooden box and unwrap. Reserve the bottom of the container. Remove a thin slice from the top of the Brie.
With some butcher's twine, tie the the "box" around the perimeter so it won't come apart while cooking. Yup, had that happen with round one. Then place the unwrapped Brie, cut side up, back into the container.
Make the topping for this Kahlua caramel baked Brie. Once the sugar dissolves, cool it long enough so the mixture thickens a bit. If it's too runny it will just roll off the cheese. If it happens to get too thick, just put it back on the burner and stir for a few seconds.
I did not roast my pecans since they were heated in the caramel sauce but feel free to add that step if you'd like. Mix the pecans in with the caramel sauce and top the Brie. Place the cheese in a microwave-safe dish to cook.
All microwaves differ in strength, so start with one minute at full power, then add 15-30 more seconds if needed and even another 30 seconds if necessary. The goal is a softened Brie without having it so melted that it oozes right off your cracker! You can also gently reheat if needed throughout your party.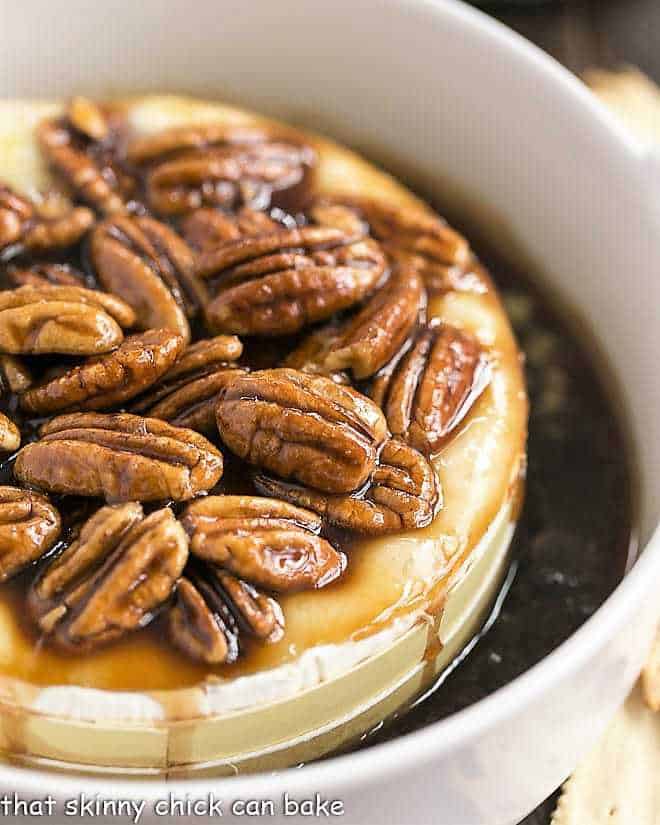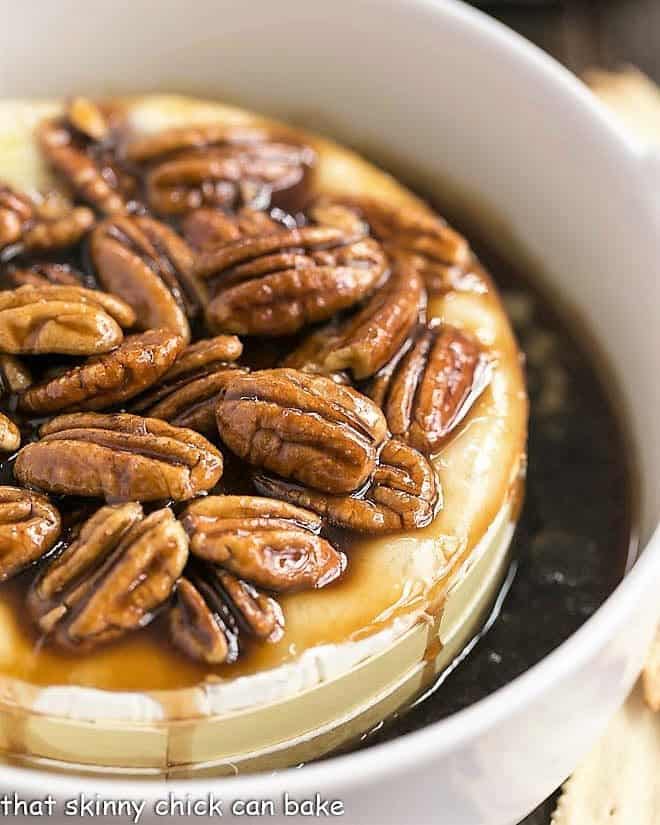 So if you're looking for a last-minute appetizer, pick up some Brie, Kahlua and pecans. If you have brown sugar in the house, you're set to make this Microwave Baked Brie! What's your go-to easy appetizer? I love a cheese board or smoked salmon platter. I've also had my eye on this Easy Salami Appetizer and these Antipasto Skewers.
Other baked Brie recipes on the blog include a Cranberry Brie en Croute, an Apple Topped Baked Brie en Croute, and this Brie en Croute with Cherries and Apricot Preserves.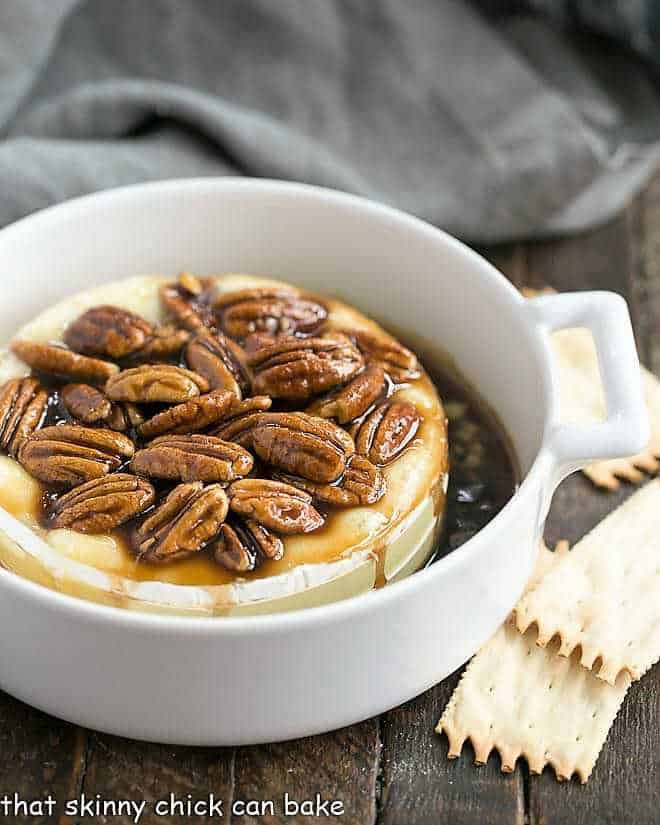 The Recipe:
Kahlua Caramel Baked Brie
Prep Time 15 minutes
Cook Time 5 minutes
Total Time 20 minutes
Yield 12 servings
Easy Baked Brie with pecans and caramel sauce cooked in a microwave!
Ingredients
12 ounces Brie, a round Brie in a wooden box (the exact size can vary by an ounce or two)
1/4 cup brown sugar
1/4 cup Kahlua (coffee liqueur)
1/2 cup pecan halves
Instructions
Unwrap the Brie and slice the rind off the top. Place in the bottom of the wooden container and tie a piece of butcher's twine around the box to secure it. Set aside.
Heat the brown sugar and Kahlua in a small saucepan, stirring and simmering until the sugar is dissolved. Mix in the pecans and let cool until the mixture thickens, but is still pourable.
Place the Brie in a small ovenproof/microwave safe container. Top with the caramel sauce and pecans.
Place the Brie in the microwave and set to cook 2 minutes, watching carefully and pulling out when cheese puffs slightly. Mine took about 1 1/2 minutes, but timing will vary. Brie should be soft, but not liquid.
Serve warm with crackers.
Nutrition Information:
Yield:
12
Serving Size:
1
Amount Per Serving:
Calories: 165
Total Fat: 12g
Saturated Fat: 6g
Trans Fat: 0g
Unsaturated Fat: 5g
Cholesterol: 31mg
Sodium: 195mg
Carbohydrates: 6g
Fiber: 0g
Sugar: 6g
Protein: 7g
Note: This post may contain affiliate links; view
my Disclosure Policy
for details. I earn a small percentage from any purchase you make by clicking on these links at no extra cost to you.