The Making of a Charcuterie Platter
How to Make a Charcuterie Platter with cured meats, a variety of cheeses, nuts, and fruits that will please every palate. There's nothing better than noshing on a cheese board before a meal.
This Meat and Cheese Board is highly adaptable. If your meal is French, choose French cheeses. If it's fall, pick autumnal fruit like apples and pears. Every board will be unique.
Why You'll Love this Charcuterie Platter
You can customize it with your favorite meats, cheeses, crackers, and snacks.
It can be made to coordinate with the theme of your meal or holiday.
A cheese tray like this can easily be expanded for a crowd, so it's perfect for holiday entertaining. Instead of the tedious chore of making three different appetizers, deck out a large cutting board with an irresistible combination of meats and cheeses.
There's something for everyone on a cheese board!
Frequently Asked Questions
What Does Charcuterie Mean?
The word Charcuterie can be traced back to 15th century France and translates to "the products of a fancy pork butcher."
How Do You Pronounce Charcuterie?
Charcuterie is pronounced shar-KOO-tuhr-ee.
How to Make a Charcuterie Board
Start with choosing the Cheese, then Meats and Accompaniments.
Pick out an odd number of cheeses for your charcuterie platter: You may want to try one firm cheese like cheddar or swiss, one soft like a Brie or Camembert, and one fragrant like blue cheese. Or add just one crowd-pleaser like this Kerrygold Dubliner with Irish Stout as I did here for our family.
Next select three varieties of cured meats; well, truthfully, I had the experts at Goose the Market pair a few with my cheese. I brought home sliced Italian Toscano salami with a kick; capicola, another pork salami that hails from Calabria; and finally smoked duck breast slices.
The odds and ends were purchased on a recent trip to Zimmerman's Deli in Ann Arbor, Michigan. I added some honeyed pecans, roasted Marcona almonds, and Sardinian flatbread along with fresh blackberries and dried apricots.
Use the experts at your favorite market, deli, or specialty shop to help you select a variety of ingredients that will delight your guests. They are typically delighted to provide samples for you to taste test. You may even find a new favorite!
Amounts Needed for Your Board
These recommendations are from America's Test Kitchen. The amounts will vary depending on whether this is an appetizer before a big meal or whether this actually the meal.
Cheeses: 2 to 3 ounces per person
Meats: 2 to 3 ounces per person
Nuts: 2 to 3 tablespoons per person
Crackers, toasts, or bread: 4 to 6 ounces per person
Vegetables: 4 to 8 ounces per person
Dips: ½ cup per person

More Tips for Making A Charcuterie Platter
Let the meats and cheeses shine. Serve plain bread and crackers.
Fresh fruits like apples, pears, figs, and grapes pair wonderfully with cheeses. I love adding dried fruits, too, for a variety of textures.
Add nuts for some crunch. Jams, jellies, and fruit pastes pair deliciously with cheeses.
Vary shapes and colors for a more visually appealing platter.
Let your cheeses rest at room temperature for an hour before serving.
As mentioned above, try to add a variety of textures from hard to soft, brittle to buttery. A bold-flavored blue or spiced cheese is a lovely touch. Add a goat's milk or sheep's milk cheese to your cow's milk selection.
Take a little time to artfully arrange your charcuterie platter. You'll be delighted with the results.
Helpful Tools:
Utility Knife (affiliate links)
Cutting Board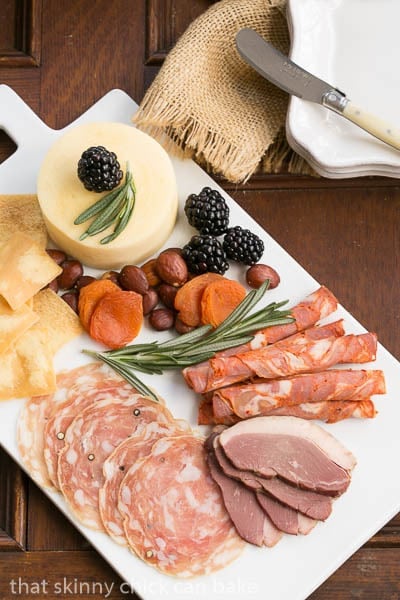 You May Also Like:
Note: This post may contain affiliate links; view
my Disclosure Policy
for details. I earn a small percentage from any purchase you make by clicking on these links at no extra cost to you.