Chocolate Dessert Board
Including a Chocolate Dessert Board with fruit and cheese on your menu is an elegant, delicious way to end a dinner party! By adding full-bodied, incredibly delicious chocolates, this unique "dessert" will make indelible memories!
A Dessert Charcuterie Board allows for casual noshing after dinner. Place it in the middle of your dining table, refill the wine glasses and continue the party!
Thanks to Cémoi and Honest Cooking for sponsoring this post. As always, all opinions are my own.
Chocolate Dessert Board
We have a group of dear friends and neighbors and we get together right before the holidays to celebrate. To shake things up from our usual routine of going out to dinner, we decided to meet at our house and all pitch in heavy appetizers. The more casual atmosphere makes it more conducive to conversation, and no one has to do all the cooking!
But I knew I'd have to have something luscious and sweet to end our meal. And at our house, chocolate is always at the top of that list! You've seen those beautiful cheeseboards all over social media, so why not a chocolate dessert board as a unique way to offer sweets to our guests? Plus, including exquisite, top-of-the-line chocolates will elicit questions and begin conversations.
How to Make a Chocolate Dessert Board
Adding premium chocolates is a given when creating a chocolate dessert board and that's why I turned to Cémoi, the French chocolate experts. Their fine chocolates provide an indulgent tasting experience.
They single-source their beans from locales such as the Ivory Coast, Sao Tome, Dominican Republic, and Ecuador, and each bar has a distinct flavor profile and aromatic bouquet. Cémoi is also committed to sustainability every step of the way! No ordinary chocolate bars for this beautiful, interactive Chocolate Dessert Board!
The other components are up to you. I am a fan of adding cheese, nuts, and fruit. Plus crackers are a done deal when cheese is involved.
Make sure to vary the colors, textures, and flavors of all your dessert board components.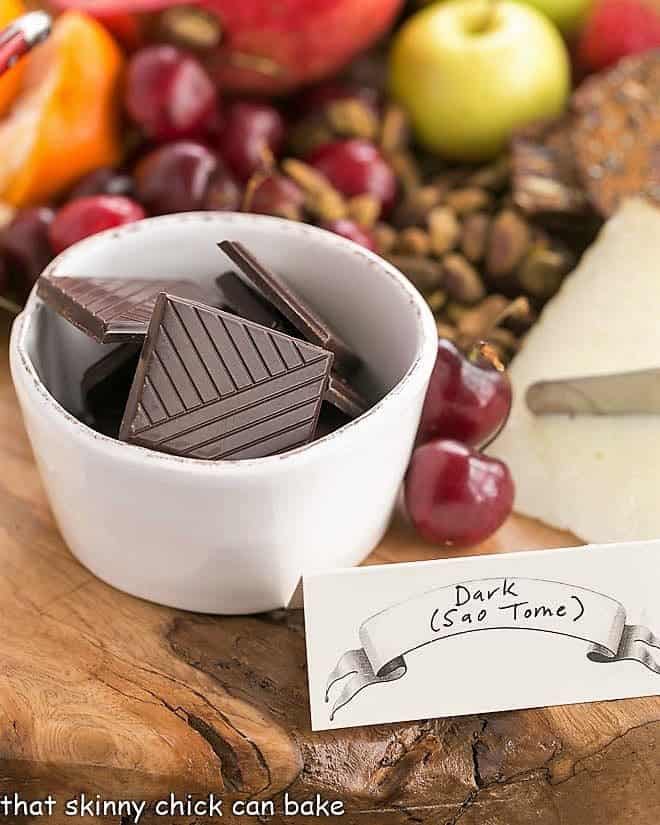 Quality Chocolates
Choose your chocolate first. Quality chocolates from Cémoi pair beautifully with wines, cheeses, fruit and nuts. Challenge your guests to differentiate the flavor profiles in each chocolate and find a complementary food off the chocolate dessert board. The Cémoi chocolate bar packaging highlights the subtle nuances in their tasting notes.
Jasmine, coffee, dried fruits along with woody notes or roasted notes were a few descriptions that piqued my interest. I knew some of our guests would be intrigued as well, making for an interactive opportunity! Find out which party guest has the most discriminating palate!
Make sure the chocolate is in bite-sized pieces. Put little place card labels to identify each chocolate, country of the cacao bean origin and any flavor notes you care to reveal.
The Cheeses and More
Add seasonal fruits and nuts to your arrangement. I like to group each different component together, so the board looks organized. Grapes pair wonderfully with cheese; and for the holidays, a vibrant pomegranate makes a stunning presentation.
Select an array of cheeses. I chose a sharp English Cheddar, a mild Gouda, a creamy Cambozola (a cross between Brie and Gorgonzola), and a nutty Manchego. Like with the chocolate, labels will help your guests identify the cheeses.
Serve a variety of crackers for the cheeses. Plain, herbed, salted, crisps in different shapes and sizes make a more interesting, visually appealing board.
More Tips for Making a Dessert Board
Add anything else that would enhance your chocolate dessert board selections such as honey, jam, quince paste. I thought of adding some chewy gingersnaps which are a seasonal favorite with my family, but I ran out of space.
PRO-Tip: Let your cheeses sit at room temperature at least an hour before your company arrives. It's amazing how much better cheeses taste when they're not fresh from the refrigerator.
Be cautious with soft cheeses, though, as the FDA still recommends all perishables be refrigerated after 2 hours. PRO-Tip: Food safety experts at Clemson, though, report that cheeses are safe to sit out for 4-8 hours.
Make sure to have small cheese knives for each cheese (even a butter knife will do!). PRO-Tip: You may want to cut a few slices from one or two of the cheeses to get things started.
Make your chocolate dessert board ahead of time. The Cémoi chocolate, fruit, nuts, and crackers can sit out at room temperature overnight, just cover well with plastic. Add the cheeses about an hour before your guests arrive.
Cémoi Chocolates
Cémoi is launching their single sourced chocolate bars in the Ohio and New England areas. These sophisticated chocolates offer a French savoir-faire using beans from prime cacao locales along with informative labels with hints on what to expect as one savors each bite.
Their chocolates are made in France and are available in select Heinen's grocery stores in the Chicago area and Northeast Ohio as well as a number of Kings Food Markets and Balducci's in the northeast.
Keep up to date by following Cémoi on their website, Instagram and Facebook.
Note: This post may contain affiliate links; view
my Disclosure Policy
for details. I earn a small percentage from any purchase you make by clicking on these links at no extra cost to you.