Triple Cheese Gougeres
These sublime Triple Cheese Gougères remind me of when my mom showed me how easy it was to make cream puffs with just a few ingredients. I remember stirring pâte à choux dough with her trusty wooden spoon in my childhood home.
These Delicious Cheese Puffs have a marvelous depth of flavor from the three varieties of cheese! They are a delicious addition to any appetizer spread.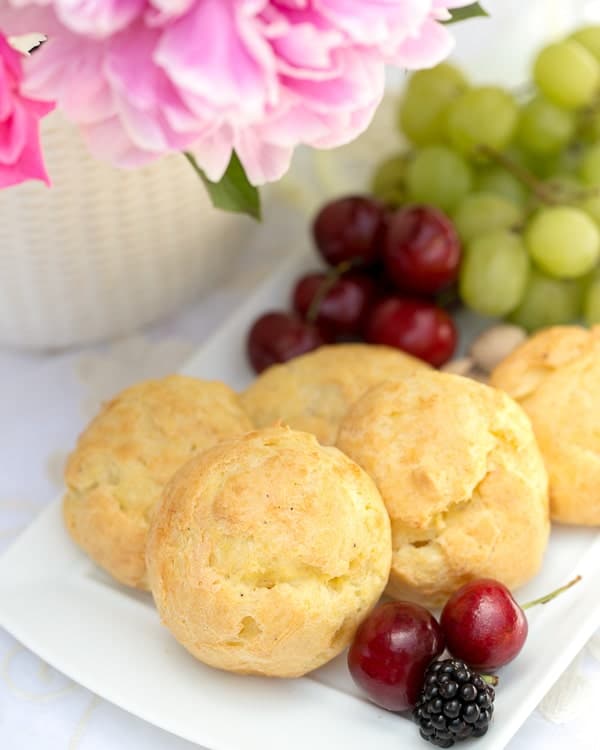 Why You Must Make
The triple dose of cheese makes these cheese puffs irresistible!
The French knew what they were doing when they took choux dough and adapted it for appetizers!
Your friends will be impressed you made these yourself.
We've had a deluge of rain this spring. The grass is lush and green and our yard is full of fragrant blossoms. Siberian irises, peonies, rhododendrons, allium, and more. It's the perfect time of year to drape the patio table with a linen cloth and have a garden party.
Charcuterie Board with Savory Cream Puffs
Once my array of meats, pâtés, and condiments arrived, I began planning my charcuterie board. Grapes, blackberries, and fresh cherries were in my refrigerator and I had a stash of salted pistachios for a little crunch.
Then I planned to bake up some triple cheese gougères flavored with Gruyere, sharp cheddar, and blue cheese to add to the table, along with a bottle or two of wine for this adults-only garden party.
How to Make
Gougères are an elegant appetizer with a base of pâté à choux, or cream puff dough.
I make cream puffs as my mother taught me, mixing the batter on the stovetop with a wooden spoon.
Make certain each egg is incorporated before adding the next.
Add cheese, mustard or other flavorings like mustard powdered or a pinch of cayenne pepper after the dough is mixed.
You can tell gougeres are done when they're puffed and golden brown.
Gougeres freeze well. Just place the cooled cheese puffs in a freezer zip-top bag, remove the excess air, and store up to 3 months.
I typically make my gougères with Gruyere alone but upped the ante with a trio of flavorful cheeses. The flavor was complex and unforgettably delicious! There was no room on my charcuterie board for any chunks of cheese so a tray of these elegant savory cream puffs was a delightful addition to the table.
Tips for Making a Charcuterie Board
Making a charcuterie board is super easy. It's imperative to find quality, fresh ingredients and to be cognizant about how you place them on your board. If you like this appetizer board, check out this Chocolate Dessert Board for a delicious way to end a meal.
Start by selecting quality cured meats and pâtés. Vary the spiciness, appearance, and type of meat. With Les Trois Petit Cochons, the options are fabulous and top-notch. Smoked duck brisket, cured French ham, sausage, salami plus a chicken liver pâté worked well.
Add some toasts, baguette slices, and/or crackers. Different shapes and textures are nice.
Fresh and dried fruits complement the charcuterie well. Grapes, berries, cherries, dried apricots, and figs are wonderful additions. I like some crunchy nuts for textural variation.
Be careful when arranging each component. Separate different colors, sizes, and types of ingredients for the most pleasing appearance.
Add some condiments like Dijon mustard, cornichon, and pickled peppers.
A regional cheese would also be lovely or bake up some triple cheese gougeres!
Frequently Asked Questions
How Do You Say Gougeres?
This French word is pronounced goo-ZHAIR.
Can You Reheat Gougeres?
Definitely! If they are cold, place them on a baking sheet and reheat in a 350° oven for about 10 minutes or 15 minutes if fresh from the freezer.
What is Charcuterie?
Charcuterie is a century's old French term meaning cooker of meat. It refers to pork products such as pates, rillettes, galantines, crepinettes, and other items sold in a delicatessen. It's pronounced shar-KOO-tuhr-ree.
You May Also Like:
The Recipe:
Triple Cheese Gougères
Prep Time 15 minutes
Cook Time 40 minutes
Total Time 55 minutes
Yield 16 puffs
French cheese puffs with a trio of cheeses! Recipe adapted from my sister, Katie.
Ingredients
1 cup water
1/2 cup butter
1/2 teaspoon salt
1/4 teaspoon pepper
1 cup flour
4 eggs
1/2 cup grated sharp cheddar
1/4 cup plus 2 tablespoons grated Gruyere
1/4 cup crumbled blue cheese
1 teaspoon dry mustard
Pinch of cayenne pepper
Instructions
Preheat oven to 375º.
Bring water, butter, salt and pepper to a boil in medium saucepan. Remove from heat.
Add flour and mix well with wooden spoon. Add 4 eggs, one at a time, mixing in well before adding the next. Stir in the cheeses, mustard, and cayenne.
Drop by tablespoonfuls onto parchment-lined baking sheet. Bake for 30-40 minutes until firm and golden.
Nutrition Information:
Yield:
16
Serving Size:
1 cream puff
Amount Per Serving:
Calories: 138
Total Fat: 10g
Saturated Fat: 6g
Trans Fat: 0g
Unsaturated Fat: 3g
Cholesterol: 71mg
Sodium: 206mg
Carbohydrates: 6g
Fiber: 0g
Sugar: 0g
Protein: 5g
Note: This post may contain affiliate links; view
my Disclosure Policy
for details. I earn a small percentage from any purchase you make by clicking on these links at no extra cost to you.