Pineapple Coconut Zucchini Bread
This loaded Pineapple Coconut Zucchini Bread is the most delicious way to use up your end-of-the-summer zucchini! I pulled out my bowls and box grater and started mixing up a batch of this scrumptious zucchini bread recipe.
Have you been wondering what to do with those ginormous zucchini that are left in your garden? Add this Moist Zucchini Bread with Pineapple to your baking list and park a couple of loaves in the freezer, too. You'll become a fan after your first bite!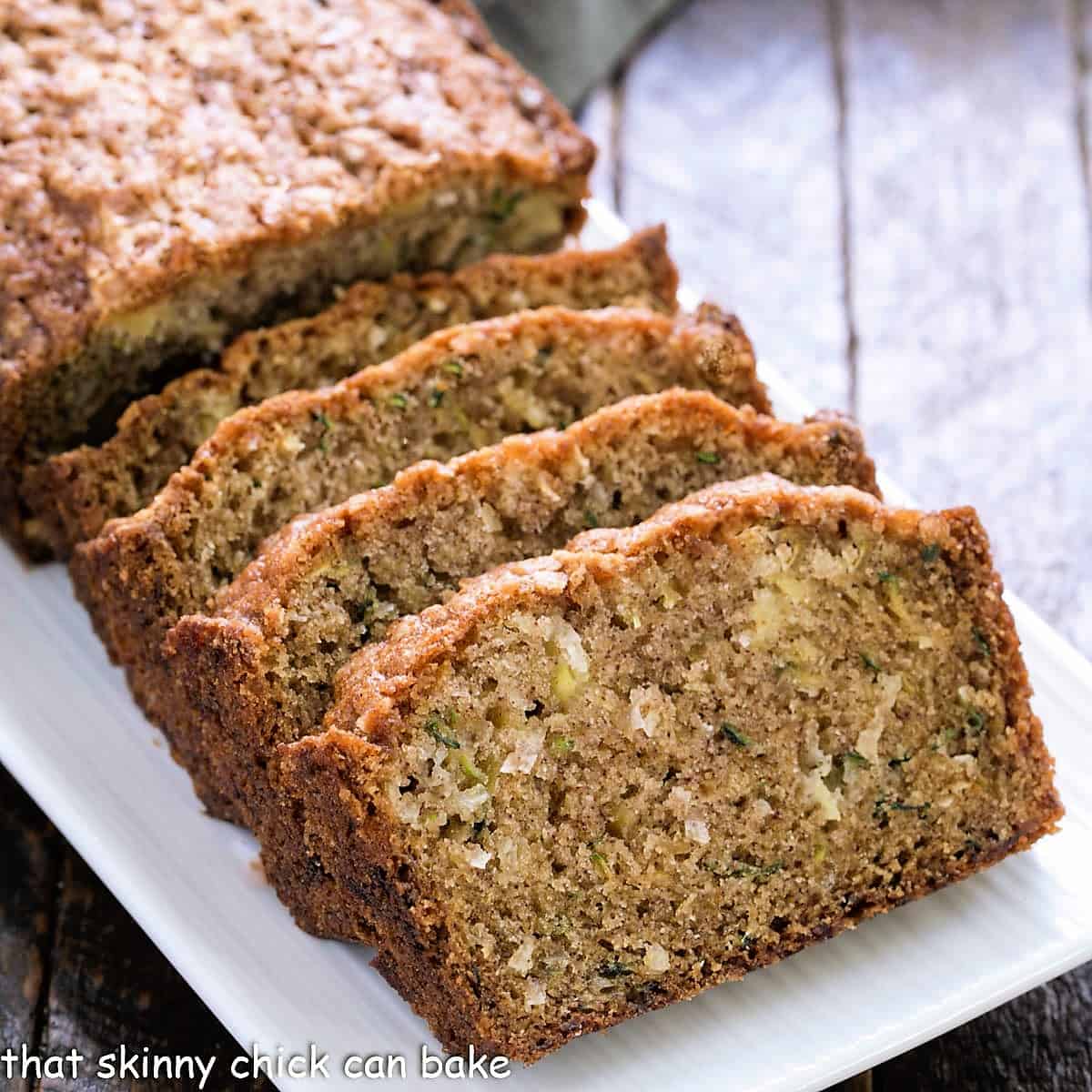 Why You Must Make
The family tends to prefer their food sans nuts and "funny stuff," as the hubby calls anything he'd rather not eat. So when I made this bread, I knew I might be eating it all myself. The sacrifices I make for this blog!! I made one small loaf sans nuts and one large loaf with the works, meaning walnuts, crushed pineapple, and coconut.
The addition of pineapple makes this zucchini loaf nice and moist. And the coconut and nuts contribute to a more complex texture. I love the crunch from the walnuts.
Quick or soda bread like this zucchini bread is great for hostess gifts, holiday gifts, and on and on. Attach a card with the recipe!
This recipe makes TWO loaves. One for you and one to freeze or share.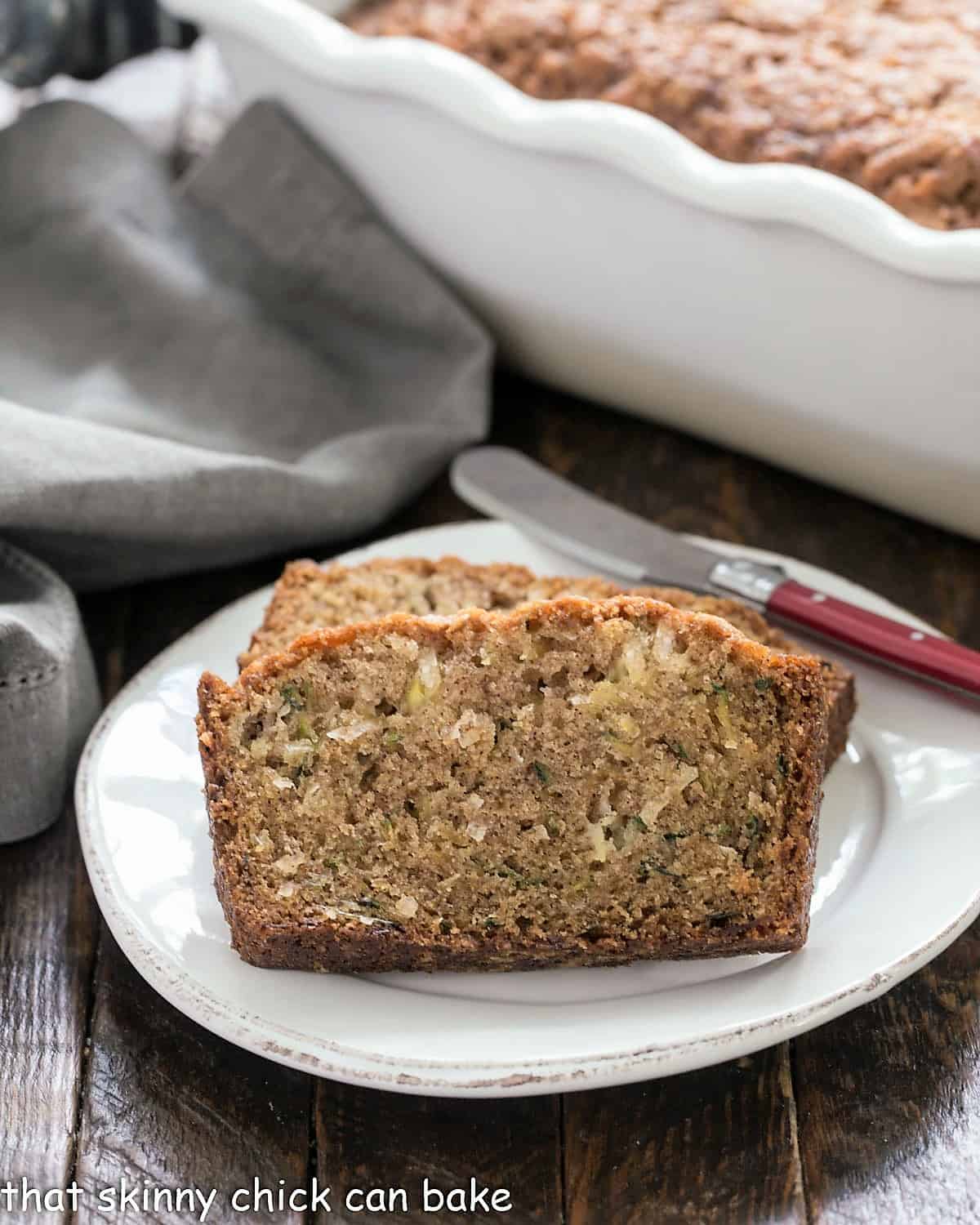 Expert Tips
As with all quick bread recipes, there are a few standard tips that will ensure the best results every time!
Prep and Mixing Tips
Prep your loaf pans properly so the bread will release easily. I like to grease and flour the pan or use a flour-oil non-stick spray like Baker's Joy.
As an extra measure, you can line the bottoms of your loaf pans with a rectangle of parchment paper. Grease the top of the parchment, too.
Toast your nuts. This brings out their natural oils and nuttiness.
PRO-Tip: Check to see if your baking powder is fresh. Unlike baking soda (both are used in this recipe), baking powder usually expires while sitting in your pantry. Look at the date on the can and you can also put a spoonful in a cup of hot water. If it's still active, it will bubble vigorously. If not, replace it before making this recipe.
With wet ingredients, like crushed pineapple and zucchini, you'll want to make sure you remove any excess liquid. I place the pineapple in a colander or strainer and press out some of the juices. I squeeze dry the shredded zucchini, as well.
After adding the dry ingredients, do not over-mix. The mixing should be done with a wooden spoon and only mixed until the flour is incorporated. It's better to see a few spots of flour than to work to mix in every bit. 
PRO-Tip: Never mix a quick bread with an electric mixer. Over-mixing will result in tunnels throughout your loaf.
Baking and Storing Tips
Test your loaf before removing it from the oven. Insert a toothpick into the center. You should not see any wet batter on your toothpick after it is removed. If you do, return to the oven and bake for 5-10 minutes before retesting.
You can also eyeball the cracks in the top of the loaf to look for any signs of raw batter, but using a toothpick is the only surefire way to make sure the loaf is fully cooked. This zucchini bread is WAY too scrumptious to lose even a small amount to underbaking.
PRO-Tip: Depending on your pan, the baking time can vary greatly. I use a heavy-duty loaf pan and my bread always takes much longer to bake than in the recipe instructions. This is why testing with a toothpick is SO important. There's nothing worse than cutting into a loaf and finding the middle is still raw or underbaked.
PRO-Tip: Cool your loaves on a wire rack for 10-15 minutes before removing them from the pans. This time allows the loaf to firm up a bit without cooling so much that it sticks to the pan.
These loaves can be stored in the refrigerator for up to a week or frozen for 3 months. Wrap cooled loaves well in plastic, then foil before freezing.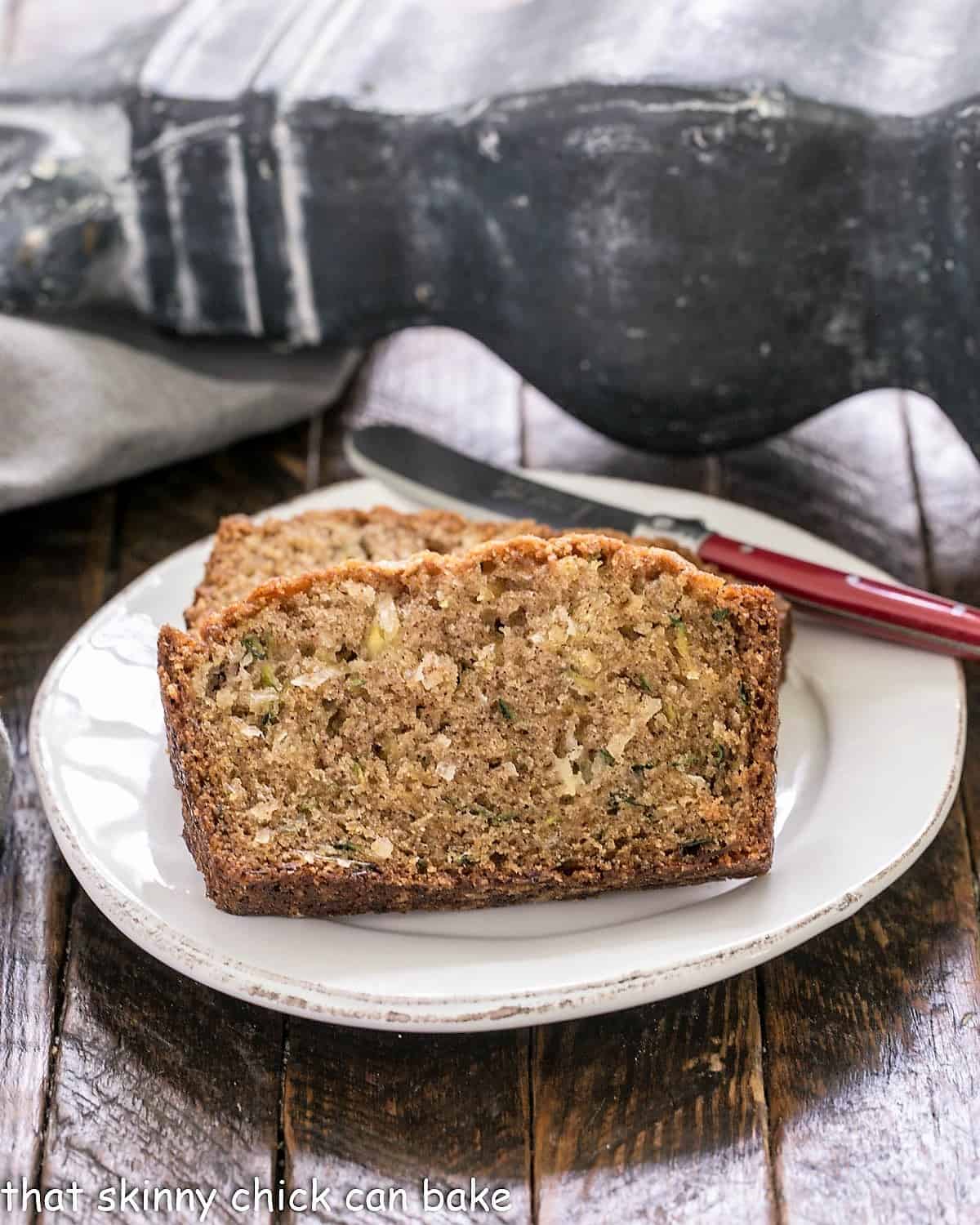 Frequently Asked Questions
How Do You Pick a Good Zucchini?
Select small zucchini which will be younger, and more tender, with thinner skin and smaller seeds. The skin should be without blemishes and a vibrant dark to light green.
What's the Best Way to Shred Zucchini?
Use a box grater or food processor. Just cut off a small slice from the stem end and grate.
Why Do You Squeeze the Shredded Zucchini?
Removing the excess liquid helps even the playing field. 2 cups of shredded zucchini will have different water contents depending on the condition of the zucchini used. This liquid will dilute the batter. This recipe was developed using squeezed zucchini so skipping this step won't produce the best results.
How Do You Know When Your Zucchini Bread is Done?
Use the toothpick test. Poke a toothpick into the middle of the bread. If it comes out without batter on it, the loaf is done. Repeat this test in any crack, especially if you see batter lurking inside. If you see a few moist crumbs on the toothpick, that's fine. But you do not want to see any batter.

Different pans and different ovens will need more or less time. Mark your recipe card with the time that worked in your oven for future batches.
How Do You Toast Nuts?
This can be done in the oven or in a large saute pan. Observe closely as they can go from toasted to burnt in no time. In a saute pan, place them in a single layer and cook over medium-low heat, stirring occasionally for about 5 minutes or until you notice a nice, nutty aroma.

To toast/roast in the oven, preheat to 350 degrees. Spread out in a single layer on a rimmed sheet pan. Cook for about 5 minutes, stir, then cook for another 3 minutes or until lightly browned with a toasted nut fragrance. Different varieties and sizes of nuts will take more or less time, so use your best judgment by observation.
Is Zucchini Bread Healthy?
Zucchini bread does have some redeeming features, like the addition of pineapple for some Vitamin C and walnuts for protein and antioxidants. But there's a lot of sugar, so it's not exactly healthy. Maybe healthier than a slice of chocolate cake, but this bread would never be considered health food.
You May Also Like:
Stay in touch through social media @ Instagram, Facebook, and Pinterest. Don't forget to tag me when you try one of my recipes! And if you love the results, please give it a 5-star rating in the recipe card. Note: As an Amazon Associate, I earn from qualifying purchases. Visit my Amazon Store for my favorite products.
The Recipe:
Pineapple Coconut Zucchini Bread
Prep Time 20 minutes
Cook Time 1 hour 25 minutes
Total Time 1 hour 45 minutes
Yield 24 servings (2 loaves)
A summertime quick bread favorite with walnuts, coconut, and crushed pineapple.
Ingredients
2 cups sugar
1 cup vegetable oil
3 eggs
2 cups shredded zucchini, squeeze out any excess moisture
½ cup chopped, toasted walnuts, optional
1 can (4 ounces) crushed pineapple, well-drained
1 cup coconut (sweetened Angelflake)
2 teaspoons vanilla
2 teaspoons cinnamon
1 teaspoon baking soda
1 teaspoon salt
1 teaspoon baking powder
2 cups flour
Instructions
Grease and flour two 9 x 5 loaf pans (or spray with Baker's Joy). Set aside.
Preheat oven to 350º.
In a large mixing bowl, combine sugar and oil. Add eggs and beat well. Add zucchini, walnuts, pineapple, coconut, vanilla, and cinnamon and mix to combine.
In another bowl, whisk together soda, salt, baking powder, and flour. Stir into zucchini mixture with a rubber spatula or wooden spoon just until combined. Do not overmix.
Pour into two prepared pans. Bake for 50 minutes-1 hour, 25 minutes (time will vary depending on your pans and oven). Test with a toothpick. Loaves are done when a toothpick inserted in the center of each loaf comes out clean.
Notes
Once the baking powder and soda are added, do not overmix or there will be tunnels in the bread.
Nutrition Information:
Yield:
24
Serving Size:
1
Amount Per Serving:
Calories: 229
Total Fat: 12g
Saturated Fat: 2g
Trans Fat: 0g
Unsaturated Fat: 10g
Cholesterol: 23mg
Sodium: 181mg
Carbohydrates: 28g
Fiber: 1g
Sugar: 19g
Protein: 3g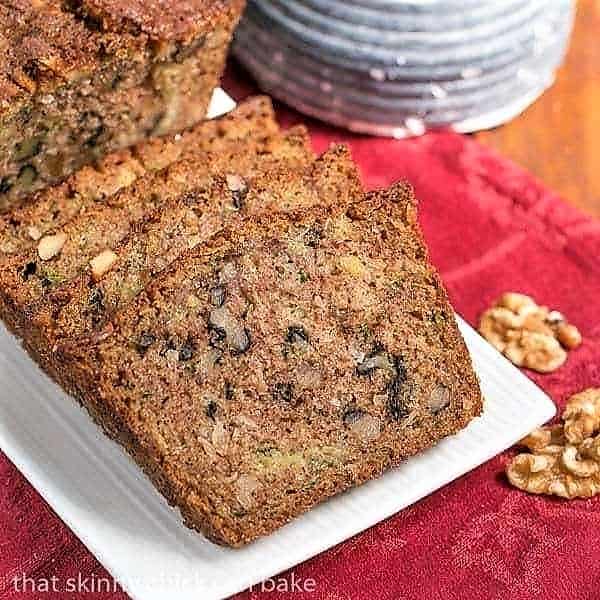 Note: This post may contain affiliate links; view
my Disclosure Policy
for details. I earn a small percentage from any purchase you make by clicking on these links at no extra cost to you.