Classic Zucchini Bread Recipe
This scrumptious Classic Zucchini Bread is nut-free and spiced with cinnamon. With plenty of tips plus a video demonstration, every loaf will be perfect.
If you have zucchini coming out of your ears, make a double batch of this Best Zucchini Bread Recipe and fill the freezer! It's an easy summer quick bread that's wonderful for breakfast, brunch, and snacks. Plus it tastes amazing!!!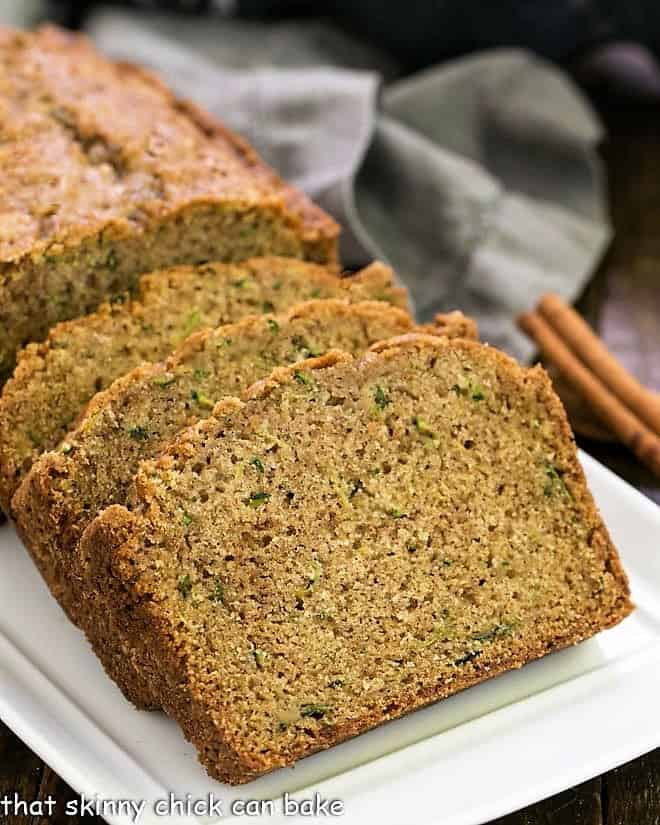 Why You Must Make
This is the way I can get my family to eat zucchini!
Spiced with cinnamon, it's absolutely delicious.
Zucchini adds extra moisture making this a tasty, tender, moist loaf
The hubby prefers his bread to be without vegetables, but that just leaves more for the rest of the family! If you're new to cooking with zucchini, check out this Ultimate Guide to this versatile vegetable!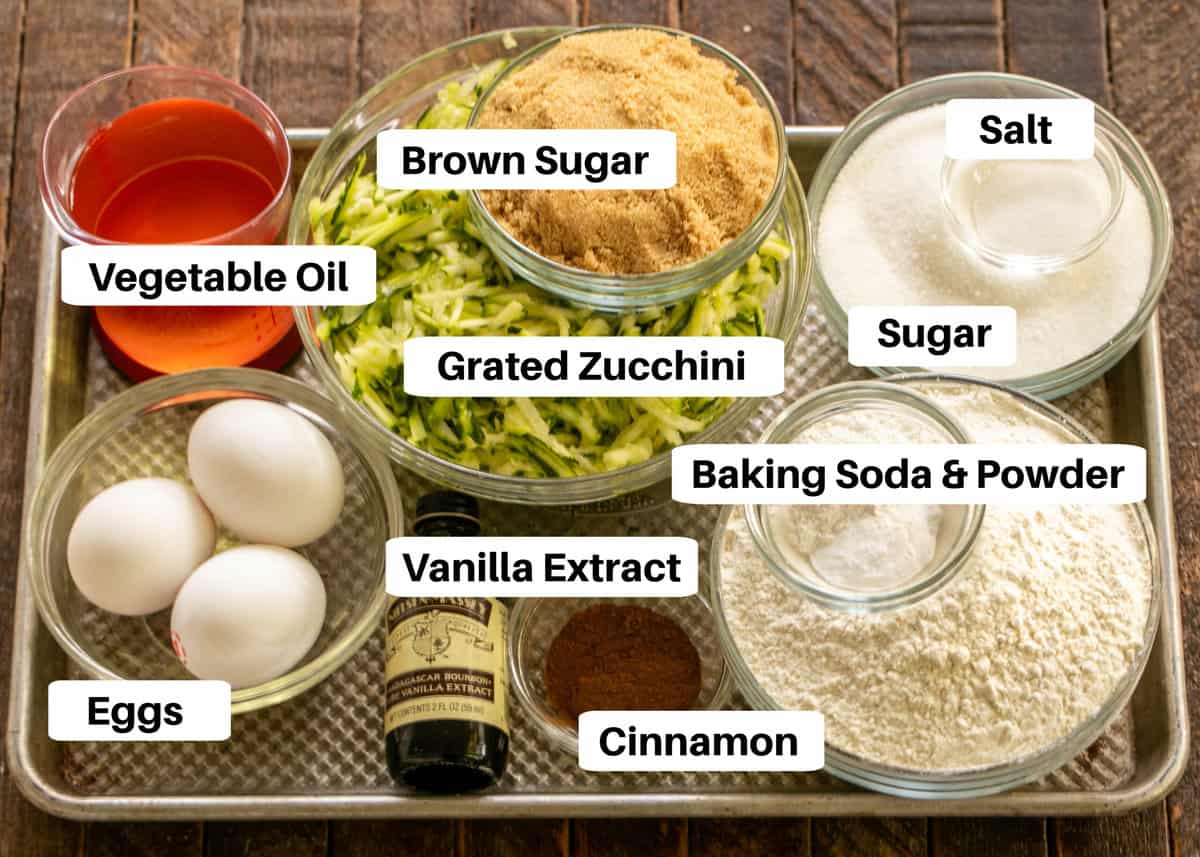 Ingredient Notes
Kitchen Staples – All-Purpose Flour, Sugar, Brown Sugar, Salt, Baking Soda, Cinnamon
Baking Powder – Not the same as baking soda. Baking powder usually expires before you can use it all so check the expiration date. If you're unsure if it's still active, put a spoonful into a cup of hot water. If it's still viable, it will bubble vigorously.
Eggs – My recipes call for large eggs unless otherwise noted. For most baking recipes, it's best to have the eggs at room temperature for easy incorporation.
Vegetable Oil – Use a neutral oil like canola oil. I don't recommend olive oil.
Vanilla Extract – Make sure you use real vanilla extract, not artificially flavored for the tastiest results.
Grated Zucchini – I use a box grater and grate unpeeled zucchini with the stem end sliced off. Squeeze the grated zucchini to remove most of the moisture. I do this over a colander.
How to Make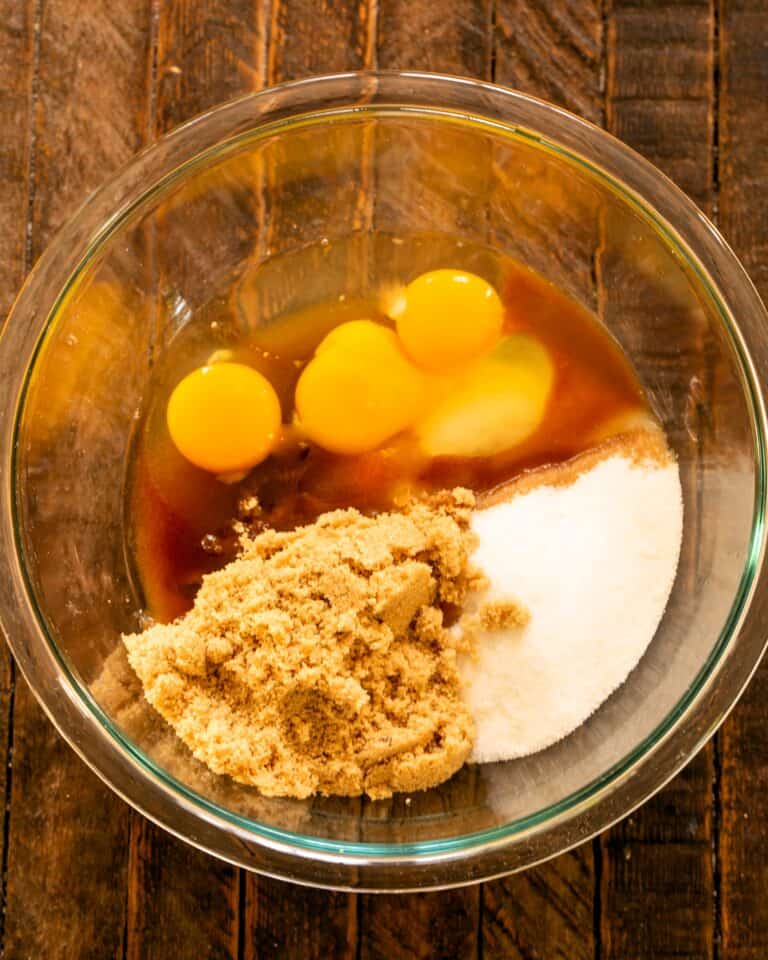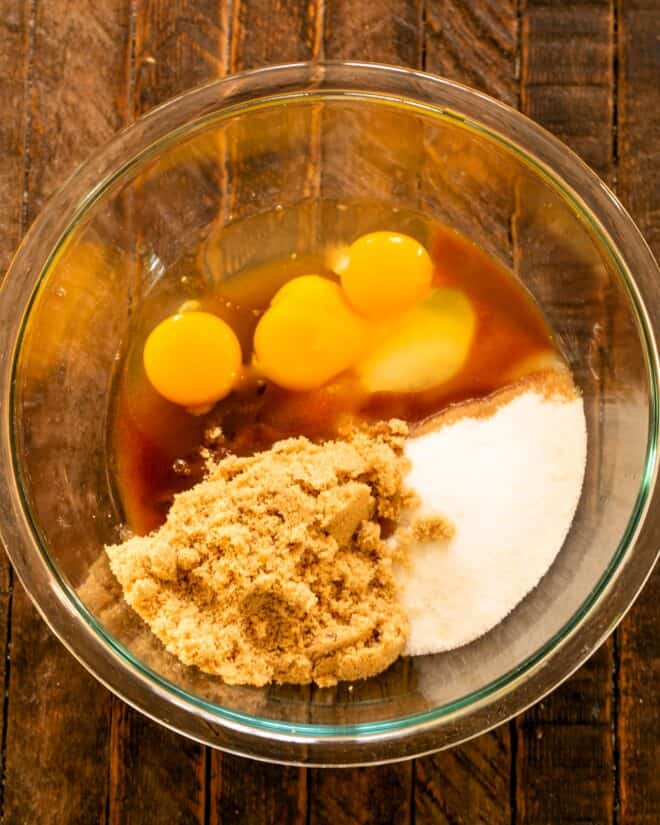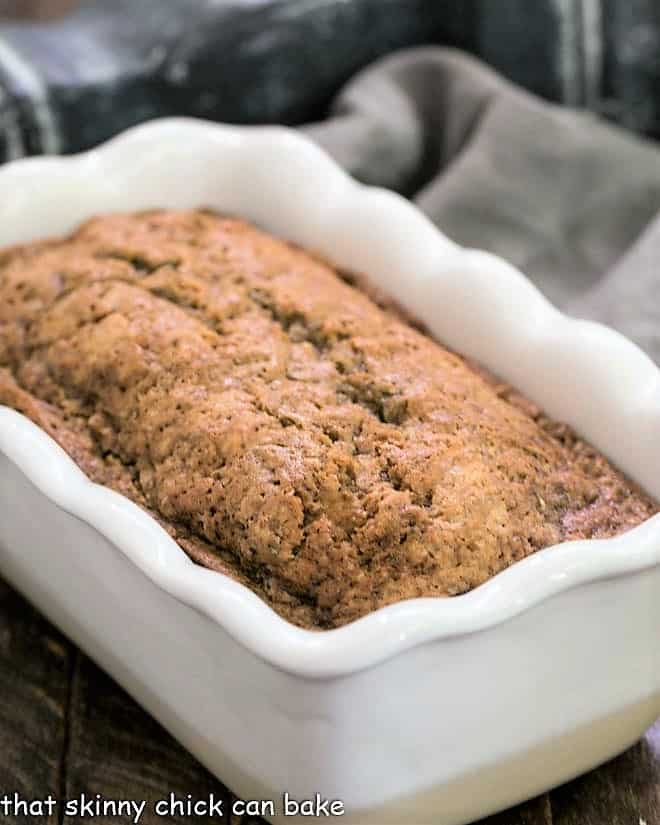 Expert Tips
A few simple rules will help you make perfect quick bread every time!
PRO-Tip: Before you start baking, check the expiration date on your baking powder. Baking powder is not used as frequently as baking soda and often expires well before the can is depleted. Using expired baking powder can prevent your quick bread from rising properly.
As with most baking, start with room-temperature ingredients. Get the eggs out of the refrigerator for about a half-hour before you plan to start mixing. If you want, you can place them in a bowl of warm water to hurry along the process. Don't use boiling water or your eggs will cook!
Generally, you mix all the dry ingredients first, then add the wet ingredients.
You don't need to peel your zucchini before shredding. Use a box grater or your food processor to do the work. If you have an extra-large zucchini, remove some of the larger seeds before grating.
Make sure you squeeze your shredded zucchini until it's very dry. Otherwise, you'll have too much liquid in your batter.
PRO-Tip: Do not over-mix any quick bread recipe or your end result will be full of tunnels and your muffins will have peaked versus rounded tops. Do not use a mixer. A wooden spoon or silicone spatula will work just fine.
Line the bottoms of your bread pan with a rectangle of parchment paper to prevent sticking. Spray the pan and parchment with Baker's Joy, or a similar product, a non-stick oil and flour spray.
Do not over-bake. Check for doneness by inserting a toothpick into the center of the loaf or a muffin. If there are wet crumbs when you pull it out, you will need to add more baking time. You want the toothpick to come out clean. Start checking about 10 minutes before the allotted time is up. All ovens bake differently.
After I successfully bake a loaf, I note the time on the recipe for future reference. Cool for about 10 minutes before removing the bread from the pan to a cooling rack.
Quick bread freezes wonderfully. Just make sure to wrap your cooled bread well (I like wrapping first with plastic wrap, then foil) and use it within 3 months. Thaw at room temperature before serving.
Zucchini bread will stay fresh at room temperature, in plastic wrap, for 2-3 days as long as it's not too humid. If the humidity is high, store in the refrigerator.
How To Make Chocolate Zucchini Bread
If Chocolate Zucchini Bread is on your radar, try substituting part of the flour with cocoa powder. If you just add cocoa powder without reducing the amount of flour, the baking chemistry will be off. I recommend decreasing the amount of flour from 3 cups to 2 1/2 cups, then add 1/2 cup of regular cocoa powder to the dry ingredients.
Do not use Dutch-process cocoa powder as, again, the chemistry of the recipe will be disrupted! You can also add 1/2-3/4 cup of chocolate chips (or even nuts!). My family prefers zucchini bread without nuts.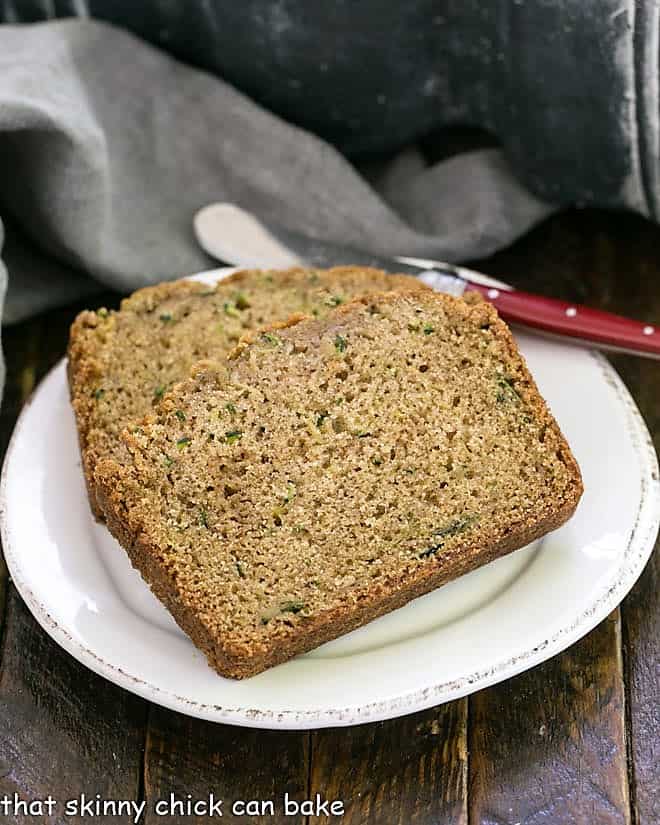 Frequently Asked Questions
What is Quick Bread?
A yeast bread uses yeast as a leavening agent whereas a quick bread uses baking powder or baking soda or both. Yeast bread requires proofing or rising time in contrast with a quick bread that can be baked as soon as the batter is mixed.
Thus the "quick" bread compared to yeast bread requires less time and fewer steps. Quick bread is also known as soda bread due to the use of baking soda.
Besides the typical loaves of zucchini, banana, and pumpkin bread, muffins are also soda bread. They're just baked in a muffin or cupcake tin instead of in a loaf pan. Pancakes, dumplings, and fritters are also considered quick bread.
How Do You Grate Zucchini?
Zucchini can be grated using a couple of methods. If you have a box grater, first trim off a small piece from each end. PRO-Tip: There is no need to peel your zucchini before grating. Grate onto a piece of parchment paper or into a bowl.
You can also use your food processor by attaching one of the manufacturer's attachments. There is a shredding disk that sits on the bowl. Once the top is twisted over the disk, gently push the zucchini through the feed tube with the processor running. Voila, shredded zucchini!
Why Did My Zucchini Bread Sink in the Middle?
There are a few reasons why a quick bread would sink in the middle. First, if it's undercooked, the raw center will sink. Make sure you use a toothpick to check a number of spots across the middle of the bread before pulling it out of the oven. If there is any batter on the toothpick when you pull it out, bake the loaf 5 minutes longer and recheck.
Another possibility is that the batter was mixed too vigorously. This creates excess air bubbles which make for a less stable structure. Stir, don't beat the mixture after adding the dry ingredients. Once you mix the dry ingredients with the wet ingredients, gently mix just until combined. 
Also, as mentioned above, if your baking powder is expired, there may not be enough leavening to allow your bread to rise properly. PRO-Tip: To test your baking powder, place a spoonful in a small bowl, and add some boiling water. It should fizz and bubble if your baking powder is still potent.
The final possibility is that you overfilled your loaf pan. It should only be filled about 2/3 of the way up the sides. This allows enough space for the bread to rise without overflowing into your oven.
How Many Zucchini Makes 3 Cups Grated?
A medium zucchini will provide about 2/3 cups grated, tamped down zucchini. To be safe purchase about 5 medium zucchini to ensure you have enough for this easy zucchini bread.
Should You Squeeze the Water Out of Zucchini for Bread?
For this recipe, yes. The water content of your zucchini will vary, and removing as much liquid as possible will ensure that your batter will not be overly wet.
Some recipes, like my Chocolate Zucchini Bundt Cake, do not require squeezing the liquid from the grated zucchini. Instead, it relies on that liquid to balance the dried ingredients in the recipe. So trust in the recipe you're using and if it calls to squeeze the grated zucchini, definitely do!
Does Zucchini Bread Taste Like Zucchini?
Don't worry, if you don't enjoy the taste of roasted, sauteed, or cooked zucchini, you may still love this classic zucchini bread. Most likely, you'd never guess this zucchini quick bread was made from zucchini unless you notice the green specks in your slice.
The zucchini provides moisture without imparting any flavor, allowing for a soft, tender quick bread. The cinnamon will be the only delicious taste your palate will detect.
How Should You Store Zucchini Bread?
Quick bread can be stored at room temperature, wrapped in plastic wrap, a ziptop bag, or another airtight container, for 3 days. In the middle of the summer, feel free to place the bread in the refrigerator.
When it's really humid, consider placing a paper towel in with the bread to collect excess moisture. It also freezes well as long as it's wrapped airtight. Use within 2-3 months by defrosting it overnight in the refrigerator.
Is Zucchini Bread Healthy?
Most quick bread, like zucchini bread, is sweet and tastes like an unfrosted cake. But there is more nutritional value, especially if the zucchini is not peeled before being shredded. There is some fiber and Vitamin C, but it won't replace a serving of vegetables. So zucchini bread should not be considered health food.
You May Also Like:
This easy zucchini bread can be made all year long and is an ideal way to get rid of excess garden zucchini and share the wealth with friends and neighbors.
Once you get the hang of making quick bread, you'll want to bake up a new variety every week! For a fun twist, here's my recipe for Zucchini Bread with Pineapple.
Stay in touch through social media @ Instagram, Facebook, and Pinterest. Don't forget to tag me when you try one of my recipes! And if you love the results, please give it a 5-star rating in the recipe card. Note: As an Amazon Associate, I earn from qualifying purchases. Visit my Amazon Store for my favorite products.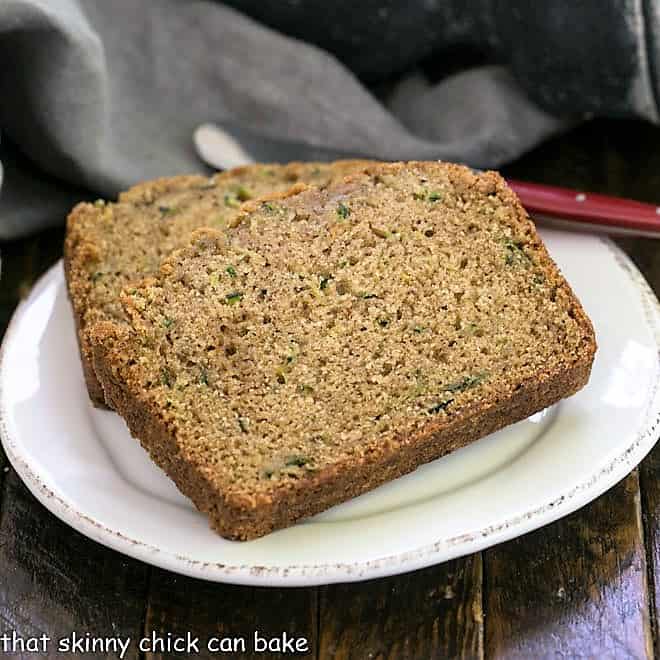 The Recipe:
Classic Zucchini Bread
Prep Time 15 minutes
Cook Time 1 hour
Total Time 1 hour 15 minutes
Yield 2 loaves
A moist, dense zucchini bread spiced with cinnamon! Inspired from All Recipes.
Ingredients
3 cups flour
1 teaspoon salt
1 teaspoon baking soda
1 teaspoon baking powder
1 tablespoon ground cinnamon
3 eggs
1 cup vegetable oil
1 ¼ cups white sugar
1 cup brown sugar
1 tablespoon vanilla
3 cups grated zucchini, drained and squeezed to release excess water
Instructions
Grease two 8 x 4-inch loaf pans. Line the bottoms with parchment and grease the top of the parchment. Preheat oven to 325º.
Sift flour, salt, baking powder, soda, and cinnamon into a medium bowl and set aside.
Beat eggs, oil, vanilla, and sugars together in a large bowl. Mix in the salt, baking powder, soda, and cinnamon mixture.
Then mix in zucchini with a wooden spoon or spatula till just incorporated. Stir in zucchini. Pour batter into baking pans.
Bake for 50 to 60+ minutes, or until a toothpick inserted in the center comes out clean. Cool the in pans on a rack for 10 minutes. Remove bread from the pan, and completely cool.
Notes
Place the grated zucchini in a colander to drain any excess liquid while I'm measuring and mixing the other ingredients. Squeeze it to wring out residual moisture.
Make sure your baking POWDER is fresh. It often expires while in your pantry and your bread won't rise properly without it.
Recommended Products
As an Amazon Associate and member of other affiliate programs, I earn from qualifying purchases.
Nutrition Information:
Yield:
24
Serving Size:
1 slice
Amount Per Serving:
Calories: 222
Total Fat: 10g
Saturated Fat: 1g
Trans Fat: 0g
Unsaturated Fat: 8g
Cholesterol: 23mg
Sodium: 174mg
Carbohydrates: 31g
Fiber: 1g
Sugar: 18g
Protein: 3g
Note: This post may contain affiliate links; view
my Disclosure Policy
for details. I earn a small percentage from any purchase you make by clicking on these links at no extra cost to you.