Glazed Poppy Seed Bread
This sweet, dense Glazed Poppy Seed Bread was flavored with both almond and vanilla. A tangy lemon glaze was the icing on the cake!
Almond Poppy Seed Bread is the perfect hostess gift, welcome to the neighborhood gift or for your own breakfast, brunch, or tea time snack!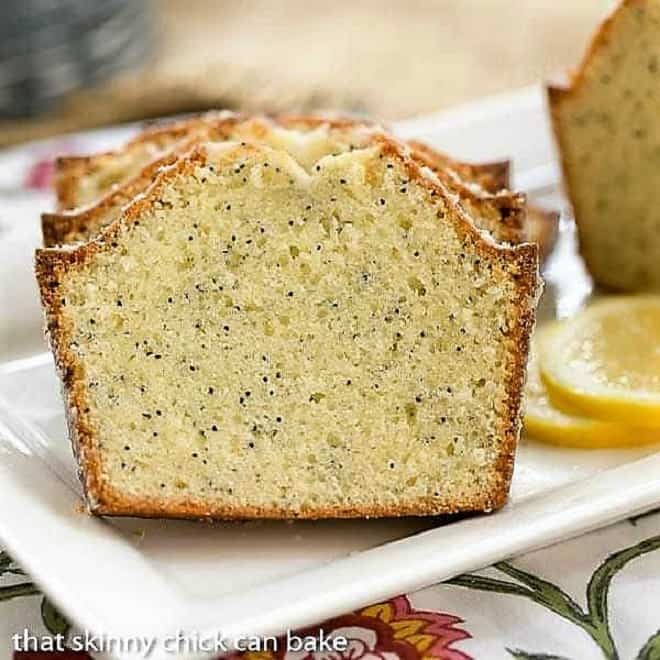 Glazed Poppy Seed Bread
We have a friend dealing with some major health issues. I can pray, but I can also offer them something tangible. I dropped this glazed poppy seed bread in their mailbox when he and his wife were spending the day at the doctor's office, hoping something sweet would bring comfort during this tough week.
My daughter loves poppy seed muffins, so I was pretty certain she would volunteer to help us polish off the second poppy seed loaf. Moist, tender with just a hint of flavorings, this is a fabulous addition to your breakfast or brunch menu, plus is a terrific gift for your hostess or a friend dealing with a difficult situation.

How to Make Almond Poppy Seed Bread
This almond poppy seed bread recipe was submitted to Katie's former grade school's cookbook by one of my dearest girlfriends. Unfortunately, the "butter" flavoring that was in the original version was nowhere to be found.
I could have melted butter instead of using oil, but I had already started the recipe when I realized my bottle of extract only had 2 drops in it. Okee, dokey. I just left it out. Then there was the shortage of orange juice to be used in the glaze. Guess I'd have to wing that as well.
Instead, I melted some butter and added some freshly squeezed lemon juice. I was quite pleased with these poppy seed loaves, moist with just a touch of citrus to play off the sweet. And Katie single-handedly consumed the loaf I kept for us. Fingers crossed that my friends enjoyed their poppy seed cake, too.
Tips for Making Quick Bread:
When making quick bread, keep these pointers in mind:
Prepare your baking pans well. Grease well. If you'd like to go the extra mile, place a rectangle of parchment in the bottom of your pan, then grease the top.
PRO-Tip: Do not over mix your batter. Stir in the dry ingredients by hand to make sure not to over-activate the leaveners. If you do, there will be tunnels in your poppy seed loaf.
Use a toothpick to check for doneness. When inserted in the middle, it should come out clean or with moist crumbs, not batter.
Let cool about 10 minutes in the pan before removing to a cooling rack.
You May Also Like: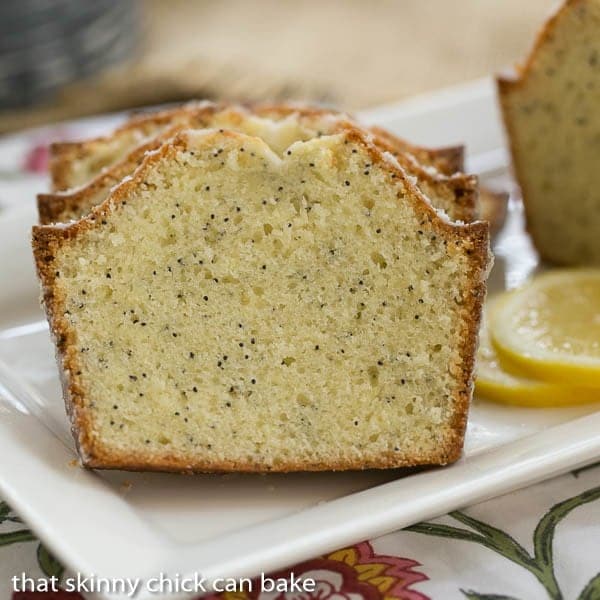 The Recipe:
Glazed Poppy Seed Bread
Prep Time 20 minutes
Cook Time 1 hour
Total Time 1 hour 20 minutes
Yield 2 loaves
A lovely poppy seed bread with a tangy lemon glaze.
Ingredients
2 ¼ cups sugar
1 ⅛ cups oil
3 eggs
1 ½ teaspoons vanilla
1 ½ teaspoons almond extract
1 ½ cups milk
1 ½ tablespoons poppy seeds
3 cups flour
1 ½ teaspoons baking powder
1 ½ teaspoons salt
Glaze:
2 tablespoons butter, melted
½ teaspoon vanilla
½ teaspoon almond
2 tablespoons fresh lemon juice
¾ cup powdered sugar, sifted.
Instructions
Preheat oven to 350º. Grease two standard loaf pans.
Mix oil and sugar together. Mix in eggs, then add vanilla, almond, and milk. Mix in poppy seeds, then flour, baking powder, and salt till just combined.
Pour into prepared loaf pans.
Make the glaze by whisking together all ingredients till smooth.
Bake for 1 hour or until a toothpick inserted in the center comes out clean. Cool for 10 minutes, then remove from the pans. Drizzle on the glaze.
Notes
Note that ⅛ cup is the same as 2 tablespoons.
Adapted from my friend, Pam.
Nutrition Information:
Yield:
24
Serving Size:
1 slice
Amount Per Serving:
Calories: 266
Total Fat: 13g
Saturated Fat: 2g
Trans Fat: 0g
Unsaturated Fat: 10g
Cholesterol: 27mg
Sodium: 188mg
Carbohydrates: 35g
Fiber: 1g
Sugar: 22g
Protein: 3g
Note: This post may contain affiliate links; view
my Disclosure Policy
for details. I earn a small percentage from any purchase you make by clicking on these links at no extra cost to you.