Sour Cream Pear Bread
This moist, rich Sour Cream Pear Bread is the perfect autumn treat with the warm spices of cinnamon and ginger. Totally irresistible with chunks of pears nestled in a sweet, tender loaf.
Disclaimer, I LOVE Pears. I have eaten scrumptious pear coffee cakes, put pears in my salads, but never made nor tasted a pear quick bread. I was bound and determined to create a moist and flavorful loaf, and, indeed, I did. This is one of those Pear Recipes that can't be beat!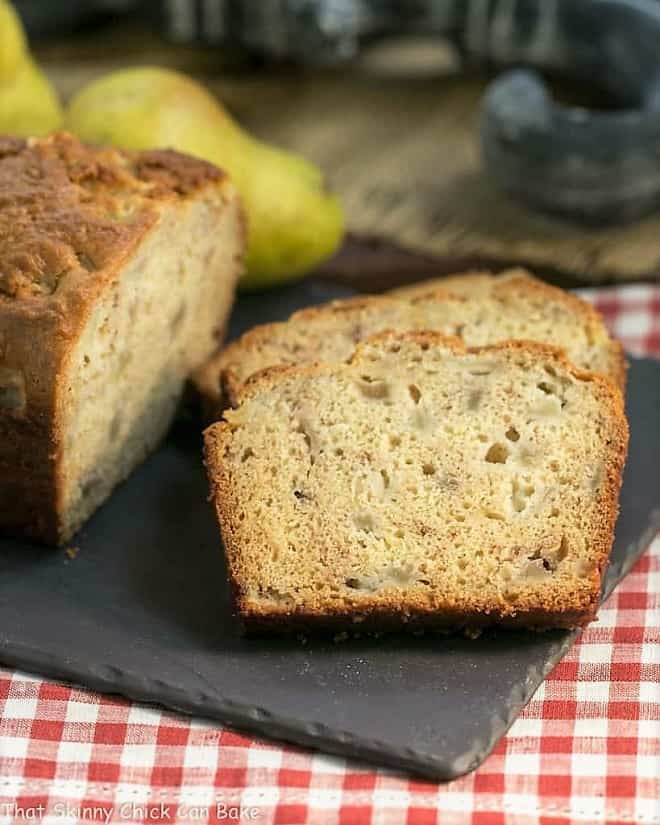 Why You Must Make
This Sour Cream Pear Bread is full of small pear chunks plus a hint of spice from cinnamon and ginger. Perfect for a fall breakfast, snack or teatime.
Adding sour cream made for a rich batter, which in turn, baked up to a perfect loaf. I shared this with a group of friends and they all were crazy about it.
Rich, sweet, and addictive, this loaf is a terrific addition to your breakfast or brunch menu, but could also be served with a scoop of ice cream for dessert!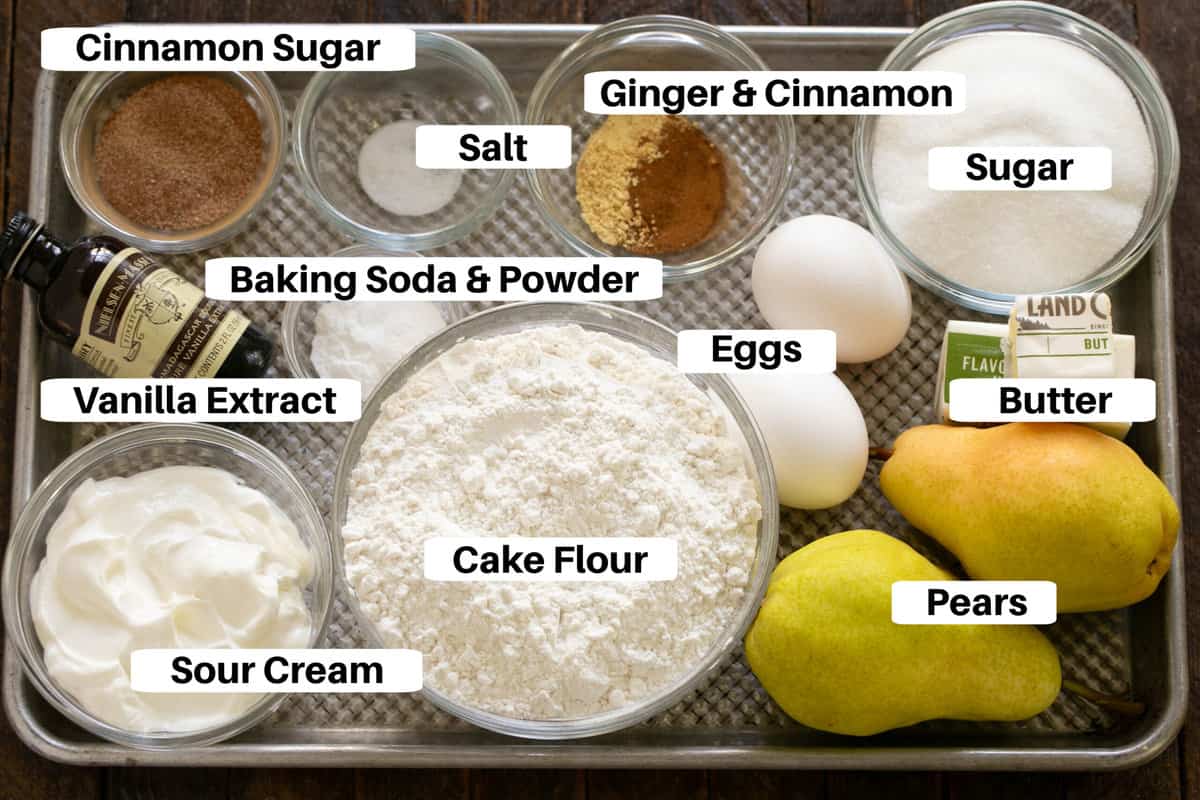 Ingredient Notes
Kitchen Staples – Sugar, Eggs, Salt, Baking Soda, Cinnamon, Ginger
Cinnamon Sugar – Use the ratio of cinnamon to sugar that you prefer. Try 1 tablespoon of cinnamon in ¼ cup of sugar as a starting point.
Baking Powder – You will need both baking powder and baking soda in this recipe. Note that baking powder has a much shorter shelf life compared to baking soda. It will usually expire before you use it all. So check the expiration date. If you're still unsure, you can test it by putting a spoonful into a cup of hot water. It should fizz or bubble if it's still active. If it doesn't, replace before starting the recipe.
Cake Flour – This has less gluten than all-purpose flour and will give your bread a more tender crumb.
Pears – I prefer Bartlett pears, but use any favorite variety. You will need to peel and core them before chopping them into cubes. Taste them before you add the pears to the bread. If they're lacking flavor, your bread will, too.
How to Make
Expert Tips
My home base taste testers had no interest in even a nibble of this tasty pear bread recipe, so I turned to my girlfriends who always love sampling my experiments. The loaf of pear quick bread was whittled down to next to nothing after the initial tasting and the packaging up of slices to be taken home. We all agreed that the pear taste was quite subtle, and there was even the declaration "This is so much better than banana bread."
One astute friend noticed the sweet, crispy crust which was created by dusting the greased loaf pan with a mixture of cinnamon and sugar before adding the batter. Just grease your loaf pan, add some cinnamon sugar, then tilt the pan to distribute. Tap out any excess over your sink.
Incorporating both ground cinnamon and ginger helped to boost the flavor of what could have been a bland recipe.
Avoid using over-ripe or extra juicy pears as they will add too much moisture to your batter. Look for firm, but not rock-hard, pears. It's best to take a taste as you're chopping them as flavorless pears won't make a tasty bread.
As with all quick bread, do not over mix as your bread will develop tunnels. Do not use a mixer, but instead, mix by hand with a wooden spoon or rubber spatula. Mix in the dry ingredients just until combined.
PRO-Tip: Make sure your Baking Powder is fresh. Unlike baking soda, it has a much shorter shelf life and your bread won't rise properly if it's old. If unsure, put a spoonful in a bowl of very hot water. If fresh, it will bubble vigorously. If it doesn't, toss the can and purchase some fresh baking powder.
With pear season arriving, make sure to grab a couple extra and bake up some Pear Quick Bread, for your friends and family. I really loved this! I always have a stash of pears on the counter, and this yummy pear bread is the perfect excuse to buy some extras!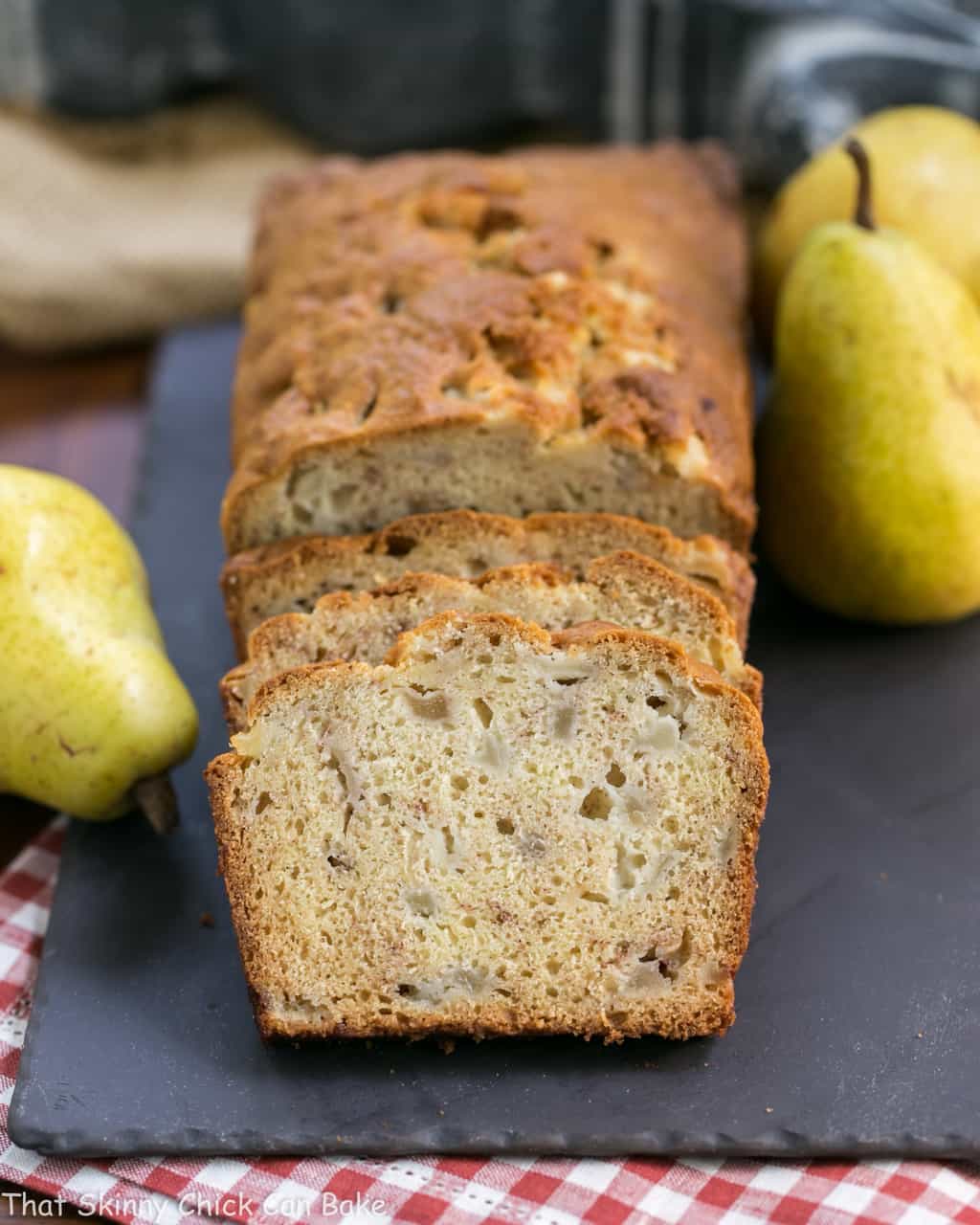 Frequently Asked Questions
What's the Difference Between Quick Bread, Soda Bread, Tea Bread, etc?
All these terms including Fruit Bread refer to bread that is not made with yeast. Instead, they are made with baking powder or baking soda, making them quick to make since they don't require kneading or rising time.
These two leaveners start the rising process as soon as they are combined with any moisture.
How Do You Store Pear Bread?
Pear bread can be kept at room temperature for a day or two, but since it is moist, keep it in the refrigerator, well wrapped after a couple of days. PRO-Tip: If storing in a container, add a paper towel to absorb any excess moisture to keep the bread from getting soggy or prematurely spoiling.
Can You Freeze Pear Bread?
Yes! Most Quick Bread freezes beautifully. Just wrap it well so it's airtight and keep frozen for up to 3 months. Defrost overnight in the refrigerator.
What Kinds of Pears are Best for Baking?
Bartlett, Bosc, and Anjou pears are all wonderful for baking. Bartlett pears are my personal favorite variety for eating and baking.
What Else Can You Make with Pears?
Many recipes using apples can easily be used for pears instead. Here are some favorite ways to use pears:
Add to a Fall Salad.
Make a Pear Crisp.
How about a Pear Coffee Cake?
Use for a Clafoutis, Pie, Galette, Pear Bars, or a Pear Cake.
Make Baked Pears instead of Baked Apples.
Poach Pears in wine.
Or even a festive Pear Cocktail is delicious.
You May Also Like
Stay in touch through social media @ Instagram, Facebook, and Pinterest. Don't forget to tag me when you try one of my recipes! And if you love the results, please give it a 5-star rating in the recipe card. Note: As an Amazon Associate, I earn from qualifying purchases. Visit my Amazon Store for my favorite products.
The Recipe:
Sour Cream Pear Bread
Prep Time 20 minutes
Cook Time 1 hour 5 minutes
Total Time 1 hour 25 minutes
Yield 1 loaf; 12 slices
A delectable fall loaf featuring chopped pears; rich and moist from the addition of sour cream
Ingredients
Butter, for greasing the pan
1 tablespoon cinnamon sugar
1 ¾ cups cake flour
¾ teaspoon baking powder
¾ teaspoon baking soda
⅛ teaspoon salt
½ teaspoon ground cinnamon
½ teaspoon ground ginger
¼ cup and 2 tablespoons butter, softened
⅔ cup sugar
2 eggs
1 teaspoon vanilla extract
½ cup sour cream
1 ½ medium pears, peeled, cored and finely chopped (I used Bartlett pears)
Instructions
Grease a large loaf pan. Line the bottom of the pan with a rectangle of parchment and grease the top of the parchment as well. Sprinkle cinnamon sugar into the pan, and tilt to coat the buttered surface. Shake out the excess. Set aside.
Preheat the oven to 350º.
In a medium bowl, stir together the cake flour, baking powder, baking soda, salt, cinnamon, and ginger. Set aside.
In a separate bowl, beat together the butter and sugar until light and fluffy. Beat in the eggs, one at a time, mixing well after each.
Stir in the vanilla and sour cream, mixing just until blended.
Gradually stir in the flour mixture until fully incorporated. Fold in the chopped pears using a rubber spatula.
Bake for 45 to 65 minutes or till a toothpick inserted into the center comes out clean.
Cool the cake in the pan for 15 minutes, then run a knife around the outside edge of the cake.
Carefully invert onto a cooling rack. If the cake won't come out of the pan, tap it firmly with a knife on the bottom and sides of the pan. Set aside to cool completely.
Notes
Use Bartlett pears that are soft, but not over-ripe.
Recommended Products
As an Amazon Associate and member of other affiliate programs, I earn from qualifying purchases.
Nutrition Information:
Yield:
12
Serving Size:
1 slice
Amount Per Serving:
Calories: 190
Total Fat: 6g
Saturated Fat: 3g
Trans Fat: 0g
Unsaturated Fat: 2g
Cholesterol: 44mg
Sodium: 169mg
Carbohydrates: 32g
Fiber: 1g
Sugar: 15g
Protein: 3g
Note: This post may contain affiliate links; view
my Disclosure Policy
for details. I earn a small percentage from any purchase you make by clicking on these links at no extra cost to you.