Raspberry Mascarpone French Toast Casserole
Raspberry Mascarpone French Toast Casserole is filled with luscious red raspberries and mascarpone for a delightful addition to your menu.
I love the ease of a make-ahead Breakfast Casserole Recipe, especially for weekend company or holidays.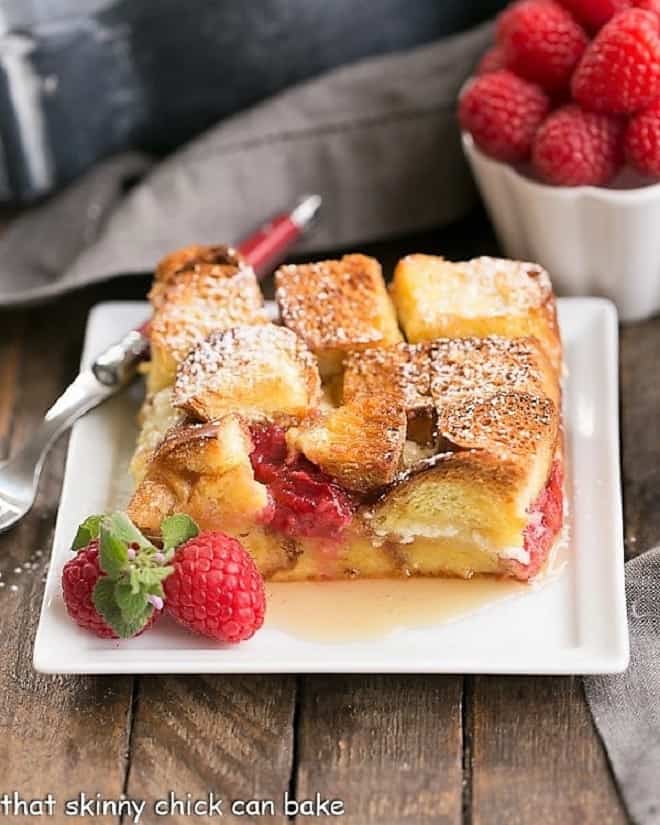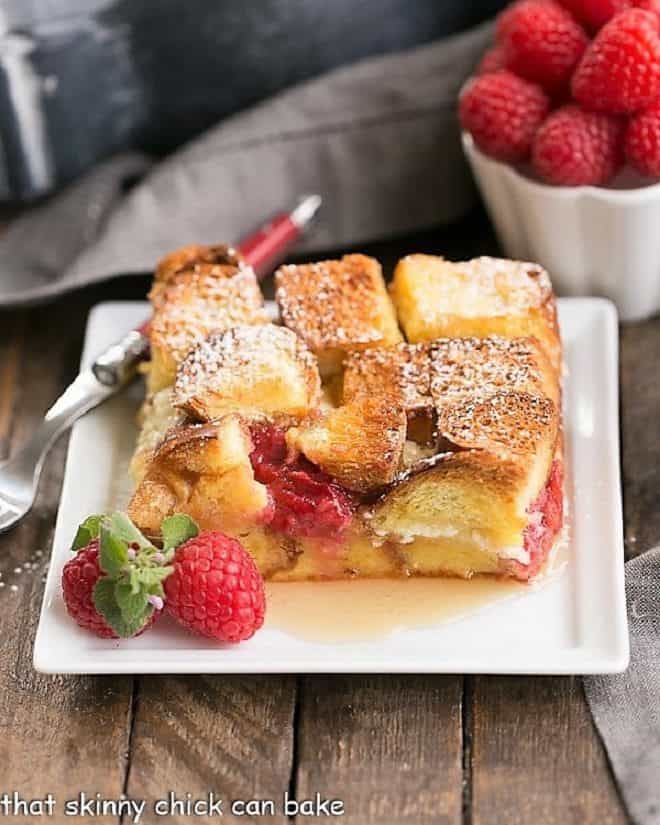 Why You Must Make
Beginning in the early days of our marriage, Bill would tease that a more loving wife would prepare a nice hot breakfast before work (ahem, his alarm goes off at 5 AM). I'd laugh and roll my eyes, but sometimes I do pamper him. Make ahead breakfasts are perfect for those early risers!
This overnight French toast stuffed with raspberries was one such treat. Layered with challah cubes, dollops of sweetened mascarpone, and fresh berries, then doused with a rich custard, this French toast was one delightful way to start the morning!
Being able to prep this breakfast casserole the day before makes for an easy, impressive breakfast or brunch where the cook doesn't have to break a sweat.
It's the perfect way to use up stale bread!! In fact, you want to use day old bread for the best results.
If you're having special overnight company, whip up some Grand Marnier Mimosas and make it a memorable meal!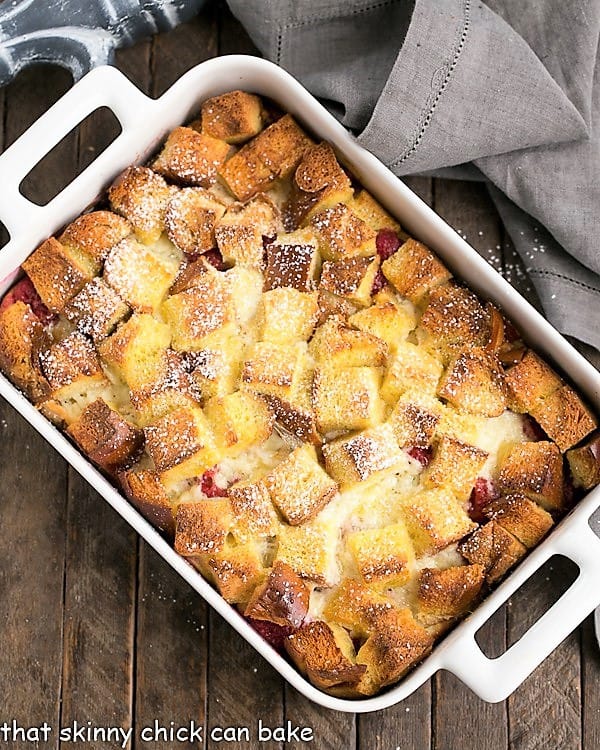 Recipe Tips
Sweet or savory, overnight breakfast casseroles are huge time savers for when you have overnight guests or a big holiday brunch to prepare. Here are a few hints if you have not made one of these breakfast dishes that can be prepped the night before.
Overnight French toast casseroles and breakfast strata are often made with a base of bread cubes. PRO-Tip: Make sure to use stale bread or dry it out yourself by cutting it into cubes and spreading it out in one layer on a baking sheet, tossing occasionally, until it dries out.
Make sure your custard mixture is well mixed for the best consistency. I beat my eggs first, then add the milk and cream and whisk until they're combined.
Spread your bread and other ingredients evenly in your casserole dish, then pour on the custard. Start by pouring in half the custard, let it soak in, and then add the rest. I like to use my spatula to press on the surface so that it's all a similar depth.
Cover well with plastic wrap and store in the refrigerator until you're ready to bake the next morning.
Before baking, let the casserole rest at room temperature for about 30 minutes to take the chill off.
PRO-Tip: You can actually make and serve this "overnight" French toast casserole on the same day you assemble it. Just let the custard soak into the bread for 30 minutes, pressing down on it occasionally to encourage the custard to infuse into the bread. Bake for 10-15 minutes less. The casserole may not puff up quite as high as when assembled the day before, but it will still be a tasty breakfast treat.
You can reheat the leftovers of this easy breakfast casserole recipe very simply. Gently heat individual servings in the microwave. Or cover the casserole with foil and place the dish in a 300° oven until heated through 20-30 minutes.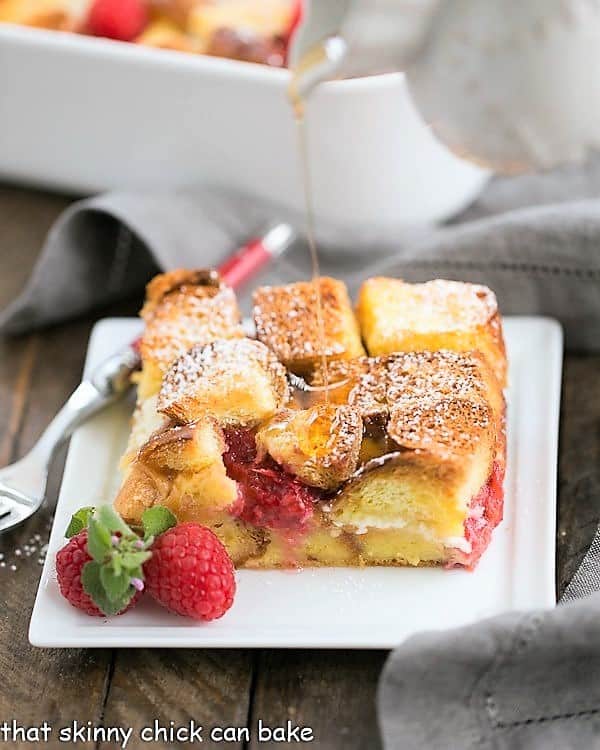 How to Serve
Although maple syrup is an obvious, go-to topping for a baked French toast recipe, there are a few other options. Spread on a little butter while warm, then add your favorites.
Fresh berries or berry sauces and syrups
A dusting of powdered sugar
Whipped Cream
Honey
Cinnamon sugar
Coconut flakes
Toasted, chopped nuts
Lemon Curd
Frequently Asked Questions
What Kinds of Bread Work Best?
You'll want a sturdy loaf of bread for this overnight French toast. Brioche, challah, French bread, or a Pullman loaf will work well. Sliced white sandwich bread will get too soggy after being soaked in the custard, so look for a heartier bread.
Why Is My Casserole Soggy?
If there is too much liquid for the amount of bread, the baked casserole can be soggy. Other causes include using a flimsy type of bread or fresh instead of dried or stale bread.
Can You Freeze a French Toast Casserole?
Yes, it can be frozen for up to 2 months if wrapped well in plastic, then foil. Defrost overnight in the refrigerator before baking or reheating.
Can You Use Other Fruit?
Yes, any favorite berries would work beautifully like blueberries, blackberries or even sliced strawberries. If you'd like to try apples, sprinkle them with sugar and cook in butter until soft. They won't cook completely if added to the casserole raw.
You May Also Like: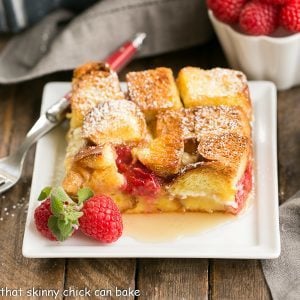 The Recipe:
Raspberry Mascarpone French Toast Casserole Recipe
Prep Time 30 minutes
Cook Time 1 hour
Total Time 1 hour 30 minutes
Yield 12 servings
A sublime make ahead breakfast casserole filled with raspberries and mascarpone
Ingredients
One loaf challah, about 15 ounces, cut into 1½ inch cubes, then spread out on a baking sheet to and let dry out
6 eggs
1½ cups heavy cream
1 cup milk
1½ teaspoons vanilla
⅓ cup sugar
6 ounces fresh raspberries (I always toss in a few more)
For Mascarpone Cream:
8 ounces mascarpone
¼ cup sugar
1 teaspoon fresh lemon juice
To Serve:
Powdered sugar
Maple syrup
Fresh raspberries, to garnish
Instructions
Spray 7 x 11-inch baking pan with cooking spray. Place half the dried bread cubes in the bottom of the pan.
Whisk together the eggs, cream, milk, and sugar. Set aside.
Make mascarpone cream by whipping together the mascarpone, sugar, and lemon juice.
Dollop spoonfuls of mascarpone cream over the bread. Sprinkle raspberries over the cheese. Cover with remaining bread cubes.
Pour custard liquid over the bread, then use a spatula to press the bread down into the mixture. Cover with plastic wrap and refrigerate for 8 hours or overnight to allow the bread to absorb the custard.
Remove from the refrigerator 30 minutes before need to bake it. Preheat oven to 350 degrees.
Remove plastic wrap from the casserole dish. Cover with foil and bake for 30 minutes. Remove foil and bake for 30 minutes or longer or until the custard is set.
Let cool for about 10 minutes before serving. Sprinkle with powdered sugar and serve with more berries and maple syrup, if desired.
Notes
May use Brioche or French bread as well.
Other berries can be used like blueberries and blackberries.
Recommended Products
As an Amazon Associate and member of other affiliate programs, I earn from qualifying purchases.
Nutrition Information:
Yield:
12
Serving Size:
1
Amount Per Serving:
Calories: 421
Total Fat: 24g
Saturated Fat: 14g
Trans Fat: 1g
Unsaturated Fat: 9g
Cholesterol: 172mg
Sodium: 272mg
Carbohydrates: 42g
Fiber: 2g
Sugar: 23g
Protein: 9g
Note: This post may contain affiliate links; view
my Disclosure Policy
for details. I earn a small percentage from any purchase you make by clicking on these links at no extra cost to you.