Sugar-Crusted French Toast
Sugar-Crusted French Toast has a double coat of sugar, an extra rich custard, and is a sublime treat for a decadent breakfast or comforting dessert!
Just some simple twists make this an outstanding French Toast Recipe. Extra yolks in the custard, plenty of real vanilla extract, and the sugary crust make this one breakfast you won't forget!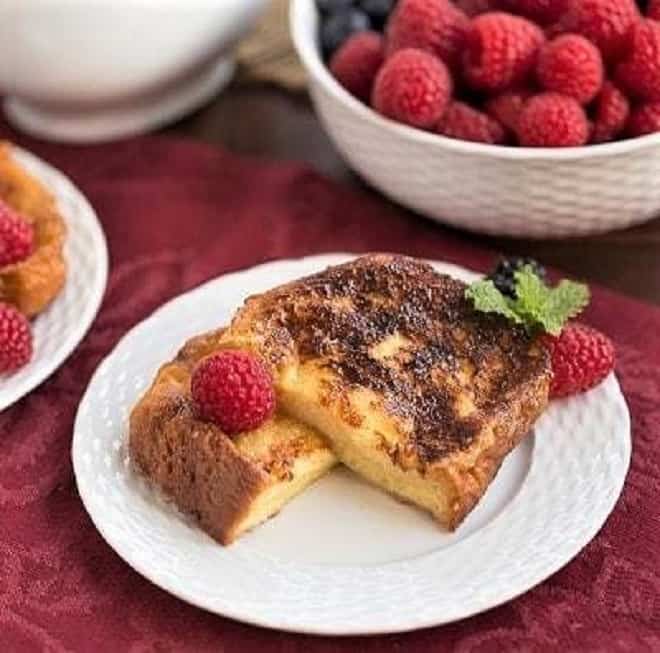 Why You Must Make
After making the executive decision to skip the potatoes with prunes for last week's French Friday's with Dorie, I'm back with a dish more to my family's liking. Dorie's Sugar-Crusted French Toast was special in a number of ways.
First, it was sugar-crusted. More on that later.
Second, it was made with nice thick slices of eggy brioche.
And instead of the milk my mom used in her version, Dorie had us use a combination of whole milk and cream with a nice slosh of vanilla.
My mom, on the other hand, added a pinch of nutmeg to kick up the flavor. And besides the usual eggs, a few extra yolks were mixed into the soaking custard in Dorie's recipe. Good so far, right?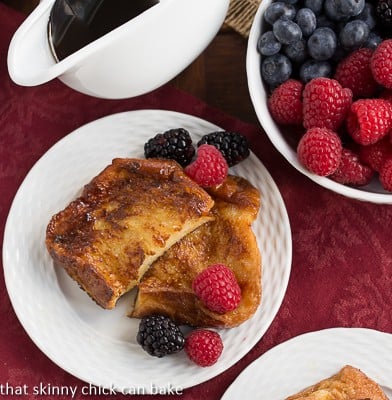 Recipe Tips
Soak your slightly stale brioche in the rich vanilla custard, then fry in butter sprinkled with sugar.
If your bread is not day-old, just leave it out uncovered for an hour or two, turning it over at least once, to assist the drying process.
Fry in a combination of butter and oil for the tastiest results.
Before flipping, dust the tops of the bread with sugar, doubling the caramelization potential. Who wouldn't love that???
I presented this as a breakfast dish to the hubby. He is pretty set in his way, and to be "Bill approved," shaking up breakfast foods by serving them for dessert might be a bit of a stretch. But this sugar-crusted French toast was an A-OK way to start the day, served with either berries or maple syrup or both.
It was no worse for him than those chocolate-glazed donuts he brings home from the bakery "for the kids." We're down to one child living at home, and she won't eat those. So I've got his number.

Frequently Asked Questions
What is French Toast?
French toast, or pain perdu (lost bread) in France, is a breakfast dish made by dipping bread into an egg mixture and then frying it in a skillet. The French called it lost bread since it was made of old,l leftover slices of stale bread. It's often served with syrup, powdered sugar, or jam.
Why is My French Toast Soggy?
You may have soaked your bread too long. It should be saturated, but not so logged with custard that it won't cook through by the time both sides are browned. If you don't use a sturdy, stale bread, the custard may make the toast too fragile.
If your custard ratio has too much liquid per egg, it can cause soggy French toast. Make sure the custard is well-mixed, as well. Also, if you cook it on high heat, the sides may get brown before the inside is cooked.
What Kind of Pan is Best to Make French Toast?
Use a nonstick pan so that it's easy to flip.
Should You Fry French Toast in Butter or Oil?
I prefer a combination of butter and vegetable oil. The butter provides delicious flavor and the oil lowers the smoke point of the butter and minimizes burning.
You May Also Like
Stay in touch through social media @ Instagram, Facebook, and Pinterest. Don't forget to tag me when you try one of my recipes! And if you love the results, please give it a 5-star rating in the recipe card. Note: As an Amazon Associate, I earn from qualifying purchases. Visit my Amazon Store for my favorite products.
The Recipe:
Sugar-Crusted French Toast
Prep Time 15 minutes
Cook Time 10 minutes
Total Time 25 minutes
Yield 6 servings
An elegant French Toast recipe dipped in rich custard then coated in sugar before cooking.
Ingredients
6 large eggs
3 large egg yolks
3 ½ cups whole milk
⅔ cup plus 8 tablespoons sugar
1 tablespoon vanilla extract
½ teaspoon salt
6 4x4x1-inch slices egg bread
6 tablespoons (¾ stick)  butter
Instructions
Whisk eggs, yolks, milk, ⅔ cup sugar, vanilla, and salt in a large baking dish.
Place bread in a single layer in the egg mixture, then spoon the egg mixture over the bread. Let stand until soaked through, about 3 minutes.
Melt 3 tablespoons butter in a large nonstick skillet over medium heat. Sprinkle 2 tablespoons of sugar into the skillet.
Add 3 bread slices to each skillet; cook until deep golden on the bottom, about 3 minutes.
Sprinkle the top of the bread slices with 2 tablespoons of sugar, then turn the slices over and cook until deep golden on the bottom, about 3 minutes.
Transfer French toast to plates. Repeat the process for the rest of the slices.
Serve with your favorite French toast toppings.
Notes
Challah or Brioche are good, sturdy breads for French toast.
Nutrition Information:
Yield:
6
Serving Size:
1
Amount Per Serving:
Calories: 389
Total Fat: 15g
Saturated Fat: 6g
Trans Fat: 0g
Unsaturated Fat: 7g
Cholesterol: 344mg
Sodium: 498mg
Carbohydrates: 44g
Fiber: 1g
Sugar: 25g
Protein: 18g
Note: This post may contain affiliate links; view
my Disclosure Policy
for details. I earn a small percentage from any purchase you make by clicking on these links at no extra cost to you.