Best Snickerdoodle Recipe
This is the Best Snickerdoodle Recipe! Soft, chewy, and buttery, they're perfect to eat with a cup of hot coffee or tea!
An Easy Snickerdoodle Recipes, there's no excuse not to add them to your baking list this week! Adding half butter instead of all shortening, the classic cinnamon-sugar coating, and the perfect puff make these blue-ribbon worthy.
Why You Must Make
Unlike snickerdoodles made with all shortening, these winners have the flavor of butter (or brown butter if you want to go the extra mile).
This is an old-fashioned cookie recipe. If you're a fan of sugar cookies, you'll enjoy this recipe.
Cookies make a great gift. Whether to welcome a new neighbor, celebrate a new baby, or deliver as part of a meal for an ailing friend, everyone loves homemade cookies!
We were heading down to Indiana University to treat my youngest and his roomies to another dinner on the town. I imagine after 3 months of cooking for themselves, any alternative to their skimpy recipe repertoire would be welcome. I'm not sure I'd find any of their home-cooked meals actually edible, and there are rumors that Nick has been designated (demoted to?) dishwasher duties.
Not sure he's mastered much as far as cooking. It was my motherly duty to bring the boys some cookies. I packed up both these Snickerdoodles rolled in cinnamon and sugar and the super decadent Double Chocolate Cookies I posted last week. I bet you'd also enjoy these Brown Butter Toffeedoodle Cookies!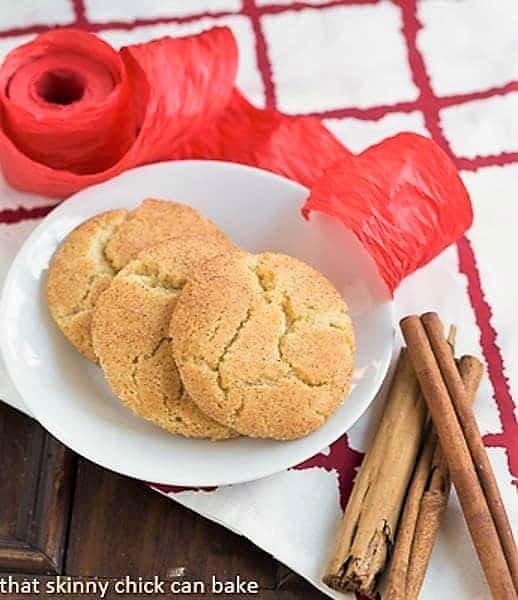 Ingredient Notes
Kitchen Staples – Sugar, Flour, Salt, Baking Soda, Cinnamon
Eggs – Have at room temperature
Butter – Salted is fine
Shortening – Helps the cookies stay puffy
Vanilla – Use real vanilla extract, never artificially flavored
Cream of Tartar – Assists in making the crackled exterior
How to Make
Always preheat your oven first unless your dough needs chilling.
With a mixer, cream together the butter, shortening and sugar.
Mix in eggs and vanilla.
Add the flour, cream of tartar, baking soda, and salt. Mix just until combined.
Scoop out a tablespoon of dough and shape them into balls.
Make the cinnamon-sugar mixture.
Roll dough balls in the mixture.
Place about 2 inches apart on a greased or parchment-lined baking sheet.
Bake as directed or till set.
Remove immediately to a cooling rack.
Expert Tips
Pro-Tip: You may freeze the dough balls by placing them on a baking sheet (mine were already rolled in the cinnamon sugar), then freeze until hard (an hour or so) to bake later. Remove to a freezer-strength Ziploc bag and store them in the freezer until you want fresh cookies. Defrost overnight in the refrigerator, and bake as directed. Since the defrosted dough is cold, the cookies may take an extra couple of minutes in the oven. You may also want to roll them a second time in a mixture of cinnamon and sugar.
Use a cookie disher to make all the cookies the same size. This will help them finish baking at the same time, too.
Don't skip the cream of tartar as that helps them crackle by giving them a boost of leavening power.
Measure out the cinnamon and sugar for rolling. It's a key component of snickerdoodles so you'll want enough cinnamon but not too much!
As with all my cookie recipes, line your baking sheets with parchment paper to prevent sticking and for easy clean-up.
Pro-Tip: Try making these with cooled brown butter, too, which gives them a subtle nutty nuance.
Frequently Asked Questions
Why Are these Called Snickerdoodles?
Around since the late 1800s, these cookies may have German roots. There is no definitive answer, but they could be named for a crunchy German noodle, Schneckennudhel.
What Does the Cream of Tartar Do?
In snickerdoodles, the cream of tartar adds a tangy flavor and prevents the sugar from crystallizing, which would make the cookies crunchy. It also works with baking soda, helping to leaven the cookies which allows them to puff up and then crackle when they deflate a bit.
What is Brown Butter?
Brown butter or Beurre noisette is made by cooking unsalted butter long enough to brown the milk solids and evaporate any water. The flavor is nutty in flavor and aroma. It's used to drizzle on vegetables, fish, and chicken, cook omelets and enhance baked goods like these snickerdoodles!
How Do You Store Snickerdoodles?
Snickerdoodles can be stored at room temperature in an airtight container for 3-4 days. After that, they will keep in the freezer for up to 3 months as long as they're kept airtight.
Why Didn't My Snickerdoodles Crackle?
Yes! This happened to me! After baking these numerous times over the years, this batch did not have the classic crackled surface that snickerdoodles are known for. They tasted just fine, but I had to figure out what happened!

The most probable reason is old baking soda and cream of tartar. My cream of tartar had expired! Using all butter and no shortening makes a tastier cookie, but they'll crackle best with all shortening. I compromise and use half butter and half shortening.
You May Also Like:
Stay in touch through social media @ Instagram, Facebook, and Pinterest. Don't forget to tag me when you try one of my recipes! And if you love the results, please give it a 5-star rating in the recipe card. Note: As an Amazon Associate, I earn from qualifying purchases. Visit my Amazon Store for my favorite products.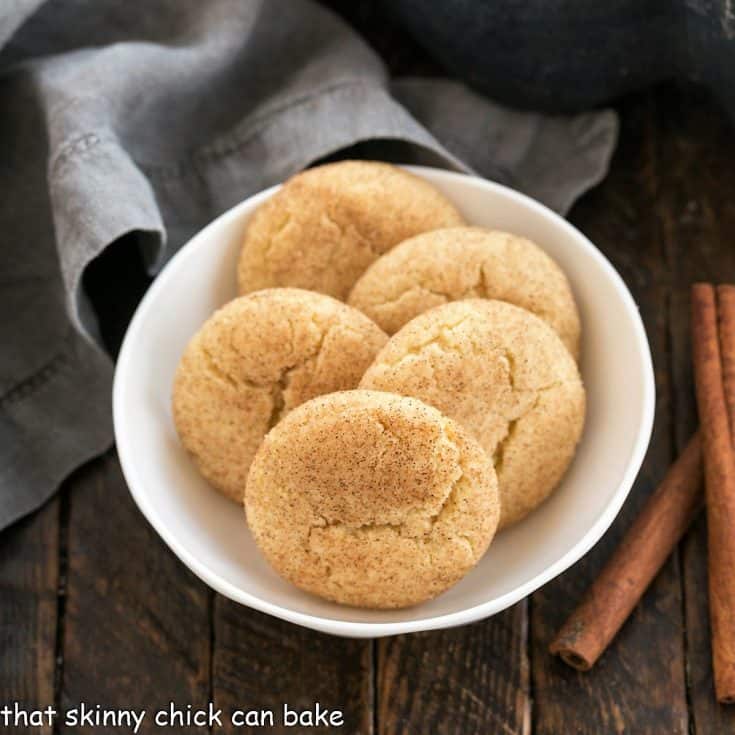 The Recipe:
The Best Snickerdoodles
Prep Time 20 minutes
Cook Time 10 minutes
Total Time 30 minutes
Yield 3 1/2 dozen
A classic snickerdoodle! A soft, chewy sugar cookie rolled in cinnamon sugar!
Ingredients
1/2 cup butter, at room temperature
1/2 cup shortening
1 1/2 cups sugar
2 eggs, at room temperature
2 teaspoons vanilla
2 3/4 cups flour
2 teaspoons cream of tartar
1 teaspoon baking soda
Dash of salt
2 tablespoons sugar
2 teaspoons cinnamon
Instructions
Preheat oven to 400º.
With a mixer, cream together butter (or cooled brown butter), shortening, and 1 1/2 cups sugar. Mix in eggs and vanilla. Add the flour, cream of tartar, baking soda, and salt. Mix till combined.
Scoop out a tablespoon of dough and shape it into balls.
Mix the 2 tablespoons of sugar with 2 teaspoons of cinnamon in a small bowl. Roll dough balls in the mixture.
Place about 2 inches apart on a greased or parchment-lined baking sheet.
Bake for 8 to 10 minutes or till set. Remove immediately to a cooling rack.
Notes
Room temperature butter and eggs will incorporate into the dough more easily.
For a subtle nutty twist, try using cooled brown butter instead of regular butter.
Recommended Products
As an Amazon Associate and member of other affiliate programs, I earn from qualifying purchases.
Nutrition Information:
Yield:
21
Serving Size:
2 cookies
Amount Per Serving:
Calories: 206
Total Fat: 9g
Saturated Fat: 6g
Trans Fat: 0g
Unsaturated Fat: 3g
Cholesterol: 41mg
Sodium: 144mg
Carbohydrates: 28g
Fiber: 1g
Sugar: 16g
Protein: 2g
Note: This post may contain affiliate links; view
my Disclosure Policy
for details. I earn a small percentage from any purchase you make by clicking on these links at no extra cost to you.