Chocolate Moussecake
Holidays at our house mean chocolate for dessert. This Chocolate Moussecake definitely fit the bill with a chocolate cookie crust filled with a dreamy chocolate mousse.
This Layered Chocolate Mousse Cake has a simple chocolate cookie crust and then is topped with a rich mousse made with heavy cream, eggs, and semi-sweet chocolate.
Why You Must Make
If you have chocoholics in the family like I do, this easy chocolate mousse cake recipe will put smiles on their faces.
It's composed of a cookie crumb crust topped with chocolate mousse.
If you want to go all out, you can garnish with chocolate leaves like I did back in 2013 when this recipe debuted.
So much to be grateful for this year…meeting blogger friends at 3 different conferences, hanging out with my three sisters on a variety of occasions, having my parents living together after years apart and my dad out of the hospital, 3 kind and thoughtful children and one adoring husband, and many, many dear friends. And of course, cookie dough.
Today, though, I'm sharing one of our Thanksgiving desserts which, unfortunately, doesn't provide any nibbles of my unrequited dough love…but this chocolate moussecake filling may be duking it out for the top spot in my heart. We always have pumpkin pie, and although I'd love to throw a pecan or apple into the mix, the second dessert must be chocolate. Generally, that comes in the form of French silk pie, but this year I decided to mousse it up. A chocolate crumb crust topped with mousse, then glammed up with dark chocolate leaves for the holiday. Well, my grandiose idea for chocolate leaves didn't pan out exactly as I planned.
Recipe Tips
PRO-Tip: Make sure the chocolate has some time to cool slightly before adding the eggs. If it's too hot, you'll find bits of scrambled eggs in your mousse.
PRO-Tip: As mentioned in the recipe, it's best to sift the powdered sugar before using it to remove any lumps. This helps ensure your mousse is smooth and silky.
I used my last box of Nabisco Famous wafers to update the recipe photos. Unfortunately, this product has been discontinued. You can use either a box of chocolate cookie crumbs that you can find in the baking aisle of larger grocery stores or make your own crumbs by processing Oreos with the filling removed.
At the last second, I added a couple of teaspoons of vanilla extract into the mousse. It's optional, but vanilla always enhances chocolate desserts.
Make sure you chill this mousse cake for at least 6 hours before serving so it has time to set.
PRO-Tip: Use a hot dry knife to make clean slices. Wipe it off and reheat it after each slice. I run it under very hot water from the faucet or my teapot.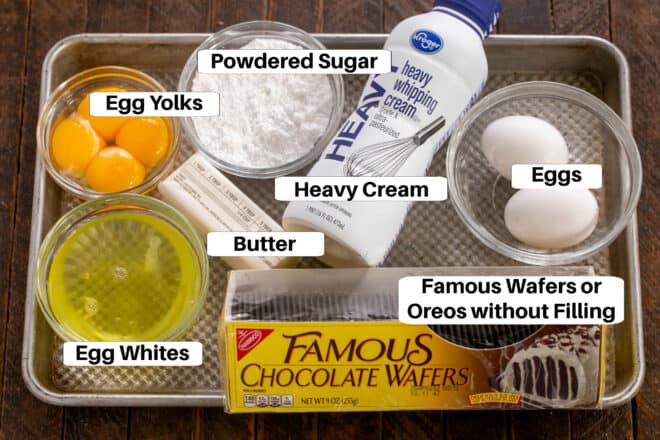 Ingredient Notes
Butter – Salted butter is fine as the touch of salt is a flavor enhancer.
Powdered Sugar – Sift before using to remove small lumps.
Nabisco Famous Wafers or Oreos – Nabisco Famous Wafers are now out of production, but you can use 35 Oreos with the cream removed as a substitution.
Semi-sweet Chocolate – I use the Ghirardelli brand, chop, melt then cool.
Eggs – Use large eggs. You will need both whole eggs and separated eggs. Note that they separate best when cold (less breakage of the yolk), but will incorporate and whip better at room temperature.
Heavy Cream – 35% butterfat
Vanilla Extract – Make sure to use pure vanilla extract, not imitation. I prefer the Nielsen-Massey brand.
How to Make
How to Make Chocolate Leaves to Garnish
I found some lemon leaves at my very favorite floral shop, The Empty Vase, and proceeded to paint them with a couple of layers of semi-sweet chocolate. I popped them in the freezer for a few minutes and then attempted to carefully peel the chocolate off the foliage. Bill was happy with all the shards of broken leaves and created his own personal sampling stash. But, unfortunately, I was left with very few whole leaves.
I soldiered on and arranged a few on top of the chocolate mousse cake along with some raspberries for a pop of color. I WILL try this again and get back to you all when I master this technique. What was the consensus? It was truly phenomenal. One of the best desserts in months. I added a little more butter to the crust recipe as mine was super crumbly…but imperfect leaves and the finicky crust didn't take away from my review. You need to make this cake…and soon!
Frequently Asked Questions
Is Mousse Made with Raw Eggs Safe to Eat?
There is always a small chance that your raw eggs are contaminated with salmonella bacteria and could cause food poisoning. For this reason, it is recommended that dishes made with raw eggs should not be served to the very young, elderly, or those who are immunocompromised.
How Do You Ensure that the Egg Whites Whip Well?
Separate your eggs ahead of time and let the whites come to room temperature before whipping. They will have more volume if not whipped when cold.
What is the Difference Between Mousse and Mousse Cake?
Mousse is a rich, airy dish that can be sweet or savory. It is fluffy due to the addition of whipped egg whites or whipped cream. A mousse cake is a layered dessert that has a crust or cake layers in addition to the mousse.
How Do You Garnish a Mousse Cake?
A simple garnish is to pipe sweetened whipped cream stars around the top of the cake. Add a berry to every or every other whipped cream star. You can also paint food-safe lemon leaves with chocolate, cool, then peel off to use as a garnish. Or simply serve slices with a dollop of whipped cream and berries or chocolate shavings.
Photo from 2015 with chocolate garnish made by painting melted chocolate on pesticide-free lemon leaves, letting them cool, and peeling the leaf off of the chocolate.
You May Also Like
Stay in touch through social media @ Instagram, Facebook, and Pinterest. Don't forget to tag me when you try one of my recipes! And if you love the results, please give it a 5-star rating in the recipe card. Note: As an Amazon Associate, I earn from qualifying purchases. Visit my Amazon Store for my favorite products.
The Recipe:
Chocolate Moussecake
Prep Time 30 minutes
Total Time 30 minutes
Yield 16 servings
A decadent chocolate dessert with a chocolate cookie crust and mousse filling!
Ingredients
Crust:
35 Regular Oreos with the cream filling removed
6 tablespoons butter, melted
Filling:
16 ounces semi-sweet chocolate, melted and cooled
2 eggs
4 eggs, separated
2 cups heavy cream
6 tablespoons powdered sugar, sifted
2 teaspoons vanilla extract, optional
Instructions
Crush cookies by pulsing them in the food processor till they form crumbs.
Add melted butter and process until combined. Pour into the bottom of a buttered 10-inch springform pan. Pat onto the bottom of the pan.
Refrigerate for a half hour or longer to set.
In a large bowl mix melted chocolate with the two whole eggs.
Add the 4 egg yolks and beat for about 5 minutes, scraping down the sides of the bowl as needed.
In another bowl, whip the 4 egg whites till stiff. Set aside. In yet another bowl, whip cream with powdered sugar till stiff peaks form.
Stir about a quarter of the egg whites and quarter of the cream into the chocolate to lighten. Then gently fold in the remainder of the whites and cream until well blended. Mix in vanilla extract if using.
Pour into crust, smooth the top if necessary, and refrigerate for at least 6 hours.
Garnish with berries and sweetened whipped cream or chocolate leaves.
Notes
Adapted from Creme de Colorado.
Total time does not include chilling time.
Freezes well, just wrap airtight.
Recommended Products
As an Amazon Associate and member of other affiliate programs, I earn from qualifying purchases.
Nutrition Information:
Yield:
16
Serving Size:
1
Amount Per Serving:
Calories: 387
Total Fat: 28g
Saturated Fat: 16g
Trans Fat: 1g
Unsaturated Fat: 10g
Cholesterol: 115mg
Sodium: 136mg
Carbohydrates: 33g
Fiber: 2g
Sugar: 24g
Protein: 5g
Note: This post may contain affiliate links; view
my Disclosure Policy
for details. I earn a small percentage from any purchase you make by clicking on these links at no extra cost to you.