Layered Chocolate Mousse Cake
This decadent Layered Chocolate Mousse Cake is the perfect dessert for any celebration. Perfect for birthdays, anniversaries, and holidays!
This dreamy Chocolate Cake Recipe is a chocolate extravaganza with layers of cake, mousse, and ganache! A masterpiece!!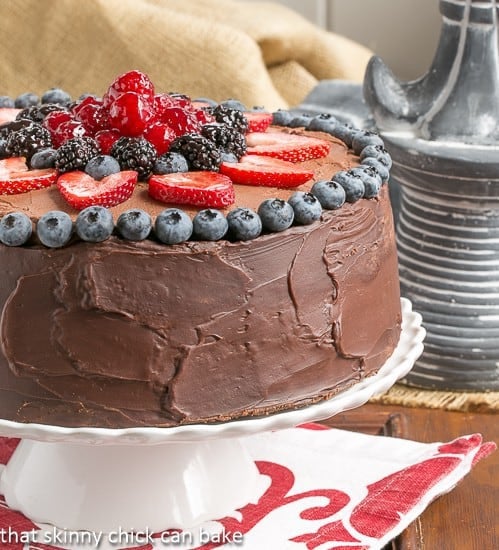 Why You Must Make
One of my dear friends and her husband invited us over for crab cakes and a lobster boil. If you're aware that we live in land-locked Indiana, you know this is an offer you don't refuse.
It was on our wedding anniversary, so I volunteered to bring dessert for the gang. And it had to be chocolate for the guy I've been hitched to for 28 years. This is a dream dessert for chocolate lovers.
Plus his birthday was the next Monday so unbeknownst to him, we were celebrating that, too! This Layered Chocolate Mousse Cake, in fact, is the ideal dessert for any celebration, birthdays, anniversaries, and, this time of year, Easter.
This chocolate cake contains nearly 3 pounds of chocolate so a little slice is all you need. This cake is ideal when you have a large gathering as a thinner than usual-sized slice is perfect.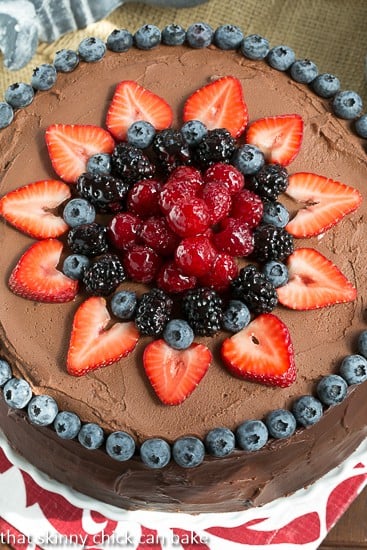 Expert Tips
This cake was a HUGE hit, and the birthday boy was quite pleased.
For an easier version, skip the splitting of the layers, make half of the ganache and mousse, and do all the chocolate melting in the microwave. You could even try one big mousse layer in the center.
All the components are divine, but there are a lot of steps. The cake layers, the ganache and the mousse can all be made the day before.
The ganache and mousse need to be refrigerated and the ganache needs to be gently warmed to make it spreadable.
PRO-Tip: When measuring the Karo syrup, first spray the measuring cup with Pam to make it slide right out.
Using raspberry jam with seeds works fine. I've used both seedless and with seeds. Note: the jam helps moisten the cake.
The cake sinks a bit in the middle after it's baked, but as long as it's cooked through, you can trim it or just use it as is.

How to Assemble
Cut each cake layer in half. You will only use 3 of the layers for this dessert.
PRO-Tip: Insert toothpicks halfway down the sides of each cake around the perimeter. This will help guide your knife as you cut it in half.
Place one layer, cut side up on the bottom of a round tart pan, cardboard round, or baking sheet. Repeat with a second layer, also cut side up.
Spread jam over two of the layers and chill.
Top each layer topped with jam with 1 cup of ganache and chill.
Top each with of those same two layers with 3 cups mousse and spread. Chill.
Top with the third layer, cut side down. Reserve 4th layer for another use.
Spread 1 cup of mousse on top of the cake.
Frost the sides with ganache.
Chill for at least 3 hours before serving.
Decorate with fresh berries.
How to Use Leftover Chocolate Cake
It's not often you have plain, unfrosted, leftover chocolate cake. Here are a few ideas for how to use it.
Make a trifle. Layer cubes of cake, whipped cream, and berries in a glass serving bowl.
Make parfaits. Similar to trifle, but individual servings in glasses. Layer with pudding, whipped cream, and cake.
Make cake pops!
Make a dirt dessert.
Frequently Asked Questions
What Is A Multilayered Cake Called?
In the US, it's called a Layer Cake. In the UK, it's called a Sandwich Cake.
What Can You Put Between Cake Layers?
There are many options. Most popular is frosting which can range from American Buttercream Frosting to Swiss Meringue Buttercream. Ganache, Mousse, and Jam are also delicious. Plus, a drizzle of a homemade syrup before frosting can help add moisture to the cake.
You May Also Like
Make sure to bookmark your favorites for the holiday! These are all scrumptious!
Stay in touch through social media @ Instagram, Facebook, and Pinterest. Don't forget to tag me when you try one of my recipes! And if you love the results, please give it a 5-star rating in the recipe card. Note: As an Amazon Associate, I earn from qualifying purchases. Visit my Amazon Store for my favorite products.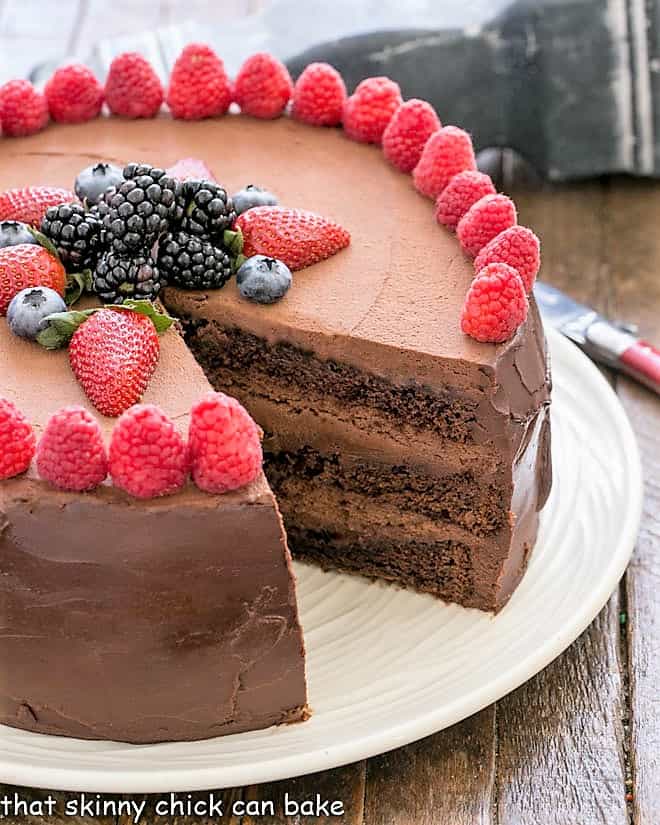 The Recipe:
Layered Chocolate Mousse Cake
Prep Time 1 hour
Cook Time 40 minutes
Total Time 1 hour 40 minutes
Yield 16 servings
An exquisite chocolate dessert with layers of cake, mousse and ganache!
Ingredients
For cake:
2 3/4 cups cake flour
1 cup unsweetened cocoa powder
2 teaspoons baking soda
3/4 teaspoon salt
1/2 teaspoon baking powder
2 3/4 cups sugar
4 large eggs
2 large egg yolks
1 cup vegetable oil
1 cup sour cream
1 tablespoon vanilla extract
3/4 cup miniature semisweet chocolate chips
For ganache:
3 cups whipping cream
1 1/2 pounds semisweet chocolate, finely chopped
For mousse:
4 1/3 cups chilled heavy whipping cream
1/2 cup light corn syrup
1 1/4 pounds bittersweet (not unsweetened) or semisweet chocolate, finely chopped
For assembling:
2/3 cup seedless raspberry jam
Fresh raspberries, cherries, small strawberries, blueberries and blackberries to garnish
Instructions
To make cake:
Position rack in center of oven and preheat to 350°F.
Butter and flour two 10-inch-diameter cake pans with 2-inch-high sides; line each with round of parchment paper or waxed paper.
Combine first 5 ingredients in medium bowl; whisk to blend well. Using electric mixer, beat sugar, eggs and egg yolks in large bowl until very thick and heavy ribbon falls when beaters are lifted, about 6 minutes.
Add oil, sour cream and vanilla, then dry ingredients all at once to egg mixture. Beat at low speed until just blended, about 1 minute. Scrape down sides of bowl.
Beat at high speed until well blended, about 3 minutes. Fold in chocolate chips; divide batter between prepared pans (about 3 3/4 cups batter in each).
Bake cakes until tester inserted into center comes out clean, about 40 minutes.
Cool cakes completely in pans on racks.
Cover; let cakes stand at room temperature overnight.
To make ganache:
Bring cream to simmer in heavy large saucepan over medium-high heat.
Remove from heat. Add chocolate and whisk until melted and smooth.
Transfer ganache to glass bowl. Let stand until thick enough to spread, about 4 hours.
To make mousse:
Using electric mixer, beat 3 1/3 cups cream in large bowl until peaks form; refrigerate.
Combine remaining 1 cup cream and corn syrup in heavy medium saucepan and bring to simmer.
Remove from heat. Add chocolate and whisk until melted, smooth, and still warm to touch. Pour warm chocolate mixture directly onto whipped cream and fold in gently.
Chill until mousse is set, at least 8 hours. (Can be prepared 1 day ahead. Cover and keep refrigerated.)
Cut around pan sides; turn out cakes. Peel off paper.
Cut each cake horizontally in half. Place 1 cake layer, cut side up, on 9-inch tart pan bottom or 9-inch cardboard round.
Place another layer, cut side up, on clean baking sheet. Spread each with 1/3 cup raspberry jam. Chill until jam sets, about 15 minutes
Drop 1 cup ganache by rounded teaspoonfuls over each jam layer. Using offset spatula, gently spread ganache to cover jam.
Drop 3 cups mousse by heaping spoonfuls onto each ganache layer; gently spread to cover. Refrigerate cake layers 30 minutes.
Using large metal spatula, place cake layer from baking sheet, mousse side up, atop cake layer on tart pan bottom.
Place third cake layer, cut side down, on cake (reserve remaining cake layer for another use). Spread 1 cup mousse over top of assembled cake.
Using long offset spatula, spread sides of assembled cake with enough ganache (about 1 1/2 cups) to fill gaps and make smooth surface. Transfer cake on tart pan bottom to platter.
Chill cake at least 3 hours and up to 1 day. Mound fruit atop cake. Refrigerate until ready to serve.
Notes
Adapted from Bon Appetit
Nutrition Information:
Yield:
24
Serving Size:
1 slice
Amount Per Serving:
Calories: 1273
Total Fat: 84g
Saturated Fat: 44g
Trans Fat: 2g
Unsaturated Fat: 35g
Cholesterol: 213mg
Sodium: 354mg
Carbohydrates: 132g
Fiber: 7g
Sugar: 100g
Protein: 13g
Note: This post may contain affiliate links; view
my Disclosure Policy
for details. I earn a small percentage from any purchase you make by clicking on these links at no extra cost to you.