Best Holiday Pies and Tarts
Here are The Best Holiday Pies and Tarts to come out of my kitchen, suitable for a celebration! The perfect indulgence for any holiday!
Whether you're looking for Thanksgiving Recipes or Christmas Recipes, pies are a wonderful way to cap off a holiday meal!
Best Holiday Pies
Chocolate is always requested when it comes to dessert for family gatherings. So it's probably no surprise that a number of our favorite holiday pies are laden with chocolate.
I'm the lone family member who swoons after a bite or two of coconut cream or pecan pie, but I can only rotate those into the mix every few years. Double crusted fruit pies are crowd-pleasers, too, whether apple, raspberry, or blueberry.
I love searching for new inspiration each year, like this post on Favorite Thanksgiving Pies! What's your favorite pie?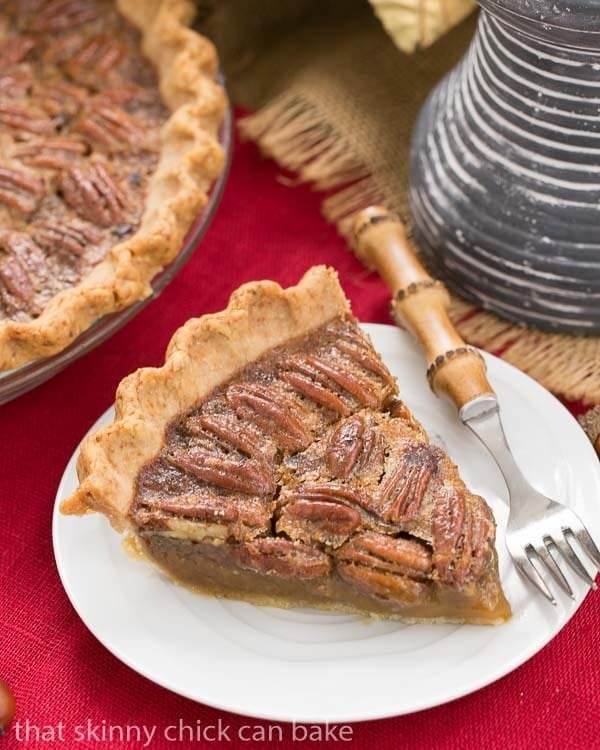 Boozy Pecan Pie– Pecan Pie is a classic Thanksgiving dessert. As the only nut lover in the house, it's hard for me to justify baking this decadent dessert unless there is company coming.

Banana Cream Pie – I made this luscious cream pie for my Mother-in-Law's 90th birthday per her request. But it would be wonderful for any holiday.

French Silk Pie – I grew up eating and swooning over Baker's Square's version of French Silk Pie. But nothing compares to an exquisite, homemade version with simple wholesome ingredients!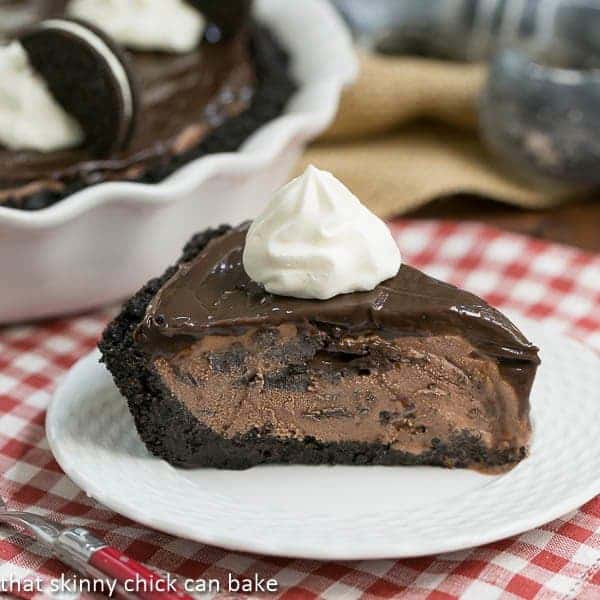 Fudge Topped Chocolate Ice Cream Pie -This ice cream pie is perfect for summer holidays and celebrations, though my crew would eat it in the dead of winter! Made with a cookie crumb crust, chocolate ice cream, and a jar of fudge sauce, it's super easy to throw together! The only hard part is waiting for it to refreeze!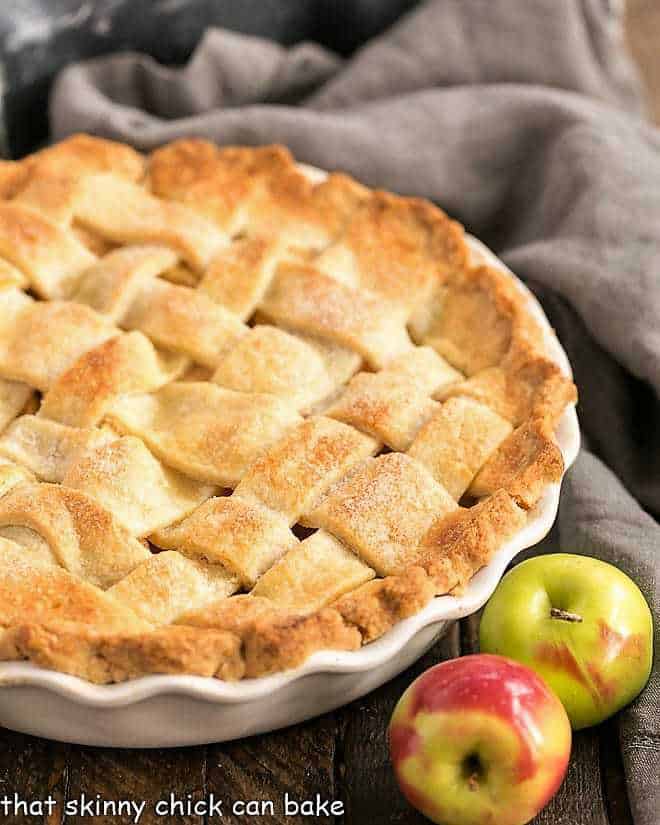 Perfect Apple Pie – Apple Pie would be my choice for a fall holiday like Thanksgiving. That is if I was bringing dessert and not making the whole feast!

Blueberry Pie – Another terrific summer pie recipe when the berries are ripe, juicy, and plentiful. Adding a lattice crust makes it extra fancy, but it's just as yummy with a traditional top crust. This can be made ahead of time, wrapped, and stored in the freezer!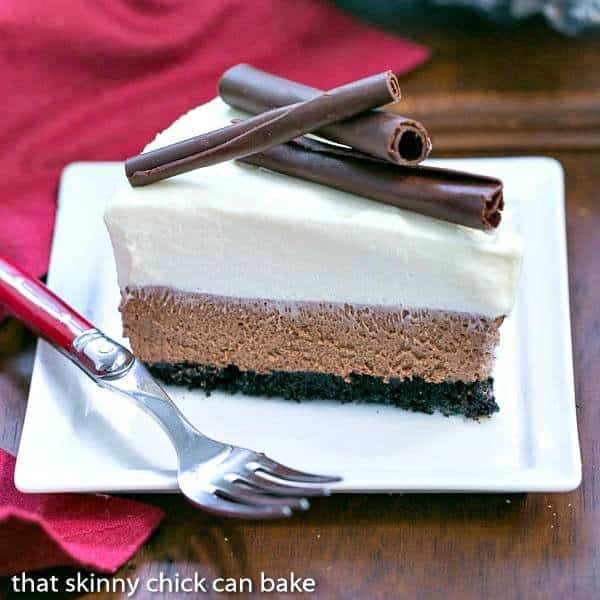 Triple Chocolate Mousse Pie – A layer each of chocolate mousse and white chocolate mousse makes this a chocolate lover's dream pie. At least for the one that lives in my house!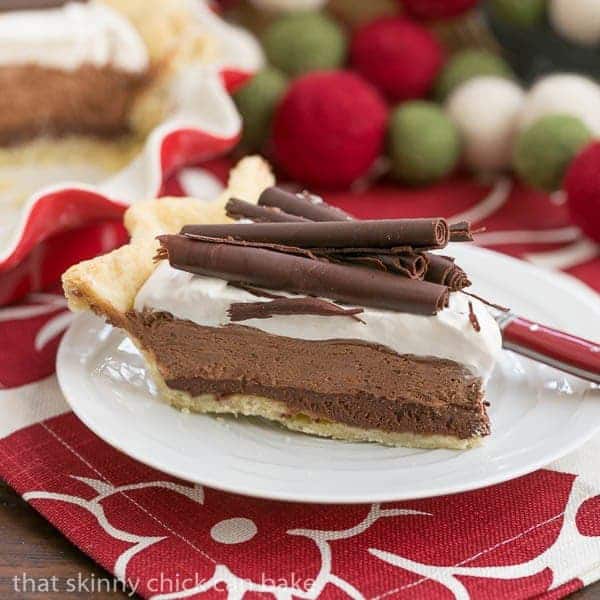 Black Bottom Chocolate Mousse Pie – Another delectable mousse pie, this time with 2 layers of chocolate mousse nestled in a pastry crust and topped with sweetened whipped cream and chocolate curls.

Raspberry Pie – My in-laws introduced me to raspberry pie and I was smitten with my first bite. This is one of my favorite fruit pies.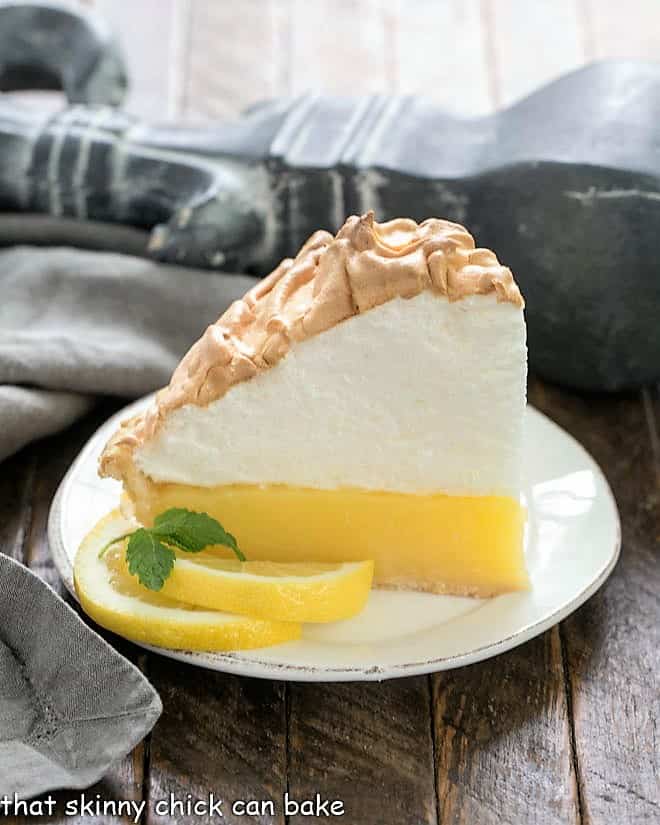 Lemon Meringue Pie – For the lemon lovers, this Mile High Lemon Meringue Pie boasts an impressive, billowy meringue topping!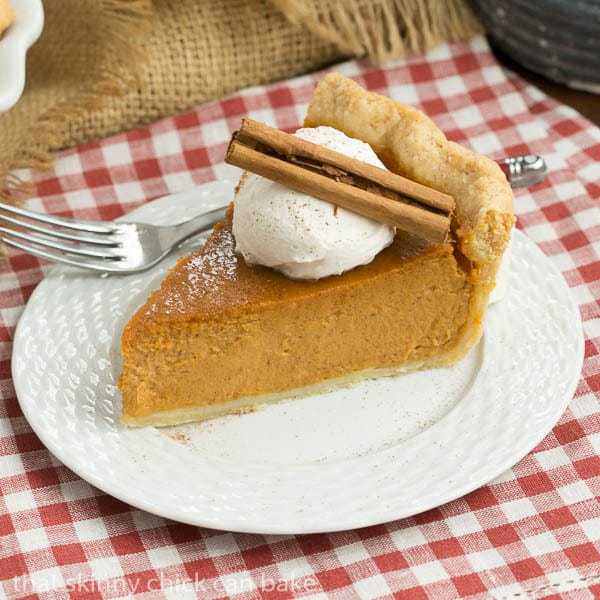 Pumpkin Pie – my favorite Pumpkin Pie recipe. It's basically the recipe on the back of the Libby's pumpkin can, but with an extra egg and heavy cream used in place of evaporated milk. It wouldn't be Thanksgiving without a slice of this gem topped with a dollop of sweetened whipped cream.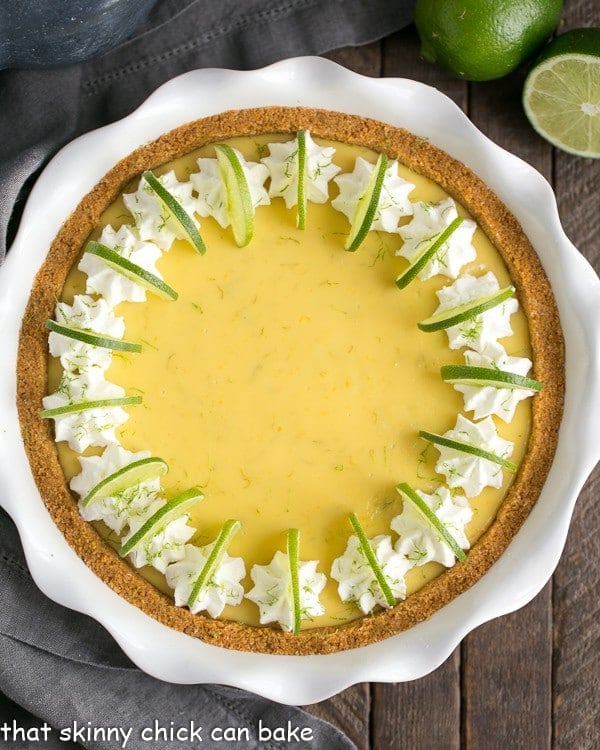 Key Lime Pie with Graham Cracker Crust – A lovely Southen pie that hails from Florida. With the classic graham cracker crust and custard filling flavored with zest and juice, it's a taste of the tropics.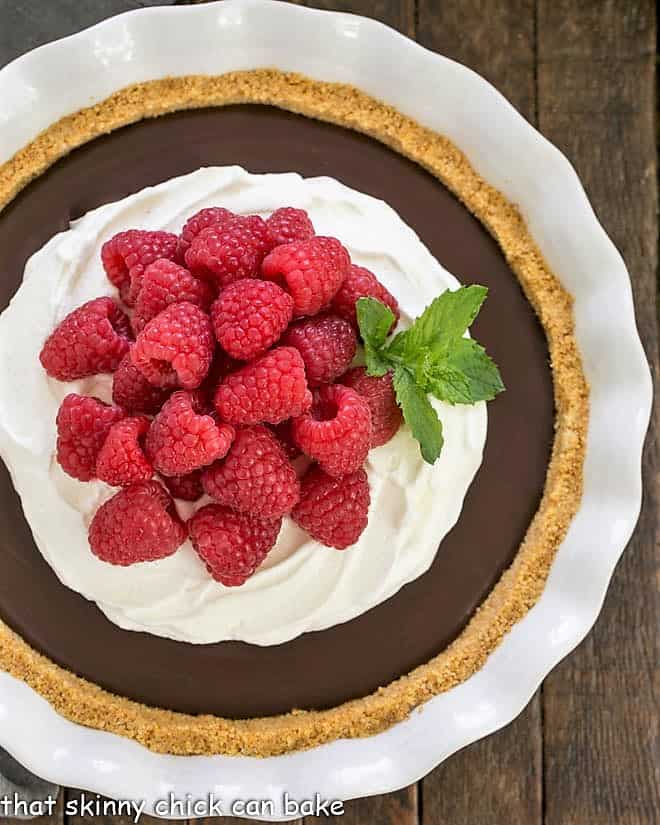 Dark Chocolate Satin Pie – An easy pie recipe for the chocoholics you know. My family all gave it thumbs up!
Plus a Few Favorite Tart Recipes
Tarts differ from some pies since they traditionally only have a bottom crust, straight sides and are baked in a tart pan with removable sides. Pie plates have sloped sides and can have a single or double crust. If I'm short on time, a tart is often a speedier alternative!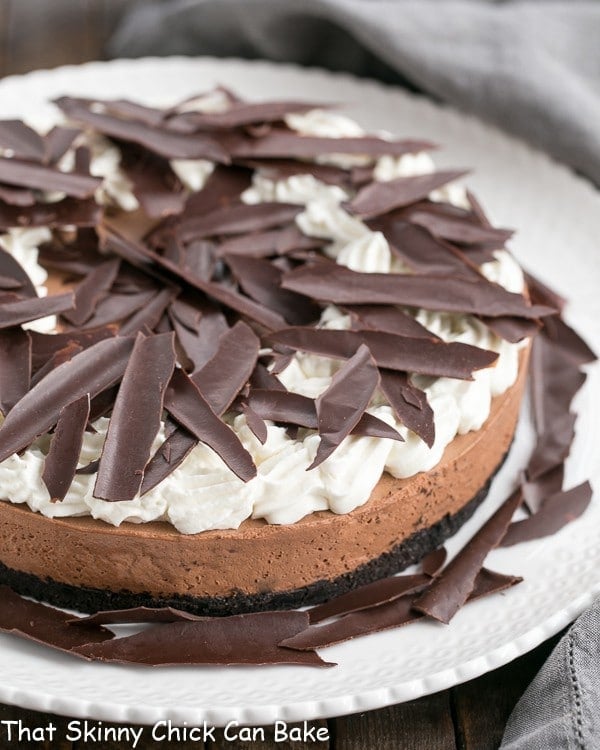 Chocolate Mousse Tart – Mousse, cookie crust, whipped cream, and more chocolate. Always a hit with my crew.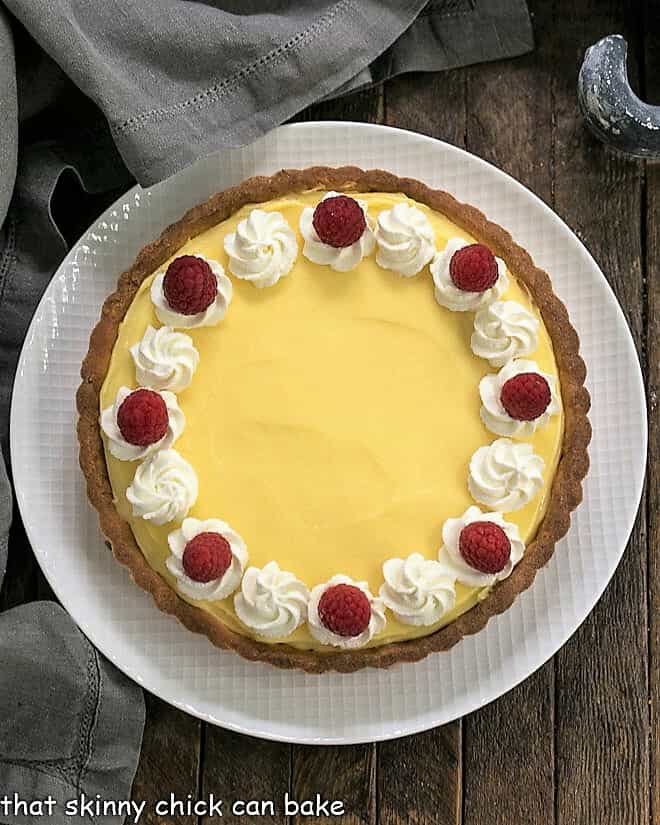 Creamy Lemon Tart – My favorite lemon dessert! The filling is the perfect combination of sweet and tart and absolutely dreamy.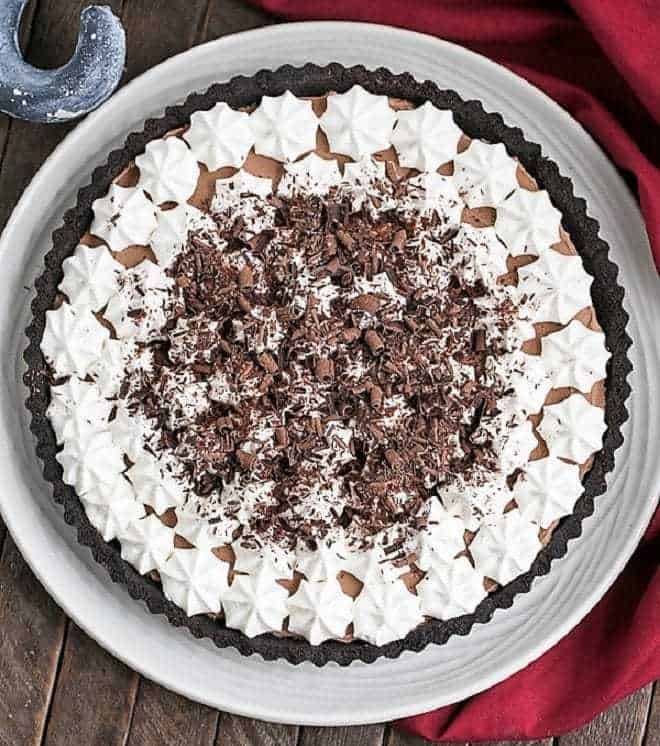 French Silk Tart– When one doesn't want to deal with a pastry crust, this twist on the French Silk Pie is an easy, yet just as decadent alternative!
More Holiday Pies and Tarts:
Any of these amazing pies would be great Thanksgiving Recipes and Christmas Recipes, or anytime you're craving a yummy pie!
Pie Making Essentials:
Does your family expect a pie on Thanksgiving? What desserts are a tradition at your house???
This roundup was first shared in November 2016. Photos and text were updated in 2020.
Note: This post may contain affiliate links; view
my Disclosure Policy
for details. I earn a small percentage from any purchase you make by clicking on these links at no extra cost to you.