Best Banana Cream Pie Recipe
This Banana Cream Pie Recipe is made with a buttery pastry crust, an exquisite vanilla custard, sweet banana slices, and whipped cream swirls to garnish.
This picture-perfect Banana Pie tastes as delicious as it looks!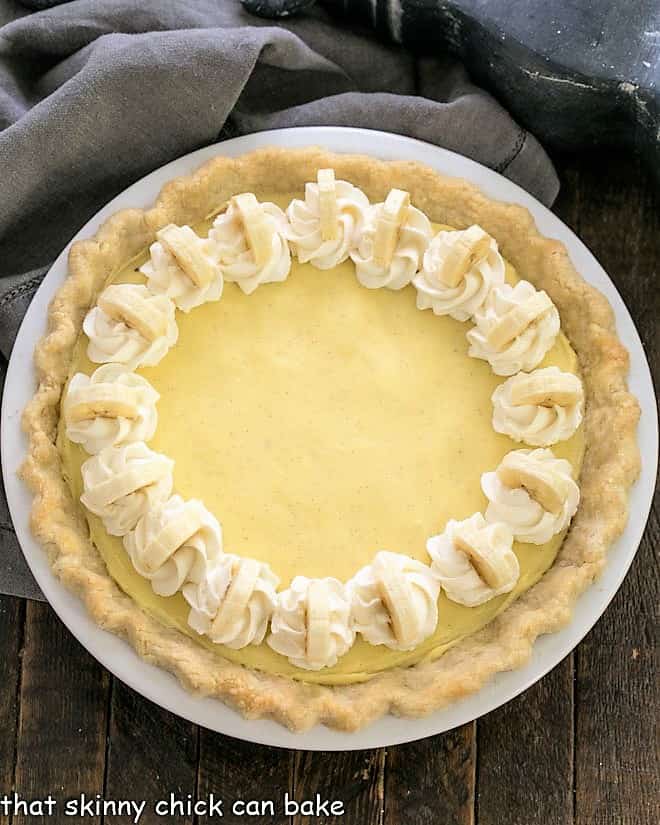 Why You Must Make
The vanilla custard filling is from Tom Douglas, the multi-talented cookbook author, and Seattle restauranteur.
There's no artificial banana flavoring, just banana slices tucked in rich, vanilla bean speckled custard.
It's a classic diner pie that's been popular for decades!
Bill is the one who loves banana cream pie at our house. Peach, apple, or raspberry with a nice scoop of vanilla is more my style. But when I snuck a sample of Tom Douglas's vanilla custard recipe I whipped up for the filling, I knew this pie was going to be extraordinary.
No boost of banana flavor in this custard, just a layer of banana slices sandwiched between a rich concoction of sugar, eggs, whole milk, cream, vanilla bean seeds, and vanilla extract. The bowl of vanilla-specked filling became my new best friend, it's that fabulous.
Recipe Tips
Jane has been my mother-in-law for 30 years. Warm, generous with a heart of gold, we hit it off from the day we met. She's truly a gem. Like her middle son, she has a knack for storytelling, leaving us in stitches as she regales us with tales of motherhood and anecdotes from years of owning a pharmacy in a teeny-tiny town. After hearing horror stories about friends' mothers-in-law, I know I've been blessed.
She requested a banana cream pie for her 90th birthday (shhh, don't tell her I revealed her age on the Internet!). Though she barely weighs 90 pounds, she devoured a generous slice. You won't be able to resist this amazing banana pie, either! Here's how to make it:
Bake your pastry crust and allow it to cool before making the filling. Baking an empty pie crust is called blind baking. To keep the bottom of the crust from puffing up while baking, I like to line my pie with a round of parchment and top with (affiliate link) pie weights (or dried beans). Bake the crust as directed by your recipe, and remove the pie weights towards the end of the baking time to let the bottom crust brown.
Alternatively, you can dock the bottom crust, which is poking holes across the surface. Use a fork to make it easy!
Next, make the vanilla custard. It's flavored with both a vanilla bean and real vanilla extract. If you don't have a vanilla bean, you can use 1 teaspoon vanilla bean paste or double the vanilla extract.
The custard thickens due to the egg yolks and cornstarch.
PRO-Tip: The egg yolks must be tempered slowly with the hot milk and cream mixture, whisking constantly. This method prevents the egg from cooking and leaving yellow specks of egg throughout the filling.
PRO-Tip: Cornstarch meets its thickening potential only after the mixture comes to a boil, so make sure the pudding mixture bubbles and is thickened before removing it from the heat.
The most unusual step is to use a food processor to add the butter to the slightly cooled pastry cream. It gets smooth and glossy as the butter absorbs.
Cool the mixture by placing it in a medium-sized bowl, then placing that bowl into a large bowl filled with ice water. Stir occasionally until the filling is cooled. Cover with plastic and refrigerate for at least 3 hours. The plastic wrap prevents a skin from developing on the surface of the custard.
Spread half the pastry cream on the bottom of the crust. Smooth with an offset spatula.
Layer with banana slices, then top with the rest of the pastry cream.
When ready to serve, top the pie with sweetened whipped cream or pipe stars of whipped cream around the perimeter of the pie, and top each star with a slice of banana.
Frequently Asked Questions
What is a cream pie?
There are 4 main types of pie: cream pies, fruit pies, custard pies, and savory pies. Cream pies are filled with pastry cream or pudding and often topped with whipped cream. With either a single or double crust, a fruit pie contains fruit. A custard pie, like pumpkin, has a baked egg thickened filling. And a savory pie is filled with eggs, like a quiche, meat or vegetables and often a sauce.
How do you store a cream pie?
Cream pies should not be left out longer than 2 hours to prevent the chance of a food-borne illness. It's best stored in the refrigerator except for when you're slicing and serving.
How long can you keep a cream pie?
Most cream pies will last 3-4 days if refrigerated properly. Bananas don't hold up especially well, especially since those used to garnish will turn brown as they're exposed to air. So a banana cream pie is best eaten on the day it's made, but it's safe to eat for a couple of days longer.
Can you freeze a cream pie?
I don't recommend freezing a cream pie as the quality of the filling will decline as it defrosts.
How do you garnish a banana cream pie?
Sweetened whipped cream is a tasty, beautiful topping for this pie. It can be spread over the top of the pie so each slice is covered with whipped cream.

You can also use a piping bag and a Wilton 1M tip to pipe swirls around the perimeter, then top each swirl with a thin banana slice. Add bananas right before serving so they don't discolor from oxidation.
More Pie Recipes You'll Love:
This post was first shared in April 2016. Photos and text were updated in 2020.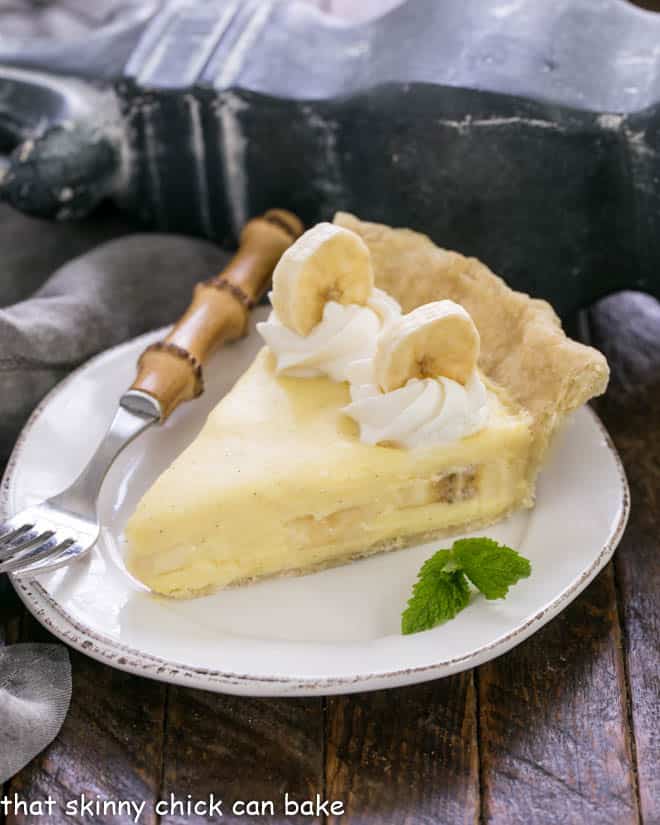 The Recipe:
Best Banana Cream Pie
Prep Time 30 minutes
Cook Time 20 minutes
Total Time 50 minutes
Yield 8 servings
A luscious banana cream pie made with Tom Douglas' vanilla custard.
Ingredients
1 homemade or store-bought 9-inch pastry crust, baked and cooled
Vanilla custard:
1 vanilla bean, split, seeds removed and seeds and pod reserved
1 1/4 cups whole milk
1 cup heavy cream
3/4 cup sugar
1/4 cup plus 1 teaspoon cornstarch
6 egg yolks
6 tablespoons butter, at room temperature
1 teaspoon vanilla extract
To assemble:
2 bananas, peeled and sliced
1 cup heavy cream
1/4 cup powdered sugar
1 teaspoon vanilla extract
Instructions
Split the vanilla bean lengthwise and scrape out seeds. Add vanilla pod, milk and cream to a saucepan. Set aside vanilla bean seeds.
Whisk sugar and cornstarch together in a large bowl. Add egg yolks and vanilla bean seeds. Whisk until mixture is smooth and lightens in color.
Heat the milk and cream mixture till it almost boils (you will see small bubbles around the pan's edge).
Remove from heat and discard the vanilla pods. While whisking, slowly drizzle a scant cup of the hot liquid into the egg yolk mixture to temper the eggs.
Then slowly add the rest of the hot liquid continuing to whisk until smooth.
Return the mixture to the stovetop and cook at a medium temperature, whisking constantly, until very thick like pudding.
Adjust heat to prevent scorching if needed. Remove from heat and stir a few times till the mixture cools to about 140º.
Scrape the mixture into a food processor, then add the butter and vanilla. Pulse until butter is melted and custard is smooth and glossy.
Remove to a bowl and set over ice water, stirring occasionally till cool (I fill my sink partway with ice cubes and water). Cover surface with plastic and refrigerate for at least 3 hours.
Scrape about half the custard into the prepared pie crust. Arrange banana slices over custard, then top with remaining custard.
Whip cream with powdered sugar and vanilla. Top pie with whipped cream.
Notes
Best eaten on the day it is made.
Nutrition Information:
Yield:
8
Serving Size:
1
Amount Per Serving:
Calories: 497
Total Fat: 37g
Saturated Fat: 22g
Trans Fat: 1g
Unsaturated Fat: 12g
Cholesterol: 238mg
Sodium: 144mg
Carbohydrates: 37g
Fiber: 1g
Sugar: 31g
Protein: 6g
Note: This post may contain affiliate links; view
my Disclosure Policy
for details. I earn a small percentage from any purchase you make by clicking on these links at no extra cost to you.