Banana Cream Cheesecake Pie
This dreamy, decadent Banana Cream Cheesecake Pie pairs my love of cheesecake with my hubby's love of Banana Cream Pie Recipes. A win-win for sure!!
A Banana Pie is made with fruit that's always available so it's never out of season. Made from scratch, the combination of a buttery pie crust, creamy vanilla custard filling, and whipped cream garnish elevate this diner favorite to a new level!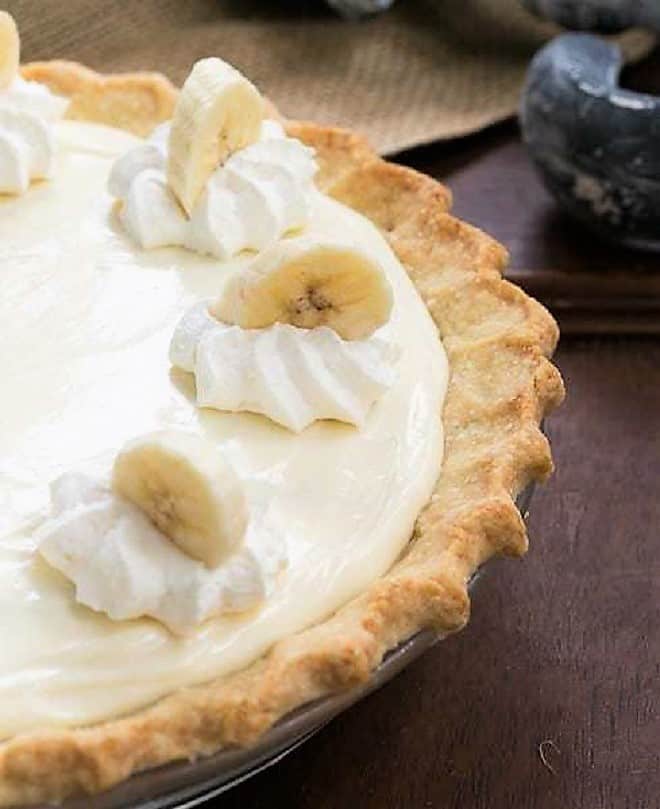 Why You Must Make
If you love banana cream pie, this twist of adding cream cheese to the filling will make your heart sing with your first bite!
Many fruit pies like peach and rhubarb are seasonal. Bananas are available all year long, so you can add this to your menu any time you want.
The trio of a buttery pie crust, rich custard, and sweet bananas is irresistible!
How to Make
Bake the pie crust, then cool and spread melted white chocolate over the bottom.
Make the custard in a saucepan, whisking as you continue to heat and add ingredients.
Whisk the egg yolks in a bowl, then "temper" the yolks by slowly drizzling in some of the hot mixture while whisking constantly.
Then add the rest of the mixture to the yolks,whisking continuously.
Cook until thick, then add vanilla.
Add whipped cream cheese to the filling and mix well.
Layer the custard, then the bananas, then the custard.
Chill, then garnish before serving.
Expert Tips
When I think of Southern cuisine, my mind goes to comfort food. And what's more comforting than a cream pie topped with sweetened whipped cream? Maybe one where the custard is made even richer by the addition of cream cheese? Yup, that's exactly what I did. This Banana Cream Cheesecake Pie is a delightful combination of your classic banana cream pie and cheesecake.
It was definitely hubby-approved. My oldest stopped by for dinner and took a couple of slices home with him. I'm certain he and his housemate licked their plates clean. You will, too!
Make sure your cream cheese is at room temperature so it blends smoothly into the filling.
While tempering the eggs, whisk continuously. If you don't, there will be little bits of cooked egg in the filling.
I used Martha Stewart's pâte brisée recipe for this pie crust.
I like to add a touch of sugar to my pie crust when making them for dessert. Feel free to omit it if that's your preference.
Use a graham cracker crust as an alternative. Of course, you can always buy premade crusts but note that many grocery store crusts aren't made with butter, so homemade usually tastes better.
Another trick when making cream pies is to spread a layer of melted chocolate, white chocolate in this case, over the bottom of the crust. It prevents the crust from getting soggy when you can't eat the whole pie in one sitting.
Frequently Asked Questions
What Is a Banana Cream Pie?
The classic banana cream pie recipe has a pastry crust, vanilla custard, banana slices, and a whipped cream topping.
How Do You Select Bananas for a Banana Cream Pie?
The peels should be yellow without any green areas. There can be a few brown speckles which means they're ripening, but you don't want them too ripe. It's best to avoid bananas that have lots of brown spots and are very fragrant.
How Long Does a Banana Cream Pie Keep?
As long as it's kept in the refrigerator, a banana cream pie is good for up to 3 days. Longer than that, the bananas will start to deteriorate.
What is Blind Baking?
This term refers to baking a pastry shell before it is filled. Either prick the bottom with a fork or line with foil or parchment and add pie weights or dried beans to prevent the crust from rising from the pan as it bakes. This minimizes the chance of a soggy crust after it is filled with custard or any moist filling. You can also brush the bottom of the crust with white chocolate before filling it for a moisture barrier.
You May Also Like:
Stay in touch through social media @ Instagram, Facebook, and Pinterest. Don't forget to tag me when you try one of my recipes! And if you love the results, please give it a 5-star rating in the recipe card. Note: As an Amazon Associate, I earn from qualifying purchases. Visit my Amazon Store for my favorite products.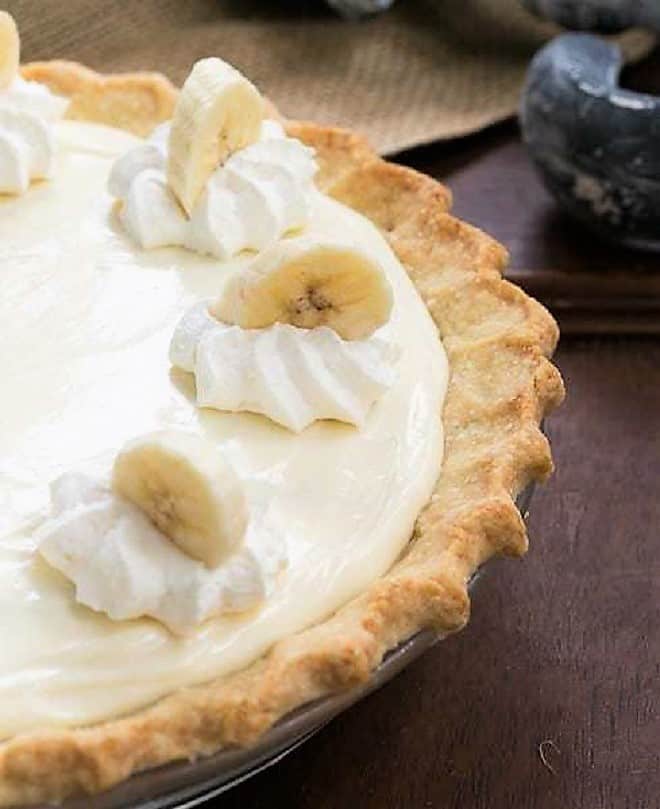 The Recipe:
Banana Cream Cheesecake Pie Recipe
Prep Time 30 minutes
Cook Time 20 minutes
Total Time 50 minutes
Yield 8
This dreamy, decadent Banana Cream Cheesecake Pie is a delicious pairing of a classic pie and cheesecake!
Ingredients
1 pastry crust, homemade (I used Martha Stewart's pate brisee with a touch of sugar added) or store-bought, baked and cooled
1 ounce white chocolate, finely chopped
⅔ cup sugar
⅓ cup flour
1 pinch salt
2 cups milk
3 egg yolks, whisked
1 ½ teaspoons vanilla
16 ounces cream cheese, at room temperature
4 bananas, sliced
Sweetened whipped cream and banana slices, to serve
Instructions
In a microwave safe bowl, carefully melt the white chocolate by microwaving for 30 seconds, stirring and repeating at 15 second intervals, if needed, till smooth. Brush melted chocolate over bottom of cooled pie crust and let rest till chocolate is firm.
In a large saucepan whisk together sugar with flour and salt until well combined. Slowly whisk in milk until smooth.
Bring mixture to a simmer while stirring over medium heat. Cook until mixture is thickened.
Whisk egg yolks in a medium bowl. While whisking constantly, slowly drizzle a bit of the hot liquid into the yolks to temper them. Slowly add the rest of the mixture to the eggs, whisking continuously till all the liquid is added.
Add egg yolk mixture back to the pan and continue to stir while returning mixture to a simmer. Cook until thickened like to the consistency of pudding. Remove from heat and stir in vanilla.
Beat cream cheese until very smooth. Add custard to cream cheese and mix until well combined.
Cover bottom of crust with half of custard mixture. Add sliced bananas and cover with remaining custard.
Refrigerate cheesecake until cold or overnight.
Serve with whipped cream and garnish with sliced bananas.
Notes
Total time does not include chilling time.
Adapted from Serena Bakes Simply from Scratch.
Nutrition Information:
Yield:
8
Serving Size:
1 slice
Amount Per Serving:
Calories: 460
Total Fat: 26g
Saturated Fat: 15g
Trans Fat: 0g
Unsaturated Fat: 8g
Cholesterol: 138mg
Sodium: 270mg
Carbohydrates: 50g
Fiber: 2g
Sugar: 32g
Protein: 9g
Note: This post may contain affiliate links; view
my Disclosure Policy
for details. I earn a small percentage from any purchase you make by clicking on these links at no extra cost to you.