White Chocolate Frangelico Cheesecake
White chocolate Frangelico cheesecake is truly a unique homemade cheesecake! Two additions to a traditional cheesecake recipe turn this White Chocolate Frangelico Cheesecake into something extraordinary!
This White Chocolate Cheesecake is glammed up with white chocolate curls for an elegant presentation, but it's the creamy, luscious texture that will sell you after your first bite!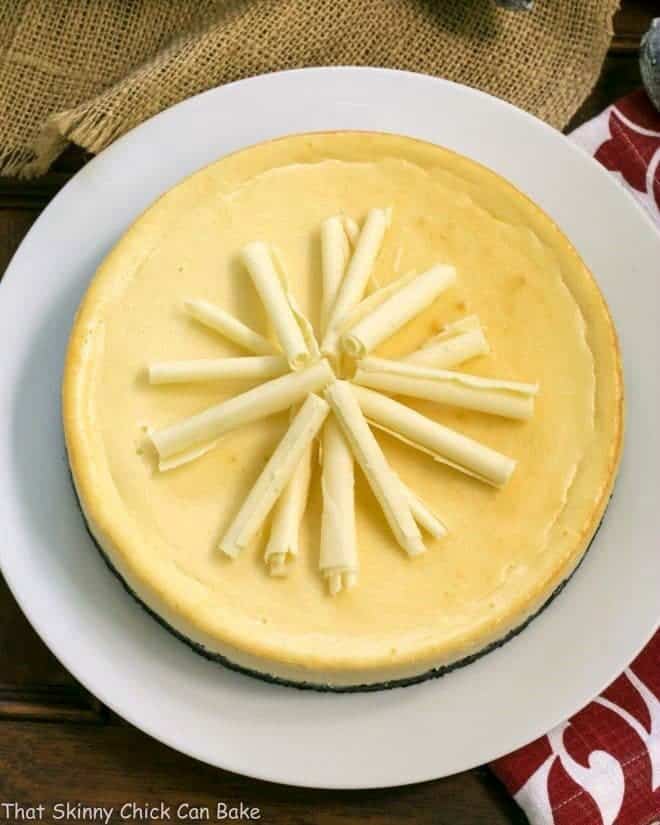 Why You Must Make
My daughter, Katie, orders cheesecake practically every time we dine out. She is a big-time fan. So when a group of bloggers decided to celebrate National Cheesecake Day (am I the only one who is always a day late and a dollar short when it comes to foodie holidays?), I knew I'd have to participate.
This White Chocolate Frangelico Cheesecake features an exquisite marriage of flavors. First is the addition of melted white chocolate to the batter. Plus, the Italian hazelnut liqueur adds a sublime undertone to an already exquisite cheesecake.
Using my tips creates one of the creamiest cheesecakes you'll ever taste!
This is a party-worthy dessert. I promise you'll get asked for the recipe if you share this cheesecake with friends!
Ingredient Notes
One 9-ounce package chocolate wafers – I use Nabisco Famous Wafers, processed into fine crumbs
Butter – Salted is fine
Cream Cheese – Room temperature for the smoothest cheesecake
Sugar
White Chocolate – chopped and melted
Vanilla – Real Vanilla Extract
Frangelico – A Hazelnut Liqueur that pairs beautifully with white chocolate
Eggs – Room temperature for easier incorporation
Expert Tips:
Since it IS National Cheesecake Day, I thought I'd share my tips for making the BEST cheesecake:
Make sure your eggs, cream cheese, and sour cream and/or cream are at room temperature.
You can hurry along the process by setting the eggs in a bowl of warm water to take the chill off.
Set the cream cheese and any other dairy ingredients out on the counter about an hour before mixing to bring to room temperature.
Use the paddle attachment of your stand mixer to mix the batter.
Do not whip or over-mix the batter. You don't want to incorporate air into the mixture.
Mix in eggs one at a time, just until each is incorporated.
Bake in a shallow bain-marie or water bath to minimize cracking. This step helps the cheesecake bake evenly and at a controlled temperature.
Wrap your springform pan well in heavy-duty foil to protect any water from getting into the pan while baking. Double wrap if your pan is known to be leaky. This prevents any of the bain-marie water from having access to the crust.
If you'd like to learn how to make white chocolate curls, check out my instructions on this Vanilla Cake post. Plus, you'll also love this White Chocolate Mousse Recipe.
Frequently Asked Questions
How Do You Make a Creamy Cheesecake?
A few of my tips include making sure your eggs and cream cheese are at room temperature, do not overmix the batter, and do not overbake. The middle of the cheesecake can jiggle a bit because it will continue baking after you turn the oven off.
How Long Does it Take a Cheesecake to Set?
First, it must be properly baked so it will be set when it cools. As mentioned above, the very middle may jiggle slightly when it comes out of the oven, but this area shouldn't be any larger than the size of a quarter.
Let it cool on a rack to room temperature, then chill overnight in the refrigerator. It will be set completely after it's well chilled.
How Do You Store a Cheesecake?
It should be kept in the refrigerator, but bring it out about an hour before serving as it tastes best and is creamiest when allowed to warm up a bit. It can be kept refrigerated for about 3 days, covered with plastic wrap. To freeze, add a layer of foil and freeze for up to 3 months.
Is White Chocolate Really Chocolate?
White chocolate isn't true chocolate because it doesn't contain chocolate liquor. But it does contain cocoa butter.
You May Also Like
Stay in touch through social media @ Instagram, Facebook, and Pinterest. Don't forget to tag me when you try one of my recipes! And if you love the results, please give it a 5-star rating in the recipe card. Note: As an Amazon Associate, I earn from qualifying purchases. Visit my Amazon Store for my favorite products.
The Recipe:
White Chocolate Frangelico Cheesecake Recipe
Prep Time 30 minutes
Cook Time 1 hour
Total Time 1 hour 30 minutes
Yield 16 servings
A creamy, decadent cheesecake flavored with white chocolate and Frangelico liqueur
Ingredients
Crust:
One 9-ounce package chocolate wafers (I use Nabisco Famous Wafers), processed into fine crumbs
½ cup butter, melted
Cheesecake:
1 ½ pounds cream cheese, at room temperature
¾ cup sugar
8 ounces white chocolate, chopped and melted
1 teaspoon vanilla
3 tablespoons Frangelico (hazelnut liqueur)
4 eggs, at room temperature
Instructions
Preheat oven to 350º.
Mix cookie crumbs and melted butter and pat onto the bottom of a greased 9-inch springform pan.
Bake for 10 minutes, then set on a rack to cool while making filling. Decrease oven temperature to 325º.
Using the paddle attachment of your stand mixer, beat the cream cheese on low for a minute, scrape down the sides of the bowl, then slowly add sugar while continuing to mix on low.
Add melted chocolate and mix just till combined. Add vanilla and Frangelico and mix just till incorporated.
Mix in eggs, one at a time on low, just till incorporated, scraping the bowl as needed,
Wrap your springform pan in a layer of heavy-duty foil and place it into a roasting pan. Pour batter into the springform pan and smooth the top if needed.
Pour hot water into the roasting pan till it comes about a couple of inches on the sides of the springform pan.
Carefully place a roasting pan in the oven and bake for about 60 minutes or till the top is a bit golden and almost totally set.
Remove from the water bath, then remove the foil and allow it to come to room temperature on the cooling rack.
Cover with plastic wrap and chill overnight.
Decorate with white chocolate curls if desired.
Notes
For the creamiest cheesecake make sure to wrap the springform pan in foil, then bake in a ban maire or pan of hot water.
Have your eggs and cream cheese at room temperature for easy incorporation.
Helpful Tools (As an Amazon Associate and member of other affiliate programs, I earn from qualifying purchases):
Recommended Products
As an Amazon Associate and member of other affiliate programs, I earn from qualifying purchases.
Nutrition Information:
Yield:
16
Serving Size:
1 slice
Amount Per Serving:
Calories: 400
Total Fat: 28g
Saturated Fat: 16g
Trans Fat: 0g
Unsaturated Fat: 10g
Cholesterol: 108mg
Sodium: 302mg
Carbohydrates: 32g
Fiber: 1g
Sugar: 25g
Protein: 6g
Note: This post may contain affiliate links; view
my Disclosure Policy
for details. I earn a small percentage from any purchase you make by clicking on these links at no extra cost to you.