Homemade Pizza Margherita
Simple, fresh ingredients combine to make my family's favorite Homemade Pizza Margherita! So easy to make and impossible to resist.
With a simple topping of fresh mozzarella, tomatoes, and basil, this Caprese Pizza is the best vegetarian pizza you'll ever taste!
Why You Must Make
It's made with a tried and true pizza crust recipe.
The toppings are simple and classic.
My picky family gives it their wholehearted endorsement!
By now, many of you know how darn picky my family is! There are very few recipes that please them all. Pizza Margherita is always a hit and so simple to make. The first time I served this vegetarian pizza featuring fresh tomatoes, mozzarella, and basil, it became an instant family favorite and was soon a regular on our meal rotation.
When my oldest was in college, this was on our Friday night menu when he trekked home for the weekend. Though I have a feeling he'd be just as happy with a meat lover's or sausage and mushroom pizza! During Lent, the fish haters were happy when it was a meatless pizza and not tuna casserole for dinner. Served with a seasonal tossed salad, Pizza Margherita won't break your budget or your diet!

Ingredient Notes
Pizza Dough – Trader Joe's sells pizza dough near their produce in the refrigerator section. It's great when time is tight. Homemade is always a step up! Or see the next 5 ingredients for homemade dough.
Bread Flour – Bread flour has more gluten and gives extra structure to the crust
Instant Yeast – Does not need to be dissolved in liquid.
Sugar – Feeds the Yeast
Salt – Imperative to enhance the flavor
Ice Water – The liquid needed to make the dough.
Olive Oil – Adds fat to the dough.
Tomatoes – In the winter, I make this Caprese pizza with meatier plum tomatoes, but thinly sliced garden tomatoes are a terrific option in the summer.
Fresh Basil – I like to roll up the leaves like a cigar, then slice them thinly making them easy to sprinkle across the tomatoes. During the summer, I always have basil in my herb garden. It's quite hardy.
Mozzarella – I prefer slicing balls of fresh mozzarella cheese to top the pizza. Shredded will also work.
Kosher Salt and Pepper – Make sure to sprinkle the cheese and toppings with some kosher salt to enhance the flavors. Freshly ground black pepper is nice, too.
Olive Oil – I always have extra virgin olive oil on hand, but regular olive oil is just fine. A light drizzle over the toppings is all you need.
After dinner, gather the family, including the dog, and take a walk around the block. It's a great habit and will rev up your metabolism while providing more time to chat, laugh, reminisce, and bond.
Basic Steps
Mix dough, cover, and proof in the refrigerator.
Work the dough into a round and place on a sheet of parchment paper.
Add the toppings and bake until the crust is brown and the cheese is bubbly.
Detailed Steps:
The first task is to check if your yeast is still active. There should be a date on the packaging, so check that first. If you have a jar of yeast, you can add some warm (not hot) water with a pinch of sugar. It should start bubbling if it's still good. If you're down to one envelope of yeast, you probably don't want to waste it on testing.
PRO-Tip: Did you know you can store yeast in the freezer? It will be good for years!!
Next, follow the recipe and start kneading the dough in your stand mixer. You can start with the paddle attachment to mix, but switch to the dough hook to knead. The resulting dough should be elastic and slightly sticky.
This dough proofs in the refrigerator instead of in a warm locale. For the best flavor, the dough can be refrigerated overnight. This gives the dough the time to develop flavor due to the byproducts of fermentation and structure.
Once the dough has proofed (it only needs one cycle of proofing unlike most yeast bread), it's time to shape and top.
Stretch the dough by placing on on the back of your hands and allow gravity to do its thing with a little help from your thumbs and knuckles to rotate.
After the initial stretching, place the dough on a piece of parchment paper and continue stretching, pressing with your fingers, and shaping it into a nice circle.
Preheat the oven and pizza stone to 550º (the stone needs some extra time to heat thoroughly).
PRO-Tip: Do not overload with the toppings and make sure any soft ingredients are free of excess liquid or your dough won't crisp up as well. I slice my tomatoes very thin and drain them on paper towels. If they're too thick, the juices will make the pizza crust gummy. But don't worry if that happens, as it's still tasty!!
Use the pizza peel to remove and place the pizza and parchment on a cooling rack.
Much as I love the ease of using a premade pizza dough, it's even better to have some homemade on hand. This recipe makes two crusts, so park half in the freezer for another meal. Or double the toppings and make two pizzas!
Expert Tips
PRO-Tip: This pizza dough is not proofed in a warm spot, but instead in the refrigerator. The slow proofing allows for more flavor development.
The dough is very elastic, so it may take a few minutes to shape it into a nice round.
Place the shaped dough onto a sheet of parchment paper. Then add toppings.
PRO-Tip: Baking on parchment makes for easy cleanup.
Place the pizza with toppings (on the parchment) onto a pizza peel and slide it onto the pizza stone in your hot oven.
PRO-Tip: If you don't have a pizza peel, you can use a rimless sheet pan instead.
Bake as directed or until the crust is browned and the cheese is bubbly. Remove with the pizza peel to a cooling rack.
Let cool briefly before cutting and eating. The cheese is scorching hot and can burn the roof of your mouth if you dig in too soon!
Frequently Asked Questions
Is a Margherita Pizza Italian?
Yes, Pizza Margarita originated in Naples (Napoli) and traditionally has the toppings of San Marzano tomatoes, fresh mozzarella, fresh basil, salt, and extra virgin olive oil.
Where Did the Name Pizza Margherita Come From?
Some think the name  Pizza Margarita comes from the flower-like arrangement of ingredients over the top of the dough as "margherita" translates to daisy in Italian.

More popular is the story that Queen Margherita of Savoy was in Naples and tired of the French food she'd been served. She asked the renowned local pizza maker, Raffaele Esposito, to make her favorite pizza with mozzarella, tomatoes, and basil, which just happen to be the colors of the Italian flag. Esposito named this creation after Queen Margherita.
You May Also Like
Once you stock up on yeast, you'll want to make some other tasty yeast bread. Here are some favorites.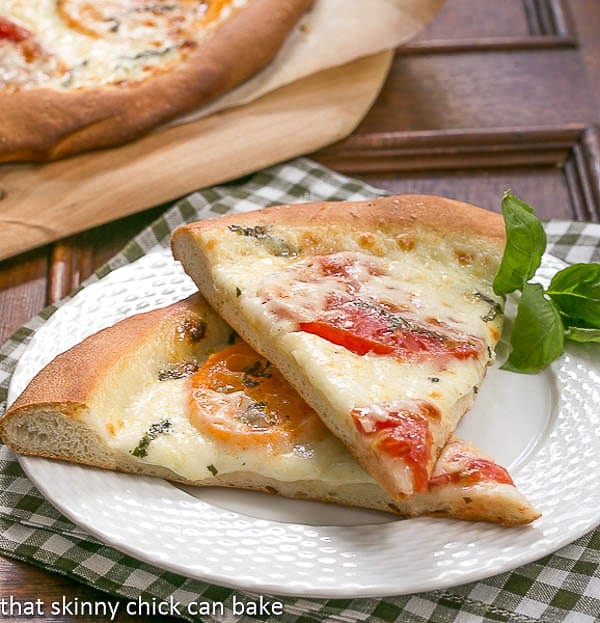 The Recipe:
Homemade Pizza Margherita
Prep Time 20 minutes
Cook Time 15 minutes
Total Time 35 minutes
Yield 1 pizza
My family's favorite pizza!
Ingredients
Dough:
3 cups bread flour plus more to dust the work surface
2 teaspoons sugar
½ teaspoons instant yeast, (I use Red Star Platinum Yeast)
1 ⅓ cups ice water
1 ½ teaspoons salt
1 tablespoon olive oil plus more to oil the work surface
Topping:
2 8-ounce balls of fresh Mozzarella, sliced
4 medium to large garden tomatoes or 8-10 plum tomatoes, cut into thin slices and drained on paper toweling
Fresh basil, cut into thin strips
Kosher salt
Freshly ground black pepper
Extra virgin olive oil
Instructions
Place the flour, sugar, and yeast into the bowl of a food processor. Process for a couple of seconds until combined.
Slowly add the cold water through the feed tube with the processor running. Mix until the dough is combined, about 10 seconds.
Let the dough rest for 10 minutes.
Add the oil and salt and process until the dough cleans the side of the bowl, a minute or less. Remove the dough and knead on a lightly oiled surface until smooth.
Form the dough into a ball and place it into an oiled bowl. Cover with plastic and refrigerate for 24-72 hours.
When, you're ready to make the pizza, divide the dough in half. Shape each half into a dough ball and place on an oiled baking sheet. Cover with greased plastic wrap and let rest for 1 hour.
The topping ingredients are for two pizzas, but you can use half and freeze half the dough for later.
Place the pizza stone into the oven and preheat to 500º. Doing this 30-60 minutes in advance will get the stone properly heated.
Pat out the dough into a large circle, about 12 inches in diameter, onto parchment paper, Repeat with the second ball of dough if desired.
Top with tomatoes, and cheese, then season with salt, pepper, and basil strips. Drizzle with olive oil.
Using a pizza peel, slide the pizza, and parchment onto the pizza stone.
Bake for about 12 minutes or till the crust is brown and the cheese is bubbly.
Notes
Dough recipe adapted from Cook's Illustrated(note that this recipe will make enough for 2 pizzas.
Freeze half the dough if desired (only use half the toppings).
The total time does not reflect proofing time.
Recommended Products
As an Amazon Associate and member of other affiliate programs, I earn from qualifying purchases.
Nutrition Information:
Yield:
4
Serving Size:
1
Amount Per Serving:
Calories: 782
Total Fat: 33g
Saturated Fat: 14g
Trans Fat: 0g
Unsaturated Fat: 17g
Cholesterol: 73mg
Sodium: 3646mg
Carbohydrates: 86g
Fiber: 5g
Sugar: 8g
Protein: 35g
Note: This post may contain affiliate links; view
my Disclosure Policy
for details. I earn a small percentage from any purchase you make by clicking on these links at no extra cost to you.