Homemade Pretzel Rolls
I love making yeast bread so when this month's Progressive Eats theme was a Pretzel Party, I knew that I must bake up some Homemade Pretzel Rolls.
Pretzel Bread was new to me, and I was intrigued with the slightly unusual process of making this yeast bread.
Why You Must Make
If you've only had hard pretzels out of a bag, this recipe will show you the most delicious way to enjoy pretzels!
They're boiled, then baked like bagels!
They taste just like pretzels but better than any you've ever eaten!
I hadn't a clue how pretzel buns were made, but it turns out they need some time in a steamy water bath after their first rise. I was also unsure of how to make the classic X across the top of these buns. A sharp serrated knife did the trick nicely.
How they bake up to a deep brown was also a mystery to me, but I'm surmising that it's from the minute they spend in that boiling water spiked with sugar and baking soda. I combined a few recipes, one of which called for celery seeds. I just added a large pinch instead of a teaspoon, and my rolls tasted just like pretzels! Was that from the celery seed? Again, I'm not sure. I'm just calling this a success!
Ingredient Notes
Kitchen Staples – All-Purpose Flour, Salt, Brown Sugar, Sugar, Baking Soda
Bread Flour – Has more gluten than AP flour, so adds more structure to the rolls. This recipe uses both AP and bread flour.
Yeast – I used Red Star Platinum Yeast which is an instant yeast. Make sure it's not expired before using it.
Celery Seed – A very common addition to pretzel recipes, so it must provide that je ne sais quoi that makes these rolls taste like pretzels!
Corn Meal – Spread on the baking sheet and will coat the bottom of the pretzel rolls while baking
Egg White and Coarse Salt – The egg white wash is used to glaze the top of the rolls and will help the salt adhere.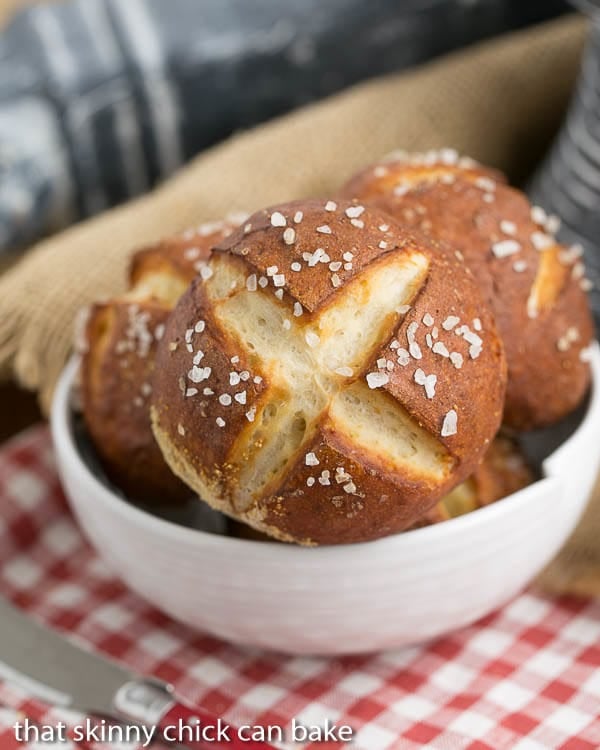 Expert Tips
Before making these, I hadn't a clue how to make pretzel buns, but it turns out they need some time in a steamy water bath after their first rise.
So make sure to get a pot of water simmering while your rolls proof.
You'll spike the water with sugar and baking soda before adding the rolls. Note that when you add the baking soda, the water will bubble furiously and that's normal.
Also, use a serrated knife to make the classic slashes across the top of each bun. They will create a nice X across the surface as they bake making the perfect spot to break each roll open to smear on some butter.
Don't forget to add the celery seed to the dough. Though there's no obvious celery flavor in these rolls, you'll see it listed in numerous pretzel recipes. It must contribute to the classic pretzel taste.
How they bake up to a deep brown is also a mystery, but I'm surmising that it's from the minute they spend in that boiling water spiked with sugar and baking soda.
Frequently Asked Questions
What Is the Origin of Pretzels?
Pretzels can be traced back to the Roman Empire and the knotted shape was first noted in the 7th century. It wasn't until 1861 that pretzels were manufactured in the US.
Why Are Pretzels Shaped in a Knot?
One theory is that a monk who was thought to have invented pretzels shaped them to represent the arms of a child praying. He would give them out as rewards to those who memorized their prayers.
What Do Pretzel Rolls Taste Like?
They taste just like soft pretzels, chewy and salty on the exterior and soft in the middle
You May Also Like
The Recipe:
Homemade Pretzel Rolls
Prep Time 30 minutes
Cook Time 25 minutes
Total Time 55 minutes
Yield 8 rolls
Ingredients
2 cups bread flour
¾ cup all-purpose flour
1 envelope instant yeast (I used Red Star Platinum Yeast)
1 ½ teaspoons salt
1 tablespoon brown sugar
1 generous pinch of celery seeds
1 cup hot milk (125°F to 130°F)
Cornmeal
8 cups water
¼ cup baking soda
2 tablespoons sugar
1 egg white, whisked
Coarse salt
Instructions
Combine both types of flour, yeast, salt, brown sugar, and celery seeds in a food processor and blend.
Add milk while the processor is running and let knead for about a minute. Process 1 minute to knead.
Place dough in a greased bowl, flipping over so that all sides are greased. Cover with plastic wrap, then a towel, and let rise in a warm spot till doubled, 35-50 minutes.
Flour baking sheet. Punch dough down and knead on a lightly floured surface until smooth.
Divide into 8 pieces. Form each dough piece into a ball and place on floured baking sheet. Flatten balls slightly.
Using a serrated knife, cut an X across the top of each dough ball. Cover with a towel and let dough balls rise until almost doubled in volume, about 30 minutes.
Preheat the oven to 375°. Grease another baking sheet and sprinkle with cornmeal.
Bring 8 cups of water to a boil and add baking soda and salt (water will foam up). Add 4 rolls at a time and cook 30 seconds per side.
Using a slotted spoon, transfer the rolls to the prepared sheet and cut side up. Repeat with the remaining rolls.
Brush rolls with egg white glaze. Sprinkle tops with coarse salt.
Bake rolls until brown, 22-25 minutes. Transfer to racks and cool for 10 minutes.
Serve rolls warm or at room temperature.
Notes
Technique adapted from Bon Appetit.
Nutrition Information:
Yield:
8
Serving Size:
1 roll
Amount Per Serving:
Calories: 258
Total Fat: 2g
Saturated Fat: 1g
Trans Fat: 0g
Unsaturated Fat: 1g
Cholesterol: 2mg
Sodium: 2396mg
Carbohydrates: 52g
Fiber: 2g
Sugar: 5g
Protein: 8g
Sodium content is skewed as the salt in the boiling water bath was factored into the nutrition.
Note: This post may contain affiliate links; view
my Disclosure Policy
for details. I earn a small percentage from any purchase you make by clicking on these links at no extra cost to you.