Homemade Challah Pretzels
Homemade Challah Pretzels are chewy, delicious and won't last long! Perfect to celebrate Festivus, but just as wonderful for game day, an afternoon snack, or ANY excuse you can think of to make them!
Homemade Pretzels
Do you celebrate Festivus on December 23rd? It's the secular holiday made famous by the sitcom Seinfeld. It's Festivus for the rest of us.
It's what we're celebrating today with an airing of grievances, feats of strength, the famous aluminum pole, and traditional Festivus dinner. So gripe away while you're planning your celebration. And be sure to add these chewy, irresistible challah pretzels to your menu.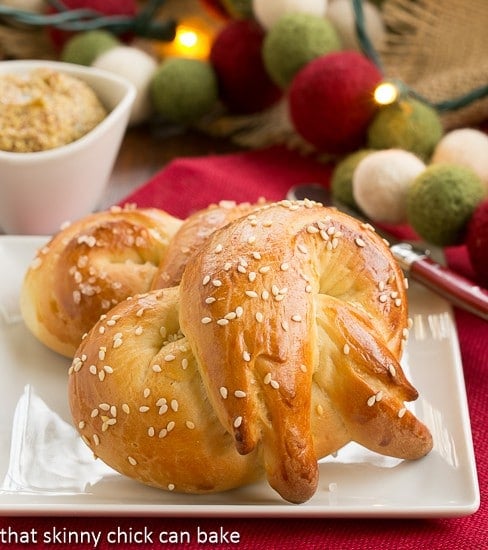 Pretzels from Scratch
My pretzel-making days go back 15 years to when my youngest was in preschool. One of their craft projects with Mrs. Piccolo was to learn how to make pretzels. From that day onward, I had numerous requests from Nick to bake up a batch of soft pretzels.
When challah came up in our Tuesdays with Dorie queue, I decided to take half that dough to make challah pretzels. I adore an eggy bread and these pretzels were chewy and perfect. Some were sprinkled with coarse sea salt and the rest with sesame seeds.
Bill came home from work and had a nibble off one of these homemade pretzels, then a few minutes later another nibble, till he finally just finished the whole thing. Nick gave them his seal of approval as well. And he took a Ziploc bagful back to campus after Thanksgiving break. I have a feeling they won't last long.

More Seinfeld Inspired Recipes:
Now check out all the other magnificent Festivus recipes from my lovely friends. Do you remember these Seinfeld episodes? Feel free to leave any grievances in the comments!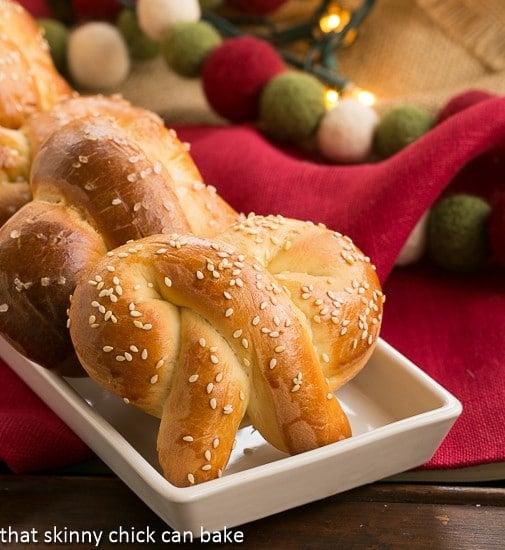 The Recipe:
Challah Pretzels
Prep Time 30 minutes
Cook Time 20 minutes
Total Time 50 minutes
Yield 16 pretzels
Chewy Challah Pretzels made with a rich egg bread dough!
Ingredients
2 packages active dry yeast
1/2 cup lukewarm water (about 110°)
1/3 cup sugar, plus a pinch
4 ounces butter, cut into pieces
2 tablespoons, melted butter
1 cup milk (whole milk preferred)
1 tablespoon honey
2 1/2 teaspoons salt
4 eggs, at room temperature, plus 1 egg beaten with 1 egg yolk and 1 tablespoon
cream to glaze
6 cups bread flour, will vary depending on the humidity
Instructions
In a small bowl, dissolve the yeast in the lukewarm water with the pinch of sugar and let stand until creamy and starting to bubble.
Combine the butter pieces and milk in a microwave safe container. Heat in microwave till the butter melts. Stir in the remaining ⅓ cup of sugar, the honey and salt. Let cool slightly (mixture should be lukewarm not hot). Pour the milk mixture into the bowl of your stand mixer and, with the paddle attachment, stir in the dissolved yeast and the 4 eggs.
Add 5 cups of the flour and mix till combined. Switch out to your dough hook, and knead for 8-10 minutes, till dough is smooth and elastic (adding as much additional flour as needed so that dough cleans the sides of the bowl).
Brush a large bowl generously with some of the melted butter. Transfer the dough to the buttered bowl and brush the top with the remaining melted butter. Cover the bowl with plastic wrap and a towel and let rise in a warm location until doubled in size, about 2 hours.
Punch down the dough, then cover and let rise until doubled in bulk again,about 1¼ hours.
Line 2 large rimmed baking sheets with parchment paper. On a lightly floured work surface, divide the dough in half. Cover one half with plastic wrap and divide the other half into 8 equal pieces Using lightly floured hands, roll each piece into a 12-14-inch rope. Shape into a pretzel shapes by making two loops then crossing one tail across the other. Repeat with remaining dough.
Cover and let rise till doubled in size, about 30 minutes.
Brush with egg and cream glaze and sprinkle with coarse salt, sesame or poppy seeds.
Preheat oven to 375º Bake for 20 minutes, brush with more glaze if desired, then rotate pans and bake for another 10 minutes or till pretzels are golden.
Yield: 16-24 pretzels
Total time: 4 hours
Notes
Adapted from Baking with Julia, a Lauren Groveman recipe.
Nutrition Information:
Yield:
16
Serving Size:
1 pretzel
Amount Per Serving:
Calories: 318
Total Fat: 11g
Saturated Fat: 6g
Trans Fat: 0g
Unsaturated Fat: 4g
Cholesterol: 92mg
Sodium: 421mg
Carbohydrates: 45g
Fiber: 1g
Sugar: 7g
Protein: 9g
Note: This post may contain affiliate links; view
my Disclosure Policy
for details. I earn a small percentage from any purchase you make by clicking on these links at no extra cost to you.