Hoosier Sugar Cream Pie
Hoosier Sugar Cream Pie is filled with a sweet, egg-free custard pie and is a rich, tasty Indiana classic! Flavored with vanilla and sprinkled with cinnamon, it's pure comfort food.
Brought to Indiana by North Carolina Quakers, the state attempted to make this Hoosier Pie the state pie in 2009 to no avail.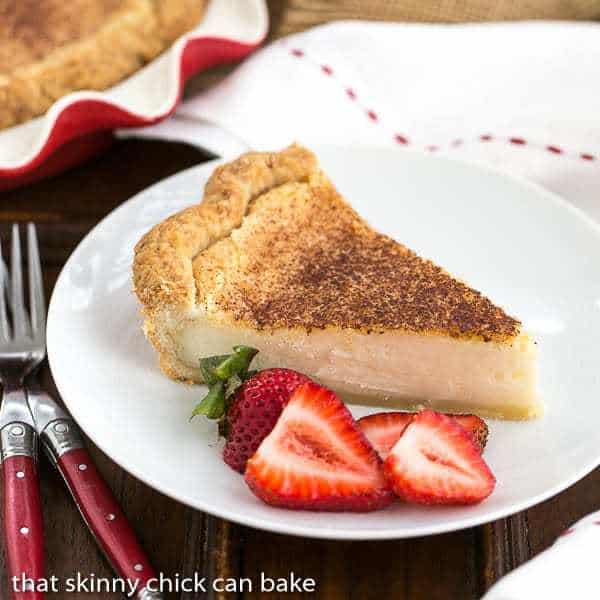 Why You Must Make
It's like creme brulee in pie form!
If you don't have eggs, you can still make this custard-like pie!
If you want to celebrate Indiana, this is their unofficial state pie.
Even though I was born in South Bend, Indiana, while my dad was at Notre Dame, AND have lived in Indiana for the past few decades, thinking of a classic Hoosier recipe gave me pause.
Pork tenderloin sandwiches are pretty popular, but my sweet tooth vetoed that idea. Wracking my brain for inspiration, I recalled that folks around here eat sugar cream pie.
What the heck was that? It was time to find out. My dad lovingly called me his "Hoosier Hotshot," so, in his memory, I started the process.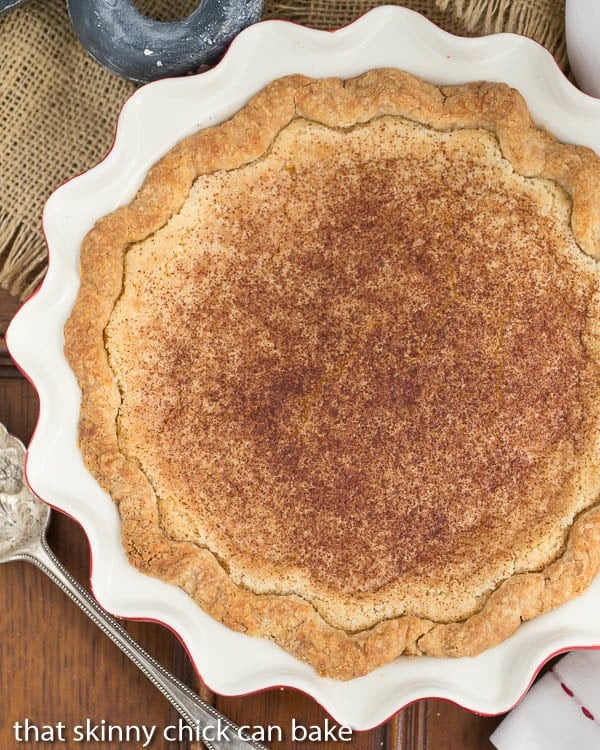 How to Make
Fill the pie plate with pie dough, shape, and refrigerate as you make the filling.
Preheat the oven.
Whisk together the filling ingredients, pour into crust an
Pour into the crust, mix in grated butter, and sprinkle the top with cinnamon.
Place the pie on a baking sheet and bake for 10 minutes. Reduce the heat as directed and bake until the filling is set.
Remove to a cooling rack. Serve at room temperature or chilled.
Expert Tips
The ingredients are pretty straightforward: sugar, flour, and cream-filled the pastry crust, with the addition of a touch of vanilla and a sprinkling of spice.
Nutmeg seemed to be the garnish of choice, but cinnamon is easier on the palate, so I made the substitution. Either spice is fine.
No eggs are needed since the flour thickens the sweet custard. Other recipes use cornstarch instead.
The aroma of cinnamon and sugar as this baked was certainly enticing. Even the picky daughter asked for a slice of this classic Hoosier pie after dinner. Garnish with a dollop of whipped cream or fresh berries if desired. 
Frequently Asked Questions
What is the Origin of a Hoosier Pie?
The Origin of Hoosier Sugar Cream Pie: The Indiana version of a sugar pie, known as "sugar cream pie," may have originated with Quakers who came from North Carolina in the early 1800s, and settled in east-central Indiana according to Wikipedia.com.
What is a Cream Pie?
A cream pie is a one-crust pie filled with pudding or custard. The filling is usually made with milk, cream, flour, sugar, flavorings, and often eggs. They're often topped with whipped cream. The crust can vary from a pastry crust to a shortbread or a cookie crust to a graham cracker crust.
How Do You Store a Hoosier Cream Pie?
It should be stored in the refrigerator and is good for up to 5 days. Cover with plastic wrap.
You May Also Like:
If you're hunting for more pie recipes, here are a few you might enjoy.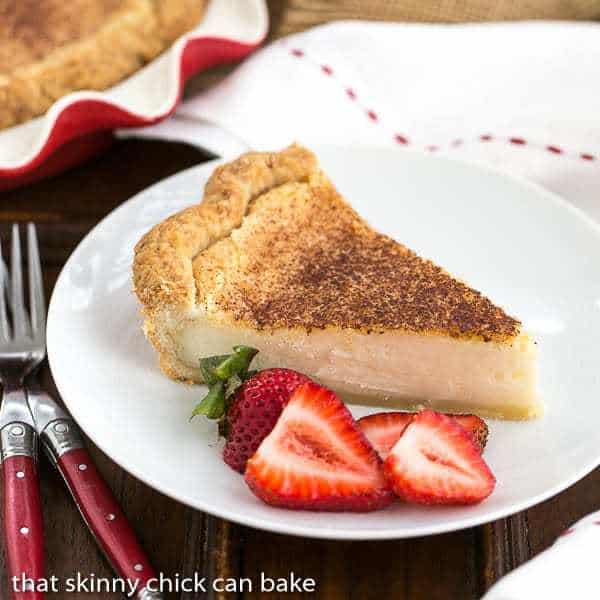 The Recipe:
Hoosier Sugar Cream Pie
Prep Time 20 minutes
Cook Time 55 minutes
Total Time 1 hour 15 minutes
Yield 8 servings
A classic Indiana dessert.
Ingredients
1 9-inch pastry crust, uncooked (may be store bought or homemade)
1 cup sugar
1/2 cup flour (I recommend Wondra for easy mixing)
1/8 teaspoon salt
2 cups heavy cream
1 teaspoon vanilla
2 tablespoons butter, grated or cut into tiny pieces
1/4 teaspoon cinnamon
Instructions
Fit the pie dough into a 9-inch pie plate and crimp as desired. Refrigerate the crust until firm, at least 30 minutes.
Preheat the oven to 425º. In a large bowl whisk together the sugar, flour, and salt.
Slowly add the heavy cream whisking till combined. Add vanilla.
Pour into the crust, spread butter over filling stirring carefully to disperse. Sprinkle the top with cinnamon.
Place pie on a baking sheet and bake 10 minutes.
Reduce the oven temperature to 350º and bake until the filling is just about set, 50-55 minutes. I
f the crust starts getting too dark, cover the crust edges with foil.
Remove to a cooling rack. Serve at room temperature or chilled.
Notes
Nutmeg is a more classsic topping. Feel free to use it instead of the cinnamon listed in the recipe.
Recommended Products
As an Amazon Associate and member of other affiliate programs, I earn from qualifying purchases.
Nutrition Information:
Yield:
8
Serving Size:
1 slice
Amount Per Serving:
Calories: 392
Total Fat: 26g
Saturated Fat: 17g
Trans Fat: 1g
Unsaturated Fat: 8g
Cholesterol: 80mg
Sodium: 107mg
Carbohydrates: 37g
Fiber: 0g
Sugar: 28g
Protein: 3g
Addendum: The Dude
My dad, "The Dude" (a nickname he earned when I was in high school by being a "way cool" guy) passed away just two weeks ago. He was the father of four feisty, independent daughters, whom he loved unconditionally. He also had a penchant for mountain climbing, traveling, a cold beer and good scotch, clever puns and wise assery (a new term coined by my sisters!), explosives, a roaring bonfire, and, most of all, his wife, Gretchen.
A Physics professor by day, his "girls" would scamper down Lynn Avenue to greet him at 5:30 PM each night as he walked home from the office. Bedtime stories, big bear hugs, and a kiss on the forehead with a "God, bless you," ended our day. His love of adventures translated into numerous trips abroad, including a year in residence in both Glasgow, Scotland and Vancouver, BC, and memorable summers in Aspen and Cortona, Italy. We were always included. Dude lived his life to the fullest, and we learned so much by his example. Family. Compassion. Charity. Education. These were his priorities. May he rest in peace.
Note: This post may contain affiliate links; view
my Disclosure Policy
for details. I earn a small percentage from any purchase you make by clicking on these links at no extra cost to you.