Best Apple Pie Recipe
If you've had trouble mastering the art of a delicious apple pie, I'm sharing some secrets for the Best Apple Pie Recipe.
Yes, homemade pie crust can be a pain, but it tastes so much better than store-bought. And if you have trouble with your pie filling being too juicy, I have a tip for that dilemma too! This Homemade Apple Pie has a sweet, fall-spiced apple filling and a tender flaky crust combined to make the best autumn and holiday pie!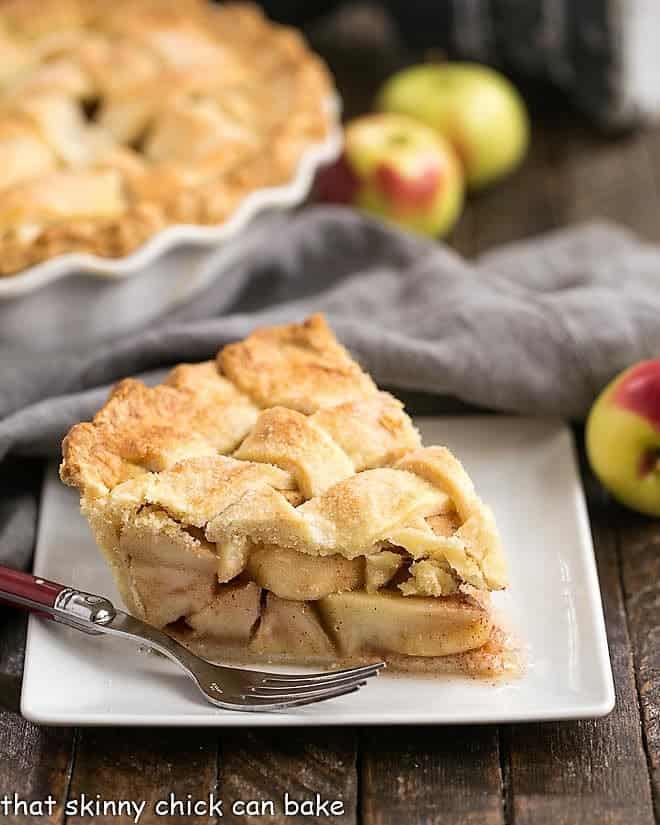 Why You Must Make
I'm always on the hunt for a foolproof pie crust, and this recipe from Nick Malgieri, cookbook author, and baking guru comes darn close. Made with all butter, the flavor is outstanding. Next time, I may sneak a little shortening in to replace part of the butter for a more pliable dough for rolling. I'll let you know how that goes with my pumpkin pie on Thanksgiving!
Malgieri's take on apple pie filling is spot on and he uses a technique I've been using for years. He precooks the apples which prevents the formation of a big gap between the top crust and filling. This is a frequent occurrence when the apples shrink while baking. Brilliant!
The buttery crust and cinnamon-spiced apples create a delicious, old-fashioned apple pie!
This homemade apple pie recipe would win a blue ribbon at any state fair!
Expert Tips
I love peach and raspberry pies in the summer but come fall and winter, and a perfect apple pie is king! Baking an apple pie from scratch with fresh, local apples and a homemade crust will dazzle your family and friends! Give it a try!!!
Use a variety of apples for the best-tasting apple pie. See suggestions below.
Layer the apples into the pie plate. You will fit in more apples than if you just dump them from the bowl.
If you've never made a pie crust from scratch, it will taste much better than any store-bought option.
You can glaze your crust with a mixture of egg yolk and about a teaspoon of water or heavy cream or half and half. Then sprinkle with coarse sugar for a beautiful finishing touch.
The Best Apples for Pie
Granny Smith apples are always a safe bet, but if you find Northern Spys, they make an incredible pie. Jonathans are terrific, too. PRO-Tip: A mixture of apples gives a nice depth of flavor. I frequently combine Granny Smiths with Golden Delicious. One is firmer, one is softer, one is tarter, one is sweeter. Both are recommended for baking.
Often the produce department will have signs indicating which apples are best for baking, cooking, or eating. Or check with the produce manager if you're unsure.
Homemade Pie Crust
If you've never made a crust from scratch, give it a try. Even if it's not picture-perfect, the flavor will be so much better than a store-bought crust or dough.
The key to a flaky crust is to have little bits of fat distributed throughout the dough. So use a pastry blender or food processor to mix your dough until it resembles coarse cornmeal. If it's overmixed, the baked crust will not be flaky.
As mentioned above, saute your apple slices in some butter until they're just tender, but not overly soft. The purpose is twofold: preventing a gap under the top crust and ensuring that all the apples get thoroughly cooked.
I only used cinnamon in this pie, but I also love some gratings of fresh nutmeg. But don't overdo the nutmeg. A little goes a long way.
Malgieri adds some baking powder to his pie crust recipe. This aids in creating a lighter, flaky crust.
PRO-Tip: For a top-notch pie crust, have both the fats and water very cold. Though this pie crust recipe doesn't use any shortening, I do keep some Crisco in the freezer just for pies.
Keep your dough chilled before rolling and get your pie into the oven before the pie dough gets warm. It's the cold fat that helps produce tiny little pockets of air that make a flakier pie crust.
I like using the food processor to mix my crust. Process until the mixture looks like cornmeal with a few pea-sized bits of butter visible. Over-processing will prevent a flaky crust. You can also mix by hand using two knives or a pastry blender.
After you add the water, you should be able to pinch some dough between your fingers and have it stick together. If it does not, add a tablespoon more of cold water and repeat. It may need a second additional tablespoon of water if the dough is still a bit dry.
Dust your work surface lightly with flour. Roll the dough, making quarter turns after each passing, redusting the surface lightly as needed to prevent sticking.
Be careful not to incorporate too much flour into the dough or it will toughen your crust. You should roll the dough to approximately ⅛-inch thick. Overworking the dough will also make for a tougher crust by activating the gluten.
PRO-Tip: Precooking your apples helps prevent the gap that often forms between the top crust and filling due to the shrinkage of the fruit.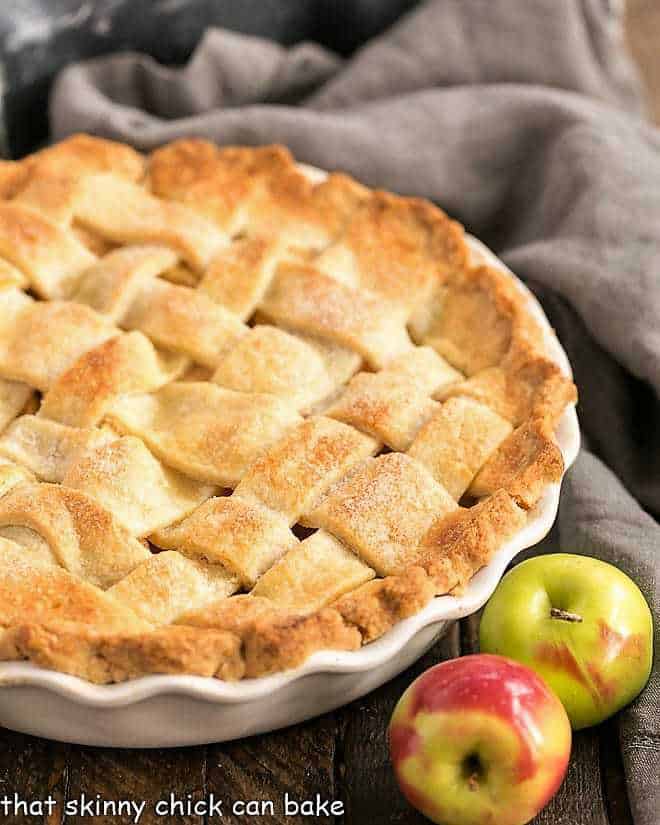 Frequently Asked Questions
What Ingredients are used for an Apple Pie?
Fresh apples (I used Golden Delicious, Granny Smith, and Jonagolds), peeled and sliced just before using so they don't oxidize (brown).
Butter
Fresh lemon juice (do not use bottled as it's inferior)
Sugar (you may use more or less depending on the sweetness of the apples)
Cinnamon or your favorite apple pie spices. (Note that the apple spice mixture you can find with the spices in the grocery store contains cinnamon, nutmeg,  allspice, ginger, and cardamom. So feel free to use any of these)
An egg wash of a beaten egg and a bit of water or plain heavy cream can be used to glaze the crust.
What are the Best Apples for Pie?
If you're lucky enough to live in apple country, you have numerous choices of locally grown apples. Here is a list of some of the popular apples for pie:
Granny Smith, Golden Delicious, Northern Spy, Idared, Pink Lady, Pink Pearl, Ginger Gold, Jazz, Jonagold, Cortland, Honeycrisp, Braeburn, and McIntosh.
How to Store Apple Pie?
As long as there's no custard in your apple pie, it can be stored at room temperature for up to 2 days. After that, it will keep well in the refrigerator, covered with plastic wrap or foil, for 2 more days. Apple pie freezes well for up to 4 months as long as it is wrapped airtight.
How Do You Make an Apple Pie Filling?
As mentioned above, saute your apple slices in some butter until they're just tender, but not overly soft.
The purpose is twofold:  preventing a gap under the top crust and ensuring that all the apples get thoroughly cooked before the crust is too dark.
I only use cinnamon in this pie, but I also love a few grates of fresh nutmeg. But don't overdo the nutmeg. A little goes a long way.
How Long Does It Take to Bake an Apple Pie?
The length of time varies on how hot your oven runs, the kind of apples you use, the size of your apple slices, and how many apples are under the crust. So the times listed are just suggestions.
When you're getting close to the baking time listed in your recipe, use a sharp knife to pierce a few apples through the crust. the knife should not hit any resistance and should slide in easily (this is easier to do with a lattice crust, but you can still do it through your air vents if you have a full top crust).
Since the apples are pre-cooked in this pie, look for the crust to brown and the filling to bubble and thicken.
Can You Make an Apple Pie Ahead of Time and Freeze It for Later?
 It is much better to freeze fruit pies before baking rather than after. Make sure to make a few air vents if you don't make a lattice crust, then wrap airtight in plastic wrap. Use a metal pan since Pyrex or ceramic could crack going from the cold freezer to a hot oven. Bake at 375° for about 90 minutes or until you see thickened juices bubbling from the vents and the apples are tender when poked with a knife (either through the crust or a vent).
You May Also Like:
Stay in touch through social media @ Instagram, Facebook, and Pinterest. Don't forget to tag me when you try one of my recipes! And if you love the results, please give it a 5-star rating in the recipe card. Note: As an Amazon Associate, I earn from qualifying purchases. Visit my Amazon Store for my favorite products.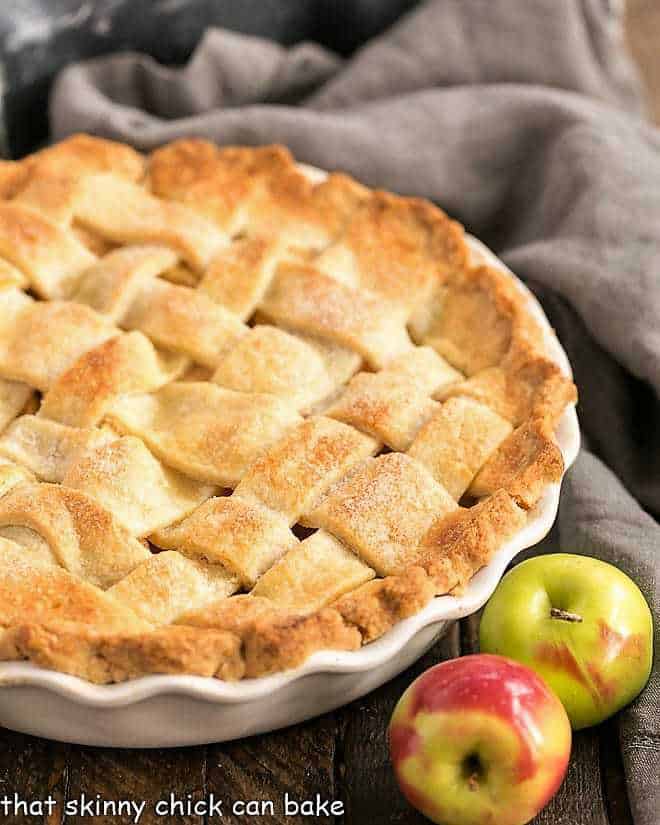 The Recipe:
Perfect Apple Pie
Prep Time 30 minutes
Cook Time 50 minutes
Total Time 1 hour 20 minutes
Yield 8 servings
A terrific recipe for the perfect apple pie with a few tricks included!
Ingredients
Crust:
2 ½ cups flour
1 tablespoon sugar
½ teaspoon salt
¼ teaspoon baking powder
2 sticks cold butter, cut into tablespoon slices
4-6 tablespoons of very cold water*
Filling:
3 pounds apples**, peeled and each cut into 8 slices
3 tablespoons butter
1 tablespoon fresh lemon juice
⅔ cup sugar***
1 teaspoon cinnamon
1 egg
Dash of salt
Instructions
Combine flour, sugar, salt, and baking powder in a food processor and pulse a couple of times to mix.
Add butter and pulse till the mixture looks like coarse cornmeal, about 20 short pulses.
Sprinkle with 4 tablespoons of water and pulse about 5 times or until the dough starts to come together.
Squeeze a small amount of dough between your fingers. If it doesn't hold together add up to 2 more tablespoons of water, pulsing after each addition until the dough holds together. Recheck the dough after each addition till it holds together.
Put half of the dough on a piece of plastic wrap and form into a disk. Wrap completely and repeat with the other half.
Refrigerate disks for at least an hour before rolling.
Melt butter in large saute pan. Saute apples for about a minute, gently stirring to coat apples with butter.
Add lemon juice and sugar and cook until the apples are just tender about 5 more minutes. Sprinkle with cinnamon and mix to combine.
Allow to cool while rolling out the bottom crust.
Preheat oven to 400º.
Place the bottom crust into a 9-inch pie plate. Fill with apples.
Roll out the top crust and place over the apples. Seal edges and flute if desired. Cut a few vents into the top crust to allow steam to escape. Alternatively, you can cut the top crust into slits and weave it to make a lattice crust.
If desired, whisk the egg with salt. Brush lightly over the crust and sprinkle with sugar.
Reduce oven temperature to 375º, and bake for about 40 minutes, until the top is browned and the filling is bubbling. Cool on rack.
Serve with vanilla ice cream if desired.
Notes
*I like to add a few ice cubes to a Pyrex measuring cup with a spout with about a half cup of water...use that to pour into your measuring spoon.
**I used Golden Delicious, Granny Smith, and Jonagold.
***You may use more or less sugar depending on the sweetness of the apples.
Check the expiration date on your baking powder. Its shelf life is much shorter than baking soda.
Adapted from Nick Malgieri.
Recommended Products
As an Amazon Associate and member of other affiliate programs, I earn from qualifying purchases.
Nutrition Information:
Yield:
8
Serving Size:
1 slice
Amount Per Serving:
Calories: 552
Total Fat: 28g
Saturated Fat: 18g
Trans Fat: 1g
Unsaturated Fat: 9g
Cholesterol: 95mg
Sodium: 395mg
Carbohydrates: 72g
Fiber: 5g
Sugar: 36g
Protein: 6g
Note: This post may contain affiliate links; view
my Disclosure Policy
for details. I earn a small percentage from any purchase you make by clicking on these links at no extra cost to you.