Pumpkin Roll Recipe
This classic Pumpkin Roll Recipe with a heavenly cream cheese filling is the perfect way to usher in pumpkin season! Libby's Pumpkin Roll has been around for decades and is a perfect autumn or Thanksgiving dessert!
Impress your guests by baking up this autumnal Pumpkin Roll Cake. Step-by-step instructions will guide you through the process.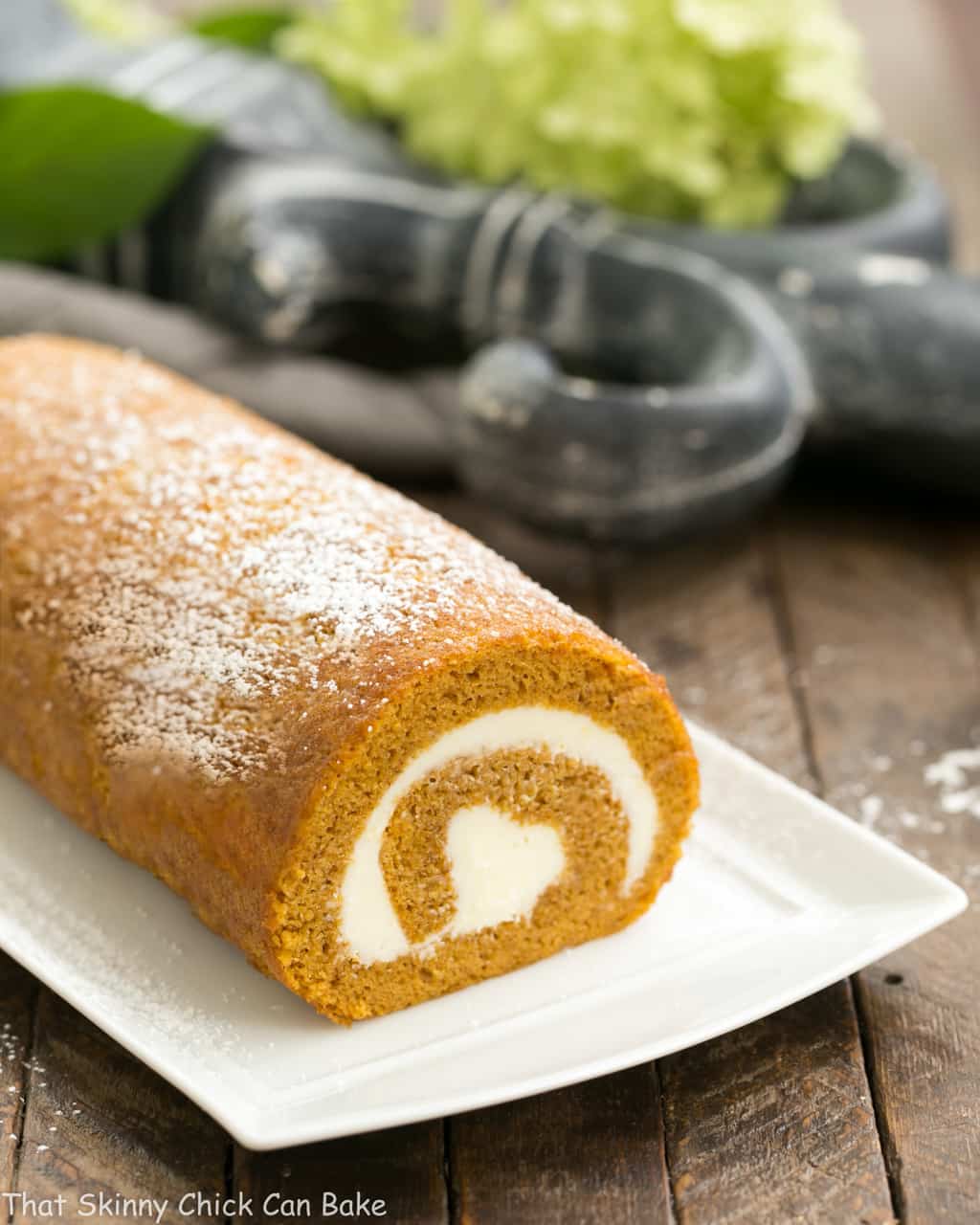 Why You'll Love
Pumpkin Cake plus Cream Cheese Filling is an irresistible combination!!
It's perfect for any fall gathering!
If you haven't made a cake roll before, this is the recipe to try. Even if it's not magazine worthy, it will still be delicious!
Expert Tips
As in the past, I used the classic Libby's pumpkin roll recipe with a delectable cream cheese filling as a guide. Only tweaking the recipe slightly, I added ginger and decreased the amount of ground cloves, and also eliminated the nuts. If you've never made a cake roll, it can be kind of daunting. But with a few simple tips and some practice, you'll be acing this recipe time and time again.
PRO-Tip: Make sure to line your jelly roll pan with parchment paper. The top must be greased so you can peel it off easily.
PRO-Tip: Dust a non-terrycloth towel with powdered sugar. This will be used to help roll up the cake. The powdered sugar will help prevent the cake from sticking to the towel.
Immediately after the pumpkin roll comes out of the oven, run a knife or small metal spatula around the perimeter of the cake and flip it out of the pan and onto the prepared towel. Just do it carefully and use your spare hand to guide the cake so it doesn't flop out of the pan too quickly.
Peel off the paper carefully.
While the cake is still warm, roll it up from one short side to the other. You will be rolling the towel up with the cake to cool.
Let the rolled cake cool on a wire rack.
After the cake is cool, unroll, remove the towel, spread the filling over the surface, and reroll sans the towel. Wrap in plastic and chill.
To serve, remove the plastic wrap and place the cake on a serving dish. Dust with powdered sugar and slice.
Frequently Asked Questions
Can You Freeze This Roulade?
Yes, a pumpkin roll recipe freezes well. Just wrap well in plastic and make sure to defrost in the refrigerator overnight before serving. It will keep for about 3 months in the freezer and 4 to 5 days in the refrigerator. 
What Kind of Towel Is Used to Roll a Pumpkin Cake?
Do not use a terry cloth towel or a towel with any sort of texture as the cake is bound to stick when it's unrolled. PRO-Tip: Use a fine-woven, thin kitchen or tea towel instead, and make sure to dust it with powdered sugar to help prevent sticking. You can also roll your cake in parchment paper, but I've always used a towel.
How Do You Prevent a Cake Roll From Cracking?
The most common cause of a cake roll cracking is when it's rolled when it's cooled off too much. PRO-Tip: The cake needs to be rolled right when it comes out of the oven, when it's most pliable. Turn it out onto a towel well dusted with powdered sugar, roll it, then let the cake cool in the towel on a cooling rack.
You May Also Like:
Stay in touch through social media @ Instagram, Facebook, and Pinterest. Don't forget to tag me when you try one of my recipes! And if you love the results, please give it a 5-star rating in the recipe card. Note: As an Amazon Associate, I earn from qualifying purchases. Visit my Amazon Store for my favorite products.
The Recipe:
Pumpkin Roll Recipe
Prep Time 30 minutes
Cook Time 15 minutes
Total Time 45 minutes
Yield 10 servings
A classic Pumpkin Roll slightly adapted from Libby's
Ingredients
Cake:
¼ cup powdered sugar (to sprinkle on towel)
¾ cup flour
½ teaspoon baking powder
½ teaspoon baking soda
½ teaspoon cinnamon
¼ teaspoon ground cloves
¼ teaspoon ground ginger
¼ teaspoon salt
3 large eggs
1 cup granulated sugar
⅔ cup canned pumpkin (not pumpkin pie filling)
Filling:
8 ounces cream cheese, at room temperature
1 cup powdered sugar, sifted
6 tablespoons butter, at room temperature
1 teaspoon vanilla
Powdered sugar, to garnish
Instructions
Preheat oven to 375º. Grease a 15 x 10-inch jelly-roll pan; line with wax or parchment paper. Grease and flour paper. Sprinkle a thin kitchen towel with the ¼ cup of powdered sugar.
Combine flour, baking powder, baking soda, cinnamon, cloves, ginger, and salt in a small bowl. Beat eggs and granulated sugar in a large mixer bowl until thick. Beat in pumpkin. Stir in the flour mixture. Spread evenly into the prepared pan.
Bake for 13 to 15 minutes or until the top of the cake pops back when gently pressed with a finger. Immediately loosen and turn the cake out onto the prepared towel. Carefully peel off the paper. Roll up the cake and towel together, starting with the narrow end. Cool on a wire rack.
Beat cream cheese, remaining powdered sugar, butter, and vanilla until smooth. Carefully unroll the cake. Spread filling over cake. Reroll cake. Wrap in plastic wrap and refrigerate for at least one hour.
Sprinkle with powdered sugar before serving, if desired.
Notes
Roll up the cake while it is warm as it won't be pliable if it cools down too much.
Helpful Tools (As an Amazon Associate and member of other affiliate programs, I earn from qualifying purchases).
Nutrition Information:
Yield:
12
Serving Size:
1
Amount Per Serving:
Calories: 318
Total Fat: 14g
Saturated Fat: 8g
Trans Fat: 0g
Unsaturated Fat: 4g
Cholesterol: 81mg
Sodium: 241mg
Carbohydrates: 47g
Fiber: 1g
Sugar: 39g
Protein: 4g
Note: This post may contain affiliate links; view
my Disclosure Policy
for details. I earn a small percentage from any purchase you make by clicking on these links at no extra cost to you.