This classic, Old Fashioned Pumpkin Roll with a heavenly cream cheese filling is the perfect way to usher in pumpkin season!
Old Fashioned Pumpkin Roll
It was time again for a gathering of my dear college girlfriends. Two years ago, we met up at the Drake in Chicago and shopped, ate, and giggled till we dropped. I stayed up WAY past my 9 PM bedtime. Yes, I'm OLD. The last two years we've met back for Homecoming and relived our collegiate days, though again we actually went to bed versus staying up all night like back in the day.
Through Facebook, I got requests to bring goodies again to the football tailgate. Something pumpkin and something chocolate topped their list. I had not made this old fashioned pumpkin roll with cream cheese filling in years. In fact, I think my college freshman was in early elementary school, so I had to blow bit of dust off the recipe to start the process.
Tips for Making a Cake Roll
As in the past, I used the classic Libby's pumpkin roll recipe with a delectable cream cheese filling as a guide. Only tweaking the recipe slightly, I added ginger and decreased the amount of cloves and also eliminated the nuts. It may not be perfect tailgate food as it requires a fork, but it certainly disappeared fast! If you've never made a cake roll, it can be kind of daunting. But with a few simple tips, and some practice, you'll be acing this recipe time and time again.
Make sure to line your jelly roll pan with  parchment paper. The top must be greased so you can peel it off easily.
Dust a non-terrycloth towel with powdered sugar. This will be used to help roll up the cake. The powdered sugar will help prevent the cake from sticking to the towel.
Immediately after the cake comes out of the oven, run a knife or small metal spatula around the perimeter of the cake and flip it out of the pan and onto the prepared towel. Just do it carefully and use your spare hand to guide the cake so it doesn't flop out of the pan too quickly.
Peel off the paper carefully.
While the cake is still warm, roll it up from one short side to the other. You will be rolling the towel up with the cake to cool.
Let the rolled cake cool on a wire rack.
After the cake is cool, unroll, remove the towel, and spread the filling over the surface and reroll sans the towel. Wrap in plastic and  chill.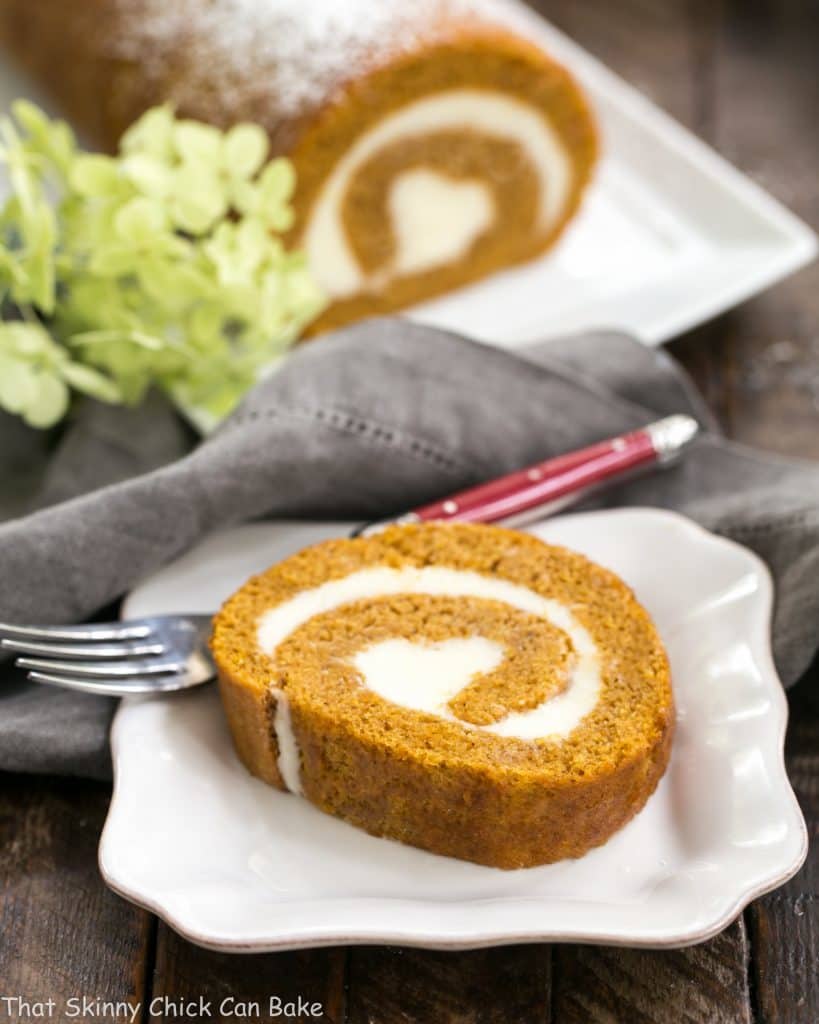 More Cake Rolls You'll Love:
Used in This Recipe:
Print
Pumpkin Roll
A classic Pumpkin Roll slightly adapted from Libby's
Author:
Prep Time: 30 mins
Cook Time: 15 mins
Total Time: 45 minutes
Yield: 10 servings
Ingredients
Cake::
1/4 cup powdered sugar (to sprinkle on towel)
3/4 cup flour
1/2 teaspoon baking powder
1/2 teaspoon baking soda
1/2 teaspoon cinnamon
1/4 teaspoon ground cloves
1/4 teaspoon ground ginger
1/4 teaspoon salt
3 large eggs
1 cup granulated sugar
2/3 cup canned pumpkin (not pumpkin pie filling)
Filling::
8 ounces cream cheese, at room temperature
1 cup powdered sugar, sifted
6 tablespoons butter, at room temperature
1 teaspoon vanilla
Powdered sugar, to garnish
Instructions
Preheat oven to 375º. Grease 15 x10-inch jelly-roll pan; line with wax or parchment
paper. Grease and flour paper. Sprinkle a thin kitchen towel with the ¼ cup of powdered sugar.
Combine flour, baking powder, baking soda, cinnamon, cloves, ginger and salt in small bowl. Beat eggs and granulated sugar in large mixer bowl until thick. Beat in pumpkin. Stir in flour mixture. Spread evenly into prepared pan.
Bake for 13 to 15 minutes or until the top of cake pops back when gently pressed with a finger. Immediately loosen and turn the cake out onto prepared towel. Carefully peel off the paper. Roll up cake and towel together, starting with narrow end. Cool on a wire rack.
Beat cream cheese, remaining powdered sugar, butter, and vanilla until smooth. Carefully unroll cake. Spread filling over cake. Reroll cake. Wrap in plastic wrap and refrigerate at least one hour.
Sprinkle with powdered sugar before serving, if desired.
Nutrition
Calories: 330kcal
Sugar: 34g
Sodium: 246mg
Fat: 16g
Saturated Fat: 9g
Trans Fat: 0g
Carbohydrates: 43g
Fiber: 1g
Protein: 4g
Cholesterol: 99mg
The #SundaySupper family is using the spirit of the season to inspire you and will be sharing some fabulous dishes at the #SundaySupper table this week, and we do hope that you'll join us!
More Orange Recipes:
Just look at all of the fabulous dishes being offered up this week:
Sunrise  (Breakfast and Brunch)
High Noon (Soups, Salads and Sandwiches)
Sunset (Dinner and Main Dishes)
By The Bonfire (Sweets, Snacks and Sips)
In case you lost count, that is fifty eight delectable dishes! I don't know about you, but my mouth is already watering!
Please be sure you join us on Twitter throughout the day during #SundaySupper.We'll be meeting up at 7:00 pm(Eastern) for our weekly #SundaySupper  live chat where we'll talk about our favorite recipes featuring our favorite fall color.All you have to do is follow the #SundaySupper hashtag, or you can follow us through TweetChat.We'd also love to feature your easy go to recipes on our #SundaySupper Pinterest board and share them with all of our followers, too.
Linked to: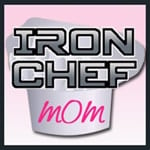 Note: This post may contain affiliate links; view
my Disclosure Policy
for details. I earn a small percentage from any purchase you make by clicking on these links at no extra cost to you.