Triple Layer Cocoa Cake
This incredibly decadent Triple Layer Cocoa Cake is the perfect way to celebrate any occasion. My family ate every last crumb.
With three moist, tender layers and a rich, glossy ganache frosting, the chocoholics in your life will rejoice with every bite of this Chocolate Layer Cake!
Why You Must Must
I was way overdue to make this magnificent triple-layer cocoa cake again. 8 years was a long time to wait for another taste of one of my favorite chocolate layer cakes.
My youngest moved downtown last May and we'd yet to see his apartment. We decided to pick him and his roommates up, take them out to dinner, then get a tour of their newish digs. I brought along this cake for dessert.
The boys, errr….young men, went crazy for this cake. One said he'd need a second slice later in the evening. Their metabolism is a wee bit better than mine. And the hubby was very worried when he saw two-thirds of this cake going out the door! It's the kind of cake you don't want to let out of your sight.
Ingredient Notes
Kitchen Staples – Lukewarm Water, Baking Soda, Sugar, Brown Sugar, Butter (room temperature), Eggs (room temperature)
Unsweetened Cocoa Powder – I've used both Hershey's Brand and Ghirardelli Brand
Buttermilk – The acid in buttermilk helps break some of the gluten strands in the flour making a more tender cake.
Cake Flour – There's less gluten in cake flour also contributing to a tender cake.
Instant Espresso Powder – The coffee flavor helps accentuate the chocolate flavor.
Heavy Cream – Should be at least 36% butterfat. Adds richness.
Vanilla Extract – Make sure it's not artificially flavored. Check your label.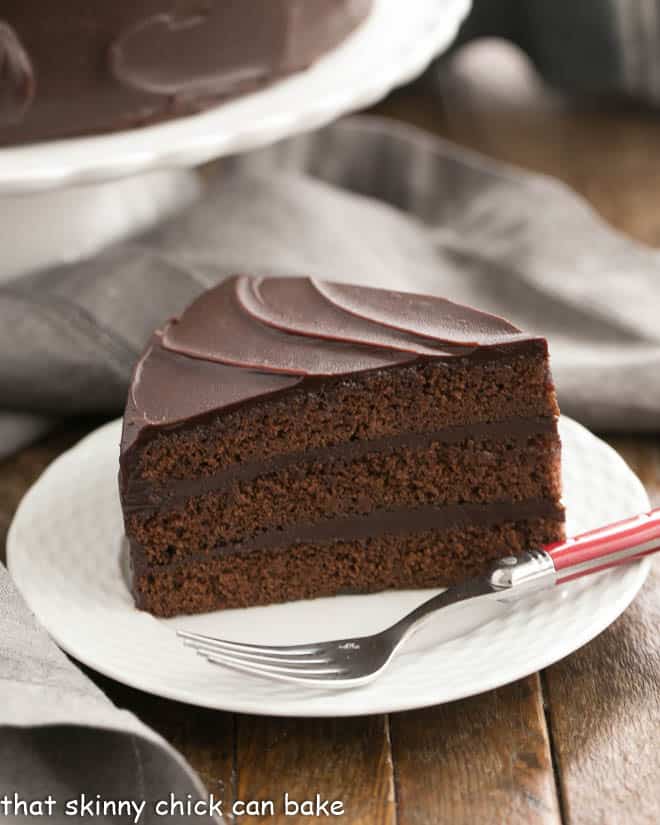 Recipe Tips
Don't fret when you divide your batter between three baking pans. The layers are quite thin and will bake quickly. The results are a normal-sized layer cake, but with extra space for more frosting! Who'd complain about that??? Here are some tips to make this terrific cocoa cake recipe.
PRO-Tip:I like using my kitchen scale to divvy up the cake batter. The weights of each pan with cake batter don't need to be exactly the same, but close enough so they all finish baking in the same amount of time plus are the same thickness.
PRO-Tip: To check for doneness, this recipe recommends using the finger test. This means taking your index finger and lightly pressing on the top of the cake. If it's done, the cake will spring right back up. If it's not, an indentation will remain and you need to add a couple more minutes to the baking time. Then recheck.
PRO-Tip: Prepping your pans correctly is key. Grease with butter or a non-stick baking spray like Baker's Joy. Also, line each cake pan with parchment paper rounds and spray the top of the parchment as well.
Rotating the cake pans mid-baking time is key with these thin layers. Most ovens have hot spots and this ensures that all three cakes will be finished close to the same time.
What I loved about this cake was that no fancy frosting techniques were needed. The rich ganache frosting was just swirled with an offset spatula as I did back in 2011. Simple and elegant. The cake is impressive enough without any embellishments.
This is a rich cake, so only small slices are needed. Serve with a scoop of vanilla ice cream or whipped cream to garnish.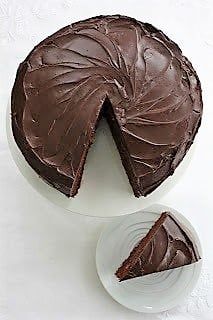 This post was originally posted in 2011. Text and photos were updated in 2019.
An excerpt from that post: School was canceled today…the forecast was ominous: freezing rain, sleet, more rain, then snow. The eerie sound of the wind passing through the frozen trees, and the sleet pounding the windows convinced me to stay inside and bake. We could lose power at any time, and we'd need something for sustenance! I'd say this was my best chocolate layer cake to date…the cake was as moist as I'd imagined, and the frosting just sweet enough with a hint of coffee flavor…perfect.
Frequently Asked Questions
Why Do You Add Coffee or Espresso Powder to Chocolate Desserts?
It's been known for years that coffee intensifies the chocolate flavor in desserts. So to make this chocolate ganache frosting even more chocolaty, adding a small amount of espresso powder works wonderfully. My non-coffee drinking husband does not like mocha or coffee-flavored anything, so I often cut the amount in half. He did not even notice my addition of espresso powder in this dessert.
What Are Some Tips to Frosting a Layer Cake?
First, make sure your cakes are cooled well so the frosting doesn't start melting when start spreading it. Put the bottom layer on the cake plate, then tuck strips of parchment paper about halfway under the cake. These are to protect the serving dish from getting covered with frosting.

Apply a big dollop of frosting on top of the bottom layer, then spread it out and top with the next layer. Repeat and then top with the third layer. Frost the top and then the sides. Chill to let the frosting firm up, then remove the strips and clean up any spots of frosting on the dish.

My cakes never look as polished as those from a bakery, but it's the taste that really matters. And with practice, you'll get better.
You May Also Like
Stay in touch through social media @ Instagram, Facebook, and Pinterest. Don't forget to tag me when you try one of my recipes! And if you love the results, please give it a 5-star rating in the recipe card. Note: As an Amazon Associate, I earn from qualifying purchases. Visit my Amazon Store for my favorite products.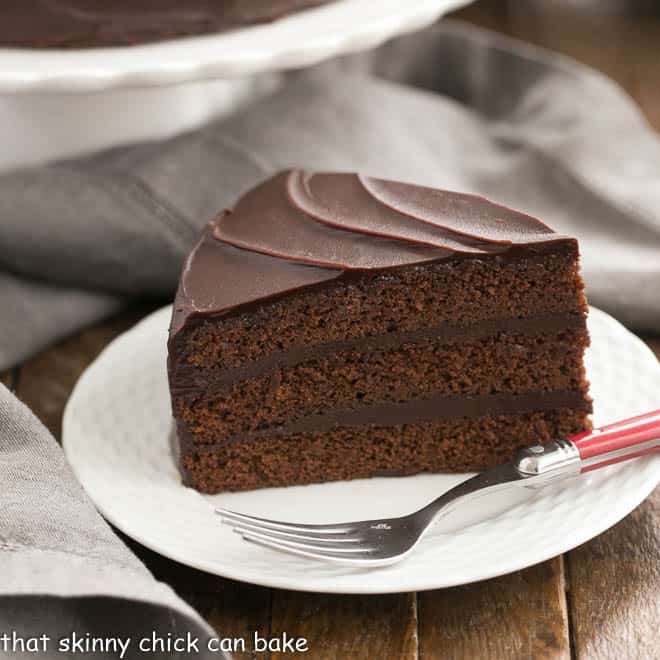 The Recipe:
Triple Layer Cocoa Cake
Prep Time 40 minutes
Cook Time 23 minutes
Total Time 1 hour 3 minutes
Yield 12 servings
A rich, 3-layer cocoa cake with a decadent, chocolate ganache frosting!
Ingredients
For cake:
½ cup unsweetened cocoa powder
1 cup lukewarm water (divided)
½ cup buttermilk
1 ½ cups cake flour
¾ teaspoon baking soda
1 cup sugar
½ cup packed brown sugar
1 stick (8 tablespoons butter, at room temperature)
2 large eggs (at room temperature)
For frosting:
1 ¼ sticks butter (10 tablespoons)
1 ⅓ cups packed brown sugar
1 cup unsweetened cocoa powder
1 teaspoon instant espresso powder
1 cup heavy cream
2 teaspoons vanilla
Instructions
Preheat oven to 350º. Butter 3 9-inch cake pans. Line the bottoms with parchment and butter the top of the parchment. Set aside.
Whisk the cocoa and ½ cup of the warm water in a small bowl or liquid measuring cup to combine. Whisk buttermilk with the other ½ cup of warm water in a small bowl or liquid measuring cup to combine.
Sift the flour and baking soda into another bowl.
With a mixer, beat butter and two sugars till pale yellow and fluffy, about 5 minutes.
With the mixer running, add eggs and beat till combined, scraping the edges of the bowl as needed. Add cocoa mixture and blend.
Add flour mixture in 3 additions, alternating with 2 additions of buttermilk. Beat till just combined, stopping to scrape down the bowl as necessary.
Divide batter evenly between the 3 pans...about 1 ½ cups per pan.
Bake for 16 to 18 minutes or till the cake pops back when pressed lightly with a finger...rotate pans halfway through baking time to ensure even baking.
Cool completely on racks.
Make frosting by melting butter in a large saucepan over medium-low heat. Stir in brown sugar, cocoa, and espresso powder.
Gradually stir in cream, and continue stirring till the mixture is hot. When the cream is just about to boil, reduce the heat to low and cook for another minute.
Remove from heat and stir in vanilla.
Pour into a bowl and chill for about 1 ½ hours to thicken, stirring occasionally.
To assemble the cake, run a knife around the sides of the cakes.
Gently shake back and forth till the cake loosens from the bottom. Carefully flip one layer onto the serving plate. Remove parchment.
Spread about ½ cup frosting on top of the cake and spread it to the edges. Repeat with the second layer. Top with the third layer and use the rest of the frosting to ice the top and sides of the cake.
Notes
Recipe adapted from Bon Appetit
Nutrition Information:
Yield:
12
Serving Size:
1 slice
Amount Per Serving:
Calories: 443
Total Fat: 19g
Saturated Fat: 11g
Trans Fat: 1g
Unsaturated Fat: 6g
Cholesterol: 79mg
Sodium: 200mg
Carbohydrates: 65g
Fiber: 2g
Sugar: 45g
Protein: 5g
Note: This post may contain affiliate links; view
my Disclosure Policy
for details. I earn a small percentage from any purchase you make by clicking on these links at no extra cost to you.