Black Gold Cookies
These Black Gold Cookies are for true chocoholics. With both semi-sweet and unsweetened chocolate, a couple of these will provide your daily chocolate fix.
Although there is no RDA for chocolate, the hubby insists that two chocolate cookies (or even Oreos) are important components of one's diet. This Chocolate Cookies Recipe certainly complies with his requirements!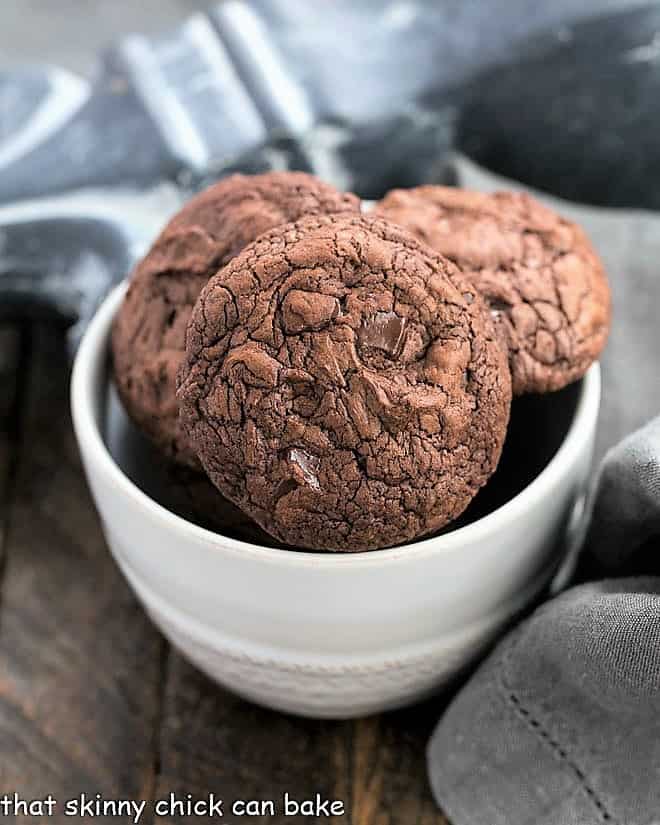 Why You Must Make
Poor, poor hubby has been without homemade chocolate treats for a number of days. Our kitchen was stocked with pumpkin bread and peanut butter cups, but Bill could be found scavenging for Double Stuff Oreos after dinner to accompany his cherry Kool-Aid.
Yes, I married a fellow with a discerning palate, didn't I? When I spotted these decadent chocolate gems on a friend's now-defunct blog, I kept moving them to the top of my recipe stack.
This recipe comes from Marcels Darsaulniers, a chocolate guru, and I knew his recipe would be well received.
These dense, chocolate cookies were perfect for chocolate cravings.
These chocolate cookies freeze well, so some could be stashed in the freezer for after-dinner treats.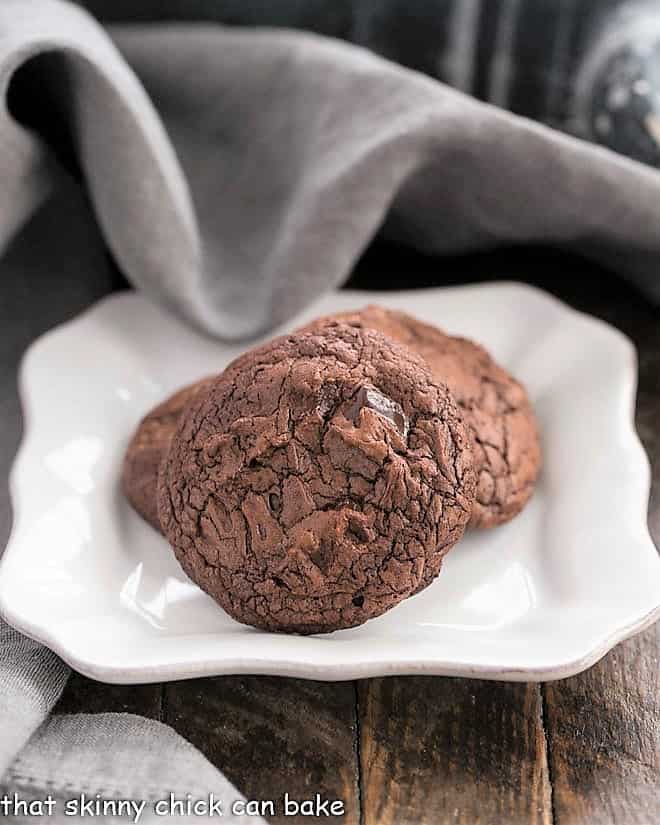 Expert Tips
Apparently, my cookie scoop was larger than a tablespoon as I only got two dozen cookies, 12 short of the stated yield. A medium cookie scoop (affiliate link) yields more like 1 1/2 tablespoons so they could require an extra minute or two in the oven.
That said, it's better to slightly under-bake your cookies than over-bake for a rich, chewy center.
This cookie dough set up more with each batch. The dough balls looked spikey by the end, so I tapped down many of those protrusions before baking. A damp finger works well for this task
When some of the cookies come out of the oven misshapen, I use a spatula to tap them back into rounds while they're still hot.
Baking on Silpats (non-stick silicone baking sheets) or parchment paper prevents sticking and minimizes clean-up.
The recipe suggests letting these cool on the baking sheets for 30 minutes after pulling them out of the oven. The cooling process allows the cookies to firm up for easy removal.
Store in an airtight container at room temperature for up to 3 days.
They can be frozen in an airtight container for up to 3 months. I like to use a freezer-safe Ziploc bag with as much air removed as possible.
The family chocoholics gave these black gold cookies rave reviews. Fudgy was their best description. Easy to whip up and no one will be resorting to any sort of boxed cookies with rich chocolate cookies in the house.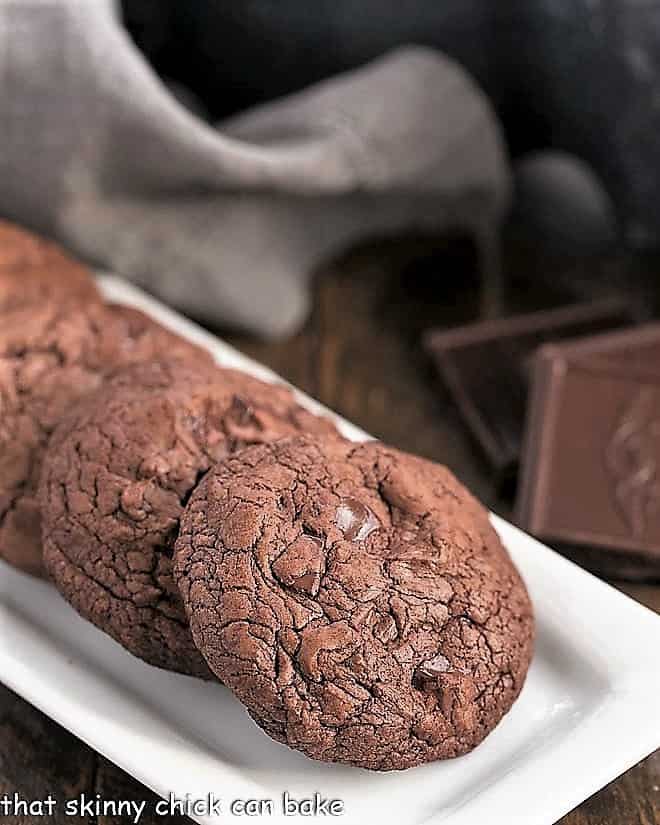 You May Also Like
You're sure to get your chocolate fix by trying some of these wonderful chocolate treats. Chocolate Truffle Brownies, Caramel Filled Chocolate Cookies, and these Fudgy Cocoa Brownies are all Skinny Chick family approved!
Recipe adapted fromDeath by Chocolate Cookies (affiliate link).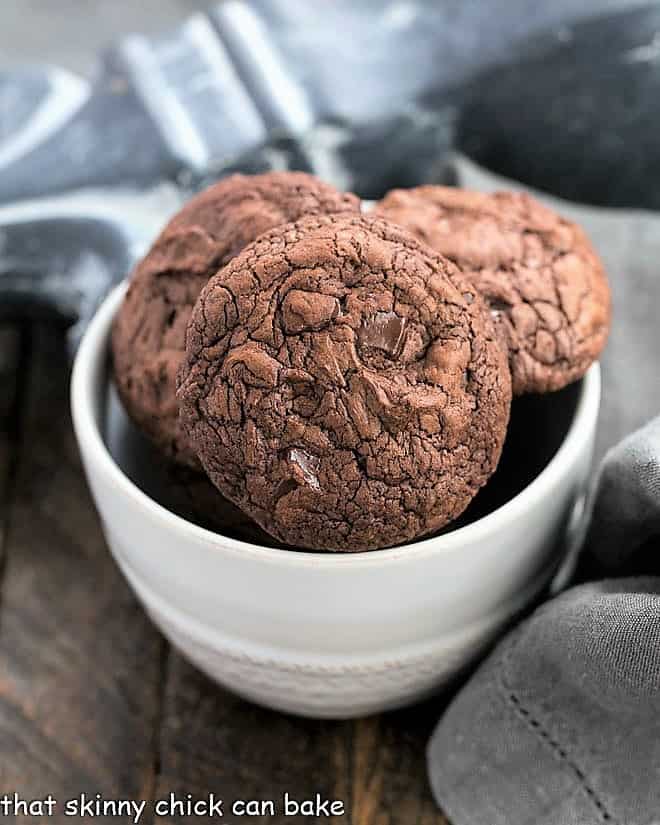 The Recipe:
Black Gold Cookies
Prep Time 15 minutes
Cook Time 10 minutes
Total Time 25 minutes
Yield 24 cookies
Rich chocolate cookies that take just minutes to prepare
Ingredients
6 tablespoons flour
1/2 teaspoon baking powder
1/4 teaspoon salt
10 ounces semi sweet chocolate, chopped and divided
2 ounces unsweetened chocolate, chopped
6 tablespoons butter
2 eggs
1/2 cup sugar
2 teaspoons vanilla
Instructions
Preheat oven to 325º. Line 3 baking sheets with parchment paper or Silpats.
In a small bowl, whisk together flour, baking powder and salt. Set aside.
Microwave 6 ounces of the semi sweet chocolate, the unsweetened chocolate and the butter using 30 second intervals to stop and stir, until mixture is melted and smooth. Set aside.
Put the eggs, sugar and vanilla in the bowl of an electric mixer fitted with the paddle attachment. Beat on medium speed for about 6 minutes, stopping to scrape down sides of bowl at the halfway mark.
Add the chocolate mixture and mix for about a minute till well combined. Scrape down sides of bowl and add flour mixture and the remaining 4 ounces of chopped chocolate.
Mix for about 30 seconds, then remove bowl and finish mixing by hand just until all flour is incorporated and chocolate chunks are dispersed.
Scoop by tablespoonfuls onto prepared baking sheets, about 12 cookies per sheet. Bake for about 10 minutes, rotating pans at the halfway point to ensure even baking.
Cool on cooling rack at least 30 minutes before removing from baking sheets.
Notes
Adapted  from Death by Chocolate Cookies.
Nutrition Information:
Yield:
24
Serving Size:
1 cookie
Amount Per Serving:
Calories: 128
Total Fat: 8g
Saturated Fat: 5g
Trans Fat: 0g
Unsaturated Fat: 3g
Cholesterol: 23mg
Sodium: 63mg
Carbohydrates: 14g
Fiber: 1g
Sugar: 11g
Protein: 2g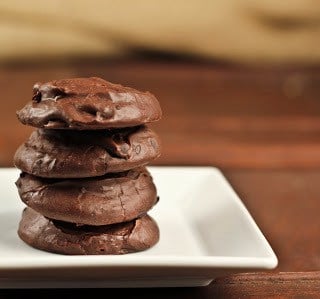 Images and text updated in 2019. This photo is from 2011 when my ovens were malfunctioning. These black gold cookies were underbaked, gooey and delicious, one of the few successes in that awful oven, but not reproducible!
Note: This post may contain affiliate links; view
my Disclosure Policy
for details. I earn a small percentage from any purchase you make by clicking on these links at no extra cost to you.