Chocolate and Caramel is a combination I just cannot resist. Baking up chewy chocolate cookies stuffed with a caramel candy was bound to happen sooner or later, right? I baked up for these Caramel Filled Chocolate Cookies for this year's OXO Good Cookies Event.
For this blog post, OXO is donating $100 to Cookies for Kids' Cancer on my behalf. And you can help by purchasing specially marked OXO products (look for the green Cookies for Kids' Cancer sticker).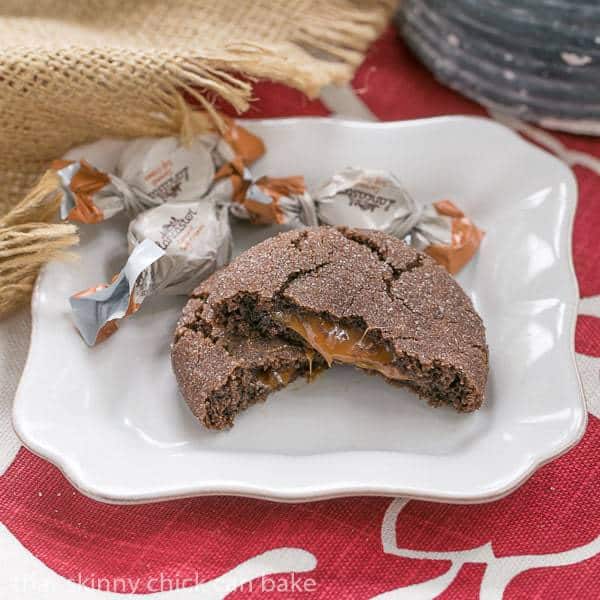 Caramel Filled Chocolate Cookies
These gooey caramel filled chocolate cookies were a delightful treat! Any chocolate dessert with caramel involved is a winner in my book. This simple chocolate cookie with a molten caramel center wasn't complicated to make and hit my sweet spot.
I did make a few sans caramel for the hubby, whose taste buds I have to question on a daily basis. But he does a huge percentage of my dishes, so let's just keep that between us. Nick was home from college for fall break; and since he's as big of a fan as this combo as I am, he received a nice care package to take back to school. Katie gave her seal of approval, too, microwaving her cookies for a few seconds before eating for an utterly delicious dessert experience.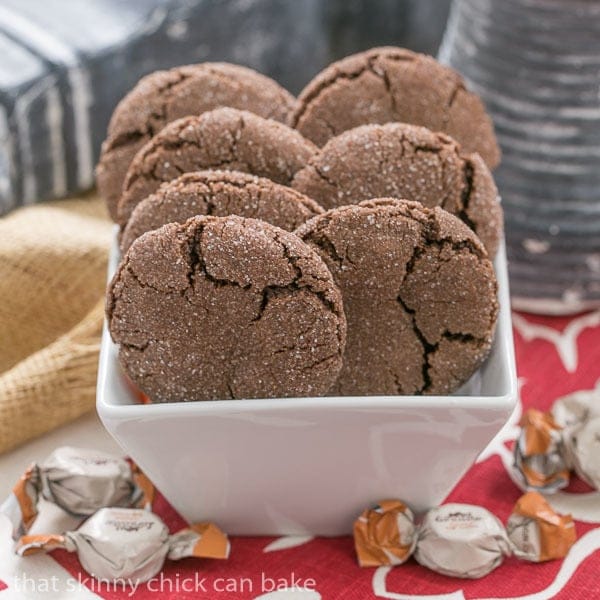 Bake a Difference with OXO for Cookies for Kids' Cancer
Watch for this Cookies for Kids' Cancer sticker on specially marked OXO baking tools in stores now. 25 cents will be donated for each of these tools purchased till OXO's goal donation is met. In 2015, OXO will donate up to $100,000 to Cookies for Kids' Cancer through these product proceeds, bake sale matches and other fundraising efforts. You can add some quality baking supplies to your kitchen and help out a most worthy cause in one swoop!
OXO Tools for Baking Cookies:
Medium Cookie Scoop
: I have a drawer full of cookie scoops, from 1/4 cup capacity to a teaspoon size. My OXO scoops are truly the best of the bunch and help you scoop out equal portions of cookie dough consistently.
Cookie Spatula: Made of silicone to resist high heat, this perfectly sized non-stick spatula easily lifts cookies from your baking sheets.
Non-Stick Half Sheet Pan: Perfect for a batch of cookies or a sheet cake with a non-stick surface that eliminates the need to grease or use parchment. It's very sturdy with a rounded rim for easy gripping.
Note: Cookies for Kids' Cancer is a recognized 501c(3) public charity duly incorporated under the laws of the state of New Jersey. Your donations are tax-deductible to the fullest extent allowable by law. 100% of proceeds raised by Cookies for Kids' Cancer fund pediatric cancer research. OXO will be donating $100 to Cookies for Kids' Cancer for each blog post dedicated to this campaign in October (up to our $100,000 commitment).
Print
Caramel Filled Chocolate Cookies #OXOGoodCookies
Chewy chocolate cookies filled with soft caramel. Adapted from Pillsbury.
Author:
Prep Time: 30 mins
Cook Time: 10 mins
Total Time: 40 minutes
Yield: 3-4 dozen 1x
Ingredients
2 1/2 cups flour
3/4 cup unsweetened cocoa powder
1 teaspoon baking soda
1 cup sugar
1 cup packed brown sugar
1 cup butter, at room temperature
2 teaspoons vanilla
2 eggs
48 Lancaster brand caramels (or favorite soft caramel candy), unwrapped*
1/2 cup sugar
Instructions
Beat butter until creamy. Gradually beat in white sugar and brown sugar. Beat in eggs and vanilla. Combine flour, baking soda, and cocoa. Gradually add to butter mixture, beating well. Cover and chill at least 2 hours.
Preheat oven to 375º.
Scoop out about 2 tablespoons of dough. Press each piece of dough around a caramel. Roll into a ball. Roll cookie ball in remaining sugar. Place on parchment lined baking sheet about 2-inches apart.
Bake for 8-10 minutes in the preheated oven. Let cool for 3 to 4 minutes on the baking sheets before removing to wire racks to cool completely.
Notes
Total time does not include chilling time.
*You may want to freeze your caramels for an hour or more before using to help prevent any leakage.

Disclosure: I received OXO products to review for this post. All opinions are my own and do not necessarily reflect the views of OXO.
Note: This post may contain affiliate links; view
my Disclosure Policy
for details. I earn a small percentage from any purchase you make by clicking on these links at no extra cost to you.