Killer Chocolate Chip Cookies
These Killer Chocolate Chip Cookies have both semisweet and bittersweet chocolate, dark brown sugar, and an extra egg yolk making them impossible to resist! The first time I made them, I scooped out 1/4 cup of dough per cookie. This time, only a rounded tablespoon of dough was used per cookie, thus alleviating any guilt when going back for seconds!
Scroll down to find my tips and recipe for making the best chocolate chip cookies! You'll love these.
Killer Chocolate Chip Cookies
I came across this recipe back in 2010, shortly after I started this blog. Nestles Tollhouse chocolate chip cookies were on our regular dessert rotation as the picky hubby could eat them morning noon and night. Yes, he's been known to eat a "breakfast" cookie, thanks to his great aunt Kate, who spoiled him with cookies upon awakening! But I was willing to veer away from the tried and true and test out a new recipe.
My friend, Danielle, baked 6, yes, SIX, batches of different chocolate chip cookies back then and declared these Killer Chocolate Chip Cookies as the winners. How could I not try them? As there was no oatmeal, nuts, or funky chips involved, I predicted the family would approve.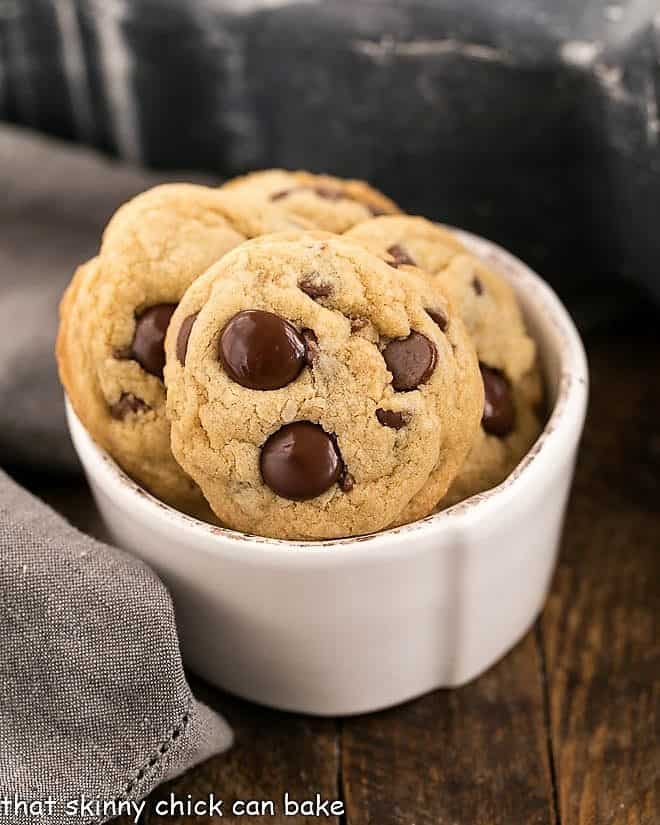 How to Make the Best Chocolate Chip Cookies
I have tried numerous chocolate chip cookie recipes, but the simplest always get the best reviews from my family. Jacques Torres' Secret Chocolate Chip Cookies may be my hubby's absolute favorite, but their huge size carries some weight. Here are some tips for making the best chocolate chip cookies:
Have your butter and eggs at room temperature so they incorporate into the batter well.
PRO-Tip: Mix by hand or with a mixer on low speed, as beating on a higher speed will add air into the dough and change the consistency of your cookies. We like chewy, not cakey cookies. I prefer to use a sturdy wooden spoon (affiliate links) to mix cookie dough.
Use the best quality ingredients for the best quality cookies. Name brand US butters or European butters have less water added, pure vanilla extract tastes much better than imitation, and better quality chocolate chips will definitely make for tastier cookies.
A combination of semisweet and bittersweet chocolate chips provides more chocolate oomph for your cookies. Feel free to use all semisweet chips if you want less chocolate intensity. PRO-Tip: I like to reserve a few extra chocolate chips to garnish each cookie when they're fresh out of the oven.
I swapped out the brown sugar for dark brown sugar for increased caramel undertones. If you don't have dark brown sugar you can make it at home by mixing in 1 tablespoon of molasses into 1 cup of light brown sugar.
An extra egg yolk is added to the dough adds extra richness, tenderness and flavor.
Once the dry ingredients are added, mix just until the flour is incorporated. PRO-Tip: Over-mixing will encourage gluten development and therefore, less tender cookies.
Bake on parchment-lined baking sheets for easy cleanup and cookie removal.
For chewy cookies, slightly underbake your cookies. If you overbake, they will not be soft and chewy.
All ovens cook a little differently, so your first batch may not be perfect. Adjust your baking time as needed and make a note of what timing worked best with your oven.
Use a medium cookie scoop for equal sized cookies. If desired, roll the dough into balls after scooping to encourage them to cook into perfect rounds.
In an ideal world, all your cookies will bake up with a consistent size and shape, but that's not the case most times. I like to use a spatula to tap the cookies into shape while they're hot and pliable, fresh out of the oven.
If baking the smaller cookies, using a 1 1/2 tablespoon scoop, bake for about 12 minutes.
If you want the larger cookies, using a 1/4 cup scoop, bake for 14-16 minutes.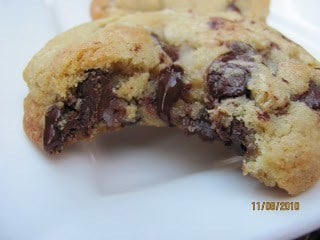 Originally shared in 2010. Text and photos updated in 2019.
A Few More Chocolate Chip Cookie Recipes
These Layered Chocolate Chip Cookies may be the most unusual of the bunch, but they're still utterly delicious! And the caramelly undertones of these Jumbo Chocolate Chip Cookies are due to both a bit of molasses and dark brown sugar! If you want really big, this Skillet Chocolate Chip Cookie has your name all over it! Or if you're just wanting a small chocolate fix, try these delicious Chocolate Cookie Bites. And if you're baking in the middle of the summer, try these Air Fryer Chocolate Chip Cookies that won't heat up the kitchen as they cook!
The Recipe:
Killer Chocolate Chip Cookies
Prep Time 15 minutes
Cook Time 16 minutes
Total Time 31 minutes
Yield 36 small cookies
Killer Chocolate Chip Cookies! For those times you're dying for a classic chewy chocolate chip cookie.
Ingredients
2 cups flour
1/2 teaspoon salt
1/2 teaspoon baking soda
1 1/2 sticks softened butter
1 cup dark brown sugar
1/2 cup sugar
1 tablespoon vanilla
1 egg
1 egg yolk
1 cup semisweet chocolate chips
1 cup bittersweet chocolate chips (I used Ghirardelli chips)
Instructions
Preheat oven to 350 degrees. Line baking sheets with parchment.
Whisk together the flour, salt, and baking soda in a medium bowl and set aside.
Cream butter and sugars until well blended. Add vanilla, eggs, and egg yolk, and mix until light and creamy.
Stir in the flour mixture until just incorporated. Stir in chocolate chips. Chilling dough is optional.
Drop by 1/4 cups or 1 1/2 tablespoonfuls onto baking sheets.
Bake about 14-16 minutes for large cookies or 12 minutes for small cookies or until the edges are browned and centers look cooked. Cool on sheets.
Notes
Adapted from Hugs and Cookies XOXO
Nutrition Information:
Yield:
36
Serving Size:
1 cookie
Amount Per Serving:
Calories: 145
Total Fat: 8g
Saturated Fat: 5g
Trans Fat: 0g
Unsaturated Fat: 3g
Cholesterol: 20mg
Sodium: 86mg
Carbohydrates: 18g
Fiber: 1g
Sugar: 10g
Protein: 2g
Note: This post may contain affiliate links; view
my Disclosure Policy
for details. I earn a small percentage from any purchase you make by clicking on these links at no extra cost to you.