Double Chocolate Cookie Bites
When a serious chocolate craving hits, these easy-to-make, Double Chocolate Cookie Bites will hit the spot!
One of my many Chocolate Cookies Recipes, these are bite-sized nuggets of chocolate delight, and perfect for a mid-afternoon sugar fix.

Why You Must Make
Mini Cookies are practically guilt-free, right? Unless you eat a dozen in one sitting, I suppose!
With a trifecta of chocolate (Dutch-process cocoa powder, semi-sweet chocolate chips, bittersweet chocolate chips), they are a dream snack for chocoholics.
The recipe comes from cookbook author, Nancy Baggett, who has fantastic recipes.
Pickings were slim. We were down to two M & M cookies, plus a few of my "funky" cookies (meaning stuff like coconut, toffee, or nuts were involved) in the freezer. Bill would soon be raiding the pantry for Oreos to munch on with his glass of Cherry Kool-Aid if I didn't act quickly. I was saving this super chocolate cookie recipe from my friend, Patty, for an upcoming tailgate, but there was an urgent need at hand.
This Chocolate Cookies Recipe came together so quickly. Now I'm itching to buy Nancy's Simply Sensational Cookies (affiliate link) cookbook to see her other must-bake cookie recipes.
Expert Tips
Use Dutch-process cocoa instead of regular cocoa in these cookies. You can find this at Penzey's plus many supermarkets carry the Droste brand (affiliate link) in the baking aisle.
Chill the dough before scooping. This will help prevent flat cookies.
I use a cookie disher to scoop out evenly sized dough balls. Lightly spray it with non-stick baking spray to minimize sticking as needed.
PRO Tip: If you're giving these cookies away or serving them to guests, roll them between your damp palms to give them a smooth exterior. They definitely look better after baking by doing this step. I wouldn't worry about this if I was serving my family as they wouldn't care or even notice.
PRO-Tip: Reserve some of the chocolate chips to press into the cookies when they come out of the oven. It gives a more finished, professional look. Otherwise, the cookies will only look lumpy without a clue of what's inside.
To make round cookies, which can be hard when the dough is filled with chocolate chips, use a spatula to nudge them into rounds while still hot out of the oven.
Frequently Asked Questions
Why Are My Cookies Flat?
There are a few reasons for flat cookies. First, it could be the recipe. If the ratios of the ingredients are off, they may bake up flat. Or your cookie sheets could be too warm, which causes the dough to get soft and spread before they are fully baked.
I like to chill my dough a bit before baking, then roll it into balls or scoop it with a cookie disher. Cold mounds of dough don't spread as much as room-temperature cookie dough.
Can I Use Regular Cocoa Powder Instead of Dutch Process?
In many cases, these two cocoa powders are interchangeable. But because of the complexity of food science,  Dutch-process cocoa is usually paired with baking powder, like in this recipe.
Dutch-process cocoa powder is neutral on the pH scale. Regular cocoa powder is acidic. When leaveners like baking soda and baking powder are involved, it's best not to substitute.
You May Also Like
Stay in touch through social media @ Instagram, Facebook, and Pinterest. Don't forget to tag me when you try one of my recipes! And if you love the results, please give it a 5-star rating in the recipe card. Note: As an Amazon Associate, I earn from qualifying purchases. Visit my Amazon Store for my favorite products.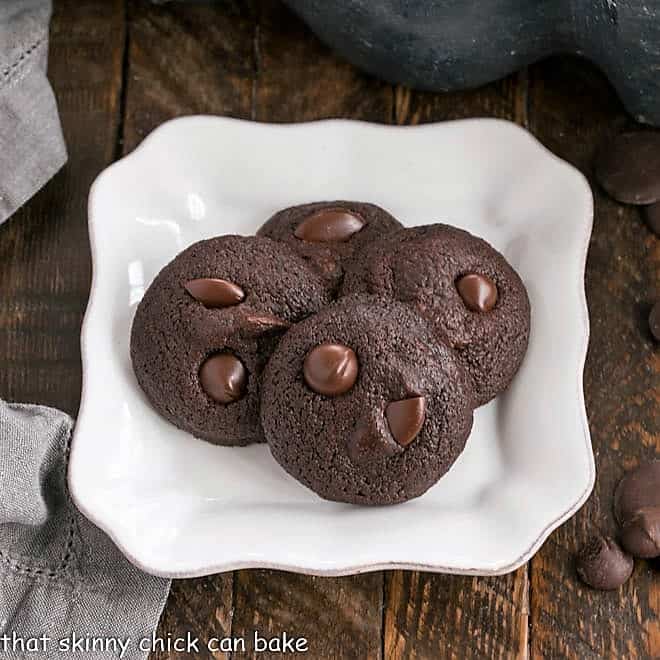 The Recipe:
Double Chocolate Cookie Bites
Prep Time 15 minutes
Cook Time 9 minutes
Total Time 24 minutes
Yield 36 cookies
Double Chocolate Cookies for double delicious results. Adapted from Simply Sensational Cookies by Nancy Baggett.
Ingredients
10 tablespoons butter, at room temperature
2/3 cup packed brown sugar
2 tablespoons sugar
2 teaspoons molasses
2 teaspoons vanilla
1 egg, at room temperature
3/4 cup flour
1/2 cup plus 1 tablespoon Dutch-process cocoa powder
1/4 teaspoon salt
1/2 cup bittersweet chocolate wafers or chocolate chips/chunks
2/3 cup semisweet chocolate wafers or chips/chunks
Instructions
Preheat oven to 350º. Line two baking sheets with parchment and set them aside.
Beat butter until smooth. Add sugars, molasses, and vanilla and beat till well blended. Add egg and mix till combined.
Sift in flour, cocoa, baking powder, and salt. Mix till just incorporated. Stir in chocolate pieces. Let dough rest for about 5-10 minutes or chill for an hour to prevent flat cookies.
Place rounded teaspoons of dough about 2 inches apart on baking sheets. Bake for about 9 minutes or till just firm. Cool on cookie sheets for about 5 minutes, then remove to a cooling rack to finish cooling.
Notes
Total time does not reflect resting time.
A small cookie scoop takes about 9 minutes to bake. A medium cookie scoop takes about 12 minutes.
Droste is a brand of Dutch process cocoa powder that's usually available in supermarkets.
Recommended Products
As an Amazon Associate and member of other affiliate programs, I earn from qualifying purchases.
Nutrition Information:
Yield:
18
Serving Size:
2 cookie
Amount Per Serving:
Calories: 205
Total Fat: 12g
Saturated Fat: 7g
Trans Fat: 0g
Unsaturated Fat: 4g
Cholesterol: 27mg
Sodium: 137mg
Carbohydrates: 23g
Fiber: 1g
Sugar: 15g
Protein: 2g
Note: This post may contain affiliate links; view
my Disclosure Policy
for details. I earn a small percentage from any purchase you make by clicking on these links at no extra cost to you.