Hot Chocolate Cookies
Hot cocoa cookies are undeniably rich chocolate cookies topped with marshmallows and shaved chocolate. Perfect for the holidays! This is easily one of the best cookie exchange recipes for the holidays!
I baked up a batch of these decadent Marshmallow Topped Hot Chocolate Cookies for our annual neighborhood cookie exchange!
After years and years of cookie exchanges, I've shared all my tried and true cookies and more! But then I ran across a Rachael Ray recipe that sounded perfect for our annual holiday event.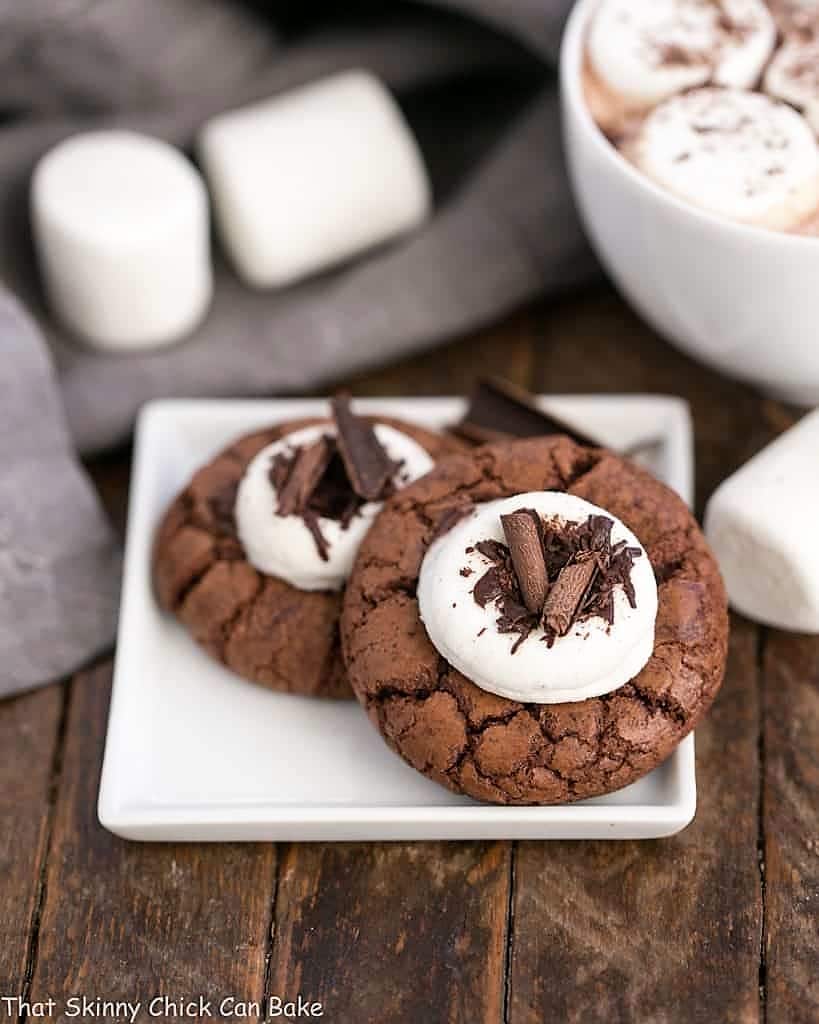 Why You Must Make
They're not your ordinary chocolate cookies!
Their seasonal nature makes them perfect for cookie exchanges, holiday parties, and gifts.
Topped with a marshmallow and shaved chocolate, they make a lovely presentation on a cookie tray.
These incredibly rich, marshmallow-topped hot cocoa cookies quickly became a family favorite and I had to make a second batch to have enough for my friends! These got rave reviews across the board (I had to give out the recipe before I got a chance to blog about these gems!).
Reader Endorsement:
From Julia:
Made this for a cookie exchange and everyone was FREAKING OUT! SO yummy – will be making these again!
Expert Tips
Make sure to chill your dough. This will minimize spreading as they bake.
Use good chocolate for the tastiest results. I like Ghirardelli bars.
Do not overmix once the flour is added. This will prevent over-activating the gluten and make tender cookies.
Use a cookie scoop to dish out your dough. Having consistently similar-sized cookies will help them all finish baking at the same time.
Store in a single layer (or separate layers with parchment paper), in an airtight container, at room temperature for up to 3 days.
They should freeze OK, but the chocolate garnish may develop some condensation as they defrost, leaving spots. Most cookies can be frozen for up to 3 months and are best when defrosted in the refrigerator.
Tips for Hosting a Cookie Exchange
'Tis the season for holiday parties and cookie exchanges. I'm down to one cookie exchange per year and we have it down to a science. Here are some tips for hosting a holiday cookie exchange:
Decide on the date and time for your party. Whether you meet mid-morning, over lunch, or in the evening will determine the menu for the event. We meet for coffee, exchange cookies, then go out to lunch as a group.
Well in advance, send out festive invitations.
Determine the number of cookies each guest must bring. For our small neighborhood party, we each bring 3 dozen, enough for us all to take 3 of each cookie variety since there are 12 in attendance. For larger groups, I've had to bake 5 dozen cookies. Some guides recommend baking one dozen cookies for each guest, but that sounds daunting!
Decide whether the cookies must be homemade or if store-bought is OK. Also determine whether fudge, candies, or other holiday treats are allowed. Make all these details clear on the invitation.
Ask your guests to bring an empty container to use to collect the cookies. Or provide boxes and tissue purchased from your local bakery.
Make sure to instruct your guests on how many of each cookie to take.
Have plenty of space and extra platters to display all the cookies.
Put on some holiday tunes, have beverages and snacks available, and most of all, have fun!
You May Also Like
Stay in touch through social media @ Instagram, Facebook, and Pinterest. Don't forget to tag me when you try one of my recipes! And if you love the results, please give it a 5-star rating in the recipe card. Note: As an Amazon Associate, I earn from qualifying purchases. Visit my Amazon Store for my favorite products.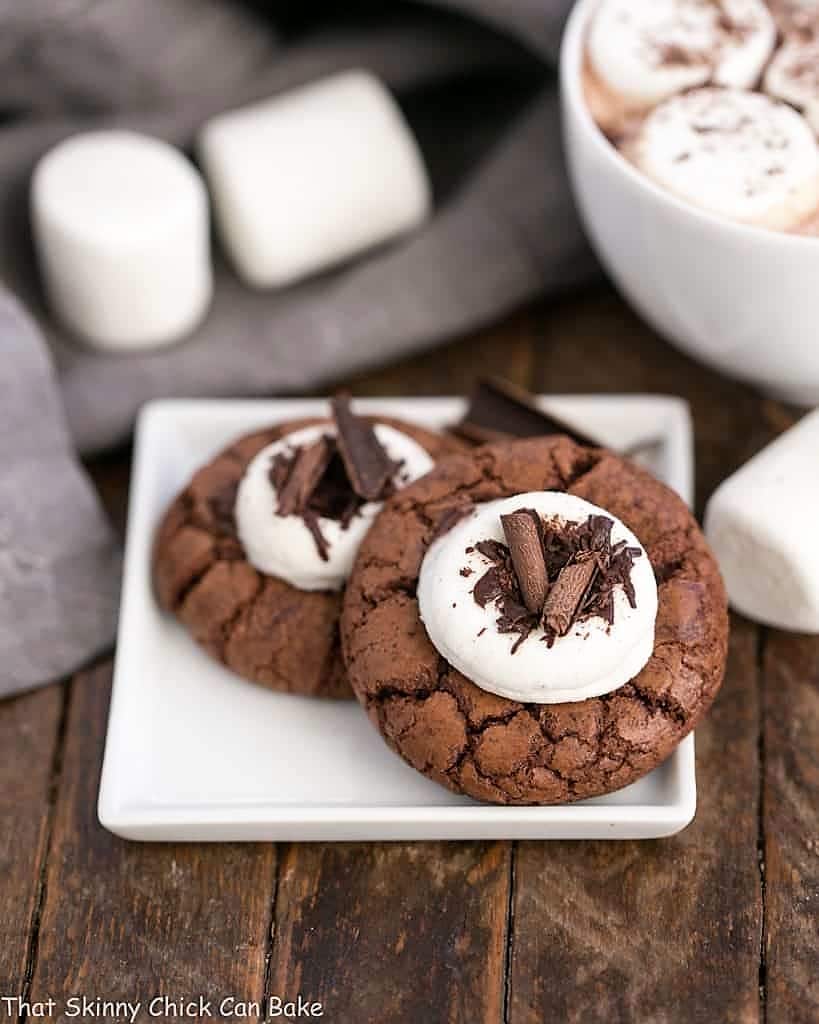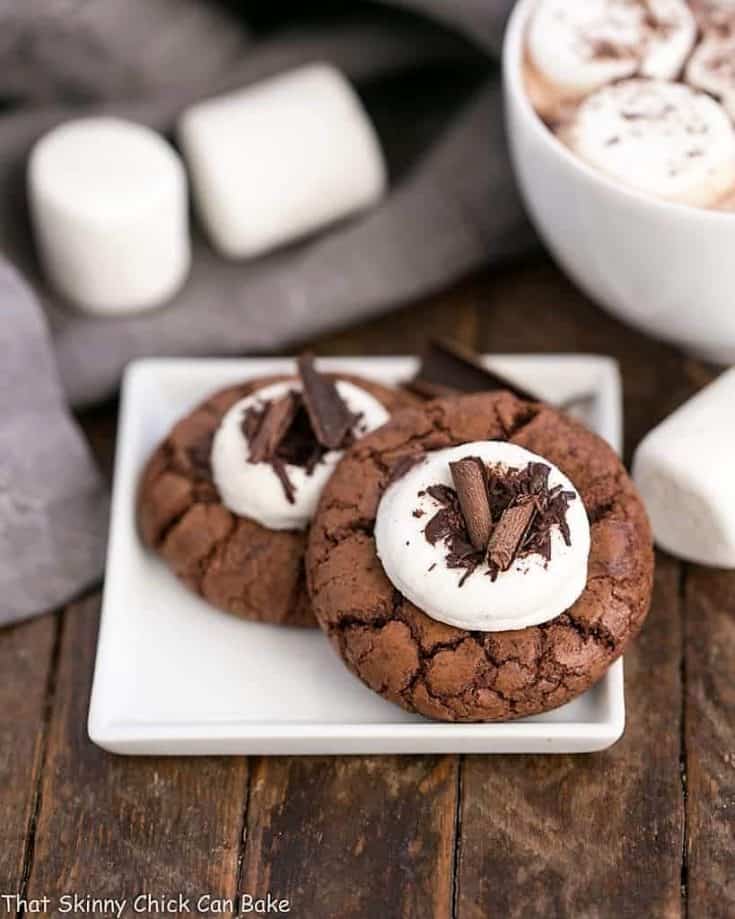 The Recipe:
Marshmallow Topped Hot Cocoa Cookies Recipe
Prep Time 30 minutes
Cook Time 12 minutes
Total Time 42 minutes
Yield 36 or more
Flavored with chocolate and topped with a fluffy marshmallow, these hot cocoa cookies are irresistible!
Ingredients
½ cup butter
20 ounces semisweet chocolate, divided*
1 ½ cups flour
½ cup cocoa powder
1 ½ teaspoons baking powder
¼ teaspoon salt
1 ¼ cups light brown sugar
3 eggs, at room temperature
1 ½ teaspoons vanilla
18 marshmallows
Instructions
Place the butter and 12 ounces of chopped chocolate in a heat-safe bowl, and microwave at 30-second intervals, stirring frequently until the chocolate is melted and the mixture is smooth. Let cool for 15 minutes.
In a medium bowl, whisk together the flour, cocoa powder, baking powder, and salt.
Beat the sugar, eggs, and vanilla at low speed until smooth. Mix in the cooled chocolate mixture just until blended. Add the flour mixture in 2 batches, mixing until just combined.
Cover and refrigerate the dough for at least 1 hour. If you chill overnight, you will need to let the dough warm up a bit at room temperature before shaping.
Preheat the oven to 325 degrees. Line 2 baking sheets with parchment. Scoop tablespoons of dough and roll into balls. Place 2-3 inches apart.
Bake until the tops of the cookies crack, about 10 to 12 minutes.
Cut the remaining 8 ounces of chocolate into squares the size of the marshmallows.
While the cookies are baking, cut the marshmallows in half and place a square of chocolate on the cut side of each marshmallow. Set aside.
Remove the cookie sheets from the oven; gently press a marshmallow half, chocolate side down, into each cookie. Bake until the marshmallows start to soften, about 4 minutes.
Remove from oven and let cool for about 5 minutes. Garnish tops with grated chocolate or sprinkles, then transfer to cooling racks.
Repeat, using fresh parchment with each batch to prevent sticking.
Notes
* 12 ounces chopped and 8 ounces cut into squares the size of the marshmallows, plus more for garnish if desired.
Recipe adapted from Rachael Ray.
Recommended Products
As an Amazon Associate and member of other affiliate programs, I earn from qualifying purchases.
Nutrition Information:
Yield:
36
Serving Size:
1 cookie
Amount Per Serving:
Calories: 164
Total Fat: 8g
Saturated Fat: 5g
Trans Fat: 0g
Unsaturated Fat: 3g
Cholesterol: 22mg
Sodium: 57mg
Carbohydrates: 24g
Fiber: 1g
Sugar: 17g
Protein: 2g
Note: This post may contain affiliate links; view
my Disclosure Policy
for details. I earn a small percentage from any purchase you make by clicking on these links at no extra cost to you.