Kentucky Butter Bundt Cake
This Kentucky Butter Bundt Cake is a wonderfully moist, basic cake that can be served in many ways and for many occasions. From a simple slice to one grilled and topped with whipped cream and berries, this is one tasty dessert!
Kentucky Butter Bundt Cake
This buttery, buttermilk Bundt cake is extremely versatile. The blank vanilla canvas can be tweaked for all sorts of occasions, from an afternoon tea to an elegant dinner party. Let me enlighten you on the possibilities.
Ways to Serve a Vanilla Bundt Cake:
Simply serve slices with a dusting of powdered sugar.
Grill buttered slices on a grill pan and top with vanilla ice cream and either chocolate sauce or berries. A sprig of mint is always a nice touch!
Don slices with a dollop of sweetened whipped cream and balsamic strawberries or your favorite sweetened fresh fruit. I vote peaches.
How about with a scoop of mint chocolate chip ice cream drizzled with a rich fudge sauce or, for the holidays, or with a scoop of peppermint stick ice cream and a dollop of marshmallow cream?
Lemon curd and berries are perfect for the citrus lover.
Cube up leftovers and make a trifle by sprinkling with the cake with a liqueur and layering with custard, whipped cream, and berries! This is especially pretty composed in a glass bowl to showcase the layers.
Tips for Making Bundt Cakes:
I've added my tips to the recipe notes but thought I'd reinforce these hints for making a beautiful Bundt Cake.
Older Bundt pans have a tendency to stick. Especially if they're "non-stick" and the coating is scratched or wearing off.
Usually, I'd suggest using Baker's Joy or another non-stick flour and oil-based spray, but I find it will puddle in the bottom of the pan if you aren't prepared to pour in the batter immediately after spraying. This results in a marred crust.
PRO-Tip: A better alternative, unless you're really speedy, is to grease the pan with shortening (generously, but you don't want it so thick that you can't see the pan through the grease), then dust the pan with flour. Tap out the excess flour. Shortening works better than butter, but butter can be used in a pinch.
The original recipe for this Kentucky Butter Bundt cake called for completely cooling the cake in the pan before releasing it. This could easily be disastrous if your cake sticks, so I decided to release it as I do my other Bundt cakes, after 15 minutes.
Before releasing, I gently shake the pan back and forth until I feel that the cake is loose. Then I flip the cake onto the serving plate.
If a few pieces do stick to the pan, carefully remove them and find the proper spot on the cake to patch it back together. If needed a nice dusting of powdered sugar or frosting does wonders for camouflaging.
Fill your Bundt pan a little more than 2/3 full, definitely not to the top. If you're using a smaller Bundt pan, pour extra batter into greased muffin tins, ramekins or a mini-Bundt cake pan.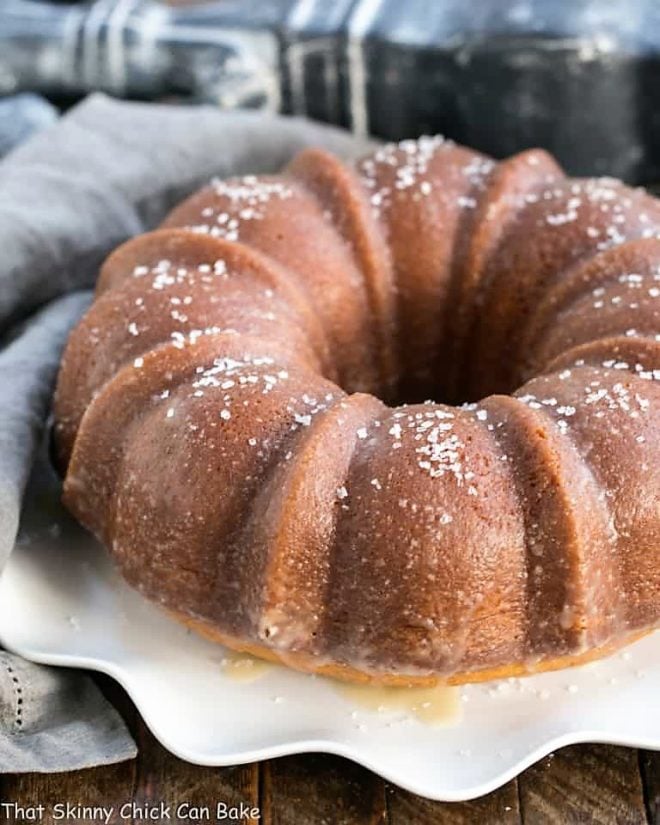 More Vanilla Sweets You'll Love: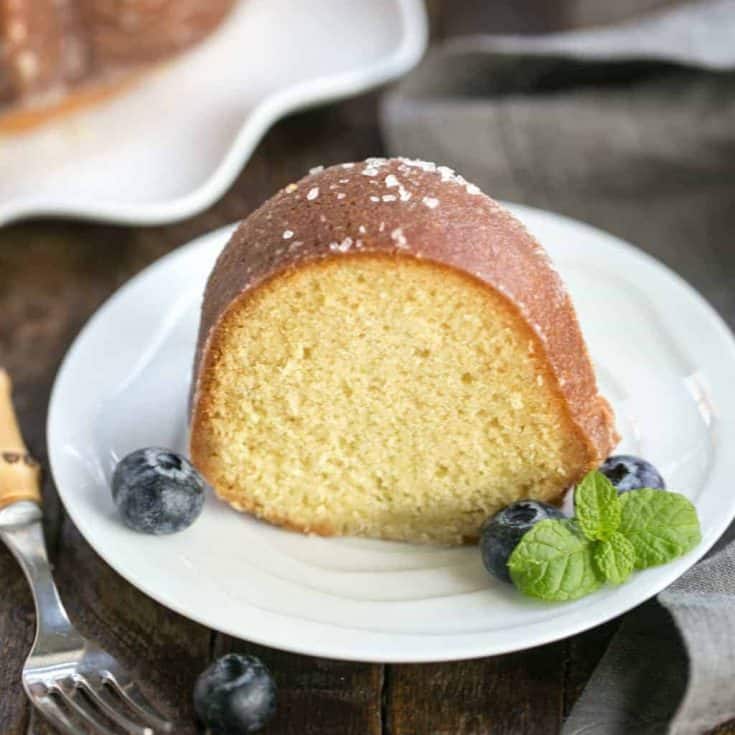 The Recipe:
Kentucky Butter Bundt Cake
Prep Time 20 minutes
Cook Time 1 hour
Total Time 1 hour 20 minutes
Yield 10
A simple, versatile butter cake that can be served in so many ways!
Ingredients
Cake:
3 cups flour
2 cups sugar
1 teaspoon salt
1 teaspoon baking powder
1/2 teaspoon baking soda
1 cup buttermilk
1 cup butter, at room temperature
2 teaspoons vanilla
4 eggs
Glaze:
3/4 cup sugar
1/3 cup butter
3 tablespoons water
2 teaspoons vanilla
Instructions
Preheat oven to 325 degrees. Grease and flour a 10-inch Bundt pan.
In a large bowl, whisk together the flour, sugar, salt, baking powder, and baking soda. Mix in the buttermilk, butter, vanilla and eggs. Scrape down the sides of the bowl, then beat for 3 minutes at medium speed. Pour batter into prepared pan.
Bake for 60 minutes, or until a toothpick inserted into center of cake comes out clean.
When the cake is almost done, make the butter sauce.
In a saucepan combine the remaining sugar, butter, vanilla, and the water. Cook over medium heat, until fully melted and combined, but do not boil.
With a long-tined fork or skewer prick holes in the still warm cake. Slowly pour 1/3 of the sauce over cake. Let cake cool for about 15 minutes (longer and it might stick in the pan), then flip it out of the pan onto a serving plate.
Brush the remaining glaze over the top of the cake. Let finish cooling. Serve slices with desired garnishes, ice cream, whipped cream, berries, etc.
Notes
Recipe adapted from AllRecipes.
After cake cools for 15 minutes, gently shake it back and forth to loosen the cake from the pan, then flip it onto the serving plate. Don't shake too vigorously or pieces of the cake may break off and stick.
Well used Bundt pans tend to stick, so I use a generous coating of butter or shortening, then a dusting of flour as my non-stick coating.
Nutrition Information:
Yield:
10
Serving Size:
1 slice
Amount Per Serving:
Calories: 609
Total Fat: 27g
Saturated Fat: 16g
Trans Fat: 1g
Unsaturated Fat: 9g
Cholesterol: 140mg
Sodium: 594mg
Carbohydrates: 85g
Fiber: 1g
Sugar: 56g
Protein: 7g
Note: This post may contain affiliate links; view
my Disclosure Policy
for details. I earn a small percentage from any purchase you make by clicking on these links at no extra cost to you.