20+ Best Brownie Recipes
I've baked up loads and loads of brownies over the years. Here are some of our absolute Favorite Brownie Recipes from the blog!
Learn what tools and ingredients you need to make brownies, how to make brownies, and even how to cut perfect brownie squares.
Why You Must Make Brownies ASAP
If you know a chocolate fanatic, a batch of brownies is the best gift.
Brownies can range from simple one-bowl recipes to more complex layered versions. There's something for everyone!
They are perfectly portable and ideal for picnics, potlucks, and family gatherings.
Ingredient Notes:
Flour – The gluten in flour provides structure.
Cocoa – Cocoa and/or chocolate give brownies their classic chocolate flavor. Dutch-process cocoa will give a deeper chocolate flavor than regular cocoa powder. Cocoa also provides structure.
Chocolate – Melted chocolate and/or chocolate chips also provide the essential chocolate component plus additional fat needed for moist brownies.
Butter –  Provides fat that contributes to fudgier brownies. Melted butter or oil makes the fudgiest brownies, but oil does not add the flavor that you get from butter.
Sugar – Sugar forms strong bonds with water molecules so besides adding sweetness, it helps to keep brownies soft and moist. Brown sugar adds a subtle caramel flavor and even more moisture.
Eggs – Provides fat along with acting as an emulsifier to help the butter combine with the flour.
Leaveners – Baking powder adds an extra lift to the brownies. It's used primarily in cakey brownies. Make sure to check the expiration date on your can!
Salt – Salt is essential in desserts. Using the proper amount will not make the brownies salty, but instead will enhance the prevalent flavors. Without it, your brownies will taste flat.
How to Cut Perfect Brownies
To make nice squares of brownies, chill them first. Remove the brownies to a cutting board using the foil liner. Then use a hot dry knife to slice them into squares. Wipe off the knife and reheat as necessary between every slice. PRO-Tip: I use my electric teapot to pour hot water over the blade of a long knife, then quickly dry it before slicing. There are also plastic knives made for slicing brownies (affiliate link).
I can generally cut even squares due to years of practice, but feel free to use a ruler to make a few evenly spaced marks along the perimeter as a guide. Serve your brownies at room temperature for the best texture. Check out my post on How to Cut Perfect Cookie Bars for more tips.
8 x 8-inch pan – cut 16 2 x 2-inch squares
9 x 9-inch pan – cut 16 slightly smaller than 2.5 x 2.5-inch squares or 9 3 x 3-inch squares
9 x 13-inch pan – cut into 24 squares
Half Sheet pan – cut into 24 large squares or 48 small squares
Some of the Best Ever Brownies:
Picking a favorite brownie is like choosing a favorite child. It just can't be done. So today I'm sharing some favorite brownie recipes that truly made my family swoon.
I'm delighted that my children's palates have matured past the frosted box mix that was the gold standard to beat when they were in grade school. I made batch after batch of those quick and slightly cardboardy brownies, with no complaints from the crew. In fact, when I would sneak in a homemade version, they'd balk that there wasn't frosting! Sheesh. Here are a few favorites: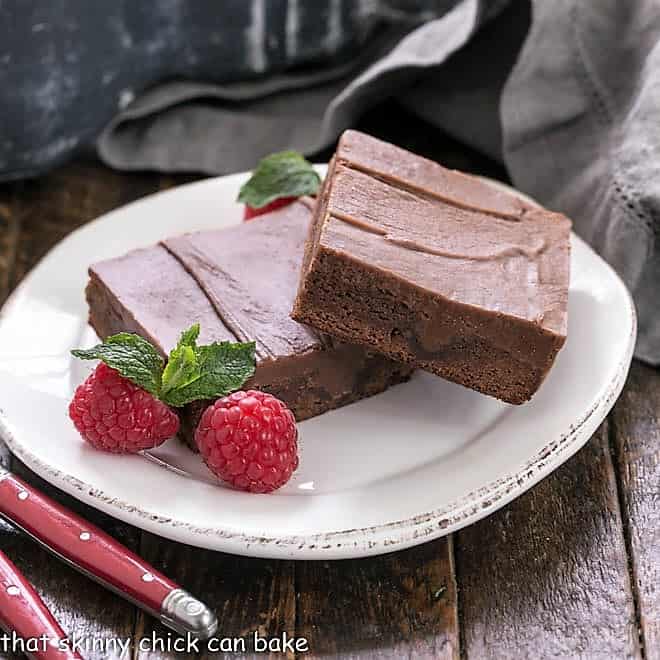 Poke Cake Brownies – A fudgy frosting infuses into this brownie recipe making fudge and brownie mashup!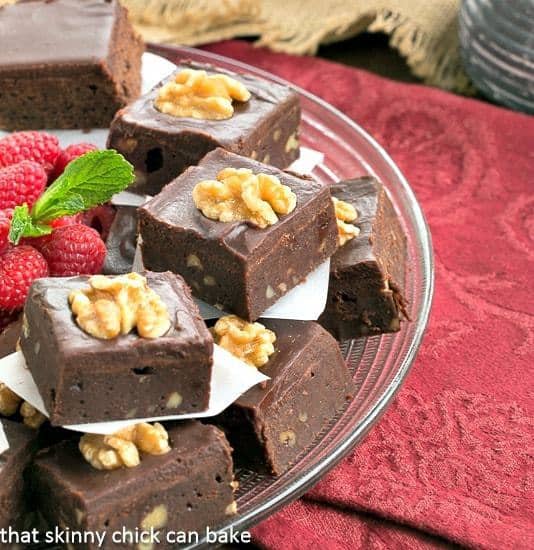 Chocolate Glazed Walnut Brownies – If you love nuts in your brownies, you must bake up a batch!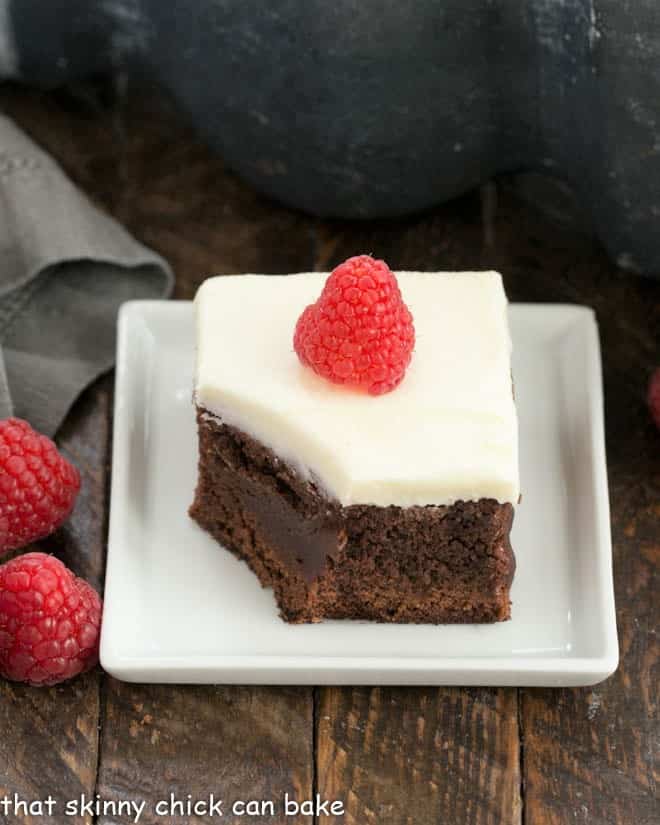 Raspberry Chambord Brownies – a slosh of Chambord liqueur and white chocolate frosting, these brownies will rock your world! They won a baking contest judged by a national sugar brand!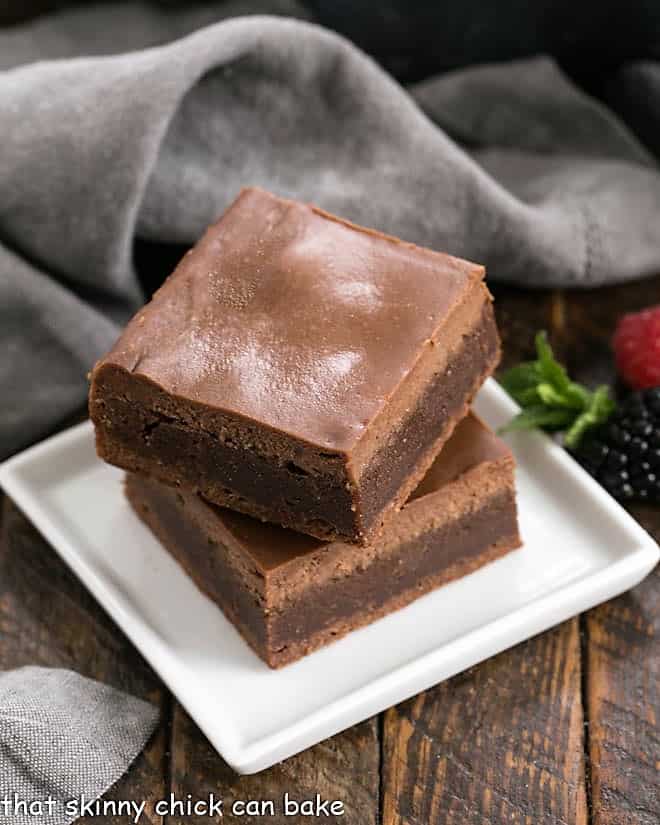 Chocolate Cheesecake Brownies –an exquisite combination of brownies and chocolate cheesecake that you can eat with your fingers!
More of the Best Brownies
Besides chocolate chip cookies, brownies are the second most frequent dessert at Chez Skinny Chick! There is one rule, which I do break on occasion, NO NUTS!
This isn't due to a nut allergy, just a picky family. Mainly the ol' ball and chain. Yup, he gets the blame. Both his parents love nuts, so it's just his personal quirk.
And the kids have followed suit. You'll see at least two magnificent nutty brownies, plus a few with some special touches.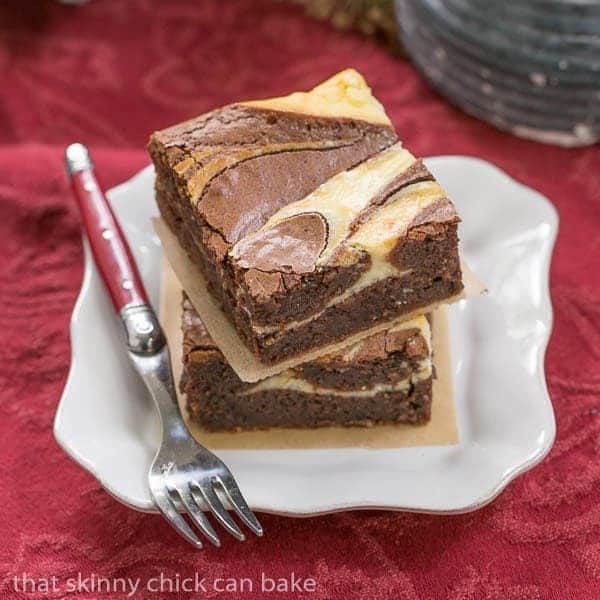 Ricotta Cheesecake Brownies – when you cannot decide between brownies and cheesecake, why not make both in one recipe!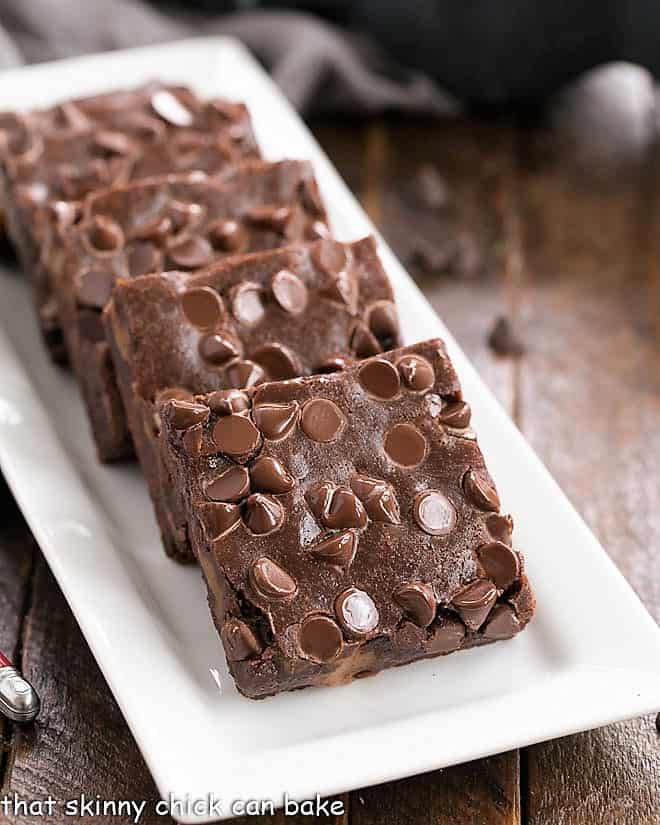 Caramel Brownies – I fell in love with these brownies in college. Rich and incredibly delicious plus no-cake mix involved!!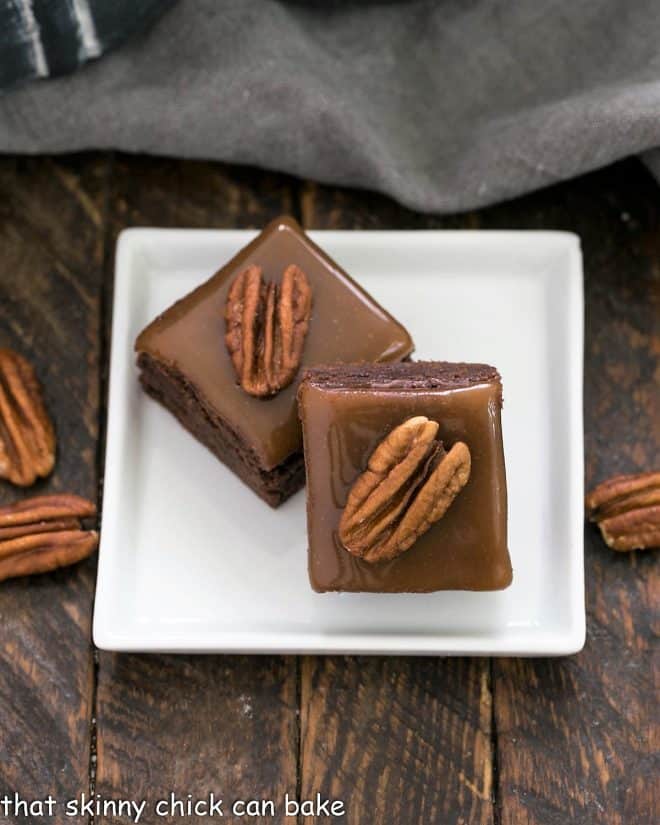 Turtle Brownies – This Cook's Illustrated recipe does not disappoint! If you love turtles, you'll swoon over every bite!
Fudgy Brownies:
I hope this will be a resource you will return to and peruse again and again. When you are getting shaky from chocolate withdrawals, I guarantee that you'll find the perfect antidote amongst these recipes. I hope my favorite brownie recipes will soon become yours.
PRO-Tip: The key to making fudgy brownies is the higher ratio of butter (or fat) to flour than compared to cakey brownies. Butter, oil, eggs, and chocolate can all contribute fat to a brownie recipe.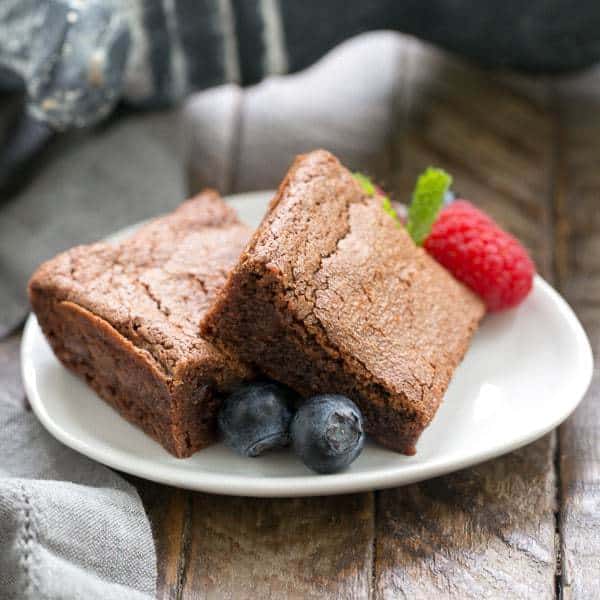 Simple Fudgy Brownies – This Alice Medrich recipe had an unusual technique that resulted in an amazing texture and flavor!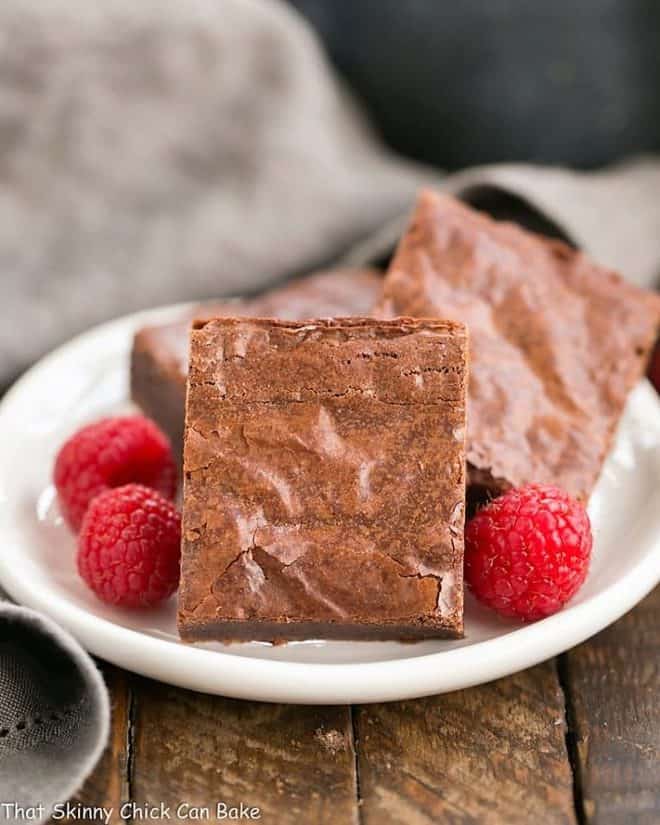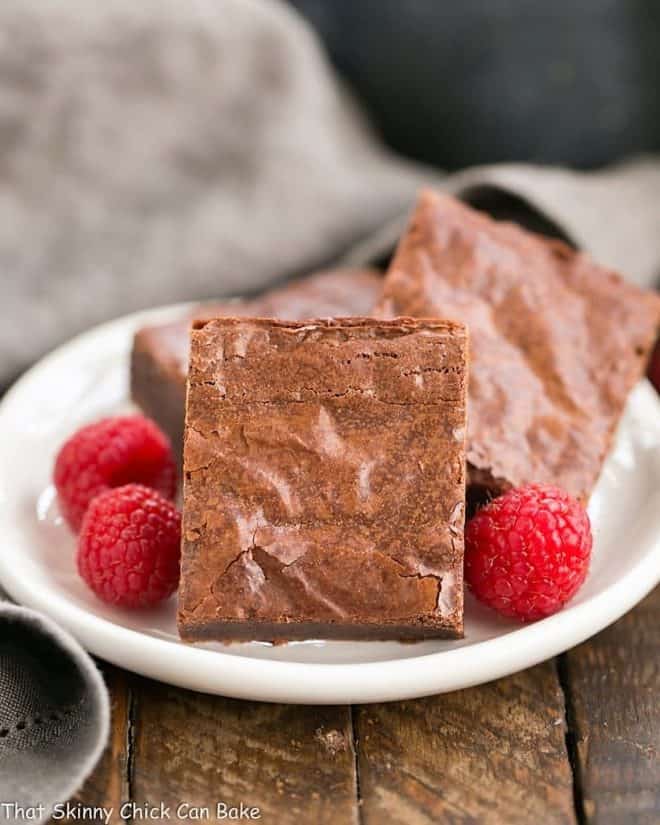 David Lebovitz's Best Brownies – The fudgy interior and thin, crisp crust make these some of the best classic brownies in my repertoire!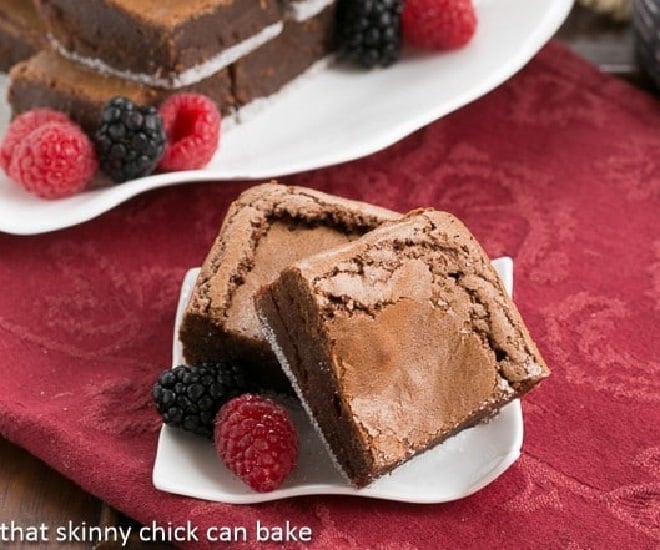 Fudgy Brownies – My go-to, one bowl brownies! SO easy and outrageously delicious!
More Specialty Brownie Recipes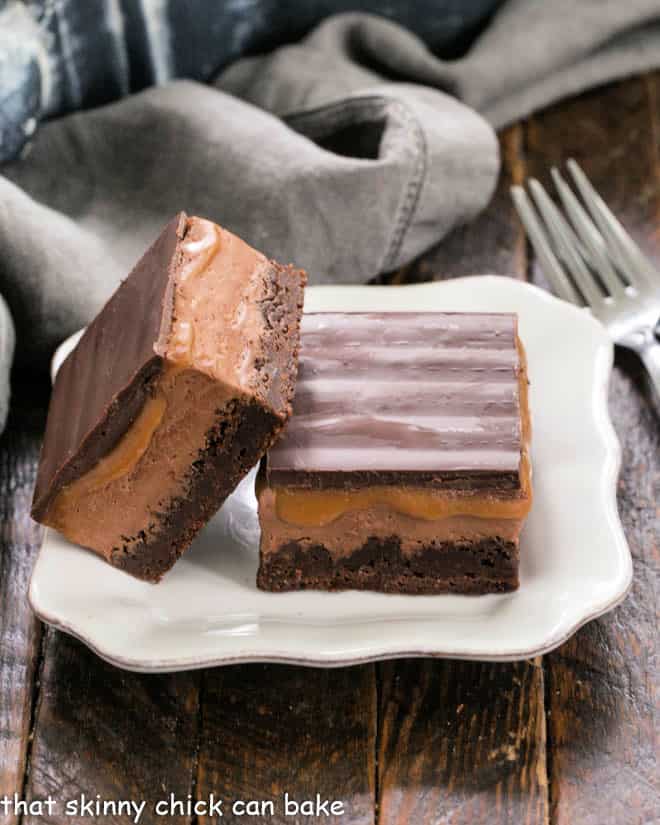 Milky Way Brownies -If you love Milky Way Candy Bars, you'll swoon over these caramel-filled brownies!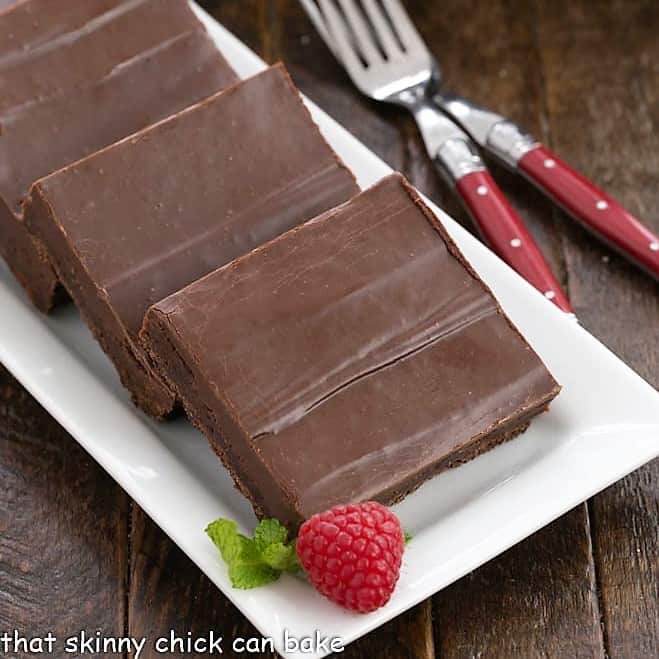 Fudge Topped Brownies – A fudgy topping push these yummy brownies over the top
Red Velvet Brownies with White Chocolate Frosting – What these lack in chocolate, these red velvet gems make up for in deliciousness! The thick white chocolate frosting is incredibly delicious!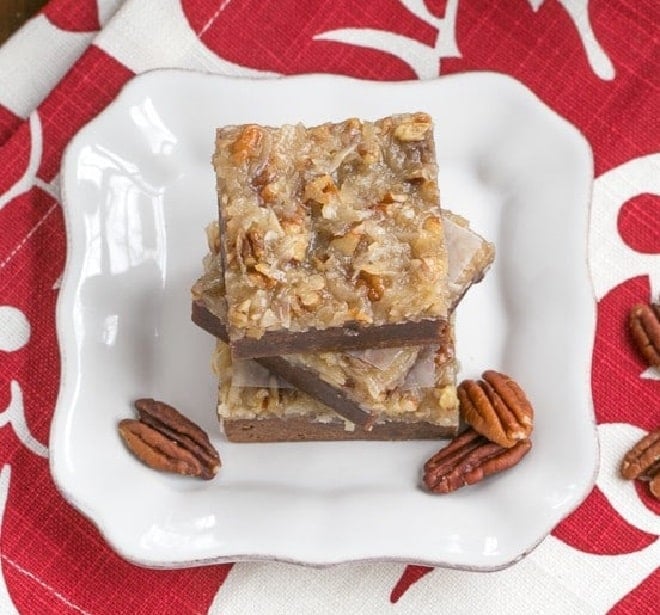 German Chocolate Brownies – With the classic German chocolate coconut and pecan frosting, these have the flavors of German chocolate cake without all the effort!
Frequently Asked Questions
How Do You Make Brownies?
It all depends on the recipe. The basic brownie recipe can be mixed in a single bowl by adding and mixing the ingredients in the order the recipe states. Next, the batter is scraped and spread into a baking dish, baked, and cooled. There may be frosting or other toppings added depending on your specific recipe.
What Ingredients Do You Need to Make Brownies?
True brownies need chocolate which can be unsweetened, bittersweet, semisweet, or milk chocolate. They can also be made with regular cocoa powder or Dutch-process cocoa. Typically, the ingredient list also contains butter, sugar, eggs, flour, salt, vanilla extract, and sometimes a leavener such as baking powder. See above for what each ingredient contributes to the brownie recipe.
What Are Some Tips for Baking Brownies?
Prep your baking pan by lining it with non-stick foil. This helps by preventing the brownies from sticking to the sides or bottom of the pan, plus the foil can be used as a sling to remove the cooled brownies from the pan.
The main goal is not to overbake which can make for dry brownies. Start checking them before the timer goes off as a preventive measure.
How to Test That Brownies Are Done?
When you start smelling the aroma of baked brownies, it's time to check them. When they're done, the brownies will have started to pull away from the sides of the pan. Then use a toothpick test.
There should not be any batter on the toothpick after you insert it into the brownies, but a few moist crumbs are fine. If the toothpick comes out dry, the brownies are probably overbaked. But never fear, you can crumble them for an ice cream topping, use them in milkshakes or bread pudding, or for cake pops.
How Do You Store Brownies
Brownies taste best on the day they are baked but stored properly, they can last longer. They can be kept in an airtight container at room temperature for up to 4 days.
If they have any components that could spoil (cream filling, etc), they should be kept in the refrigerator. Brownies can also be frozen for at least 3 months if kept in an airtight, freezer-safe container. Defrost overnight in the refrigerator before eating.
What Kind of Baking Pan Is Best?
A heavy 9 x 13 inch, Aluminized Steel Cake Pan  (affiliate link) is best for baking brownies. Do not purchase one with a dark finish as it will brown too quickly. The straight sides make for nice-looking brownie squares. Glass and ceramic pans are not recommended.
You May Also Like:
Note: This post may contain affiliate links; view
my Disclosure Policy
for details. I earn a small percentage from any purchase you make by clicking on these links at no extra cost to you.