Strawberry Cheesecake Brownies
Strawberry Cheesecake Brownies are a delectable combination of fudgy brownies and strawberry swirled cheesecake. Two desserts in one!
These decadent Strawberry Brownies get a pop of color and flavor from the strawberry jam swirled into the cheesecake batter. You'll love this multifaceted dessert recipe.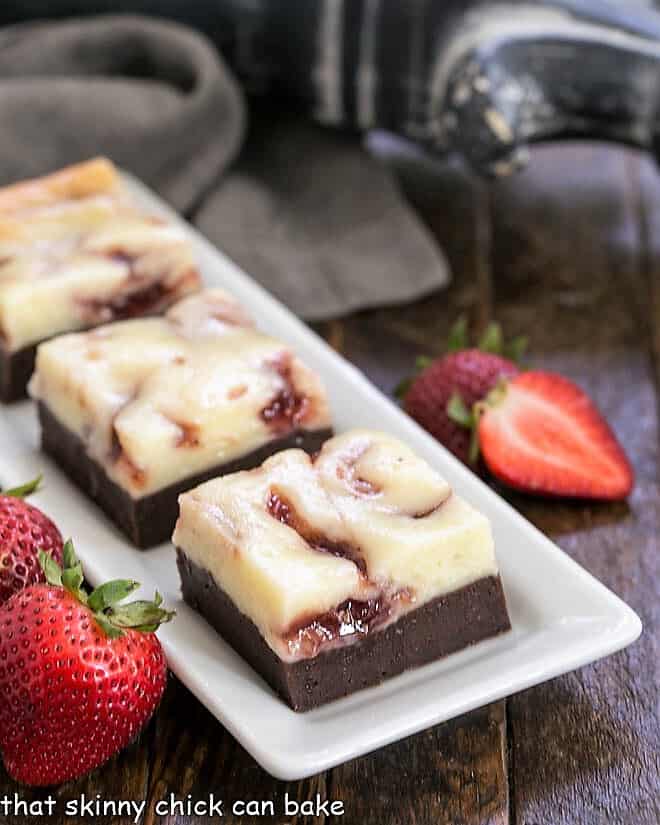 Why You Must Make
Instead of making a full-blown standard cheesecake recipe, it was easy to get your fix with these terrific strawberry brownies!
Plus the chocoholics also got their needs met with the rich brownie base.
You get TWO delicious desserts in every bite!
Since they're made with a swirl of strawberry jam, they can be made any time of year. No need to wait on ripe seasonal berries to indulge. I had also made some more traditional sheet pan brownies, which were dense and rich as well (recipe to come soon!), so I attempted to tuck these in the freezer for later.
When I told the hubby of my plans, he revealed he had been eating one of each for dessert! So they stayed parked in the fridge for the after-dinner brownie extravaganza each night.
Ingredient Notes:
Flour
Unsweetened cocoa powder, unsweetened chocolate
Table salt – I use table salt in desserts due to the finer crystals which will disperse better throughout the batter.
Vanilla extract – Use real not imitation for the tastiest results
Butter – I use salted butter and decrease the added salt in my recipes
Cream cheese – Philadelphia brand trumps generic
Seedless strawberry jam – If unavailable, strain the seeds out of regular jam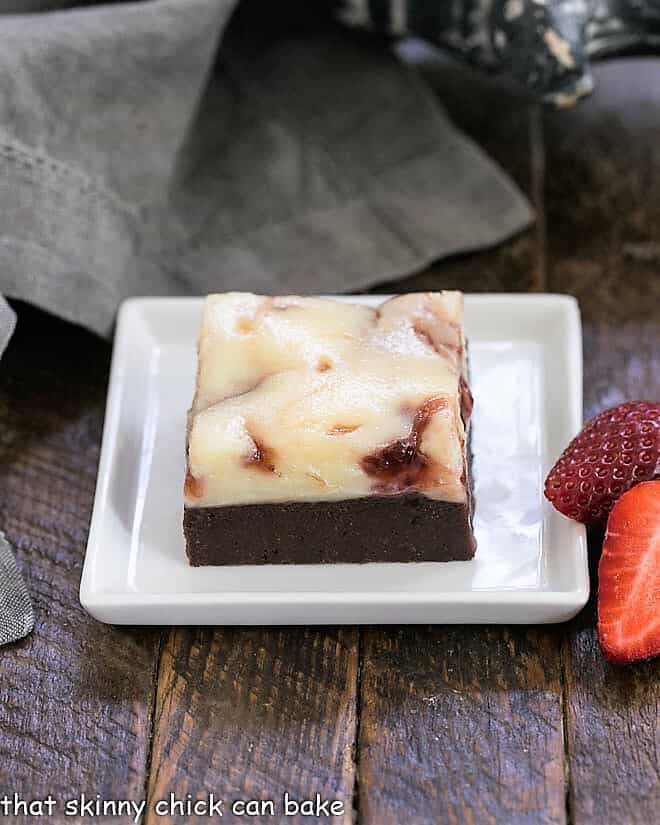 Expert Tips
Since this strawberry cheesecake brownie recipe is a combination of two different types of desserts, there are two sets of mixing guidelines. Each type of batter comes with a specific technique.
While the brownies should be rich, dense, and fudgy, the cheesecake should be luscious and creamy. Popping each set of ingredients into a mixer and blending is not the best plan.
Lining the baking pan with non-stick foil helps has a dual purpose. First, it replaces greasing the pan. Second, it allows you to remove the cooled brownies to a cutting board by using the foil as a sling.
Typically, all baking ingredients should be at room temperature. But in this brownie recipe, the butter is melted. So just get the eggs out of the refrigerator for about an hour to get the chill off.
A whisk is used to do much of the mixing. But the flour is folded into the wet ingredients. Folding is a gentle mixing technique using a rubber spatula to lift and flip over the batter again and again until the flour is incorporated.
Folding, compared with whisking, does not add any extra air to the batter or compress an aerated batter. With brownies, folding in the flour helps keep the brownies fudgy and minimizes activating the gluten.
PRO-Tip: With a cheesecake, the cream cheese and eggs must be at room temperature for the best results. The cream cheese will not get smooth if it's still cold. In fact, you'll see little bits of cream cheese in the batter.
Typically, using the paddle attachment of a stand mixer is the best route for mixing a cheesecake batter. But in this case, the amount of cheesecake batter is pretty small to haul out this small appliance.
If you use a hand mixer, don't over-mix. Too much mixing will incorporate air into the batter and the baked topping won't have the denseness of a traditional cheesecake recipe.
To make the strawberry swirl in the cheesecake, first stir the jam to loosen it, then dollop it across the surface of the cheesecake batter. Use a toothpick or wooden skewer to swirl through the jam without going deep enough to hit the brownie batter.
PRO-Tip: Bake this Cheesecake Brownies Recipe in an oven with a pan of water on the bottom rack. This will add moisture to the baking environment and keep the brownies moist and minimize any cracking of the cheesecake.
It's preferable to chill overnight or at least a few hours before cutting these cheesecake swirl brownies into bars.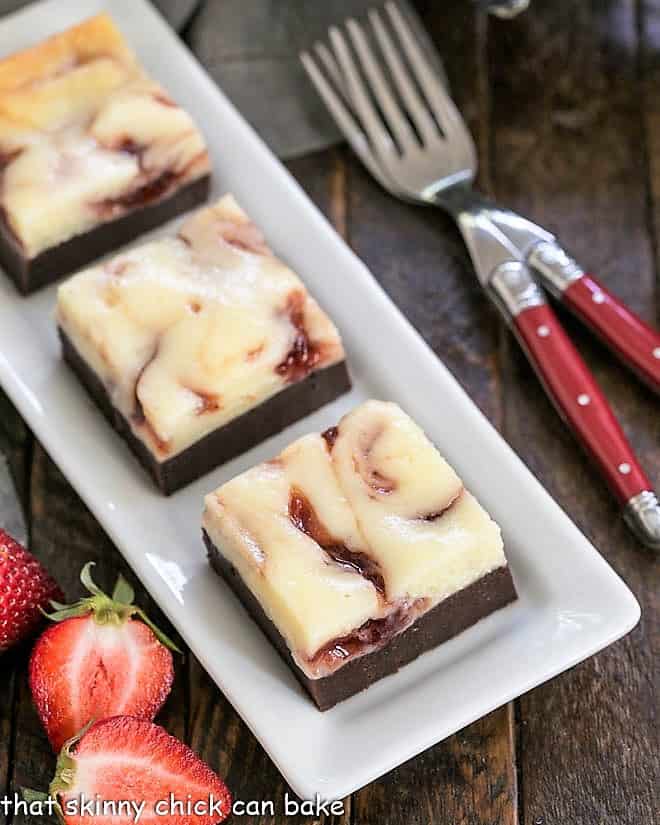 Frequently Asked Questions
Do Cheesecake Brownies Need to Be Refrigerated?
Some sources say that cheesecake brownies can sit out on the counter for 2-3 days since the eggs and cream cheese in the topping are baked. I recommend refrigerating these to prolong their freshness.
Keep them covered tightly, then bring them out an hour before serving to take the chill off, which will make the cheesecake layer creamier.
What Makes Brownies Fudgy?
A higher fat-to-flour ratio makes for fudgier brownies. The more fat in the recipe, the fudgier the results. Fat ingredients in brownies include butter, chocolate, and egg yolks.
You May Also Like: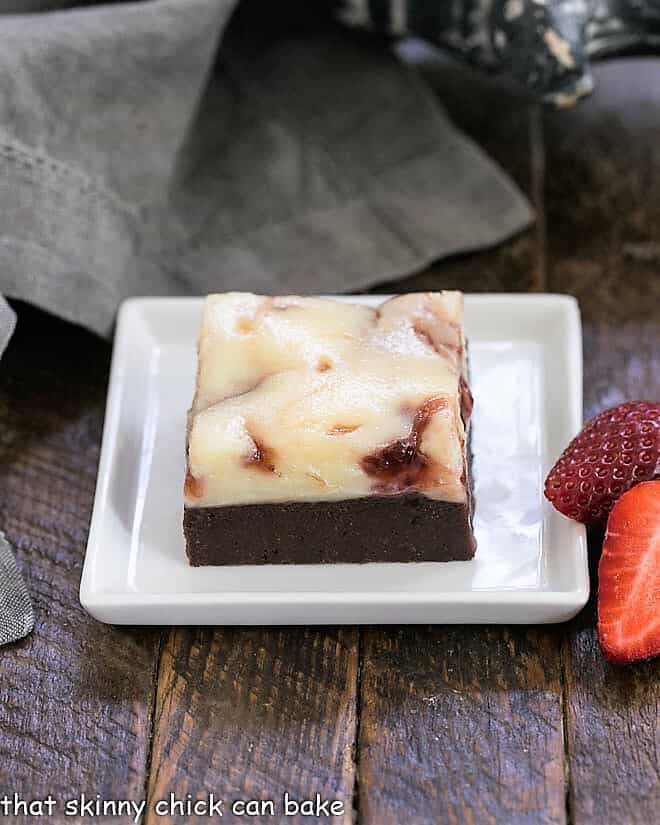 The Recipe:
Strawberry Cheesecake Brownies
Prep Time 25 minutes
Cook Time 55 minutes
Total Time 1 hour 20 minutes
Yield 16 brownies
Two delicious desserts in every bite!
Ingredients
Brownies
8 tablespoons butter
2 ounces unsweetened chocolate
2 tablespoons unsweetened cocoa powder
¾ cup sugar
⅓ cup brown sugar
2 eggs
¾ cup flour
⅛ teaspoon salt
Cheesecake
8 ounces cream cheese, at room temperature
1 cup sugar
1 teaspoon vanilla extract
1 egg
½ cup seedless strawberry jam
Instructions
Preheat the oven to 350 degrees. Line an 8 x 8-inch pan with nonstick foil and set aside.
In a saucepan on low, melt the butter with the chocolate until smooth. Whisk in the cocoa powder.
Remove heat and whisk in sugars. Keep whisking while you add eggs. Fold in the flour and salt.
Spread in pan and set aside.
Make the cheesecake layer. Beat cream cheese smooth. Add sugar and vanilla. Add the egg and mix well.
Carefully pour this over the brownies and spread with an offset spatula.
Stir jam so it is spreadable. Drop dollops over the cheesecake and swirl with a toothpick just through the cheesecake-not the brownie layer.
To add moisture, place another baking dish with hot water in the oven on the bottom rack.
Place brownies on the middle rack and bake for 45 minutes.
Turn off the oven and leave the brownies in for another 10 minutes. Remove and cool.
Chill in the pan overnight or for several hours. Cut into bars to serve.
Notes
Adapted from Pioneer Woman via Hugs and Cookies XOXO.
Store covered in the refrigerator, but bring out an hour before serving to take off the chill.
Recommended Products
As an Amazon Associate and member of other affiliate programs, I earn from qualifying purchases.
Nutrition Information:
Yield:
16
Serving Size:
1 brownie
Amount Per Serving:
Calories: 288
Total Fat: 14g
Saturated Fat: 8g
Trans Fat: 0g
Unsaturated Fat: 4g
Cholesterol: 65mg
Sodium: 125mg
Carbohydrates: 39g
Fiber: 1g
Sugar: 31g
Protein: 3g
Note: This post may contain affiliate links; view
my Disclosure Policy
for details. I earn a small percentage from any purchase you make by clicking on these links at no extra cost to you.