Strawberry Cheesecake Bars
I make oodles of strawberry desserts in the spring and summer and these Strawberry Cheesecake Bars sure hit the spot!
The trio of a shortbread crust, cheesecake filling, and luscious, ripe sliced strawberry topping makes these Cheesecake Bars a spectacular dessert!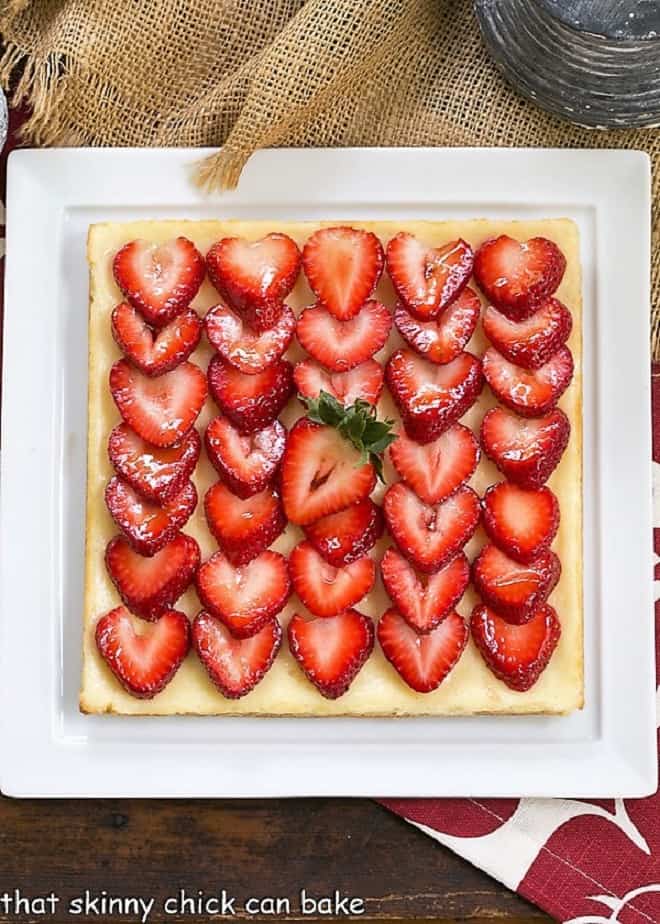 Why You Must Make
With a substantial sugar cookie-like crust, a thin cheesecake filling, and juicy, sliced strawberry topping, it's hard to put these strawberry cheesecake bars into one solitary category. Are they cookie bars? Cookies? Cheesecake? I'm not going to make that determination, but instead, let you know they're just plain delicious.
They're the perfect way to celebrate strawberry season as the focus is equally divided between the ripe, sweet strawberry slices and the cheesecake layer.
This Cheesecake Bars Recipe is a terrific way to get your cheesecake fix without a thick wedge of a traditional cheesecake!
Ingredient Notes
Kitchen Staples – Brown Sugar, Flour, Sugar
Cream Cheese – At room temperature for a smooth cheesecake layer.
Sour Cream – At room temperature for easy incorporation.
Egg – Also have it at room temperature.
Lemon Juice – Use fresh for the tastiest results.
Vanilla Bean Paste (or extract) – Vanilla bean paste has specks of vanilla seeds. You can always substitute an equal amount of vanilla extract. I use the Nielsen-Massey brand for both of these products.
Sliced Strawberries – Look for red berries with a nice sheen and fresh-looking leaves. If they have green or white areas at the stem end, they were most likely harvested too early and won't be as flavorful. You'll need about 8-12 strawberries, depending on their size. Toss slices in a bit of sugar if they aren't sweet enough.
Currant Jelly – I use the Tiptree/Wilkins & Son LTD brand. It can be hard to find so any clear red jelly can be used to glaze the berries.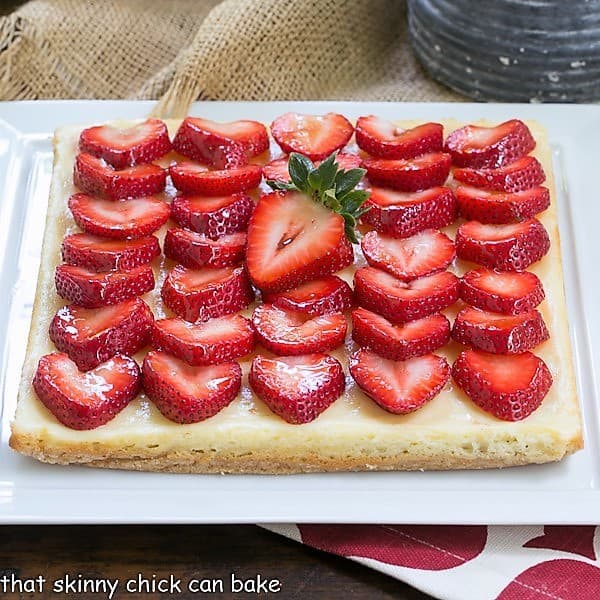 Tips for Making These Strawberry Cheesecake Bars
Like all cheesecakes, there are a few tips for making these bars that will help you have the best results!
Line your pan with non-stick foil. Besides helping you remove the bars without sticking, the foil makes for easy cleanup of your pan!
Have all your refrigerated ingredients at room temperature for the cheesecake topping. Cream cheese, especially, does not blend smoothly when it's cold.
Make these bars when you can find beautiful red, fragrant berries. The presentation will be much better!
I like to glaze berries with currant jelly. If you cannot find currant jelly, look for another red jelly, like raspberry.
A Virtual Baby Shower
My lovely blogger friend, Courtney, of NeighborFood, is expecting her first baby, a sweet BOY, next month. I'm so thrilled for you, Courtney, and cannot wait till you have that precious baby in your arms. I'm delighted to be celebrating this joyful occasion by baking you a special treat.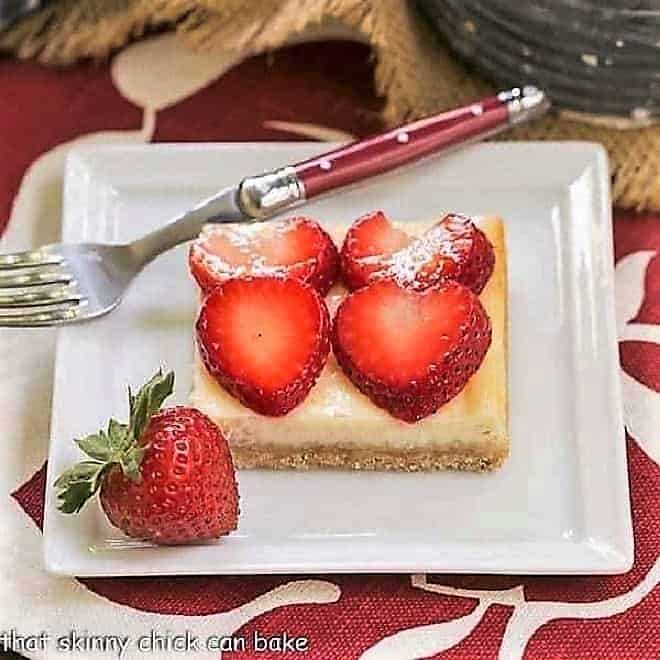 Frequently Asked Questions
Why Do the Cream Cheese, Sour Cream, and the Egg Need to be at Room Temperature?
All three of these ingredients will mix more smoothly into a batter when not cold from the refrigerator. This will result in a creamier cheesecake layer.
Can Other Berries Be Used to Top these Cheesecake Bars?
Yes, you can use any of your favorite berries. Just swap out the jelly flavor to coordinate with the berry flavor using raspberry jelly if topping the bars with raspberries.
How Do You Cut Even Sized Bars?
Since this recipe serves 16, it's easy to do. First, cut the dessert in half from right to left. Next, cut it in half from top to bottom. You will have 4 equal-sized squares. Repeat by cutting each of the small squares into 4 squares, from left to right, then top to bottom. Make sure to wipe your knife clean after each cut. This will help make cleaner, more precise cuts.
More Scrumptious Baby Shower Dishes
So when I was invited to cook up something for Courtney's virtual baby shower, I thought these cookie bars would be perfect for the mom-to-be! And check out what other delights are being served today:
I want an invite to this party!! Doesn't each dish sound spectacular??? Just click on the links to visit the other tasty recipes. And stop by Courtney's blog to say hello to the mom-to-be.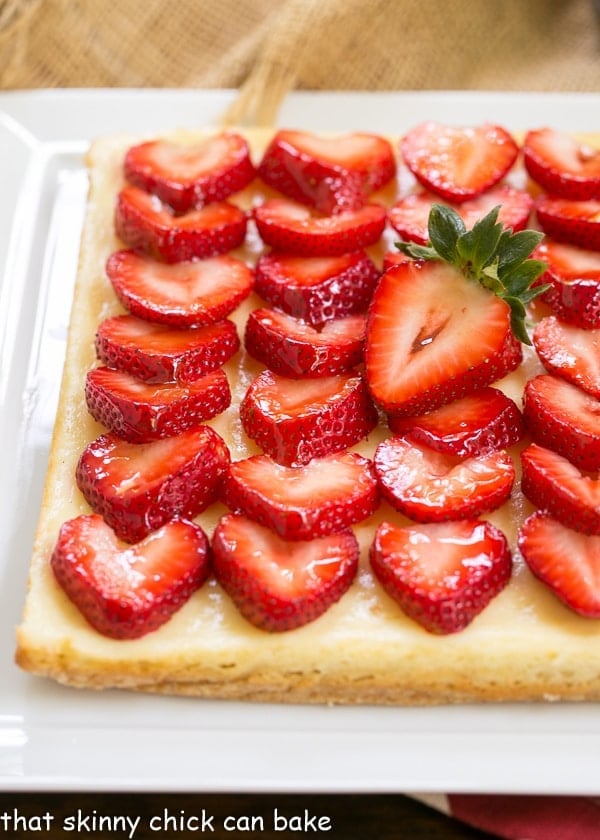 More Tasty Berry Desserts
Stay in touch through social media @ Instagram, Facebook, and Pinterest. Don't forget to tag me when you try one of my recipes! And if you love the results, please give it a 5-star rating in the recipe card. Note: As an Amazon Associate, I earn from qualifying purchases. Visit my Amazon Store for my favorite products.
The Recipe:
Strawberry Cheesecake Bars
Prep Time 20 minutes
Cook Time 40 minutes
Total Time 1 hour
Yield 16 bars
A cookie bar with both a cheesecake and fresh strawberry layer.
Ingredients
5 tablespoons butter, at room temperature
⅓ cup brown sugar
1 cup flour
½ cup sugar
8 ounces cream cheese, at room temperature
1 egg
2 tablespoons sour cream
1 tablespoon lemon juice
½ teaspoon vanilla paste (or extract)
Sliced strawberries (8-12 depending on size. Toss slices in a bit of sugar if they aren't sweet enough)
Currant jelly (or any red jelly), to glaze, optional
Instructions
Heat over to 350º.
In a medium bowl blend thoroughly butter, brown sugar, and flour with a fork until the mixture resembles coarse crumbs.
Press the mixture into an 8x8-inch baking dish lined with nonstick foil; bake for 15 minutes.
In another bowl combine sugar and cream cheese, mixing until smooth. Thoroughly beat in egg, sour cream, lemon juice, and vanilla.
Spread over the baked crust.
Bake for 25 minutes.
Let cool, then chill for at least 1 hour.
Gently warm about a tablespoon of currant jelly and whisk to liquefy. Brush berries with jelly. Cut and serve.
Recommended Products
As an Amazon Associate and member of other affiliate programs, I earn from qualifying purchases.
Nutrition Information:
Yield:
16
Serving Size:
1
Amount Per Serving:
Calories: 166
Total Fat: 9g
Saturated Fat: 5g
Trans Fat: 0g
Unsaturated Fat: 3g
Cholesterol: 37mg
Sodium: 80mg
Carbohydrates: 19g
Fiber: 0g
Sugar: 13g
Protein: 2g
Note: This post may contain affiliate links; view
my Disclosure Policy
for details. I earn a small percentage from any purchase you make by clicking on these links at no extra cost to you.