Berry Tiramisu with Grand Marnier
This spectacular Berry Tiramisu is a twist on the most iconic Italian dessert! With ladyfingers, ripe strawberries, and Grand Marnier, every bite is divine!!
This Tiramisu Recipe was devoured quickly! With the hubby steering clear of coffee or coffee-flavored anything, traditional tiramisu rarely makes our menu. Thankfully, this dessert was a huge hit for the whole family.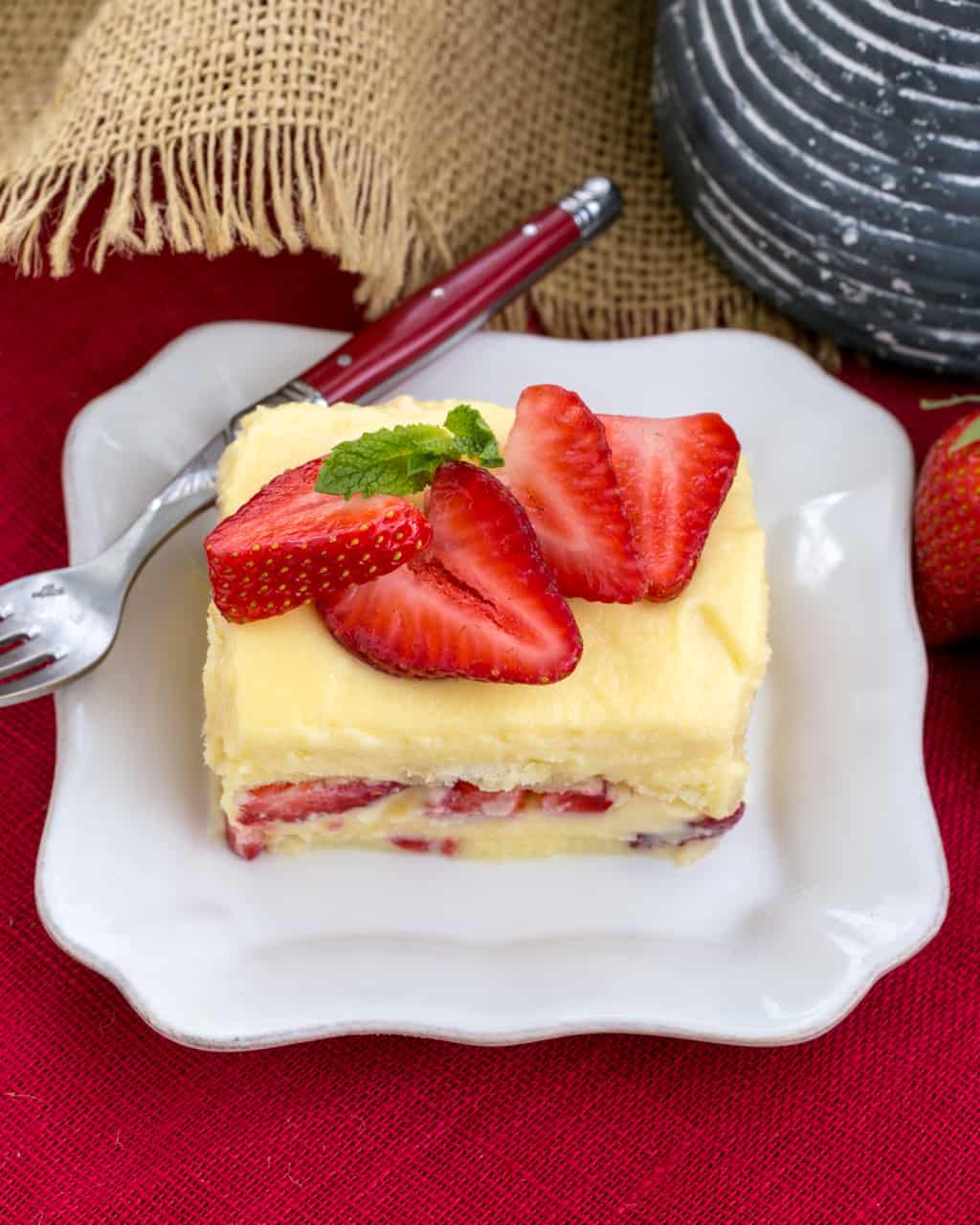 Why You Must Make
My oldest son and I are incredibly fond, to put it mildly, of the classic tiramisu. He's become a coffee aficionado and has espresso each morning to start the day. This love of coffee easily rolled from a morning pick-me-up to the dessert realm. He followed my lead. But dear old Bill would rather have an Oreo than even one bite of a luscious classic tiramisu, so I had to get creative.
This twist on tiramisu is perfect for spring and summer when fresh berries are at their peak.
Cool, no-bake desserts are terrific when it's too hot to turn on the oven.
If you have friends or family who don't like the flavor of coffee or coffee desserts, this recipe is a nice alternative.
Dipping the ladyfingers in a Grand Marnier syrup, made with my favorite orange liqueur, gave a subtle boozy undertone plus the custard mixed with whipped cream and mascarpone cream was to.die.for.
We are huge fans of no-bake berry desserts like my tempting Strawberry Cheesecake Trifle, so why not a berry tiramisu???? So strawberry tiramisu came to mind.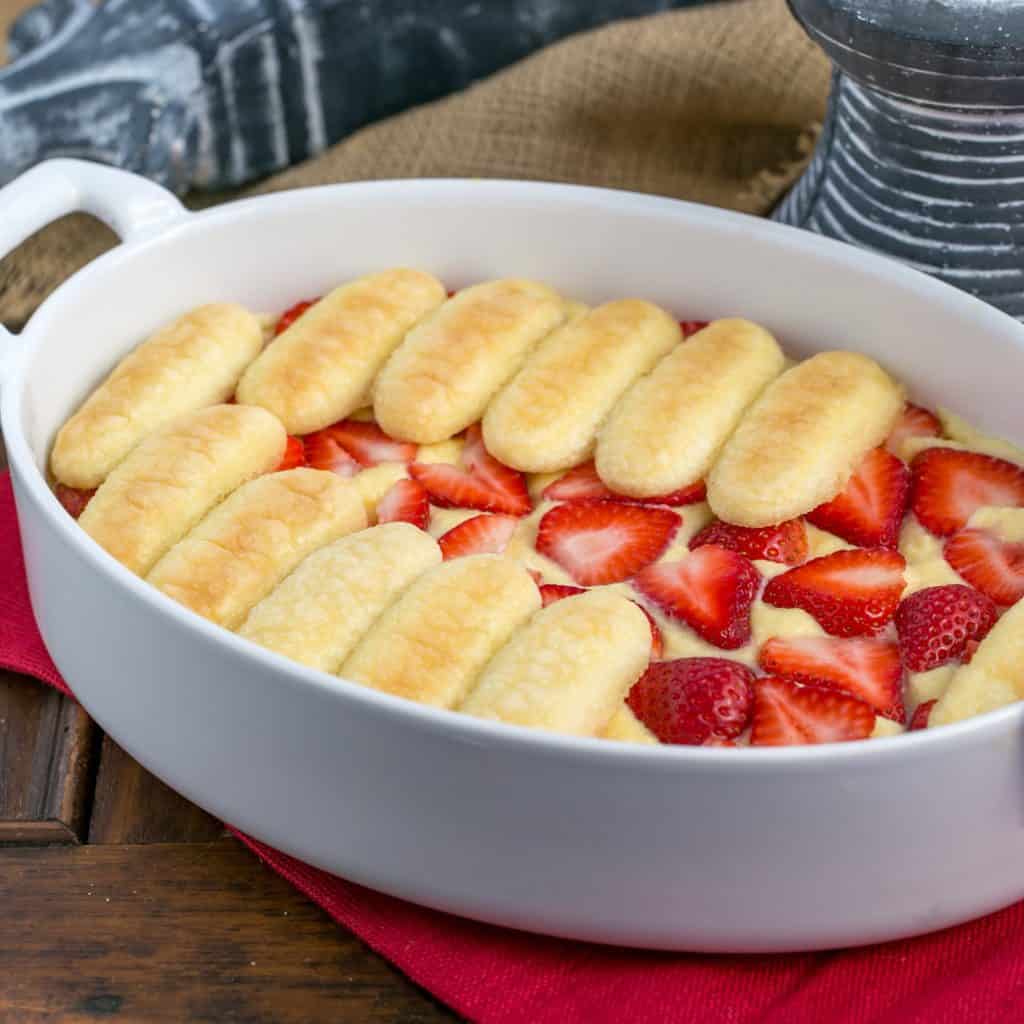 Ingredient Notes
Kitchen Staples – Sugar
Grand Marnier – An orange liqueur. May use Cointreau or Triple Sec instead if that's what you have on hand.
Egg Yolks – Separate when cold to minimize breakage
Heavy Cream – Should be at least 36% butterfat
Mascarpone Cream – Have it at room temperature for easier incorporation
Vanilla Extract – Real not imitation.
Ladyfingers – Use the sponge cake variety that's often found in the bakery section of your market.
Strawberries – Should be without green or soft spots, vibrant in color with a sheen, and fragrant. Hull and slice.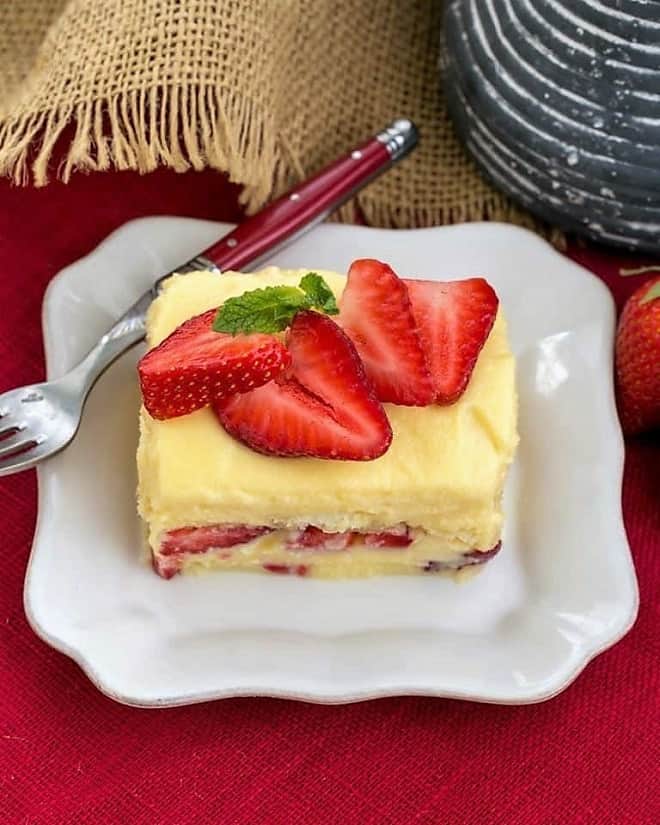 Expert Tips
Obviously, this berry tiramisu is not a traditional version. But many of the same tips for making a true Italian tiramisu also apply to this dessert.
PRO-Tip: Have your mascarpone at room temperature. It will mix into the custard more easily if not cold.
When whisking the egg yolks in the double boiler, give them your full attention. You do not want any egg yolk bits to cook/scramble as this will prevent a smooth custard.
Grand Marinier is an orange liqueur that works well with strawberries. Feel free to substitute another favorite liqueur or liquor to enhance your sugar syrup if desired.
There are two different kinds of ladyfingers available. The ones I used were soft, like a sponge cake. The Italian version is hard, more like a biscuit or cookie. Either works, but I prefer the softer version as it will soak up liquid more quickly.
PRO-Tip: Quickly dip the ladyfingers into the sugar syrup. One side, then the other. You do not want soggy ladyfingers or your tiramisu will not have any structure.
Chill your strawberry tiramisu at least 2 hours before serving so that all the flavors have a chance to infuse into the dessert components. Traditional tiramisu is usually garnished with cocoa powder or finely grated chocolate. Sliced strawberries are perfect for this berry tiramisu.
How to Serve
I was awfully ambitious when I thought I could get neat squares of strawberry tiramisu out of the serving dish. Forget about it and just scoop up large spoonfuls onto dessert plates. Top with a few more strawberry slices and voila, an elegant, unforgettable grand finale to your meal.
I tried to make a fancy-schmancy fruit arrangement on top—pretty, yes. Practical, no! This made cutting quite a challenge.
I also brushed the berries with a little currant jelly to give them a sheen, but that's totally optional. Shake up the berries as you like. I'm still thinking about a raspberry version.
Frequently Asked Questions
What is in a Traditional Tiramisu?
Tiramisu is a popular layered Italian dessert composed of layered ladyfingers dipped in coffee, a mixture of mascarpone and zabaglione (an Italian custard composed of Marsala, eggs, and sugar), and cocoa powder.
There have been many variations developed throughout the years, like my non-traditional strawberry tiramisu.
How Do You Store Tiramisu?
Due to the custard in the recipe, tiramisu must be kept in the refrigerator. Keep it covered and consume within 3-4 days. Though traditional tiramisu can be frozen, this version does not freeze well.
What Can You Substitute for Ladyfingers in Tiramisu?
I like using soft ladyfingers, but the harder savoriardi will work, too. If you don't have access to either, you can use pound cake or sponge cake sliced into ladyfinger-sized pieces.
Can You Use Other Berries in this Recipe?
Yes! Strawberries work nicely because they can be sliced and will lay flat over the custard. Other berries like blueberries, blackberries, and raspberries would be delicious options.
Just make sure they're sweet and flavorful. You can adjust the liqueur to match the berry flavor, too.
You May Also Like:
Stay in touch through social media @ Instagram, Facebook, and Pinterest. Don't forget to tag me when you try one of my recipes! And if you love the results, please give it a 5-star rating in the recipe card. Note: As an Amazon Associate, I earn from qualifying purchases. Visit my Amazon Store for my favorite products.
The Recipe:
Berry Tiramisu with Grand Marnier Recipe
Prep Time 45 minutes
Cook Time 20 minutes
Total Time 1 hour 5 minutes
Yield 8 servings
A berry twist on the classic Italian tiramisu.
Ingredients
Grand Marnier syrup:
1 cup sugar
¾ cup water
¼ cup Grand Marnier
Custard:
6 egg yolks
¾ cup sugar
1 ¼ cups heavy cream
1 pound mascarpone cream
2 teaspoons vanilla
To assemble:
2 3-ounce packages of ladyfingers (sponge cake variety)
16 ounces strawberries, hulled and sliced
Instructions
Make Grand Marnier syrup by combining sugar and water in a saucepan and heating, stirring occasionally, till sugar is dissolved. Add Grand Marnier and cool to room temperature.
Heat egg yolks and the ¾ cup sugar in a double boiler, whisking constantly until thick and doubled in volume. Remove from heat and continue whisking for a minute or so. Set aside.
In a large bowl, beat the heavy cream, mascarpone, and vanilla till thick and smooth. Add the yolks and fold together till well combined. Set aside.
Separate ladyfingers and dip, one at a time, into the syrup and lay on the bottom of a medium-sized baking dish. Layer with half the custard, then arrange about ¾ of the strawberry slices over the custard.
Repeat with a second layer of soaked ladyfingers (you may have a few leftovers depending on the size of your dish), then top with the remaining custard. Garnish with remaining strawberries or reserve to top individual servings. Chill for 2 hours before serving.
Scoop out spoonfuls of tiramisu to serve (I tried slicing, but it was quite a challenge!).
Notes
Total time does not include chilling time.
You might need an extra package of ladyfingers depending on the size of your serving dish.
Helpful Tools (As an Amazon Associate and member of other affiliate programs, I earn from qualifying purchases).
Nutrition Information:
Yield:
8
Serving Size:
1
Amount Per Serving:
Calories: 695
Total Fat: 46g
Saturated Fat: 27g
Trans Fat: 1g
Unsaturated Fat: 15g
Cholesterol: 309mg
Sodium: 297mg
Carbohydrates: 64g
Fiber: 1g
Sugar: 49g
Protein: 8g
Note: This post may contain affiliate links; view
my Disclosure Policy
for details. I earn a small percentage from any purchase you make by clicking on these links at no extra cost to you.