Individual Tiramisu Parfaits
Individual Tiramisu Parfaits are a multi-layered version of the classic Italian dessert. An easy, luscious no-bake recipe that will have everyone swooning after their first bite. And as a bonus, no one has to share!!
This Easy Tiramisu Recipe is flavored with coffee, Kahlua, and Frangelico for a trifecta of deliciousness! Plus the creamy mascarpone and eggs give a rich, dreamy mouthfeel that can't be rivaled!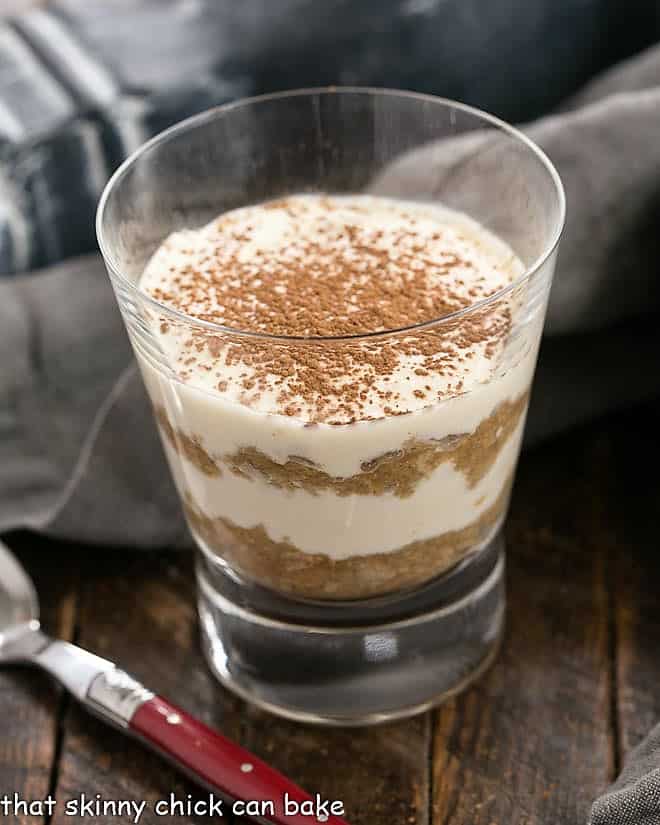 Why You Must Make
You get your own, personal tiramisu that you don't have to share!
Served in a glass, all the delicious layers are visible, making a pretty presentation.
With a double dose of liqueur, it's one of the tastiest tiramisus you'll ever eat!
I was watching an episode of The Chew a few years ago. A mother and daughter had a Tiramisu showdown. The mom shared her traditional Italian version and her daughter showcased a more modern twist.
I recreated the winner's updated, easy tiramisu recipe. Using the harder, more cookie-like ladyfingers, called savoiardi, was new for me. I tend to go for the soft spongecake like ladyfingers. I also loved her addition of Kahlua and Frangelico liqueurs. Plus the daughter's layered presentation was definitely more enticing than the typical dish of tiramisu sprinkled with cocoa powder.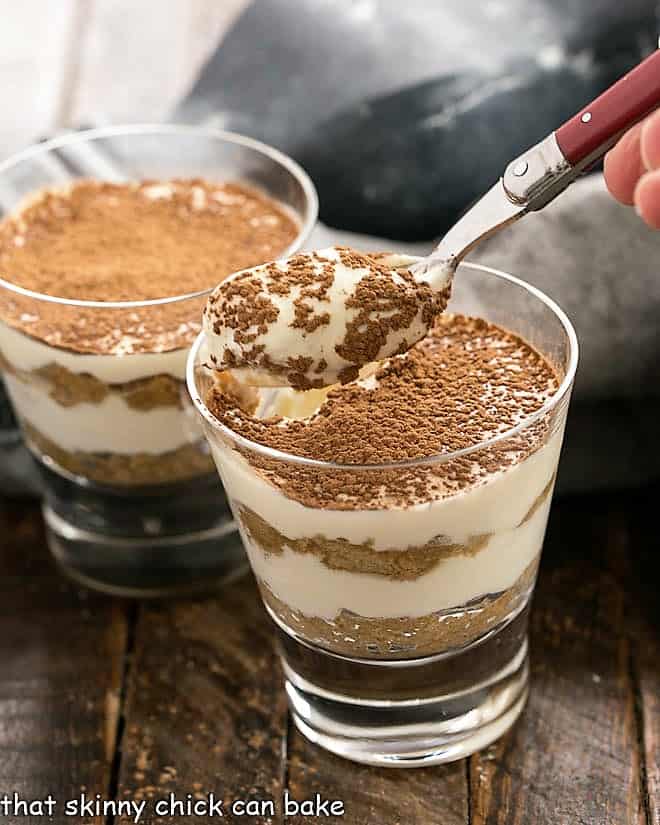 How to Make
There are four components of a traditional tiramisu: the sponge cake or ladyfingers, the soaking liquid, the mascarpone cream, and the chocolate topping. Since this parfait recipe is served in pretty glasses, it's nice to double the layers of traditional tiramisu.
Layer half of the crushed, hard Savoiardi ladyfingers soaked in milk, Kahlua, coffee, and sugar among glasses.
Next, layer half of the creamy mascarpone cream mixture over the ladyfingers.
Then repeat both layers before finishing off with a dusting of cocoa powder, although grated chocolate is a terrific alternative, too!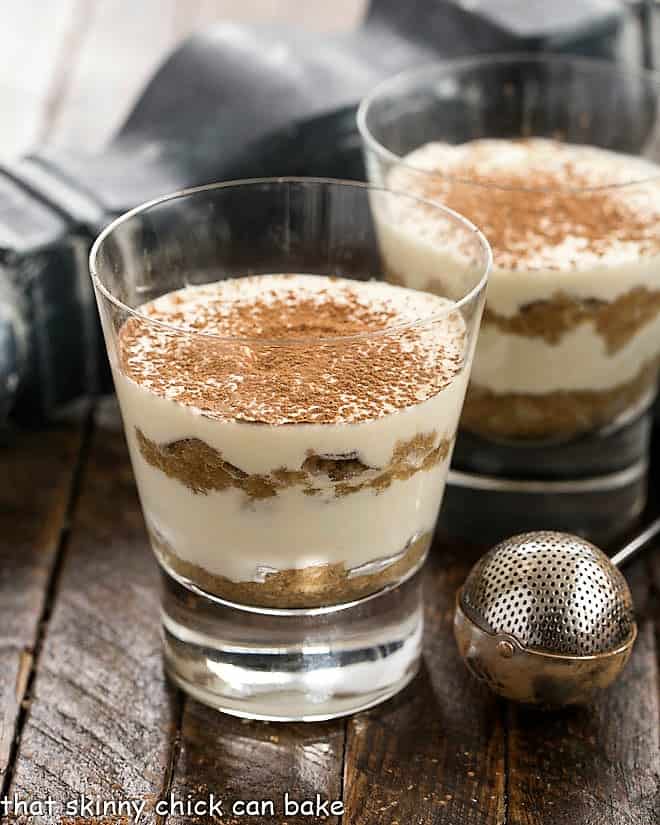 Frequently Asked Questions
What Is Tiramisu?
You may have eaten this Italian classic dessert when dining out, but do you know what tiramisu means in Italian? According to my Food Lover's Companion, it translates to "carry me up" or "pick me up." Often, the assumption is that the "up" is heaven!
Traditionally, tiramisu is made of ladyfingers soaked in a marsala and coffee mixture, then layered with mascarpone cream and topped with grated chocolate or cocoa. It's also referred to as an Italian trifle, though purists feel tiramisu is much lighter than a trifle.
What Is a Parfait?
Now that you know what makes up a tiramisu, you might wonder what makes a dish a parfait. Well, parfaits are served in tall and narrow-footed "parfait glasses," to showcase a beautiful dessert.
In the US, parfaits mean an ice cream sundae, layered with whipped cream, nuts, and even a cherry topper. In France, parfait translates to perfect and refers to a frozen custard often flavored with fruit. Now nearly any dessert can be a "parfait" if served in a tall-footed glass.
How Do You Make a Safe Tiramisu?
You may know that eating raw eggs puts you at risk for a foodborne illness called salmonella. Hunt down some pasteurized eggs that are gently heated to 140 degrees before being packaged to kill any bacteria. Pasteurized egg whites are harder to whip, but be patient. You do not want to feed uncooked eggs to those with compromised immune systems, the very young, or the elderly. Or try my Tiramisu Recipe that's made without raw eggs.
How Do You Pasteurize Eggs at Home?
If you have a burner that can keep your water at 140º for 3 minutes, you can pasteurize your eggs at home. This must be done with a very accurate thermometer as over 142º can cook the eggs. And a lower temperature will not kill salmonella. I have done this using my Instant Read Digital Thermometer (affiliate link).
You May Also Like:
Stay in touch through social media @ Instagram, Facebook, and Pinterest. Don't forget to tag me when you try one of my recipes! And if you love the results, please give it a 5-star rating in the recipe card. Note: As an Amazon Associate, I earn from qualifying purchases. Visit my Amazon Store for my favorite products.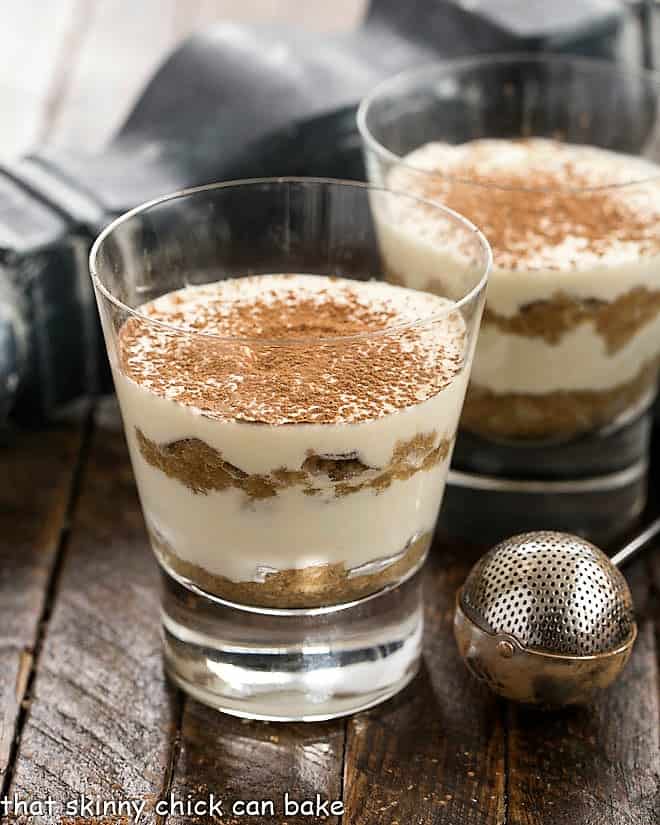 The Recipe:
Individual Tiramisu Parfaits
Prep Time 20 minutes
Total Time 20 minutes
Yield 8 servings
A luscious, layered version of a classic Italian dessert. Everyone gets one of their own mini desserts.
Ingredients
24 lady fingers, crushed (use the harder biscuit lady fingers instead of the sponge cake lady fingers)
1/4 cup milk
1 1/2 cups coffee
3 tablespoons Kahlua (or any coffee liqueur), divided
2 eggs, separated
5 tablespoons sugar, divided
9 ounces Mascarpone cheese
3 tablespoons Frangelico (or any hazelnut liqueur)
Cocoa powder, to serve
Instructions
Mix together milk, coffee, 2 tablespoons Kahlua and 4 tablespoons of sugar in a bowl. Add the crushed ladyfingers to soak.
Beat together egg yolks and remaining tablespoon of sugar. Add the mascarpone cheese, remaining Kahlua and Frangelico.
With a hand or stand mixer, whip egg whites until stiff peaks form, then gently fold into the mascarpone mixture.
Spoon half of the soaked ladyfingers between small glasses (mine were about 5 ounces each), then top with a layer of the mascarpone mixture. Add a second layer of the soaked lady fingers and top with more mascarpone mixture Smooth tops. Cover each with a dusting of cocoa powder. Refrigerate for at least 3 hours before serving.
Notes
Recipe adapted from The Chew
Recommended Products
As an Amazon Associate and member of other affiliate programs, I earn from qualifying purchases.
Nutrition Information:
Yield:
8
Serving Size:
1
Amount Per Serving:
Calories: 334
Total Fat: 19g
Saturated Fat: 10g
Trans Fat: 0g
Unsaturated Fat: 7g
Cholesterol: 164mg
Sodium: 210mg
Carbohydrates: 31g
Fiber: 0g
Sugar: 11g
Protein: 7g
Note: This post may contain affiliate links; view
my Disclosure Policy
for details. I earn a small percentage from any purchase you make by clicking on these links at no extra cost to you.