Classic Tiramisu Recipe
Italian for "pick me up," a Classic Tiramisu Recipe is an espresso and booze-flavored dessert made with mascarpone, cream, and ladyfingers. A topping of grated chocolate is just one more sublime component.
I've made a lot of tiramisus and this version is one of the Best Tiramisu Recipes!

Why You Must Make
It's rich and creamy as you'd expect for a top-tier tiramisu recipe.
The eggs are gently cooked in a double boiler before being used in the custard. This makes for a safer-to-eat tiramisu than one with raw eggs.
If you're having an Italian-themed dinner, this easy tiramisu recipe is perfect!
How to Make Tiramisu:
Make the custard using a double boiler.
Whip the cream and fold it into the custard.
 Make the espresso dipping liquid for the ladyfingers.
Dip half the ladyfingers (front and back) and a layer on the bottom of the dish.
Top with half the mascarpone custard.
Dip the rest of the ladyfingers.
Repeat the layering.
Refrigerate for 6 hours or longer.
Dust with finely grated chocolate before serving.
Copycat Tiramisu Recipe
The inspiration for this recipe came from Romano's Macaroni Grill of all places. We were on a family trip to Vancouver and I had a bite of my oldest son's tiramisu. I may have eaten half of his portion!! When I returned home, I was certain that Google would produce this tiramisu recipe in seconds. No such luck. All I found was the scary calorie count (you don't want to know!) of said dessert. So since Tom and I are both fans of coffee desserts, I figured I could do a few test runs to find the perfect copycat recipe of my own.
The first, a supposed recipe from their sister restaurant, The Olive Garden, fell short. The flavor was nice, but the ratio of mascarpone filling to ladyfingers was off and it was slightly too soupy to cut nicely. Phooey. But some simple tweaks like decreasing the mascarpone and cream plus adding more vanilla and a slosh of rum to the dipping liquid and the filling helped immensely!
Plus this classic tiramisu does not contain raw eggs, so less risk except to the waistline!
Expert Tips
Have all your ingredients at room temperature for easier mixing and incorporation.
Use full-fat mascarpone.
Do not overbeat the mascarpone cheese as it could curdle or separate.
Do not soak the ladyfingers until they are soggy. You want some liquid absorption, but if they're too wet, they'll fall apart. Dip one side, flip and dip the other side. If you have extra ladyfingers, do a test run to make sure your dipping doesn't make them too wet or even not wet enough.
This recipe uses the hard, biscuit-like ladyfingers called Savoiardi. If you use sponge cake like ladyfingers, you may need some additional dipping liquid.
Use different liqueurs. Kahlua is great to echo the coffee flavor from the espresso, but other ideas include Baileys Irish Cream, Amaretto, etc.
Allow it to chill for at least 6 hours before serving as this will help the custard thicken properly. 
This recipe is different than the typical tiramisu recipes as it heats the eggs to minimize the chance of a foodborne illness. This tiramisu is safer for the very young, elderly, and immune-suppressed. If you are going to serve this to anyone in the at-risk population, use a thermometer to check that the custard temperature reaches 160° F, the temperature needed to kill salmonella.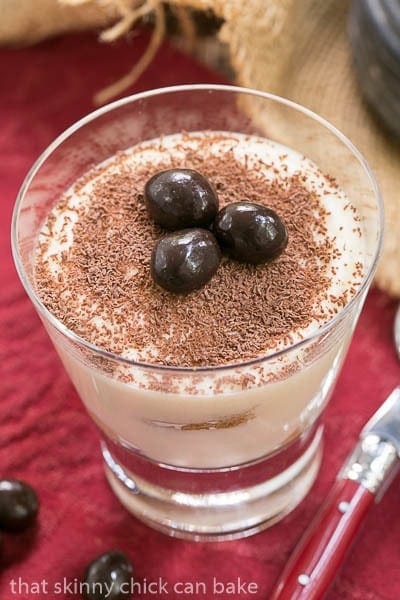 Frequently Asked Questions
What is in a Traditional Tiramisu Recipe?
The main ingredients include sponge cake or ladyfingers, a coffee-marsala mixture, a mascarpone layer, plus grated chocolate.
Did the Original Tiramisu Recipe Contain Alcohol?
Yes, Marsala wine was used in the custard as well as the soaking liquid for the ladyfingers.
Why is My Tiramisu Runny?
The tiramisu may not have been chilled long enough to thicken the custard. It should be refrigerated for at least 6 hours before serving.
If you used low-fat mascarpone instead of full-fat, it won't thicken properly. Also, if you overbeat the mascarpone, it will curdle and separate adding extra moisture to the filling.
Why Isn't My Tiramisu Smooth?
If the mascarpone is over-whipped, it can curdle, making a lumpy filling.
You May Also Like:
Stay in touch through social media @ Instagram, Facebook, and Pinterest. Don't forget to tag me when you try one of my recipes! And if you love the results, please give it a 5-star rating in the recipe card. Note: As an Amazon Associate, I earn from qualifying purchases. Visit my Amazon Store for my favorite products.
The Recipe:
Classic Tiramisu
Prep Time 20 minutes
Cook Time 5 minutes
Total Time 25 minutes
Yield 9 servings
My copycat attempt of Romano's Macaroni Grill Classic Tiramisu.
Ingredients
Filling:
3 egg yolks
1 tablespoons dark rum
1/2 cup sugar
1 cup mascarpone cheese
1 teaspoon vanilla
3/4 cup heavy cream
20-24 ladyfingers (I used a 7-ounce package of Savoiardi biscuit-type ladyfingers)
Soaking liquid:
1/2 cup cold espresso
1/4 cup Kahlua
1 tablespoon sugar
1 tablespoon dark rum
1 teaspoon vanilla
Garnish:
Grated semisweet chocolate
Instructions
In the top of a double boiler (or rig your own by placing a heat safe bowl over a pan of barely simmering water), whisk together egg yolks, rum and sugar.
Cook over simmering water while beating with a hand mixer till mixture triples in size, about 5 minutes.
Remove pan with egg mixture from heat, mix in mascarpone and vanilla and set aside to cool slightly.
Whip cream to stiff peaks, then fold about a third into the egg mixture to lighten. Add the rest and gently fold till combined.
Combine espresso, Kahlua, sugar, rum, and vanilla in a shallow dish (I used a Pyrex pie plate).
Dip half of the ladyfingers very quickly into the coffee, and arrange on bottom of 8 x 8-inch pan (you may need to break a few to fit in the pan).
Spoon half the mascarpone mixture over ladyfingers and smooth the top. Repeat with the rest of the ladyfingers and top with the remaining filling.
Cover with a layer of plastic wrap and refrigerate for at least 6 hours. Dust top with grated semisweet chocolate, then cut into squares to serve.
Notes
If you use soft ladyfingers, you may need to increase the soaking liquid.
Nutrition Information:
Yield:
9
Serving Size:
1
Amount Per Serving:
Calories: 513
Total Fat: 36g
Saturated Fat: 20g
Trans Fat: 1g
Unsaturated Fat: 12g
Cholesterol: 217mg
Sodium: 271mg
Carbohydrates: 38g
Fiber: 1g
Sugar: 19g
Protein: 7g
My search for the perfect classic tiramisu recipe all started after a family holiday to Vancouver, British Columbia. My family relocated to this breathtakingly beautiful, cosmopolitan Canadian city when my dad took a year's sabbatical at UBC. I learned to say about as "aboot," been as "bean," as well as spent the winter weekends skiing on Grouse Mountain and summers at Kits beach or sailing on English Bay. Bill and I had traveled to Vancouver as newlyweds, but we brought the whole family a few years back.
The hubby and I dined at the famed, but now defunct, Lumiere, where Bill will always remember the chocolate cake with beets with disdain. But my most memorable dessert was the classic tiramisu at Romano's Macaroni Grill (I had no clue it was a chain as it was in a charming old home!) The tiramisu portion was huge, creamy, luscious, and richer than any I'd ever eaten. Truth be told, it was my son Tom's dessert, but he was kind enough to let me sample spoonful after spoonful. I rarely order dessert, just politely mooch.
Note: This post may contain affiliate links; view
my Disclosure Policy
for details. I earn a small percentage from any purchase you make by clicking on these links at no extra cost to you.