Mocha Ice Cream with Marshmallow Cream Sauce
Luscious Mocha Ice Cream topped with a pillow of fluffy homemade marshmallow cream sauce makes for one dreamy sundae.
When the weather heats up, ice cream is the answer!! Cool, luscious and perfect for a quick, delicious dessert, this ice cream is terrific in a cone, or add some marshmallow cream sauce and make an excellent mocha ice cream sundae!
Why You Must Make
Mocha Ice Cream with Marshmallow Sauce is a scrumptious pairing!
If you like coffee ice cream, you'll also love this ice cream.
It's the perfect treat on a toasty summer day!
Ingredient Notes
Kitchen Staples – Sugar, Egg Yolks, Salt
Semisweet Chocolate
Coffee – Use leftover morning coffee or make some instant coffee
Heavy Cream – 36% Butterfat
Half and Half – 10-12% Butterfat
Instant Coffee
Egg Yolks and Egg White
Light Corn Syrup – I use Karo brand
Powdered Sugar – Sift to remove small lumps.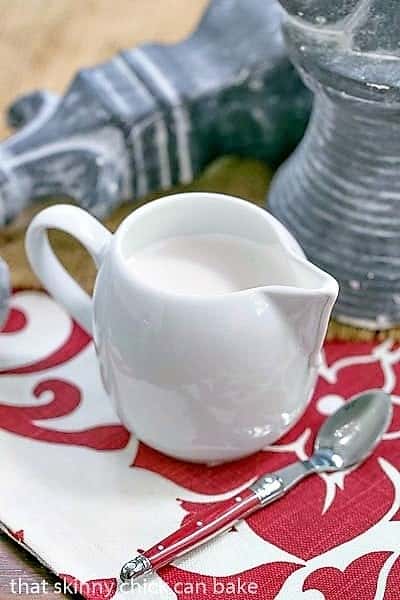 I ♥ Coffee Desserts
I gave up coffee years ago after overdosing as a sleep-deprived new mom. A nap was the solution, not caffeine. So I now get my coffee fix with ice cream, gelato, and tiramisu. A good compromise, right? So when I discovered that this month's Progressive Eats theme was an ice cream party, I decided to create a mocha ice cream.
I thought that maybe the coffee-avoiding hubby would focus on the chocolate flavor and not the coffee. Yeah, it didn't fly, but I also enlisted the help of my trusted stand mixer and made some homemade marshmallow sauce. I knew he'd like that. Splendid on my mocha ice cream, it was just as delectable on chocolate.
Homemade Marshmallow Cream Sauce
My kids (and dogs) all love marshmallows. Me, not so much. But some marshmallow sauce on an ice cream sundae? Yes, please. Go ahead and drizzle on a little hot fudge, too, for good measure. I suppose you could throw a glob of that jarred marshmallow cream on your ice cream, but a pourable version is much more desirable.
Having a stand mixer is nice as the recipe involves a 5-minute beating period, but a hand mixer works, too. And it's terrific on mocha ice cream. REALLY terrific.

Frequently Asked Questions
What is Mocha?
With the name originating in Mocha, Yemen, mocha started out as an espresso-based drink with chocolate or even hot cocoa with a shot of espresso. The basic ingredients of mocha are espresso, milk, and chocolate. The chocolate can be milk, dark, or even white.
Alternative names for a "mocha" are caffè mocha, mocaccino, and mochachino.
Do Mocha Desserts Have Caffeine?
Since the instant coffee and semi-sweet chocolate in this recipe both contain caffeine, yes, there is caffeine in mocha desserts including this mocha ice cream. If you're concerned about caffeine intake, use decaffeinated instant coffee instead. Then the caffeine amount will be similar to chocolate ice cream.
You May Also Like: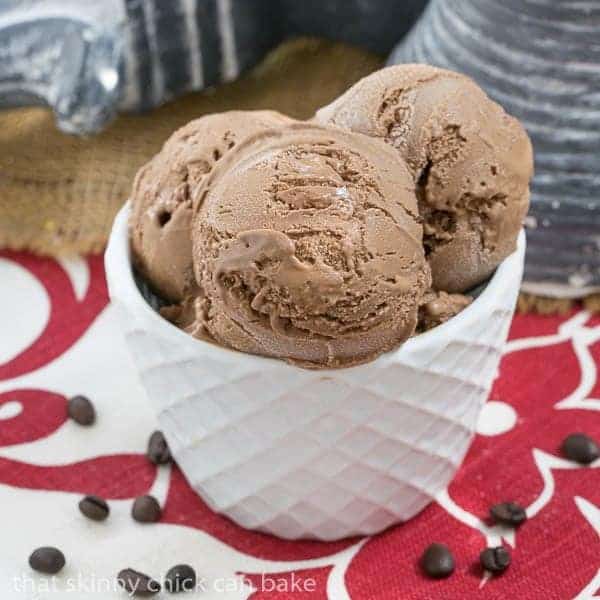 The Recipe:
Mocha Ice Cream with Homemade Marshmallow Cream Sauce
Prep Time 30 minutes
Cook Time 10 minutes
Total Time 40 minutes
Yield 5 cups ice cream
Luscious mocha ice cream topped by fluffy marshmallow sauce. Recipes adapted from Southern Living and Epicurious
Ingredients
For Ice Cream:
8 ounces semi-sweet chocolate, chopped
¼ cup coffee
2 cups heavy cream
1 cup half and half
¾ cup sugar, divided
3 tablespoons instant coffee
4 egg yolks
For marshmallow cream:
1 egg white or 2 teaspoons of powdered egg whites mixed with 2 tablespoons warm water
⅔ cup light corn syrup
½ cup powdered sugar
A pinch of salt
1 teaspoon vanilla
Instructions
Microwave chocolate in a 1-quart microwave-safe bowl at HIGH for 1 ½ minutes or until melted, stirring twice; stir in brewed coffee. Set the chocolate mixture aside.
Bring whipping cream, half-and-half, ½ cup sugar, and coffee granules to a boil in a heavy saucepan over medium-high heat, stirring until sugar and coffee dissolve.
Beat yolks and remaining 1¼ cup sugar at high speed with an electric mixer until thick and pale. With mixer at low speed, gradually pour hot cream mixture into yolk mixture; return to saucepan.
Cook over medium heat, stirring constantly, for 6 to 8 minutes or until the mixture thickens and coats a spoon. Remove from heat; stir in the chocolate mixture. Cover and chill for 2 hours.
Pour the chilled mixture into a freezer container of a 5-quart hand-turned or electric freezer. Freeze according to the manufacturer's instructions.
Pack freezer with additional ice and rock salt, and let stand for 1 hour. Serve ice cream with cookies, if desired.
To make the marshmallow sauce, whisk together powdered egg whites and 2 tablespoons of warm water in the bowl of a stand mixer until the powder is dissolved. Add corn syrup, confectioners' sugar, and salt, and beat on high speed until thick and white, 5 minutes. Beat in vanilla.
Thin marshmallow to a sauce by beating in the remaining tablespoon of warm water, or to taste.
Notes
Additional chilling and freezing times required.
Nutrition Information:
Yield:
10
Serving Size:
1/2 cup
Amount Per Serving:
Calories: 471
Total Fat: 28g
Saturated Fat: 17g
Trans Fat: 1g
Unsaturated Fat: 10g
Cholesterol: 136mg
Sodium: 73mg
Carbohydrates: 55g
Fiber: 1g
Sugar: 53g
Protein: 5g
Note: This post may contain affiliate links; view
my Disclosure Policy
for details. I earn a small percentage from any purchase you make by clicking on these links at no extra cost to you.