The Best Coffee Ice Cream
This Coffee Ice Cream recipe is the perfect summer treat for coffee lovers! Rich and luscious, you'll want seconds!
Though I don't drink coffee anymore, I can never resist a scoop of Homemade Coffee Ice Cream. This recipe will knock your socks off!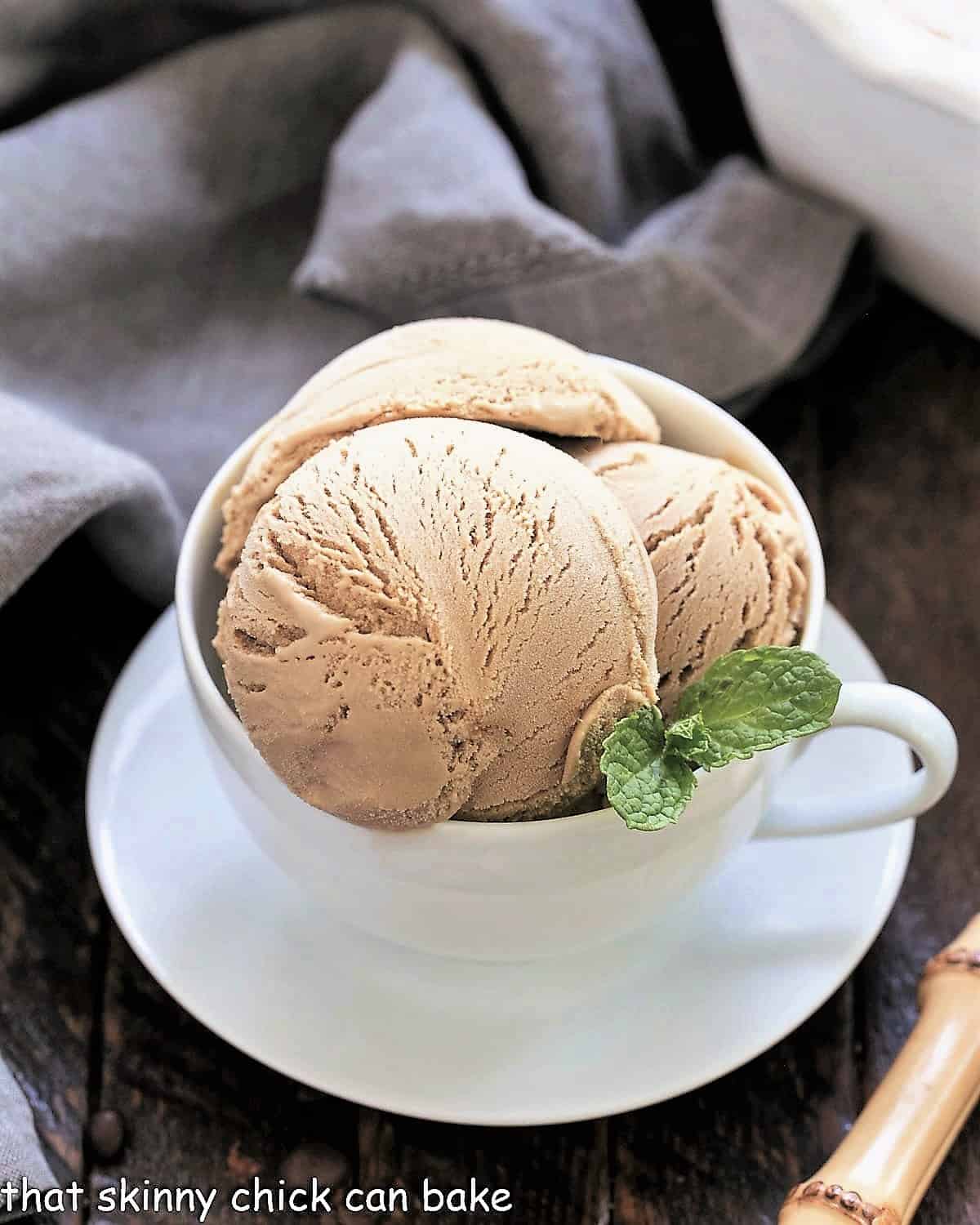 Why You Must Make
I licked the pan, I licked the ice cream processor freezing bowl, and I licked the paddle. And I don't consider myself a big fan of ice cream. But there is something I can't resist when it comes to coffee ice cream. If you're a fan of coffee desserts, you must give this a try.
Spiked with Kahlua, a coffee liqueur, and infused with 3 tablespoons of espresso powder, this ice cream recipe is a coffee lover's dream.
See below why alcohol helps make smooth and creamy ice cream!
What Readers Are Saying:
From Genevieve: I just found this recipe yesterday and made it today. WOW! This might be my favorite ice cream yet. It reminds me of the Italian coffee ice cream you find in cafes throughout Southern Italy, where they often serve it for breakfast stuffed in a brioche roll.
The only thing I changed was to replace the one tbsp of Kahlua with two tbsp of a liqueur made from cream, chocolate, coffee, and moonshine (you can't taste the alcohol at all but it helps to keep the ice cream from freezing too hard). This ice cream is amazing without garnishment, but I served it to friends with a warm chocolate sauce. I seriously had two people offer to pay me handsomely to make them each a quart to take home. Bravo!
Ingredient Notes:
Egg Yolks – Use large eggs. Save the leftover 6 egg whites to make this exquisite Chocolate Raspberry Pavlova
Heavy Cream – Must have at least 36% butterfat
Whole Milk – Adds more richness than skim or 2% milk.
Sugar – Regular white, granulated sugar
Salt – Table salt. Salt is an important component of all desserts. It's a flavor enhancer.
Instant Espresso Powder – I use Medaglia D'oro brand. May substitute instant coffee powder.
Kahlua – A coffee liqueur. Alcohol will lower the freezing point of ice cream, making it softer and creamier. It also enhances the flavor of the ice cream.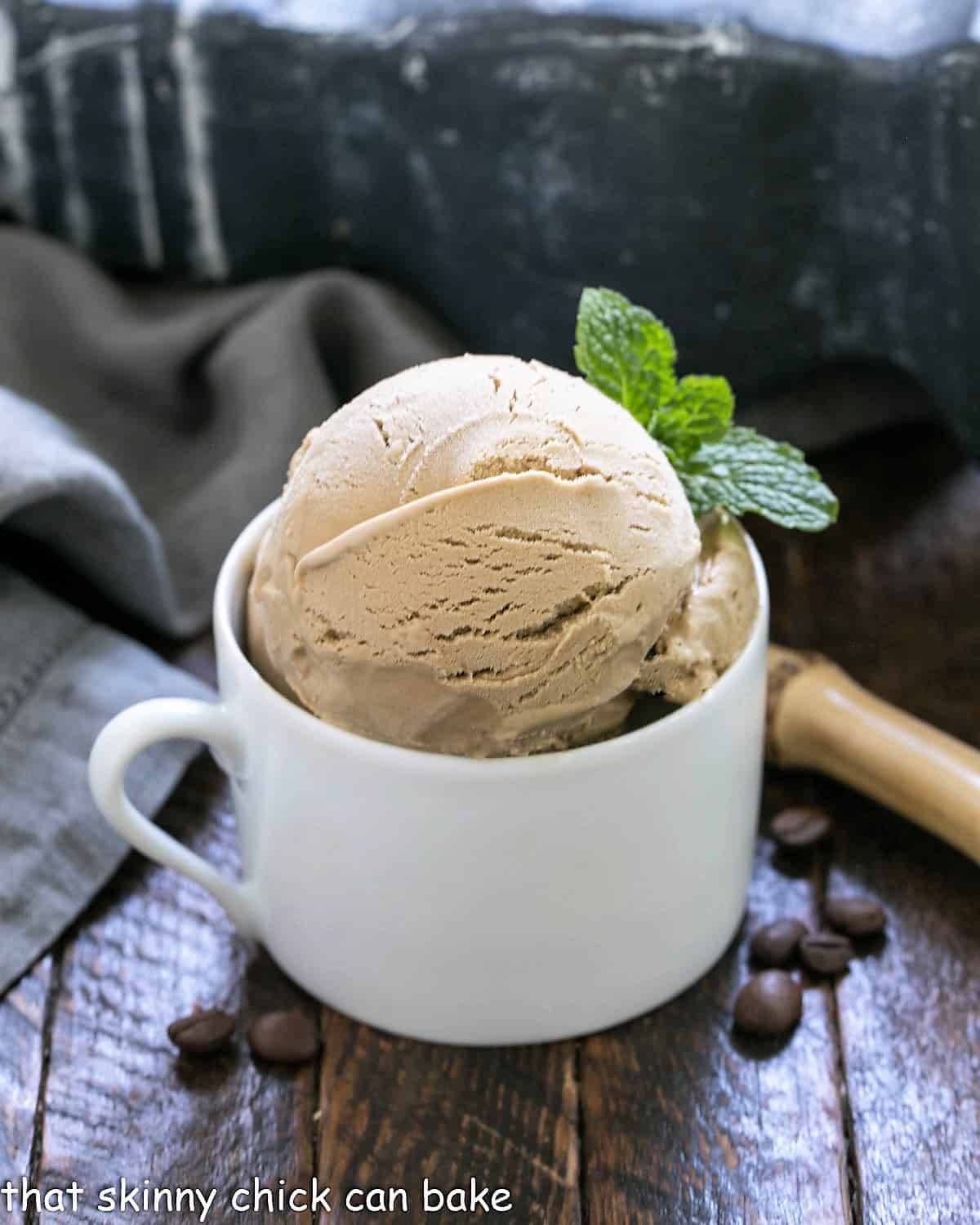 Expert Tips
This coffee ice cream is made with cooked custard. This rich cream and egg mixture needs to be dealt with carefully to ensure a smooth, luscious ice cream.
The custard should be very cold before putting it into your ice cream maker. If not cold enough, the custard won't freeze properly.
PRO-Tip: Make the custard the day before you plan to eat the ice cream, so it can rest overnight in the refrigerator. It will give it time to chill properly and for the coffee flavors to infuse into the mixture.
A hot cream mixture will be drizzled into the 6 whisked egg yolks. PRO-Tip: This needs to be done very slowly while whisking the mixture vigorously or you will get bits of cooked egg in your custard.
PRO-Tip: Adding just the right amount of alcohol (Kahlua in this case) lowers the ice cream's freezing point. This prevents ice crystals from developing and the result is smooth and creamy ice cream. Of course, you can leave it out and it will still be tasty.
An electric ice cream maker will have this ice cream at a soft-serve consistency in 20-30 minutes. If you'd like it firmer, place the ice cream into a freezer-safe container, cover it, and let it freeze for a few more hours.
Note that your ice cream canister needs to be frozen overnight or it will not freeze your ice cream properly. Believe me, I've tried and failed!
PRO-Tip: If you're worried about caffeine, use decaffeinated instant coffee instead of espresso powder. The flavor won't suffer!
This homemade ice cream recipe is flavored with espresso powder. If you'd like a less intense coffee flavor, use instant coffee instead.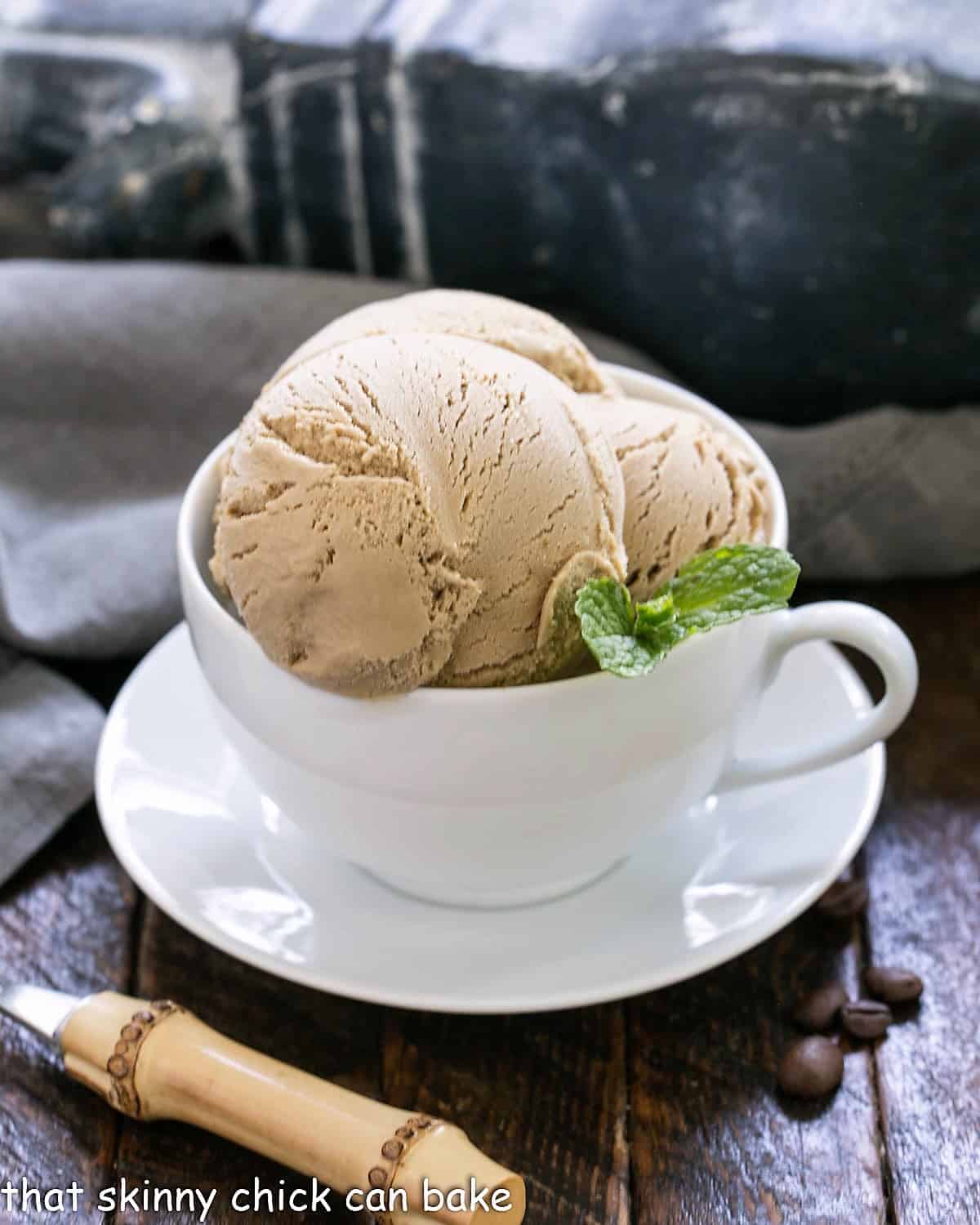 How to Make Coffee Ice Cream
Make the coffee custard.
Strain the custard to remove any tiny cooked egg particles.
Cool the custard to room temperature, then Chill.
Process in your ice cream maker.
Remove to a freezer-safe container and Freeze until firm.
Frequently Asked Questions
How Long Does It Take Homemade Ice Cream to Freeze?
It will take about 30 minutes to churn in your ice cream maker, but it also needs to go into the freezer to get firm enough to make nice scoops.

The second freeze will take 4-8 hours, but you can definitely eat it right from the ice cream maker if you're impatient or prefer a soft serve-like texture.!
How Long Does Homemade Ice Cream Last?
If it's kept airtight in the freezer, it's good for about 2 weeks. Longer than that and it will develop freezer burn. It will still be safe to eat, but not at its prime.
How Should You Store Homemade Ice Cream?
For the quality to be maintained store it as airtight as possible in your freezer. If it's in a container with a lid, make sure to place some plastic wrap over the surface.
Does Coffee Ice Cream Have Real Coffee in It? Can You Use Coffee Grounds?
This ice cream has espresso instant coffee for the coffee flavor. Often whole beans or even grounds are used to infuse coffee flavor into the cream before churning. Real coffee products like these will provide a pure coffee flavor.
How Can You Serve Coffee Ice Cream?
Top with sweetened whipped cream, caramel sauce, or fudge sauce to make an ice cream sundae. Mix in some chopped Oreos after churning and serve garnished with an Oreo. Mix in some chocolate chips after churning for a mocha experience.

Serve in an ice cream cone, a waffle cone bowl, or an ice cream sundae dish. Use it to make an ice cream pie with a chocolate cookie crust. There are numerous options!
You May Also Like
Stay in touch through social media @ Instagram, Facebook, and Pinterest. Don't forget to tag me when you try one of my recipes! And if you love the results, please give it a 5-star rating in the recipe card. Note: As an Amazon Associate, I earn from qualifying purchases. Visit my Amazon Store for my favorite products.
The Recipe:
Coffee Ice Cream
Prep Time 10 minutes
Cook Time 10 minutes
Total Time 20 minutes
Yield 10 servings
A delicious version of homemade coffee ice cream
Ingredients
6 egg yolks
1¾ cups heavy cream
2 cups whole milk
¾ cup sugar plus 2 tablespoons
1 teaspoon salt
3 tablespoons instant espresso powder
1 tablespoon Kahlua
Instructions
Put the egg yolks in a large heatproof bowl and set them aside.
In a medium saucepan, stir together the heavy cream, milk, sugar, salt, and instant espresso powder. Bring the mixture to a slow, consistent simmer (just this side of a boil) and remove from heat.
Whisk the egg yolks until just combined, then slowly stream in half of the hot coffee cream mixture while whisking constantly.
Transfer the egg mixture back to the medium saucepan containing the other half of the coffee cream mixture.
Heat over medium-low heat, stirring constantly, until the mixture is thick enough to coat the hack of a spoon (about 175 degrees on an instant-read thermometer).
Remove from heat and strain the mixture through a fine-mesh strainer into a bowl. Whisk in the Kahlua, and let the mixture cool to room temperature.
Press a piece of plastic wrap directly onto the surface of the mixture. Refrigerate for 4 hours.
Pour into an ice cream machine and freeze, following the manufacturer's directions.
Notes
Use instant coffee powder for a less intense coffee flavor.
Recommended Products
As an Amazon Associate and member of other affiliate programs, I earn from qualifying purchases.
Nutrition Information:
Yield:
10
Serving Size:
1
Amount Per Serving:
Calories: 268
Total Fat: 19g
Saturated Fat: 11g
Trans Fat: 1g
Unsaturated Fat: 7g
Cholesterol: 163mg
Sodium: 250mg
Carbohydrates: 19g
Fiber: 0g
Sugar: 19g
Protein: 4g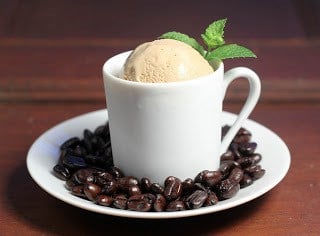 Note: This post may contain affiliate links; view
my Disclosure Policy
for details. I earn a small percentage from any purchase you make by clicking on these links at no extra cost to you.