White Chocolate Ice Cream
Pairing White Chocolate Ice Cream with delectable berries makes for a scrumptious dessert any time of year! But when temps really heat up, this luscious homemade ice cream will knock your socks off!
Break out your ice cream maker and pick up a few simple ingredients and your family will inhale their scoops of this frozen White Chocolate Dessert!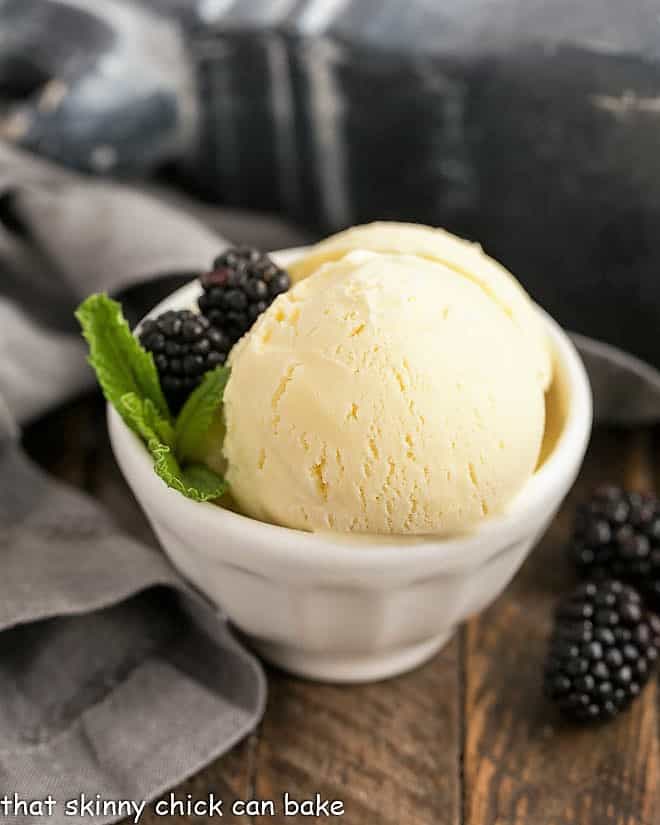 Why You Must Make
The recipe is from David Lebovitz's ice cream bible, The Perfect Scoop!
White chocolate's "delicate cocoa butter flavor" is a fabulous way to flavor ice cream.
Made with only 5 ingredients, it's a delicious way to keep cool in the summer.
Through a serendipitous turn of events, I received David Lebovitz's delightful cookbook (affiliate link), The Perfect Scoop, as a gift. Ironically, I first made this dreamy white chocolate ice cream in the middle of winter! Though my common sense called for waiting until our temperatures broke freezing before making one of his terrific ice cream recipes, my family encouraged me to drag out my ice cream maker despite the weather. This recipe was calling my name!
Needless to say, it did not disappoint. Thumbs up from even the pickiest members of the family. If you like white chocolate as much as I do, this ice cream needs to be on your must-make recipe list. I promise you'll love it.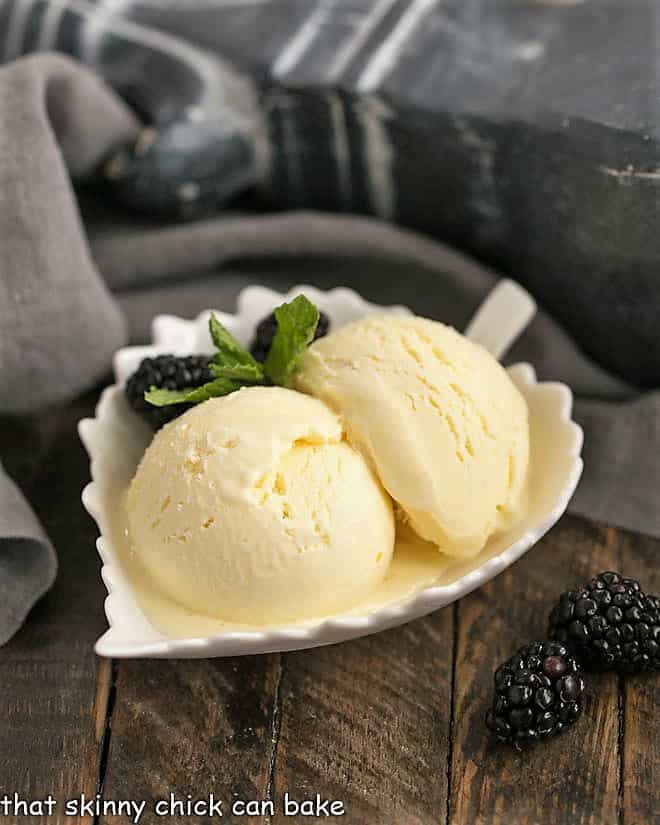 Expert Tips
The most difficult task was determining which ice cream recipe to make first. Katie and I voted for white chocolate, while Nick stood his ground choosing one of the three more traditional chocolate recipes. So I did what any good mother would do: I made both.
Eyeing the recipe often gives a clue to success. Seeing this ice cream had 5 egg yolks, heavy cream and white chocolate assured me the results would be rich and creamy!
But the process requires a little finesse or you'll end up with scrambled eggs!
First up, the vessel that came with your ice cream maker must be very cold. Make sure it's been frozen for a full 24 hours.
Store your canister in the freezer, wrapped in a plastic bag to prevent frost from developing, so that you can make ice cream anytime the desire hits you!
The directions call to heat together the milk, sugar, and salt. This hot mixture is then added to whisked egg yolks. What can happen when a hot liquid is added to raw yolks? You got it: scrambled eggs!
PRO-Tip: Though this milk mixture is supposed to be warm, not boiling hot, you still must be careful to add the milk very slowly while whisking constantly.
PRO-Tip: Not necessary, but I find it useful to transfer the heated milk mixture to a 4-cup Pyrex measuring cup. This lets you control your pour more easily.
Use a wire sieve (affiliate link) to strain this mixture. This will remove any small egg bits. But the more yolk that's incorporated into the ice cream, the better mouth feel the ice cream will have.
Refrigerating the custard (egg and cream mixture) ensures that the mixture is cold enough to solidify in your ice cream maker. Whether the flavor is enhanced or the ice cream is creamier after the long chilling time, neither has been scientifically proven.
Make sure your mixture is nice and cold before processing which may take only 6-8 hours instead of overnight. But longer is always safest.
If you're adding nuts, toffee bits, chocolate chips, etc., they don't need to be added until the ice cream is almost finished churning. Vanilla or other flavorings should be added just before churning.
Store your ice cream covered with plastic (or in a container with a tight lid) for up to 1 week.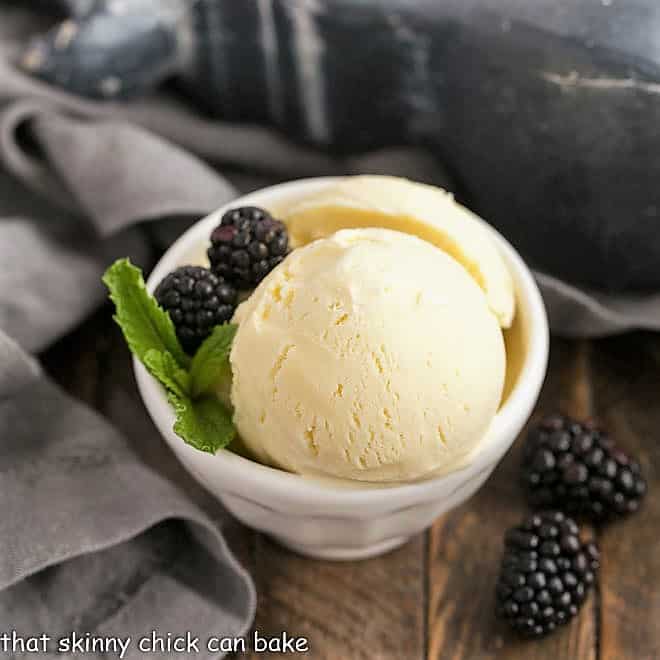 Frequently Asked Questions
Why isn't White Chocolate Considered Real Chocolate?
White chocolate is not true chocolate because unlike milk, semisweet, bittersweet, and unsweetened chocolate, it does not contain any chocolate liquor and very little chocolate flavor.
What Does White Chocolate Taste Like?
Cocoa butter and vanilla contribute flavor to white chocolate. It has a luscious texture with a subtle taste of cream and vanilla.
Why Is Alcohol Added to Ice Cream?
Adding alcohol enhances the flavor of the ice cream, but it also lowers the freezing point. The latter prevents the ice cream from freezing as solid and from developing ice crystals. The ice cream is smoother and creamier, too. Adding too much alcohol may prevent the ice cream from freezing.
I'd add Frangelico to this white chocolate ice cream since I like the flavor of hazelnut liqueur with white chocolate. A tablespoon would be plenty!
You May Also Like:
It's great fun to experiment with homemade ice cream. This white chocolate ice cream is fabulous topped with fresh berries, berry sauce, hot fudge, caramel sauce, or anything your heart desires!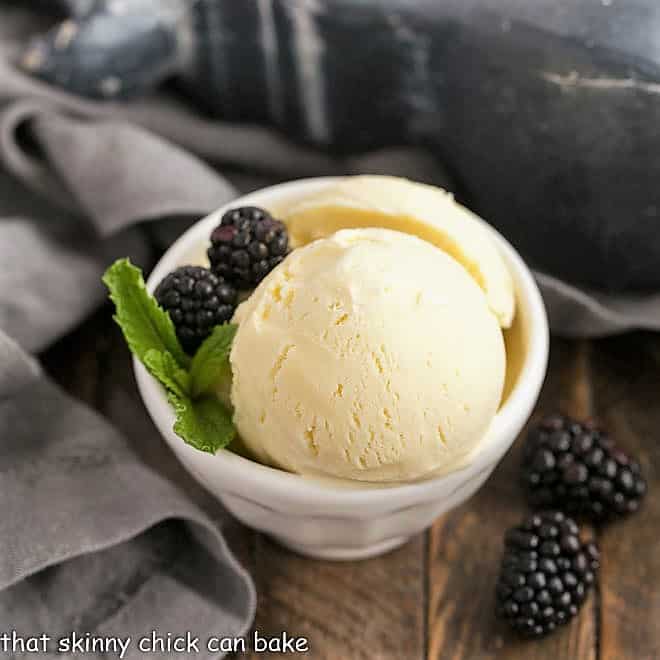 The Recipe:
White Chocolate Ice Cream
Prep Time 15 minutes
Cook Time 5 minutes
Total Time 20 minutes
Yield 1 quart
A luscious, rich ice cream flavored with white chocolate!
Ingredients
8 ounces white chocolate, chopped
1 cup whole milk
⅔ cup sugar
Pinch of salt
5 egg yolks
2 cups heavy cream
Instructions
Put the chopped white chocolate in a large bowl and set it aside.
Heat milk, sugar, and salt in a saucepan until warm to the touch.
In another bowl, whisk together the egg yolks.
Then slowly add the warm milk mixture while whisking continuously.
Return the mixture to the pan and cook until the mixture thickens.
Pour the hot mixture through a sieve onto the chocolate. Stir till the chocolate is smooth and melted. Add cream.
Refrigerate overnight or until the mixture is very cold. Pour into the ice cream maker process via the manufacturer's instructions.
When frozen, scrape into a freezer-safe container with a lid, cover, and keep in the freezer until ready to serve.
Serve with fudge sauce, raspberry sauce, or fresh berries.
Notes
Recipe adapted from David Lebovitz
Recommended Products
As an Amazon Associate and member of other affiliate programs, I earn from qualifying purchases.
Nutrition Information:
Yield:
8
Serving Size:
1 scoop
Amount Per Serving:
Calories: 473
Total Fat: 34g
Saturated Fat: 21g
Trans Fat: 1g
Unsaturated Fat: 11g
Cholesterol: 192mg
Sodium: 77mg
Carbohydrates: 37g
Fiber: 0g
Sugar: 37g
Protein: 6g
Note: This post may contain affiliate links; view
my Disclosure Policy
for details. I earn a small percentage from any purchase you make by clicking on these links at no extra cost to you.