Cake Batter Ice Cream
An ice cream that reminds you of licking the batter in your childhood kitchen? Yes, this Cake Batter Ice Cream evokes delicious memories of those forbidden tastes of cake batter, but this time, you have permission to indulge!
A copycat recipe of the Cold Stone Ice Cream flavor, the whole family decided I could make this winner again and again!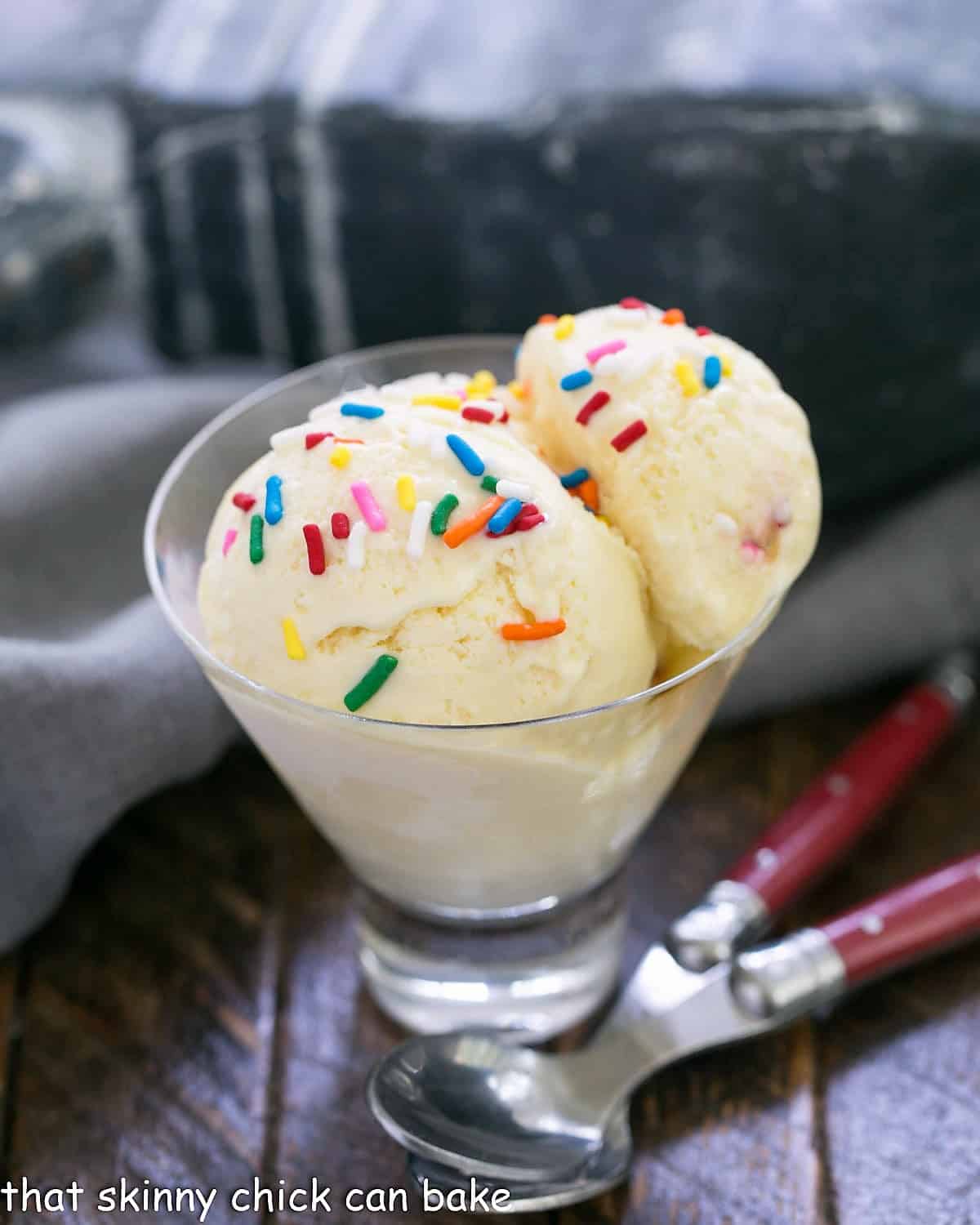 Why You Must Make
Did you all know there was such a thing as Cake Batter ice cream??? Maybe I just live in a hole. But after making this ice cream, I knew it wouldn't be the last time!
When I polled my kids on their favorite ice cream flavors, my oldest mentioned cake batter. In fact, he sent me a text with a photo of a recently eaten scoop of the stuff so I could see the color. I think it was a challenge, especially since I'd never even heard of it before, and I'm happy to say we all loved it!
Have you ever licked cake batter out of the mixing bowl (I know, I know, kind of risky!)? This safe way of enjoying that cake batter flavor will bring back those delicious memories.
It's rich, creamy, and absolutely delicious. With some sprinkle-dipped cones, it's perfect for summer birthdays or any celebration.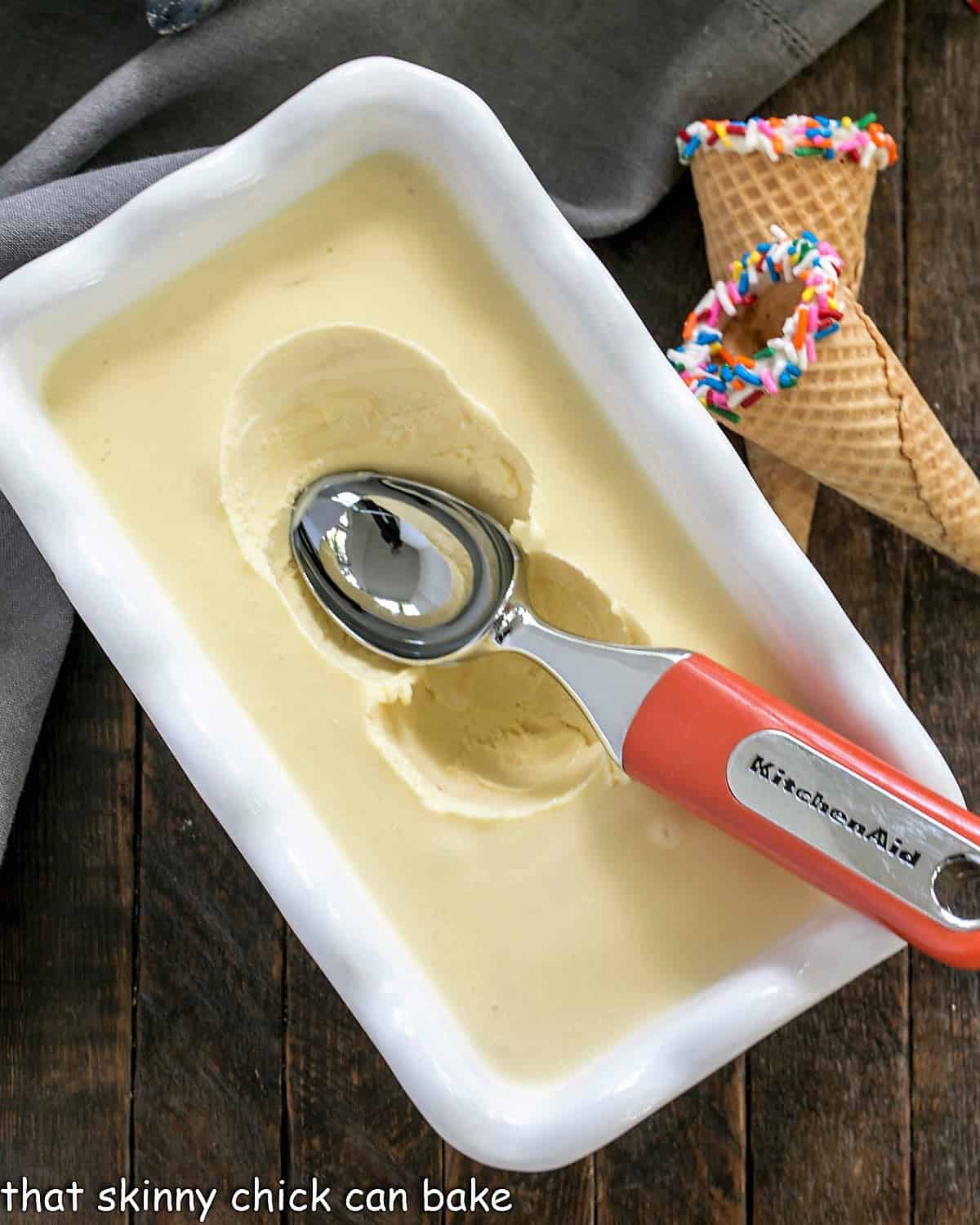 How to Make
Most of the online recipes for cake batter ice cream I located did not contain egg yolks, which I consider imperative for giving the ice cream a nice rich mouthfeel. It does require a few extra steps, but it's worth it.
You'll have to cook a custard, pour it through a sieve to remove any egg bits, then refrigerate it overnight. But don't despair as it's really worth the wait.
The flavor of cake batter comes from the dry cake mix. If you have a favorite cake mix flavor, give it a try. I find a yellow cake mix to taste artificial, so I usually go with a butter cake mix.
I also dipped my cones in melted white chocolate and then dusted the chocolate with sprinkles for a celebratory flair.
I brought a cone to my friend, Candy, who happened to have a birthday on the morning our knitting group was meeting. She was thrilled with the special treat and was nice enough to share a bite with the other gals. I'm guarding the last serving in my freezer. I need Tom to stop by and let me know if my creation is anything like the Cold Stone Creamery version.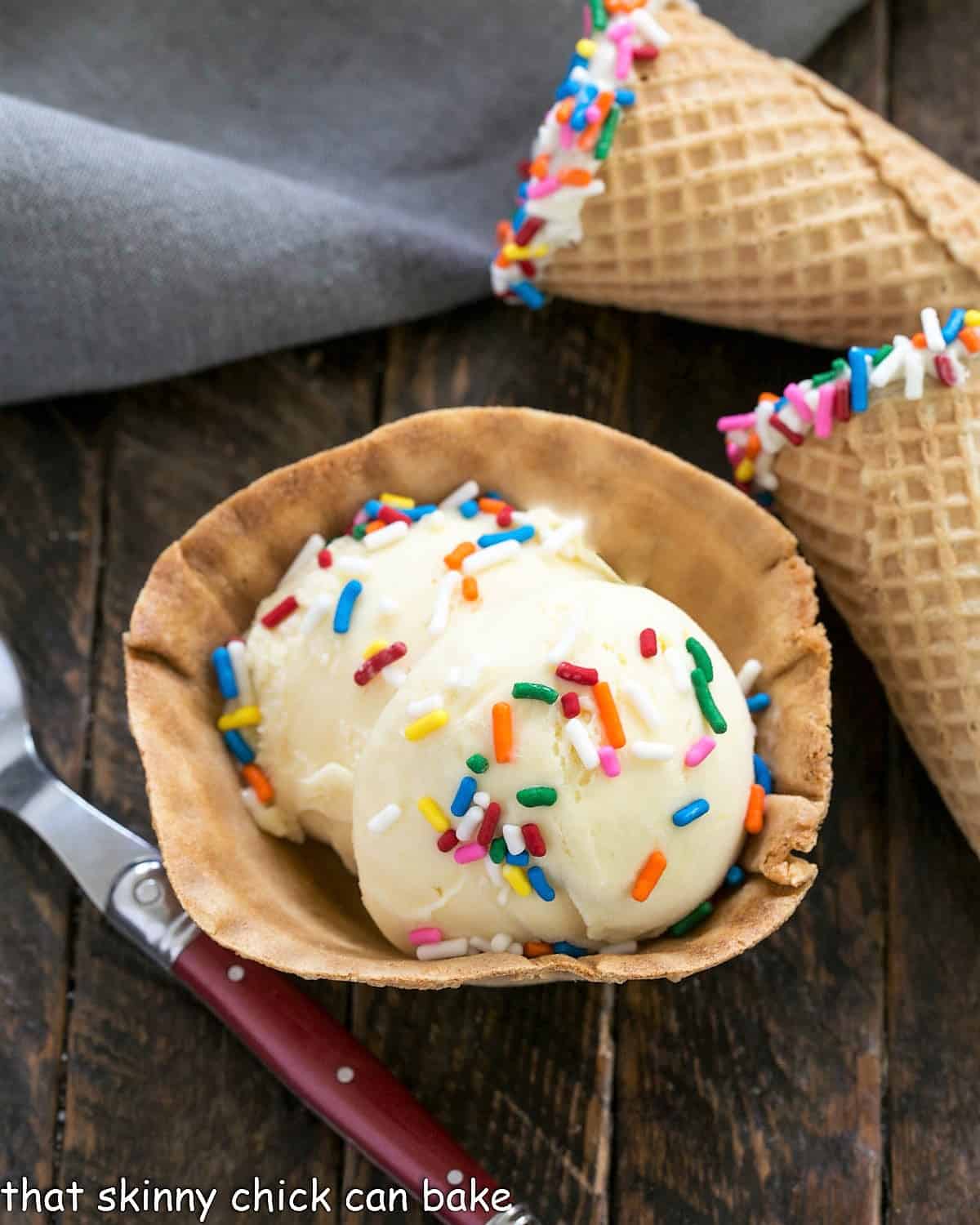 Recipe Notes:
You will be tempering your eggs in this recipe, which is a culinary term/procedure that's used in chocolate candy making. It prevents the chocolate from blooming or getting a white coating when it cools.
In this case, it's a process of slowly warming egg yolks with a bit of hot liquid so they don't scramble when they're added to the pot. Whisk the yolks constantly and pour the hot cream mixture slowly as you go through this process.
Straining the custard before freezing will remove any bits of cooked egg, but the goal is to have minimal scrambling.
Butter cake mix makes the best copycat Cold Stone Creamery Cake Batter Ice Cream.
The custard must be chilled overnight, then churned in your ice cream maker, then frozen again before serving. Make sure to allow enough time by starting the day before you want to serve it.
Frequently Asked Questions
What is Cake Batter Ice Cream?
Made famous by Cold Stone Creamery, this ice cream is a rich vanilla custard flavored with either a couple of scoops of cake mix or cake mix extract. These add a distinctive "cake" flavor. The cake batter extract made by McCormick will provide a similar taste.
What Flavor is Cake Batter?
Cake Batter flavoring is a combination of vanilla and butter, trying to mimic the flavor of a vanilla or yellow cake.
How Do You Decorate Ice Cream Cones?
ave some chopped white or dark chocolate or chocolate chips in a bowl. Dip the top of the cones into the chocolate, let the excess drip off, then dip them into a bowl of any kind of sprinkles, and let them dry. Alternatively, you can dust the dipped cones with sprinkles.
Vary the colors and shapes of your sprinkles depending on the occasion. Red, white, and blue for the 4th of July, rainbow colors for a birthday celebration, etc.
You May Also Like:
Stay in touch through social media @ Instagram, Facebook, and Pinterest. Don't forget to tag me when you try one of my recipes! And if you love the results, please give it a 5-star rating in the recipe card. Note: As an Amazon Associate, I earn from qualifying purchases. Visit my Amazon Store for my favorite products.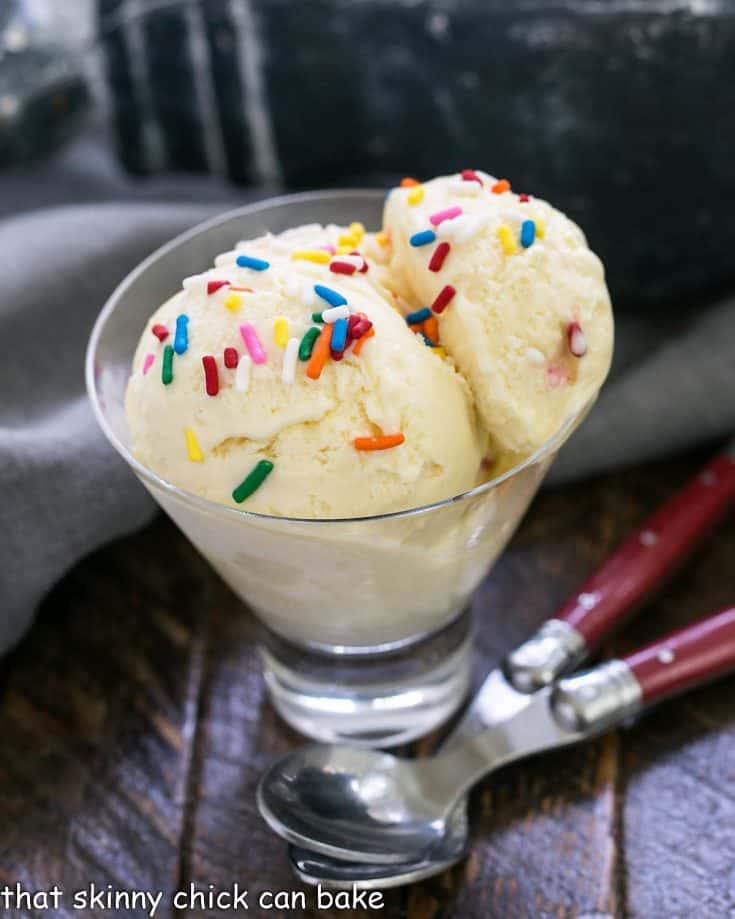 The Recipe:
Cake Batter Ice Cream Recipe
Prep Time 20 minutes
Cook Time 5 minutes
Total Time 25 minutes
Yield 8 servings
A rich vanilla ice cream flavored with cake mix to make a celebratory treat!
Ingredients
2 cups heavy cream
1 cup milk
¾ cup sugar
4 egg yolks
1 teaspoon vanilla
⅔ cup cake mix (I used a butter-flavored cake mix)
Instructions
In a saucepan, heat cream and milk with sugar and cook till sugar dissolves and the mixture starts to bubble around the edges.
Whisk the egg yolks in a large measuring cup or a heat-safe bowl. Drizzle some of the hot cream mixture into eggs, whisking constantly. Keep adding cream until about a cup is incorporated, whisking constantly.
Pour yolk mixture into pan and cook till mixture just starts to boil, whisking frequently.
Remove from heat and strain through a sieve to remove any cooked egg. Whisk in vanilla and cake mix till incorporated.
Cover and refrigerate overnight.
Process in ice cream maker according to manufacturer's instructions. Put in a freezer-safe container with a lid and freeze till it reaches your desired firmness.
Notes
Total time: 9 hours, including an overnight chill
Use yellow or butter-flavored cake mix. I prefer the butter cake mix.
Recommended Products
As an Amazon Associate and member of other affiliate programs, I earn from qualifying purchases.
Nutrition Information:
Yield:
8
Serving Size:
1
Amount Per Serving:
Calories: 357
Total Fat: 25g
Saturated Fat: 15g
Trans Fat: 1g
Unsaturated Fat: 8g
Cholesterol: 162mg
Sodium: 110mg
Carbohydrates: 31g
Fiber: 0g
Sugar: 25g
Protein: 4g
Note: This post may contain affiliate links; view
my Disclosure Policy
for details. I earn a small percentage from any purchase you make by clicking on these links at no extra cost to you.