These Strawberry Buttermilk Scones prove that you don't need cream to create tender, moist scones!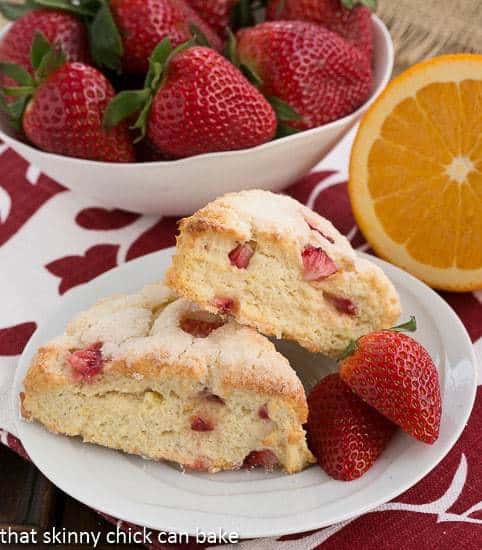 Strawberry Buttermilk Scones
While Bill was hospitalized last month, I wanted to take some goodies to his stellar nursing staff. I got the bright idea to combine my Tuesdays with Dorie recipe for buttermilk scones with my Twelve Loaves theme of strawberries. So I whipped up a batch of these divine Strawberry Buttermilk Scones. When I spied Marion Cunningham's name as the contributing baker in this Baking with Julia recipe, I was reassured the result would be sensational. I was spot on!


The Magic of Buttermilk
I diced fresh strawberries and set them on some paper toweling to absorb the excess juices. A tablespoon of finely grated orange zest gave another hit to the flavor profile. These buttery gems now rival my cream scones as my favorites…as the buttermilk provided the same tenderness and moisture as the cream in my usual recipe. Our oldest, Tom, was over to check on his dad and I offered him a scone. There was no arm twisting involved as he shoveled one in before dinner. He hemmed and hawed that he was having his wellness labs drawn at work the next day, so wouldn't take any home with him that night. But, what do you know? There was an inquiry about freezing these, then the rest were absconded with.
The recipe can be found in Baking with Julia. Note that I added 3/4 cup of diced, then dried (using paper toweling) strawberries to my scones before kneading.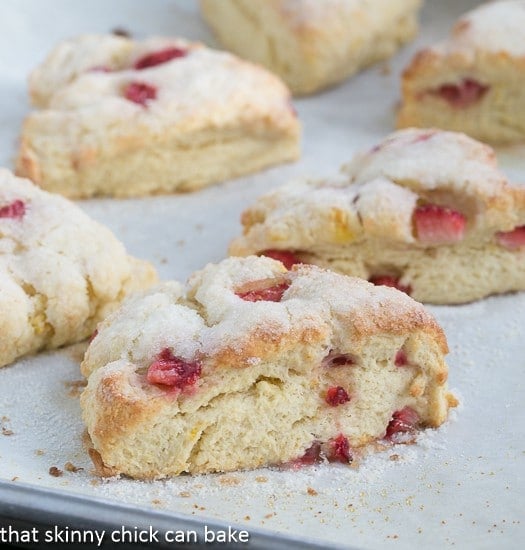 #TwelveLoaves March: Strawberries. February was a delicious month of Chocolate breads! We are ready for spring and chose Strawberries for our March theme! Choose a recipe featuring strawberries. (Your bread of choice could be accented with fresh or dried strawberries, strawberry preserves) Whatever you bake, (yeasted, quick bread, crackers, muffins, braids, flatbreads, etc) have fun and let's have a delicious month of bread with STRAWBERRIES. Let's get baking! Here is a list of the other Twelve Loaves hostesses this month and their strawberry breads:
If you'd like to add your bread to the collection with the Linky Tool this month, here's what you need to do!
1. When you post your Twelve Loaves bread on your blog, make sure that you mention the Twelve Loaves challenge in your blog post; this helps us to get more members as well as share everyone's posts. Please make sure that your bread is inspired by the theme!
2. Please link your post to the linky tool at the bottom of my blog. It must be a bread baked to the Twelve Loaves theme.
3. Have your Twelve Loaves bread that you baked this March, 2014, and posted on your blog by March 31, 2014.

Print
Strawberry Buttermilk Scones
These Strawberry Buttermilk Scones prove that you don't need cream to create tender, moist scones!
Author:
Prep Time: 15 mins
Cook Time: 10 mins
Total Time: 25 minutes
Yield: 12 scones
Category: Breakfast, Brunch, Quick Bread
Method: Baking
Cuisine: British
Ingredients
For the Scones:
3 cups all-purpose flour
1/3 cup sugar
2 1/2 teaspoons baking powder
1/2 teaspoon baking soda
3/4 teaspoon salt
6 ounces butter, cut into small pieces
1 cup buttermilk
For the Topping:
1 tablespoon grated orange or lemon zest
2 ounces unsalted butter, melted, for brushing
1/4 cup sugar
3 tablespoons diced strawberries, dried with paper towels
Instructions
Preheat oven to 425°F. Stir flour, sugar, baking powder, baking soda, and salt together with a fork. Add butter pieces and work it into the dry ingredients until mixture resembles coarse cornmeal. Pour in 1 cup buttermilk and the zest, and mix until ingredients are just moistened. If the dough seems dry, add another tablespoon buttermilk. Gather dough into a ball, turn it onto a lightly floured work surface, and knead briefly. Cut dough in half.
To Make Triangular-Shaped Scones, roll one piece of dough into a ½-inch-thick circle that is 7 inches across. Brush the dough with half of the melted butter, sprinkle with 2 tablespoons of sugar, and cut the circle into 6 triangles. Place the scones on an ungreased baking sheet and bake scones 10 minutes or until golden. Remove to a wire rack to cool.
Notes
Adapted from Marion Cunningham.
Nutrition
Serving Size: 1 scone
Calories: 297kcal
Sugar: 11g
Sodium: 197mg
Fat: 16g
Saturated Fat: 10g
Trans Fat: 1g
Carbohydrates: 35g
Fiber: 1g
Protein: 4g
Cholesterol: 41mg

#TwelveLoaves is a monthly bread baking party created by Lora from Cake Duchess. #TwelveLoaves runs so smoothly thanks to the help of the lovely Renee from Magnolia Days and this month the fabulous Alice of Hip Foodie Mom.
Note: This post may contain affiliate links; view
my Disclosure Policy
for details. I earn a small percentage from any purchase you make by clicking on these links at no extra cost to you.