Vanilla Bean Scones
These Vanilla Bean Scones get RAVE reviews every time I bake up a batch. Freeze any that you don't eat the first day. Scones taste best when freshly made.
When it comes to breakfast, nothing beats moist, tender scones! I'll share my tips for How to Make Scones as my friends declared this was the Best Scone Recipe they'd ever tasted.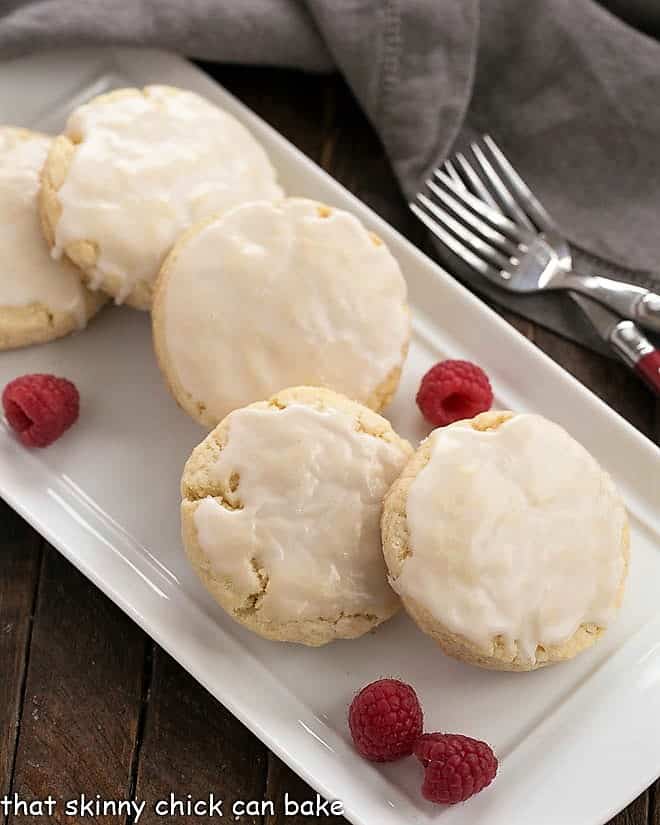 Vanilla Bean Scones
I first made this vanilla scone recipe back in 2013 after one of my blogger friends suggested I try The Pioneer Woman's Scones. I planned to share them with a wonderful group of women I meet up with every other Friday morning. They would give me their honest reviews.
These vanilla bean scones stood out from others I've baked since they were dipped in a sweet vanilla glaze after baking. Besides gilding the lily as frosting always does, it kept the scones moist. Fast forward almost 6 years and I baked another batch. Along with homemade clotted cream. Again, my friends had nothing but praise for these babies. One even said they were the best thing I'd ever baked! That's high praise. Even Bill, the picky husband who is not a fan of quick bread or muffins, begrudgingly tried one for breakfast. Wow, he's now a fan of scones!
What are Scones?
If you're unfamiliar with scones, I'll fill you in. Scones are British baked goods made with wheat or oats and leavened with baking powder. They're shaped or cut and baked. Typically slightly sweetened, scones are a major component of the menu at a cream tea or an afternoon tea with jam and clotted cream. Some scones are glazed, but not all.
The pronunciation of the word scone depends on the area of the British Isles, either rhyming with gone or tone. The latter is how Americans pronounce scone.
Vanilla Scones with Vanilla Beans
Instead of vanilla extract, this vanilla scone recipe utilizes the seeds or "caviar" from fresh vanilla beans. Look for vanilla pods that are dark, plump and flexible. I buy mine from Penzey's. They are so much fresher than what I find in my local markets. Or use vanilla extract or vanilla bean paste which contains plenty of delicious vanilla seeds. Seeds from vanilla pods or vanilla bean paste give a fresher, more pronounced flavor.
Feel free to substitute a teaspoon of vanilla extract for each bean, noting that the seeds will give a fresher, more pronounced vanilla flavor. You can also substitute 2-3 teaspoons of vanilla bean paste for a vanilla bean.
How to Make Scones
After sharing these with my friends, there was lots of chatter and questions about how to make scones. First, I let them know that this recipe contains an egg, which is rather unusual. Then I was asked if the butter was melted. Just like when making pie crust, the butter needs to be very cold, which helps make tender, flaky scones.
Dice the butter, then place it into the refrigerator while I whisk together the dry ingredients. That keeps it nice and cold.
Cut in the butter using a pastry blender, two knives or even your fingers. I use my hands to flatten out the pieces of butter and work it until the mixture resembles cornmeal. If your kitchen or hands are warm, place the mixture into the fridge to let the butter get firm again.
Next, mix the combination of heavy cream and the vanilla of choice into the dry ingredients until a cohesive dough is formed. The exact amount you need depends on the humidity of the air, and you may need to add a tad more cream if your mixture does not come together well. Also, be careful not to overmix as this will make the scones less tender by breaking down the butter into even smaller pieces.
Roll or pat the dough onto a floured counter or piece of parchment (makes for easy clean up). Aim for about 1 1/2 inches thick. From past experience with this recipe, cutting thicker scones doesn't necessarily bake up into a thicker end product. Ree cut her scones into triangles, but I used round biscuit cutters. Either way, you'll love them!
Note that the yield will vary depending on what size you cut your cream scone recipe.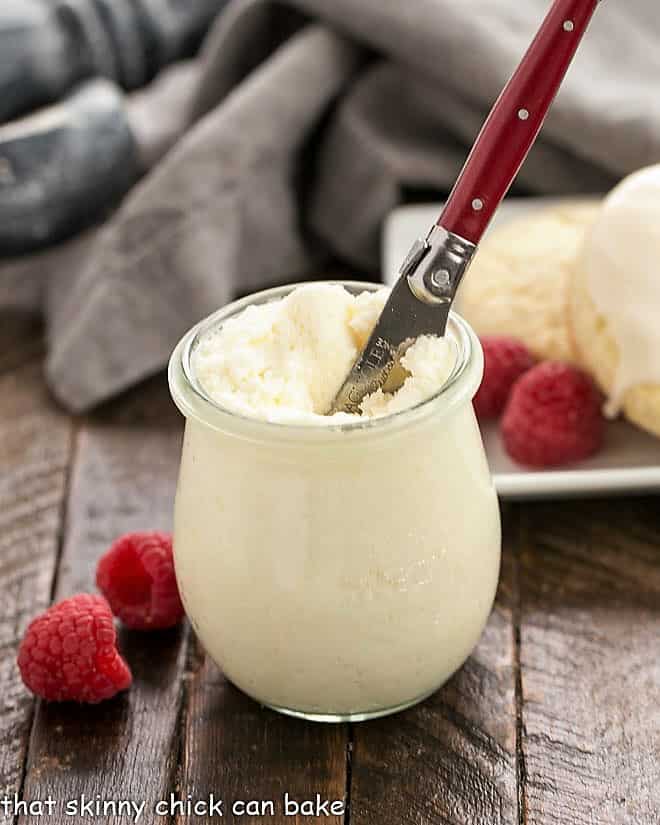 More Scone Recipes You'll Love:
This recipe was first shared in February 2013. The photos and text were updated in 2020.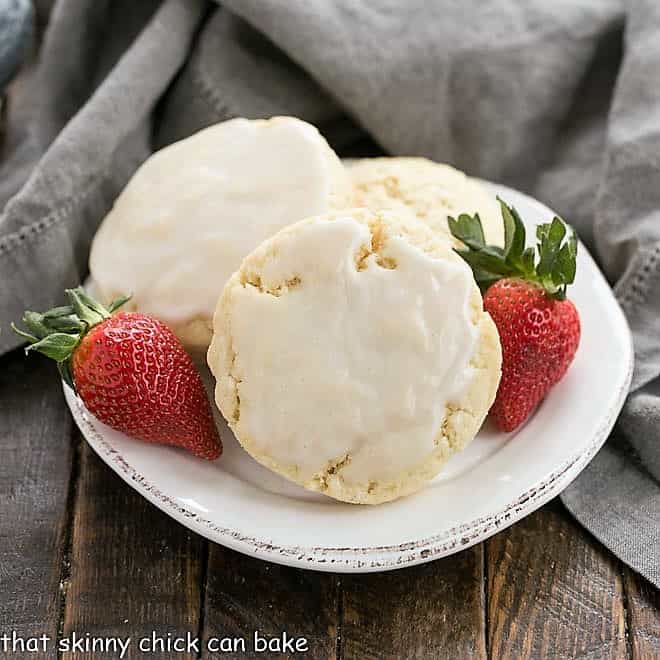 The Recipe:
Vanilla Bean Scones
Prep Time 10 minutes
Cook Time 18 minutes
Total Time 28 minutes
Yield 12 scones
Perfect, tender vanilla scones with a vanilla glaze!
Ingredients
Scones:
3 cups flour
2/3 cups sugar
5 teaspoon baking powder
1/4 teaspoon salt
2 sticks (1/2 pound) butter, cold and cut into pieces
1 egg
3/4 cup heavy cream
2 whole vanilla beans (or 2 teaspoons vanilla extract or 2 teaspoons vanilla bean paste)
Glaze:
2 1/2 cups powdered sugar, sifted
1/4 cup milk (may add more if you want a thinner icing)
1/2 teaspoon vanilla bean paste or vanilla extract
Dash of salt
Instructions
Preheat oven to 350º. Line baking sheet with parchment and set aside.
Split the vanilla beans lengthwise and scrape out the vanilla seeds. Add to the heavy cream and mix to combine. Let rest while preparing the dry ingredients.
Sift together the flour, sugar, baking powder and salt. Cut the butter into the dry ingredients with pastry blender or two knives, until mixture resembles corn meal. Mix egg into vanilla cream, then add to dry ingredients. Gently stir till dough comes together. Add a bit more cream if needed.
On a lightly floured surface, pat or roll dough into a 3/4 to 1-inch thick rectangle. Using round cookie cutter, cut rounds from dough and place on prepared pan. Bake for about 15-18 minutes or till golden. Let cool a few minutes on pan, then remove to cooling rack.
While cooling, make glaze. Scrape seeds of vanilla bean, as directed above, into milk and let sit for a few minutes. Sift powdered sugar into mixing bowl and add a pinch of salt. Add vanilla milk and whisk till smooth. Dip scones into glaze then let dry on rack.
Notes
Yield varies depending on cookie cutter size.

Adapted from The Pioneer Woman.
Nutrition Information:
Yield:
12
Serving Size:
1
Amount Per Serving:
Calories: 308
Total Fat: 6g
Saturated Fat: 4g
Trans Fat: 0g
Unsaturated Fat: 2g
Cholesterol: 33mg
Sodium: 274mg
Carbohydrates: 59g
Fiber: 1g
Sugar: 34g
Protein: 4g
Note: This post may contain affiliate links; view
my Disclosure Policy
for details. I earn a small percentage from any purchase you make by clicking on these links at no extra cost to you.