Instant Pot Clotted Cream
Instant Pot Clotted Cream: A simple, hands-off recipe for clotted cream. Perfect with your scones for early morning Royal Wedding viewing or an upscale breakfast or brunch! Reign, err I mean rein, in your inner anglophile with a classic British tea time treat.
My friend, Sally, once again planned a pre-dawn gathering to watch a royal wedding. This time it was Prince Harry and Meghan Markle getting hitched. Fascinators and all things British were planned. Scones were to be baked, so I knew I'd have to give Devonshire Cream another shot. Instead of the oven, I turned to my trusty Instant Pot for an alternative method to make Homemade Clotted Cream.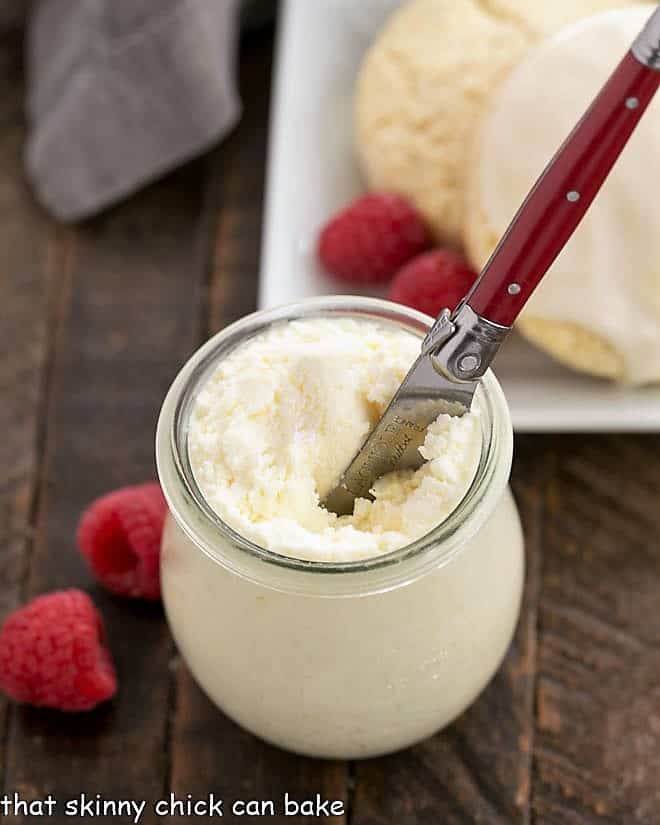 Why You Must Make
It only requires ONE ingredient and a little patience.
Making it in an Instant Pot speeds up the process. An oven version I've made takes hours and hours before "clots" develop.
The flavor is spot on. See one reader's review below!
Reader Testimonial
Testimonial from Becca: "I really wanted to say thank you again. I have been trying to find clotted cream since we got back from Scotland with no luck, and my stove isn't reliable. Recipe turned out perfect, and it really made my weekend."
The first time I made clotted cream, it was in the oven. Since I'd only experienced this traditional British spread from out of a jar, I really didn't know what to expect. A thick, yellow-coated cream rose to the top of my baking dish, leaving liquid whey below. That was the clotted cream! It wasn't very appetizing at first glance, but according to Sally, the taste was spot on.
I was always a little suspicious of those little jars of clotted cream in the grocery store. Was it the same quality as what the British were spreading on their teatime scones along with a smear of jam? My experience was limited, but I wanted to try making my own.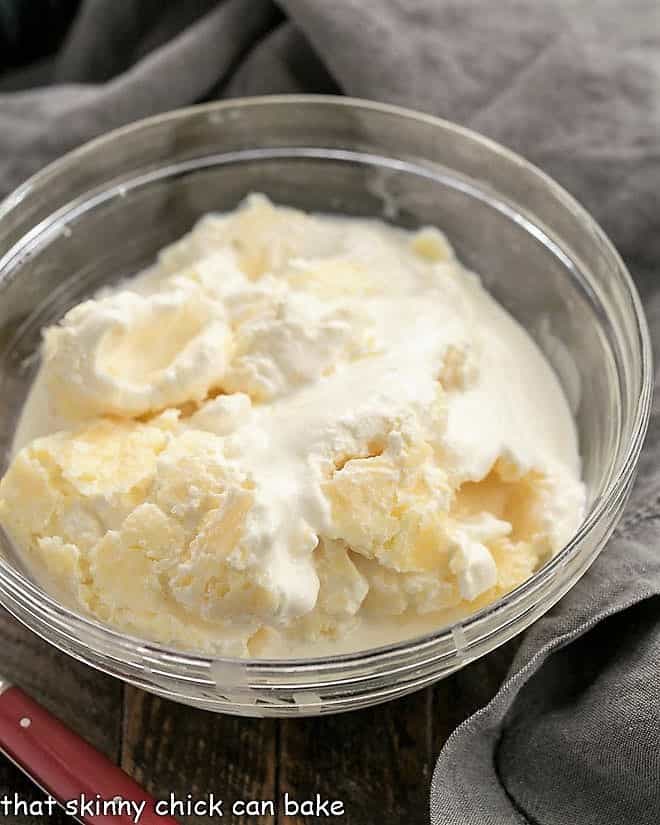 How to Make
The recipes I found online were all similar. Cook heavy, pasteurized cream for a long time at a low constant temperature. OK, I was game. I've made it in the oven using a wide, shallow baking pan but wanted to explore an Instant Pot version, too.
Made of only heavy cream, this is a rare one-ingredient recipe. So it's important to track down the rather elusive pasteurized cream instead of the ubiquitous ultra-pasteurized heavy cream. This may be the biggest challenge in making clotted cream. Call around before putting a lot of mileage on the car in your search. The higher the fat percentage, the better, but in the states, you may be limited. British double cream is 48% milkfat, whereas US whipping cream must be 30%, and heavy cream 36%.
Try to locate Pasteurized, not ultra-pasteurized heavy cream.
Next, heat the cream at a steady 170-180º for 12 hours or until a thickened layer or "skin" develops over the liquid whey. The top may color slightly, but the goal is to remove the clotted cream from the oven or Instant Pot before it tans.
Cool for 8 hours, then use a slotted spoon to remove the thickened clotted cream from the top of the liquid. When using the oven method, you can cover your baking dish with foil if you prefer a very pale yellow or cream-colored clotted cream.
Expert Tips
PRO-Tip: If your clotted cream seems too thin at this point, place some cheesecloth in a strainer, add the clotted cream, wrap the cheesecloth over the top and let it drain over a bowl in the refrigerator for an hour or so.
PRO-Tip: If you don't like the thickened "skin" mixed into the clotted cream, whisk the mixture to a smoother texture. Add some of the whey (leftover liquid) to thin as needed. Many Brits covet the yellow coating, finding it's the most flavorful, desirable part of the clotted cream. A slightly grainy texture is perfectly normal with clotted cream.
Read your heavy cream labels carefully and buy pasteurized heavy cream. The ultra-pasteurized cream has been heated to a higher temperature to increase its shelf life, but will not produce the best results when making this clotted cream recipe. I can consistently find pasteurized heavy cream at Whole Foods and have been told that Trader Joe's also may carry it.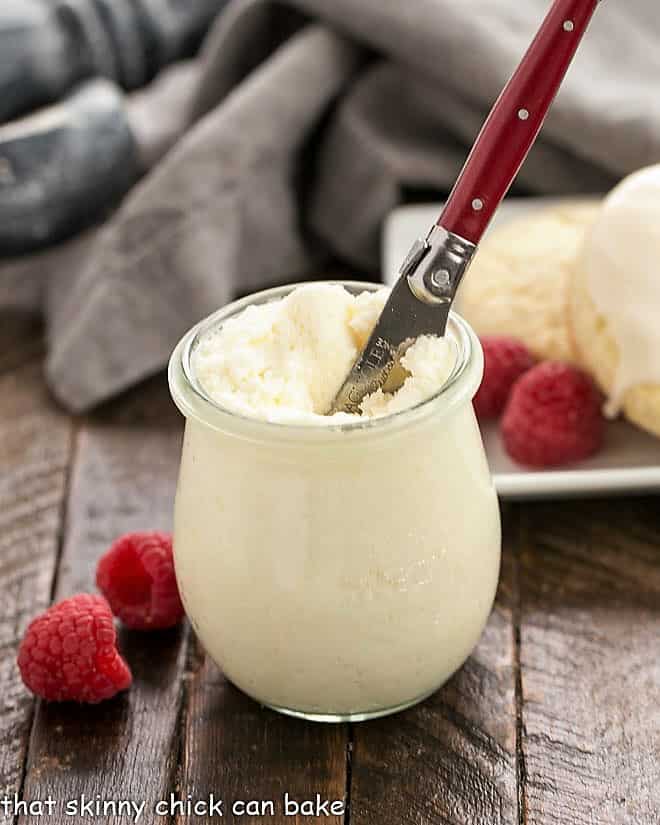 How to Make Clotted Cream in the Oven
With my first attempt, instead of trying to keep the liquid at 170-180º on the cooktop, I moved my pan of warmed cream into the oven. Luckily, my oven has a warm setting where I can set temps below 200º.
Use a shallow baking dish and ADD the cream to a depth of 1-2 inches.
Let COOK at 170-180º for 12 hours (doing this overnight makes perfect sense unless you sleep longer than 12 hours!).
Remove from the oven, let COOL at room temperature for an hour or so, then chill in the refrigerator for about 8 hours or overnight.
REMOVE the clotted cream, including the "skin" with a slotted spoon, and enjoy!
How to Make Clotted Cream in an Instant Pot
When I discovered that the Instant Pot could gently keep the cream warm in a steamy environment, I knew I'd have to give this method a shot. With the royal wedding looming, the timing was perfect. The procedure was similar to the oven method.
Bring the cream to a boil in the Instant Pot using the YOGURT Setting.
Then adjust to BOIL.
Finally WARM for 12 hours after the cream is brought to a boil.
When the low and slow cooking time period is over, release the pressure and let cool at room temperature before chilling for 8-12 hours.
Remove the clotted cream with a slotted spoon as with the oven method.
The homemade clotted cream was a perfect addition to the viewing party menu as there would also be homemade scones, purchased clotted cream, strawberries, elderflower cake, and an egg casserole! What a feast!
Note: the flavor was sweet and lovely and almost identical to the clotted cream you'd find in Europe. My friends went nuts for my vanilla bean scones topped with raspberry jam and this Instant Pot clotted cream. One declared this combination of clotted cream and scones was the best thing I've I've made!! And she's tasted a ton of my treats!!!
How to Serve Clotted Cream
If you've never had scones fresh from the oven, you must give them a try. Best on the day they're made, they can also be frozen so you can enjoy them all week long.
Like pie crust, it's important not to overwork the scones dough, so you have tender results. You'll want teeny pieces of cold butter dispersed throughout for the perfect texture.
Scones are the perfect vehicle for clotted cream. But don't forget that muffins, quick bread like banana bread, Irish soda bread, and tea cakes are also delicious smeared with homemade clotted cream. Try it with fresh berries, pancakes, or waffles. You can also use clotted cream in place of some of the heavy cream in ice cream and homemade truffles. Add it to mashed potatoes or risotto. Even scrambled eggs will be creamier with a dollop of clotted cream.
Frequently Asked Questions
What Is Clotted Cream?
Clotted Cream is an English specialty for which the counties of Devon and Cornwall are famous. It's also known as Devonshire cream, Devon cream, Cornish cream after those locales.

Across the pond, it is an essential topping for scones, and scones and clotted cream are often paired with jam. It's a thick, creamy, slightly sweet, and nutty dairy spread that is also wonderful on biscuits, muffins, English muffins, croissants, and other baked goods. 
What Does Clotted Cream Taste Like?
Clotted cream tastes like unsweetened heavy cream or unsalted butter, but with a subtle sweetness from the natural sugars in dairy. The Maillard reaction creates very subtle caramel undertones. The texture is more of thick, spreadable cream, like Mascarpone.
Can You Freeze Clotted Cream?
The refrigerator shelf life of clotted cream, including this Instant Pot Clotted Cream, is about 3-4 days, but it does freeze well for longer storage.
You May Also Like: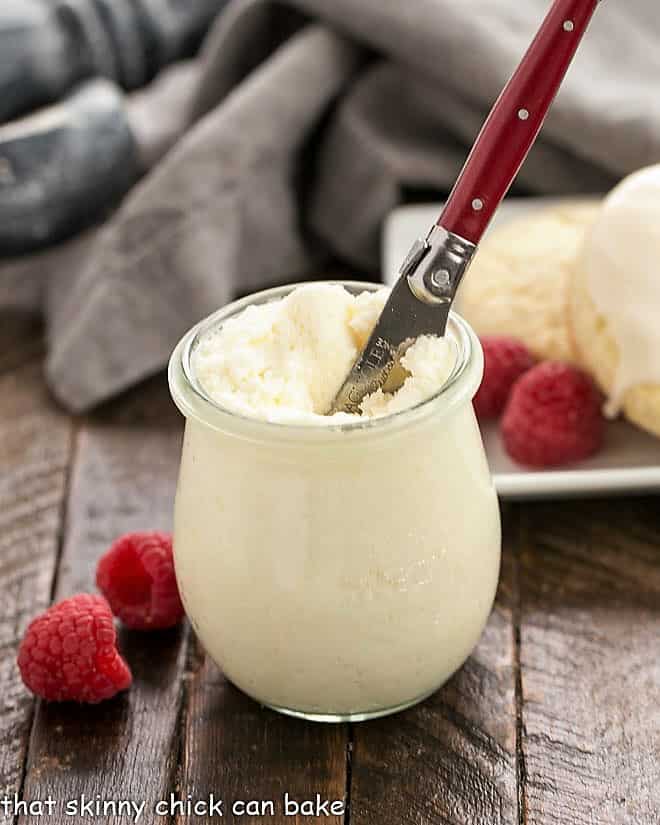 The Recipe:
Instant Pot Clotted Cream Recipe
Prep Time 5 minutes
Cook Time 8 hours
Total Time 8 hours 5 minutes
Yield 1 1/2 cups
A homemade version of the classic clotted cream used to top British scones made in the Instant Pot.
Ingredients
2 pints heavy whipping cream, pasteurized (not ultra-pasteurized which is the norm)
Instructions
Pour the heavy cream into the Instant Pot.
Seal the lid and turn the vent to SEAL. Press the YOGURT button and then ADJUST to BOIL. When it signals to let you know it's boiled, set to WARM for 10-12 hours.
Let cool at room temperature for about a half-hour, then cover with plastic wrap, place in the refrigerator, and chill overnight.
Remove the lid. The liquid will have a yellow thick layer on top. Carefully skim the thickened topping off of the top and into a container. Top with a lid and store in the refrigerator until ready to use.
Notes
It's very important your IP reaches 180 degrees. If your IP is smaller than 8 quarts or you live at a high altitude, you may need to cook an extra cycle.
If you'd like to try the oven version, preheat the oven to 180º, place the cream in a shallow baking dish at a depth of 1-2 inches.
Let cook for 12 hours. Then follow the same procedure as in the IP recipe to skim and chill.
Using a whisk may be helpful if you prefer a smoother consistency, then mix in some of the leftover liquid to thin if necessary.
Drain your clotted cream in a strainer lined with cheesecloth if you'd like a thicker product.
Store in a covered container and use within 3-4 days
Recommended Products
As an Amazon Associate and member of other affiliate programs, I earn from qualifying purchases.
Nutrition Information:
Yield:
24
Serving Size:
1 tablespoon
Amount Per Serving:
Calories: 135
Total Fat: 14g
Saturated Fat: 9g
Trans Fat: 0g
Unsaturated Fat: 4g
Cholesterol: 45mg
Sodium: 11mg
Carbohydrates: 1g
Fiber: 0g
Sugar: 1g
Protein: 1g
Note: This post may contain affiliate links; view
my Disclosure Policy
for details. I earn a small percentage from any purchase you make by clicking on these links at no extra cost to you.