Southern Peach Bread
It took some trial and error, but this delicious Southern Peach Bread is sweet, dense, and chock full of sweet Georgia peaches.
I came home with 25 pounds of peaches that arrived in our area via The Peach Truck. Without kitchen counters, appliances (other than my old oven plugged into the spot my new ovens will eventually go), baking is not the stress reliever that it used to be. But a few peach desserts are necessary when they're at their peak flavor and juiciness. This fresh Peach Soda Bread was terrific!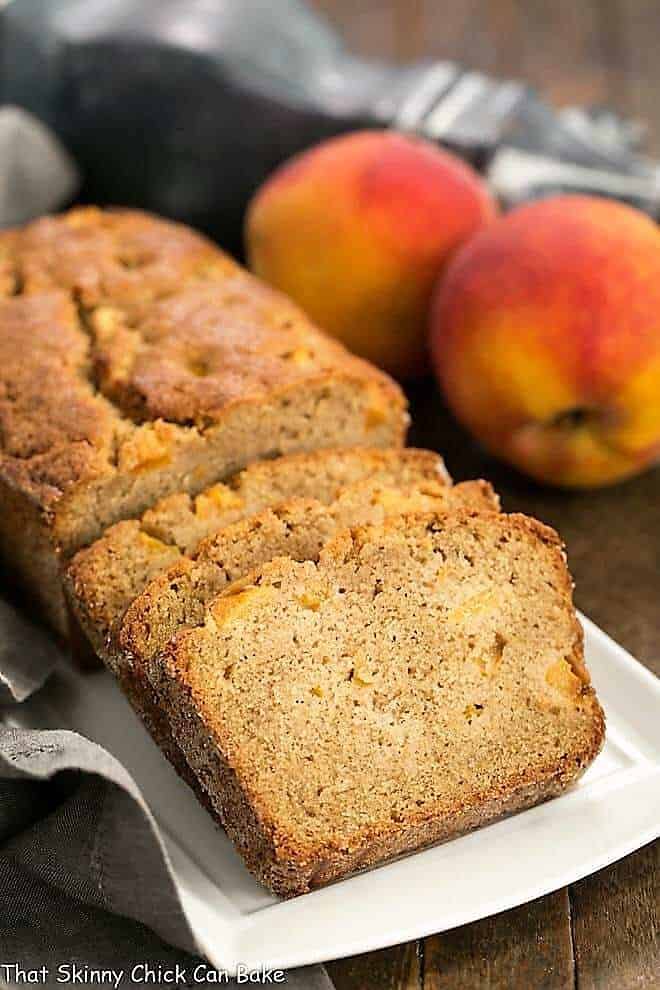 Why You Must Make
Making a perfect, blog-worthy fresh peach bread was more challenging than I imagined. The first loaf didn't have much flavor and the texture wasn't right. The next peach loaf was delicious, but I added too many peaches and it was hard to tell when it was fully baked. Thus, an under-baked center. But I enjoyed eating the end pieces!
Finally, I researched the best proportions for making quick bread—the flour, the leavener, eggs, and the liquid. The recommendation is 2 parts flour, 2 parts liquid, 1 egg, and 1 teaspoon baking powder for every 4 ounces of flour. Sugar is to taste. Then I started from scratch. I still needed to tweak it. A second egg was the solution. Whew!
It's a delicious way to showcase fresh, juicy summer peaches.
This peach recipe is much easier than a pie or cobbler.
Peach bread is perfect for breakfast, brunch, snacking and dessert!
Expert Tips
There is definitely some cooking chemistry involved in making the best quick bread. The basic ratios must be maintained—flour, liquid, eggs, and leavening. Any fruit can be added, but remember juicy fruits like peaches contribute liquid.
Preparing Your Pan:
Grease your loaf pan (affiliate link). I like flouring or sugaring as well, to help decrease sticking even more.
A rectangle of greased parchment paper added to the bottom of the pan is helpful, too. When you have bits of fruit in your batter, they can easily get stuck to the bottom of the pan, and the parchment will lessen the chances.
Baking and Checking on Whether Your Loaf is Done:
PRO-Tip: Make sure your baking powder is fresh. This is not the same as baking soda and has a shorter life span. If your baking powder is near the expiration date, you can test it by putting a spoonful in a cup of hot water. If it is active, it will bubble vigorously. If it doesn't, do not use it as your bread won't rise properly.
Ovens and the kind of baking pan (metal versus glass or ceramic) can alter the baking times. The times listed in recipes are just a suggestion, and you must test your loaf before pulling it out of the oven.
I used a toothpick and insert it into numerous spots across the middle of the bread to check for doneness. The toothpick should come out clean or with moist crumbs, not batter. With a fruit-filled loaf, you need to make sure to find a few spots that are mostly bread to get an accurate evaluation.
Once you pull an underdone loaf out of the oven and the middle sinks, it's too late to fix it. The end pieces will still be delicious, but the center will be raw or undercooked. Been there, done that. I also note the cooking time after making a recipe for the first time. It will remind me of what timing worked with my oven.
PRO-Tip: Start checking when you begin smelling the delicious aroma of your bread. Maybe 5 minutes before you think it will be cooked. If it's not done, check again in 5-10 minutes depending on how underdone your quick bread is.
Mixing Your Quick Bread Batter
Muffins and quick bread should not be over-mixed. In muffins, you'll see a pointed top versus a rounded dome. Tunnels will also be visible throughout both the muffins and bread. So do not use an electric mixer to blend in the flour, but instead use a wooden spoon or rubber spatula and mix just until the dry ingredients are combined.
Typically, you'll whisk together the dry ingredients in a bowl and whisk together the wet ingredients in another bowl. Then the wet ingredients are mixed into the dry.
Scrape the batter into the prepared pan and level it out a bit with an offset spatula.
Bake and enjoy every morsel of this Southern Peach Bread!!
PRO-Tip: If you don't have dark brown sugar in your pantry, you can make your own. Just mix 1 tablespoon of molasses with 1 cup of light brown sugar. Voila! You have dark brown sugar.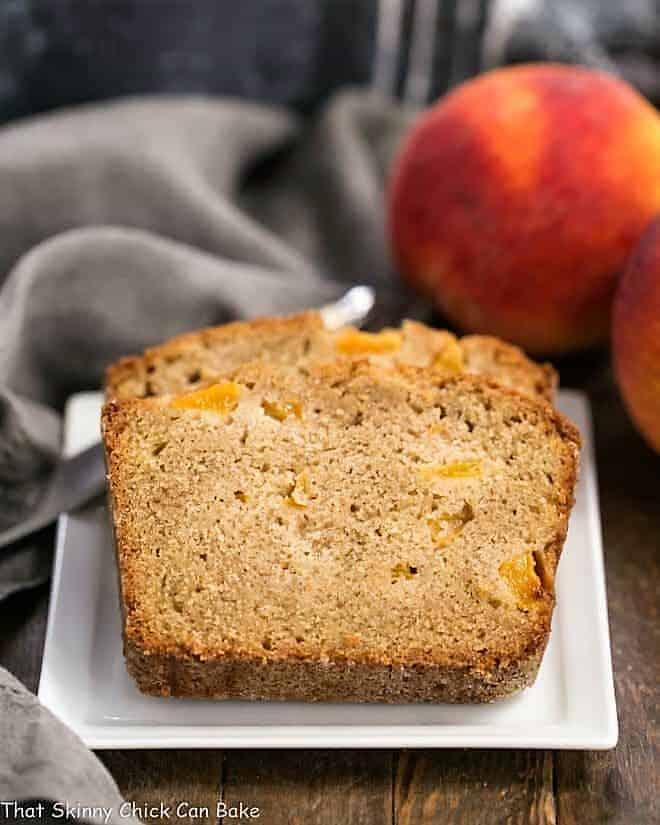 Frequently Asked Questions
Can I Use Canned Peaches to Make This Bread?
Using fresh, sweet seasonal peaches is always my first choice, but canned peaches will do in a pinch. Drain them well, then dice enough for the recipe. Canned peaches are a better option than the flavorless, mealy peaches you sometimes find in your supermarket. If a fresh peach is fragrant, with a lovely peachy color, and gives a bit with a gentle squeeze, most likely you have a ripe peach. If not, canned peaches are a great alternative.
How Do I Store This Peach Bread?
If you're going to eat this loaf in the next 2-3 days, just wrap it in plastic and store it on the counter or in the refrigerator (especially if it's warm and humid in your home). For any longer, I like to wrap in plastic, then insert it into a gallon freezer bag and store in the freezer for up to 3 months. Defrost in the refrigerator and bring to room temperature before serving. Note: Because of all the juicy fruit, this bread is still best eaten fresh, not after it's frozen.
What is the Difference Between a Quick Bread and a Cake?
Many quick bread and muffins taste so much like cakes, it's hard to figure out what differentiates them. Both are leavened without yeast, both can be baked in a loaf pan. So what distinguishes one from the other? The best answer I could find is the frosting!

Quick bread and muffins can be glazed, but cakes and cupcakes often have a thick layer of frosting. The texture and mixing techniques differ as well. Quick bread tends to be denser and cakes lighter. Plus loaves like this peach bread can legitimately be eaten for breakfast. Doing that with cake is usually frowned upon!
You May Also Like:
With my case of peaches, I've been busy baking. Here are a few more peach recipes to peruse.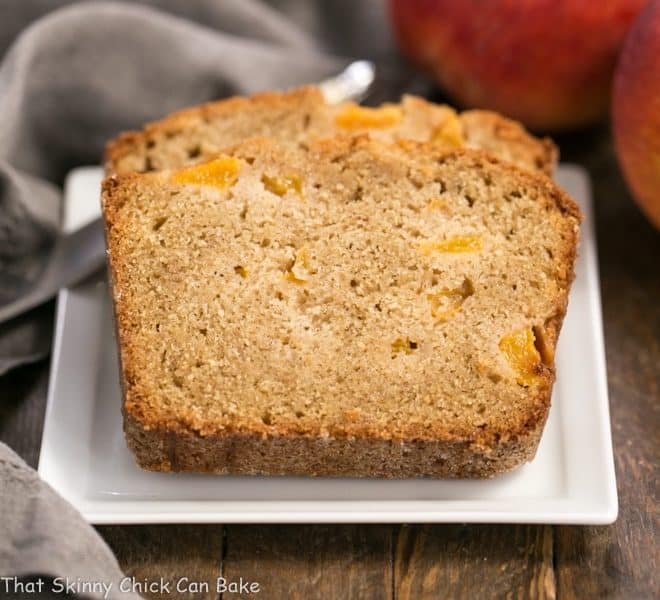 The Recipe:
Southern Peach Bread Recipe
Prep Time 20 minutes
Cook Time 1 hour 10 minutes
Total Time 1 hour 30 minutes
Yield 12 servings
A sweet, dense quick bread chock full of sweet Georgia peaches.
Ingredients
2-3 teaspoons softened butter
1 tablespoon sugar
2 cups flour
½ teaspoon salt
2 teaspoons baking powder
1 cup dark brown sugar
¼ teaspoon allspice
⅛ teaspoon ground nutmeg
1 teaspoon ground cinnamon
2 eggs
¾ cup vegetable oil
¼ cup milk
1 ½ cups diced peaches (peel first)
Instructions
Grease a 9 x 5-inch bread pan with butter, then dust with sugar (or flour). Set aside.
Preheat the oven to 350 degrees.
Whisk together flour, salt, baking powder, brown sugar, allspice, nutmeg, and cinnamon in a large bowl. Set aside.
Whisk together the eggs, oil, and milk. Stir into dry ingredients. Do not over-mix. Fold in the peaches.
Scrape the batter into the prepared pan. Level batter with an offset spatula.
Bake for 60-70 minutes or until a toothpick inserted into the middle of the loaf comes out clean.
Let cool on a wire rack for 10 minutes, then remove from pan and let finish cooling before slicing.
Notes
Canned peaches can be substituted when it's not peach season. Make sure to do a quick rinse, let dry on paper towels to remove excess water/juices, then dice.
Recommended Products
As an Amazon Associate and member of other affiliate programs, I earn from qualifying purchases.
Nutrition Information:
Yield:
12
Serving Size:
1 slice
Amount Per Serving:
Calories: 287
Total Fat: 16g
Saturated Fat: 2g
Trans Fat: 0g
Unsaturated Fat: 13g
Cholesterol: 34mg
Sodium: 196mg
Carbohydrates: 34g
Fiber: 1g
Sugar: 17g
Protein: 4g
Note: This post may contain affiliate links; view
my Disclosure Policy
for details. I earn a small percentage from any purchase you make by clicking on these links at no extra cost to you.